For other people named Zach Thomas, see
Zach Thomas (disambiguation)
.
Zachary Michael Thomas (born September 1, 1973) is a former American college and professional football player who was a linebacker in the National Football League (NFL) for thirteen seasons. He played college football for Texas Tech University, and was recognized as a Unanimous All-American. He was drafted by the Miami Dolphins in the fifth round of the 1996 NFL Draft, and played for the Dolphins his first twelve seasons in the NFL. He was selected to the Pro Bowl eight times and recorded over 1,700 tackles.[1]
Early years
Thomas was born in Pampa, Texas. He attended White Deer Schools in White Deer, Texas until he was a sophomore then transferred to Pampa High School in his junior year. He was a standout high school football player and was named a first-team all-state selection as a senior. Thomas and his older brother, Bart, were high school teammates at White Deer High School in White Deer, Texas; in 1988, Thomas' freshman year, the White Deer team went 16–0 and won the Class 1A state championship.
College career
Thomas attended Texas Tech University, where he was a three-year starter at linebacker for the Texas Tech Red Raiders football team. As a junior in 1994, he was a first-team All-American. As a senior in 1995, he was a Unanimous 1st Team All-American, the Southwest Conference Defensive Player of the Year, and a finalist for the Butkus Award. Thomas is one of 5 Red Raiders to be named a Unanimous All-American along with Mark Bounds, Byron Hanspard, Michael Crabtree, and Jace Amaro.[2] He recorded 390 tackles, including a career-high 131 tackles and a school-record 20 tackles against Missouri in his senior season. During the 1995 game against Texas A&M, Thomas returned an interception to gain a 14–7 win for Tech.[3]
Thomas and his brother Bart were the only pair of brothers to be named first-team All-Southwest Conference selections in the same year.
College awards and honors
Second-team Houston Chronicle All-SWC (1993)
Second-team

Houston Post

All-SWC (1993)
First-team UPI All-American (1994)
Second-team Football News All-American (1994)
Second-team Sporting News All-American (1994)
2× SWC Defensive Player of the Year (1994, 1995)
Unanimous first-team All-American (1995)
First-team All-SWC (1995)
Professional career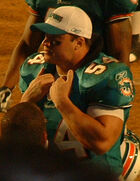 Miami Dolphins
Thomas was drafted in the fifth round of the 1996 NFL Draft. On July 3, 1996, Thomas agreed to a three-year $577,000 deal with Miami.[4] [5] He was a Pro Bowl alternate and an All-Rookie selection in 1996. In 1997 Thomas totaled 128 tackles while playing and starting 15 games. In 1998 Thomas made All-Pro for the first time, making 133 tackles, a sack, an interception and forcing a fumble as the Dolphins defense allowed the fewest points in the NFL.
On February 13, 1999, Thomas signed a five-year, $22.5 million contract (including a $4.5 million signing bonus) to remain with the Dolphins.[6] Thomas' $6.5 million in salary and bonus made him the Dolphins highest paid player, surpassing Dan Marino.[7] In 1999 Thomas had 133 tackles and was All-Pro for the second straight season. The following year he had 99 tackles due to missing 5 games. In 2001 he had 155 tackles, 3 sacks, 2 interceptions 2 forced fumbles and defensed four passes and was a First-team All-Pro for the third time. His numbers were similar in 2002 as he made All-Pro for the fourth time in five seasons.
Thomas signed a five-year, $33.75 million contract extension with the Miami Dolphins on March 27, 2003, that includes a $10.5 million signing bonus and was to extend through the 2008 season.[8] Thomas was entering the last year of the five-year, $22.5 million contract he signed prior to the 1999 season. Thomas responded with 153 tackles and 3 interceptions and his fifth All-Pro selection in six years.
Thomas led the Dolphins in tackles with 165 in 2005 after missing two games with ankle and shoulder injuries; he is also one of three players to record one hundred or more tackles in each of his first ten seasons in the NFL. Thomas was selected to his seventh Pro Bowl appearance in 2006, tied for the third most Pro Bowl appearances in club history; this is also the most of such selections among all defensive players in Dolphins history. He has also been selected First- and Second-Team All-Pro seven times.
Zach Thomas has more tackles than any linebacker in the Pro Football Hall of Fame, currently ranking sixth all-time behind Ray Lewis, Randy Gradishar, London Fletcher, Jessie Tuggle and Junior Seau.
Thomas' tenure with the Dolphins ended on February 14, 2008, when it was announced by the team that he no longer fit into their long term plans and his contract was terminated.[9]
Dallas Cowboys
On February 23, 2008 after contract offers from the New Orleans Saints and New England Patriots, Thomas decided to sign in principle with the Dallas Cowboys to a one-year, $3 million contract.[10] The deal included a $1 million base salary, a $1 million signing bonus and a $1 million incentive-based bonus based on playing time that agent Drew Rosenhaus said should be easily attained.[10]
Kansas City Chiefs
An unrestricted free agent in the 2009 offseason, Thomas agreed to terms with the Kansas City Chiefs on April 11, 2009.[11] The one-year contract was worth $2 million.[12] He was released at the end of the preseason after not playing in any exhibition games.[13]
Retirement
On May 18, 2010 Thomas signed a one-day ceremonial contract, officially worth $1, in order to retire as a member of the Miami Dolphins.
Awards and honors
In addition to being a seven-time All-Pro selection by the Associated Press and a seven-time Pro Bowl selection, Thomas earned the following awards and honors in his NFL career:
NFL Defensive Rookie of the Month (October 1996)
All-Rookie selection by College & Pro Football Newsweekly, The Football News, Pro Football Weekly and Pro Football Writers of America (1996)
AFC Defensive Rookie of the Year (1996)
Dolphins' 1996 Unsung Hero Award as selected by NFLPA
Dolphins MVP and Newcomer of the Year by

South Florida

media (1996)
AFC Defensive Player of the Month (September 1998)
2× NFL Alumni Association's Linebacker of the Year (1998, 2006)
First-team All-Pro selection by the USA Today, College & Pro Football Newsweekly and Football Digest (1998)
1998 All-Madden Team (1998)
3× Dolphins' Leadership Award (1998, 1999, 2005)
Weeks 1 & 16 2001 AFC Defensive Player of the Week (2001)
Dolphins MVP by South Florida media and fans (2001)
All-Iron Team as selected by CBS analyst Phil Simms (2001)
PFWA Dolphins Chapter "Good Guy" Award (2001)
First-team Pro Football Weekly All-AFC (2002)
First-team Sports Illustrated All-Pro (2003)
Second-team Football Digest All-Pro (2003)
Week 14 AFC Defensive Player of the Week (2005)
All-AFC selection by Pro Football Weekly and the Pro Football Writers of America (2006)
More tackles than any linebacker currently in the Hall of Fame
Personal
Thomas' sister Katina is married to Jason Taylor, Thomas' former teammate in Miami.[14] Thomas' father is the builder and proprietor of the second largest cross in the Western Hemisphere, located in Groom, Texas.[15] Thomas is married to Maritza Thomas.[16] Thomas has one son, Christian Zachary, and one daughter, Valentina.
References
↑ Trotter, Jake (December 18, 2013). "Amaro, Richardson unanimous AA's". ESPN. http://espn.go.com/blog/big12/post/_/id/77504/amaro-richardson-unanimous-all-americans

. Retrieved December 21, 2013

.
↑ "Greatest Tech athelete [sic] poll: Wes Welker and Zach Thomas profiles".

The Daily Toreador

. March 26, 2007. http://media.www.dailytoreador.com/media/storage/paper870/news/2007/03/26/Sports/Greatest.Tech.Athelete.Poll.Wes.Welker.And.Zach.Thomas.Profiles-2790280.shtml?reffeature=htmlemailedition.
↑ "SPORTS BRIEFLY" Fort Worth Star-Telegram, Fort Worth Star-Telegram, July 4, 1996.
↑ "Tech's Thomas, Dolphins agree", Dallas Morning News, July 3, 1996.
↑ "THOMAS SIGNS TO STAY A DOLPHIN", Chicago Tribune, February 13, 1999.
↑ "THOMAS PASSES MARINO AS DOLPHINS' HIGHEST-PAID PLAYER", Miami Herald, September 13, 1999.
↑ Price, Jeff (March 28, 2003). "Zach Thomas signs contract extension with Dolphins". USA Today. http://www.usatoday.com/sports/football/nfl/dolphins/2003-03-28-thomas-extension_x.htm

. Retrieved 2008-04-12

.
↑ "Dolphins release seven-time Pro Bowler Thomas". Msn.foxsports.com. February 14, 2008. http://msn.foxsports.com/nfl/story/7797362?MSNHPHMA

. Retrieved 2008-11-30

.
↑ 10.0 10.1 Pasquarelli, Len (February 24, 2008). "Thomas appears headed home to Texas, deal with Dallas". Sports.espn.go.com. http://sports.espn.go.com/nfl/news/story?id=3260529

. Retrieved 2008-11-30

.
↑ "Chiefs announce roster moves". Kansas City Chiefs. 2009-09-05. http://kcchiefs.com/news/2009/09/05/chiefs_announce_roster_moves/

. Retrieved 2009-09-05

.
↑ Jason Taylor Almost Quit Florida Sun-Sentinel, June 21, 2007
↑ http://www.kcchiefs.com/player/zach_thomas/ Kansas City Chiefs bio
External links
Miami Dolphins 1996 NFL Draft selections
Miami Dolphins Honor Roll inductees