For the 1974 championship game of the World Football League, see

World Bowl (WFL)

.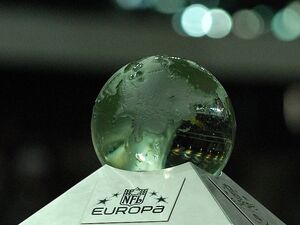 The World Bowl was the American football Championship game of NFL Europe, similar to the Super Bowl of the National Football League.
The World Bowl trophy itself was a globe made of glass measuring 35.5 cm (14 inches) in diameter and weighing 18.6 kg (41 lbs).
Overview
World League of American Football
When NFL Europe was founded in 1991 as World League of American Football (WLAF), with teams in North America and Europe as well as expansion plans for Asia, the name World Bowl was appropriate. It was kept after 1995 when the league limited itself exclusively to Europe.
Venues as NFL Europe
From 1995 to 1997, the World Bowl venue was decided by the standings after 5 weeks of the 10-week season. All venues before, and since, were predetermined before the season.
The 2002 World Bowl was hosted in Rhein Fire home town of Düsseldorf as a farewell to the old Rheinstadion. After the new LTU arena was completed, the 2005 World Bowl was hosted there again. It would return in 2006, as a first ever back to back WB site. Düsseldorf has currently no Bundesliga team and was not selected for FIFA World Cup games, so football is a major sport there, unlike in other NFL Europe towns.
World Football League
The former World Football League, a short-lived 1970s competitor to the NFL, also named its championship game the World Bowl. In World Bowl I, the only WFL World Bowl contested, the Birmingham Americans defeated the Florida Blazers 22-21 on December 5, 1974 at Legion Field in Birmingham, Alabama.
World Indoor Football League
The proposed World Indoor Football League that was to begin play in 1988 also intended on calling its championship the World Bowl. It would have been played on August 29, 1988. The WIFL, however, disbanded eleven days before its season was to begin.
World Bowl (WLAF, NFL Europe, and NFL Europa Championships)
Year
Venue
Winner
Score
Runner-Up
MVP
June 23, 2007
World Bowl XV
Commerzbank-Arena, Frankfurt, Germany
Hamburg Sea Devils
37 – 28
Frankfurt Galaxy
Casey Bramlet
Sea Devils, QB
May 27, 2006
World Bowl XIV

LTU arena

, Düsseldorf, Germany
Frankfurt Galaxy
22 – 7
Amsterdam Admirals

Butchie Wallace


Galaxy, RB
June 11, 2005
World Bowl XIII

LTU arena

, Düsseldorf, Germany
Amsterdam Admirals
27 – 21
Berlin Thunder
Kurt Kittner
Admirals, QB
June 12, 2004
World Bowl XII
Arena AufSchalke,

Gelsenkirchen

, Germany
Berlin Thunder
30 – 24
Frankfurt Galaxy
Eric McCoo
Thunder, RB
June 14, 2003
World Bowl XI
Hampden Park, Glasgow, Scotland
Frankfurt Galaxy
35 – 16
Rhein Fire

Jonas Lewis


Galaxy, RB
June 22, 2002
World Bowl X
Rheinstadion, Düsseldorf, Germany
Berlin Thunder
26 – 20
Rhein Fire
Dane Looker
Thunder, WR
June 30, 2001
World Bowl IX

Amsterdam ArenA

, Amsterdam, Netherlands
Berlin Thunder
24 – 17
Barcelona Dragons
Jonathan Quinn
Thunder, QB
June 25, 2000
World Bowl VIII
Waldstadion, Frankfurt, Germany
Rhein Fire
13 – 10
Scottish Claymores
Danny Wuerffel
Fire, QB
June 27, 1999
World Bowl VII
Rheinstadion, Düsseldorf, Germany
Frankfurt Galaxy
38 – 24
Barcelona Dragons
Andy McCullough
Galaxy, WR
June 14, 1998
World Bowl VI
Waldstadion, Frankfurt, Germany
Rhein Fire
34 – 10
Frankfurt Galaxy
Jim Arellanes
Fire, QB
June 22, 1997
World Bowl V
Estadi Olimpic, Barcelona, Spain
Barcelona Dragons
38 – 24
Rhein Fire
Jon Kitna
Dragons, QB
June 23, 1996
World Bowl IV
Murrayfield Stadium,

Edinburgh

, Scotland
Scottish Claymores
32 – 27
Frankfurt Galaxy
Yo Murphy
Claymores, WR
June 17, 1995
World Bowl III

Olympisch Stadion

, Amsterdam, Netherlands
Frankfurt Galaxy
26 – 22
Amsterdam Admirals
Paul Justin
Galaxy, QB
1994
Not Played
1993
June 6, 1992
World Bowl II
Olympic Stadium, Montreal, Canada
Sacramento Surge (USA)
21 – 17
Orlando Thunder (USA)
David Archer
Surge, QB
June 9, 1991
World Bowl I
Wembley Stadium, London, England
London Monarchs
21 – 0
Barcelona Dragons
Dan Crossman
Monarchs, Safety
Note:

Roman Numerals

were not officially used by NFL Europa until World Bowl IX. Before 2001, the games were billed as World Bowl 2000, World Bowl '99, etc.
Team statistics
| Team | Won | Played | Winning years | Runner-up years |
| --- | --- | --- | --- | --- |
| Frankfurt Galaxy | 4 | 8 | 1995, 1999, 2003, 2006 | 1996, 1998, 2004, 2007 |
| Berlin Thunder | 3 | 4 | 2001, 2002, 2004 | 2005 |
| Rhein Fire | 2 | 5 | 1998, 2000 | 1997, 2002, 2003 |
| Amsterdam Admirals | 1 | 3 | 2005 | 1995, 2006 |
| Barcelona Dragons | 1 | 4 | 1997 | 1991, 1999, 2001 |
| Hamburg Sea Devils | 1 | 1 | 2007 | |
| London Monarchs | 1 | 1 | 1991 | |
| Sacramento Surge | 1 | 1 | 1992 | |
| Scottish Claymores | 1 | 2 | 1996 | 2000 |
| Orlando Thunder | 0 | 1 | | 1992 |
| Cologne Centurions | 0 | 0 | | |
| Birmingham Fire | 0 | 0 | | |
| San Antonio Riders | 0 | 0 | | |
| Montreal Machine | 0 | 0 | | |
| New York/New Jersey Knights | 0 | 0 | | |
| Raleigh-Durham Skyhawks | 0 | 0 | | |
| Ohio Glory | 0 | 0 | | |
External links