The Women's National Football Conference (WNFC) is a full-contact Women's American football league that began play in 2019. It is one of four national full-contact, 11-on-11 football leagues for women, along with the Women's Football Alliance, the United States Women's Football League and the Women's Tackle Football League.
League history
Edit
Template:Update section The Women's National Football Conference was founded in 2018, with their inaugural season in 2019. On their website, the WNFC describes themselves as looking to create a standard of excellence and opportunities. Notably, the WNFC does not charge teams of players a fee for entry into the league; rather, teams are invited into the league based on quality of market, team, players and ownership.[1]
On December 10, 2018, the WNFC announced a historic partnership with Adidas, as part of the latter's "She Breaks Barriers" initiative.[2] As part of that partnership, Adidas serves as the WNFC's presenting sponsor, with all WNFC teams wearing custom-made Adidas uniforms.
The WNFC played their inaugural season in 2019 with fourteen regular teams and one exhibition team. Five teams came to the WNFC from the Independent Women's Football League (which folded after the 2018 season), three from the WFA, two from the USWFL and five were brand-new teams playing their inaugural season in the WNFC.
The season began on April 6 and ended with the inaugural IX Cup (named in honor of Title IX) on June 29, which saw the Texas Elite Spartans defeat the Utah Falconz 19-14.[3]
The WNFC has added five teams so far for the 2020 season; three from the WFA and two from the USWFL.
Team
Location
Venue
Head coach
Founded
Joined
Pacific Conference
Denver Bandits
Aurora, Colorado
Aurora Public Schools Stadium
Marcel Sampson
2018
2019
Las Vegas Silver Stars
Las Vegas, Nevada
Eldorado High School
Carrie Walters
2017
2019
Los Angeles Bobcats
Los Angeles, California
Rancho Cienega Sports Complex
Timothy Holmes
2015
2019
San Diego Rebellion
San Diego, California
Balboa Stadium
Knengi Martin
2017
2019
San Diego Surge
Santee, California
Santana High School
Mike Suggett
2010
2019
Seattle Majestics
Kent, Washington
French Field
Scott McCarron
2002
2019
Utah Falconz
Kent, Washington
Cottonwood High School
Rick Rasmussen
2002
2019
Atlantic Conference
Alabama Fire
Birmingham, Alabama
Panther Stadium
Cedric Lane
2015
2019
Atlanta Phoenix
Mableton, Georgia
Pebblebrook High School
Brian Montgomery
2011
2019
Houston Heat
Missouri City, Texas
Various
Daryl Hobbs
2017
2019
Nebraska Nite Hawks
Bellevue, Nebraska
Bellevue West High School
Vershan Jackson
2018
2019
Texas Elite Spartans
Addison, Texas
Alfred J. Loos Stadium
Odessa Jenkins
2017
2019
Exhibition Team
Phoenix Prowlers
Glendale, Arizona
Independence High School
Ron Reddic
2018
2019
Joining in 2020
Carolina Queens
Charlotte, North Carolina
TBD
TBD
2004
2020
La Muerte de Las Cruces
Las Cruces, New Mexico
Field of Dreams
Billy Avalos
2017
2020
Mississippi Lady Panthers
Jackson, Mississippi
Various
LeSteven Jackson
2018
2020
Philadelphia Phantomz
Philadelphia, Pennsylvania
Marcus Foster Memorial Stadium
Rich Harrigan
2015
2020
Washington Prodigy
Washington, D.C.
Woodrow Wilson High School
Tony Bell
2012
2020
Map of teams
Edit
Script error
Former teams
Edit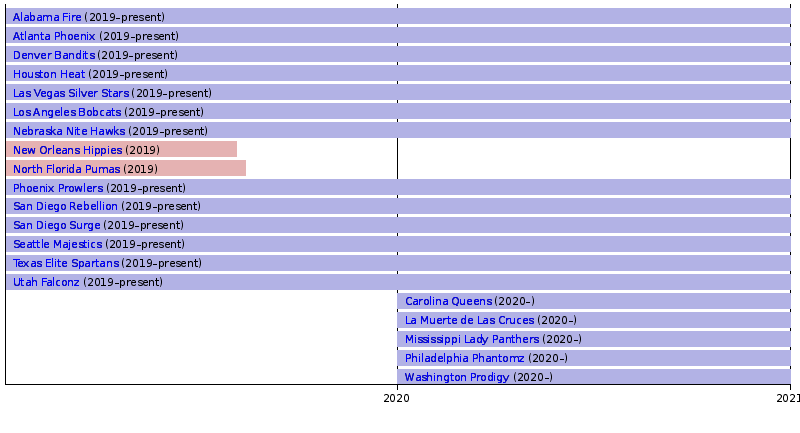 References
Edit
External links
Edit
Women's gridiron football leagues

United States

Women's National Football Conference

Canada
Australia
Defunct
Community content is available under
CC-BY-SA
unless otherwise noted.