Jurassic World: Dominion Dominates Fandom Wikis - The Loop
Play Sound
The West Virginia Mountaineers football team represents West Virginia University (WVU) in the NCAA FBS division of college football. Dana Holgorsen is Mountaineers' current head coach, the 33rd in the program's history, since his promotion in June 2011 in the wake of Bill Stewart's resignation. The Mountaineers play their home games at Mountaineer Field at Milan Puskar Stadium in Morgantown, West Virginia. While West Virginia currently participates in the Big East Conference, the University announced on October 28, 2011 that the Mountaineers will join the Big 12 Conference as of July 1, 2012.[3] This would represent an early exit from the Big East Conference, however, and litigation of the issue is ongoing.[4]
---
---
History
With a 700–457–45 record, West Virginia is the winningest Football Bowl Subdivision (FBS) program to have never won a National Championship.[5] Beginning in the 1937-1938 season, West Virginia was classified as a College Division school, and from 1939–72 as a University Division football school. From 1973–77, West Virginia was classified as Division I, from 1978–2006 as Division I-A, and from 2006–present as a Football Bowl Subdivision program. The Mountaineers have registered 79 winning seasons in their history, with 35 of those seasons resulting in eight victories or more and 17 seasons with nine victories or more.[6] Of those successful campaigns, West Virginia has produced one undefeated season in its history, going 10-0-1 in 1922. The Mountaineers have also produced five 11-win seasons, going 11-1 in 1988, 1993 and 2005, as well as 11-2 in 2006 and 2007. West Virginia's worst season came in 1960 when the Mountaineers produced a 0-8-2 record.[7]
Early years (1891-1920)
The West Virginia University football program traces its origin back to a humble beginning on November 28, 1891 when its first team fell to Washington & Jefferson 72-0 on a converted cow pasture.[8][9] Despite its humble beginning, West Virginia enjoyed a 25-23-3 overall record prior to 1900, which proved to be a fruitful century of Mountaineer football. The early 1900s brought about early successes for the program, namely during the 1903 and 1905 seasons when the Mountaineers posted records of 7-1 and 8-1 respectively.[7] The 1908-20 period saw the four-year head coaching tenures of C.A. Lueder (1908–11) and Mont McIntire (1916–17, 1919–20), representing the longest coaching tenures during this early period of Mountaineer football. Lueder's Mountaineers produced a 17-13-3 record, while McIntire's teams produced the most success of any Mountaineer team prior to 1921, compiling a 24-11-4 record including a 8-2 finish in 1919.[7] That same Mountaineer team also produced West Virginia's first ever Consensus All-American and potential College Football Hall of Fame inductee, Ira Errett Rodgers.[9] Rodgers scored 19 touchdowns and kicked 33 extra points for WVU in 1919 season, leading the nation with 147 total points. Rodgers also threw 11 touchdown passes that season, an unheard of feat at the time and a Mountaineer record until 1949.[10]
First glimpses of success (1921-49)
The 1920s were indeed "roaring" for the Mountaineers, coinciding with the successful coaching tenures of Clarence Spears (1921–24) and Ira Errett Rodgers (1925–30, 1943–45). Under the tutelage of Spears, West Virginia compiled a 30-6-3 record with its best performance coming in the 1922 season. The 1922 edition of the Mountaineers remains the only team in West Virginia history to produce an undefeated season, finishing with a 10-0-1 mark.[7] Spears's Mountaineers surrendered only 34 total points in 1922, posting six consecutive shutouts to finish the regular season.[11] The 1922 season also produced notable victories against rival Pitt and against Gonzaga in the East-West Bowl, the program's first bowl game appearance. In homage to this season, West Virginia University undertook construction of what would become the first incarnation of Mountaineer Field.[9] The Mountaineers continued their success under Spears in posting subsequent one-loss seasons in 1923 (7-1-1) and in 1924 (8-1), with Spears departing the program for Wisconsin thereafter.[12] Following Spears was Mountaineer legend Ira Errett Rodgers, who took over the coaching reigns in 1925. Rodgers's Mountaineers continued the success of previous years in posting a 8-1 record that season. After two seasons of lackluster performances, the program returned to its winning ways with a 8-2 finish in 1928.[13] The Mountaineers would not experience the same success until 1937, however, when first year coach Marshall Glenn led West Virginia to a 8-1-1 record, including an upset of Texas Tech in the 1938 Sun Bowl.[14] Running back Harry Clarke paved the way for the Mountaineers that season, rushing for a then school record 921 yards and 10 touchdowns.[15] Much like the period between 1928–1937, West Virginia would experience a lag in success, posting no more than six wins in a season until 1948. Under the direction of head coach Dudley DeGroot in 1948, the Mountaineers finished 9-3 and added another Sun Bowl victory to its resume, this time over Texas Western (UTEP).[16] Despite that successful first season, DeGroot would resign after a disappointing 4-6-1 finish in 1949.[17]
Developing consistency (1950-69)
When Art "Pappy" Lewis became West Virginia's head coach in 1950, he remarked that it was the job that he had always wanted.[17] Known by his peers as an exceptional recruiter and by his players as a "father figure," Lewis established a family-like atmosphere within the Mountaineer football program.[17] Lewis's Mountaineer teams held true to form, experiencing its most consistent success during the 1950s as it ever had previously. After forgettable campaigns in 1950 and '51, the 1952 season brought West Virginia its first winning season since 1948. The Mountaineers finished with a 7-2 record, highlighted by a 16-0 upset victory of #18 Pitt in Pittsburgh.[18] It was this winning season that would set the tone for the halcyon days of Art Lewis's program. Beginning with the 1953 season, the Mountaineers would reel off three consecutive 8-win seasons and five Southern Conference (SoCon) championships in six seasons.[19] When West Virginia defeated Pitt 17-7 to open the 1953 season, the program was off an running. Led by three All-Americans - running back Tommy Allman, guard Gene Lamone, and center Bob Orders - the Mountaineers finished with a 8-2 record, its first SoCon championship, a #10 ranking in the AP Poll, and a berth in the 1953 Sugar Bowl with Georgia Tech.[20] The 1954 edition of the Mountaineers also finished the regular season with a 8-1 mark, losing its only game to Pitt by a 13-10 score. Despite winning its second consecutive SoCon title, and earning a #12 ranking in the AP Poll, the Mountaineers did not earn a bowl bid.[21] In 1955, the Mountaineers engineered yet another 8-win season and SoCon championship, but upset losses to Pitt and Syracuse doomed West Virginia's shot at a bowl bid.[22] Despite its disappointing finish, 1955 Mountaineer team produced two All-American offensive linemen and future College Football Hall of Fame inductees in Bruce Bosley and Sam Huff, as well as a 800-yard rusher in running back Bob Moss.[23] Bosley earned Consensus All-American status that season, becoming the first Mountaineer to do so since Ira Errett Rodgers in 1919.
Despite finishing with a modest 6-4 record in 1956, West Virginia won its fourth consecutive SoCon title with a 5-0 record in conference play.[24] The 1957 season was yet another winning endeavor for Lewis and WVU, finishing with a 7-2-1 record and a 3-0 mark in Southern Conference play. Although the Mountaineers once again compiled an undefeated SoCon record, Mountaineers were not awarded the conference championship, as VMI earned the title with a 9-0-1 overall record and 6-0 record in SoCon play.[25] As irony would have it, the 1958 season brought the Mountaineers its first losing season in eight years, but their 4-0 record in SoCon play earned the program its 5th conference title in six seasons.[26] Unfortunately for Art Lewis and his Mountaineers, 1958 would be the final season that West Virginia would win a conference championship under his tenure. The Mountaineers finished with a disappointing 3-7 record in 1959, Lewis's final season in Morgantown as he resigned thereafter.[27] Despite the program's drop off in success in his final two seasons as coach, Lewis produced 58 victories overall during his tenure at West Virginia, making him the winningest coach in Mountaineer history at the time (now 3rd overall).[28] After Lewis's departure, the program hit an all-time low in 1960 under first-year head coach Gene Corum, posting its worst season to date: 0-8-2.[29] Thankfully, the Mountaineers rebounded and by 1962 were back to their winning ways, posting a 8-2 record and 4-0 conference record. Despite its undefeated conference record, once again the SoCon crown eluded the Mountaineers in favor of the VMI Keydets and their 6-0 record in conference play.[30] West Virginia would not have to wait long for its next SoCon title, however, as the program won the title in the 1964 and '65 seasons consecutively. The 1964 season saw the Mountaineers finish 7-4 and participate in the Liberty Bowl against Utah, West Virginia's first bowl game in 11 years as well as the first major college football bowl game ever played indoors and to be broadcast nationwide in the United States.[31]
Following the 1965 season, Jim Carlen took over for Corum as head coach, guiding the Mountaineers to their 8th and final SoCon championship in 1967.[32] West Virginia would depart the Southern Conference thereafter, participating as an independent until 1991. Carlen's Mountaineers would produce subsequent winning seasons in 1968 and '69, posting records of 7-3 and 10-1 respectively. The 1969 edition of the Mountaineers was the most successful West Virginia team since the 1922 season.[19] Not only did the Mountaineers win 10 games, but they earned their first bowl game victory since 1948 with a Peach Bowl victory over #19 South Carolina, as well as a #18 final ranking in the Coaches' Poll. The '69 Mountaineers were led by a dynamic rushing tandem of running back Bob Gresham (1,155 yards and 9 touchdowns) and fullback Jim Braxton (843 yards, 12 touchdowns).[33] Braxton's performance remains a WVU single season record for rushing yards amongst fullbacks,[34] while Gresham became the second Mountaineer to ever rush for more than 1,000 yards (Garrett Ford, Sr. was the first with 1,068 yards in 1966).[35] At the conclusion of the 1969 season, Carlen departed West Virginia for Texas Tech. The Mountaineers responded by hiring Bobby Bowden, ushering in the 1970s and a new era of WVU football.
The Bowden era and the Cignetti aftermath (1970-79)
The Bobby Bowden era of West Virginia Mountaineer football couldn't have begun more swimmingly in 1970, or so it seemed. The Mountaineers were 4-1 to start the season and led arch rival Pitt 35-8 at halftime in Week 6.[36] What transpired was one of the most infamous collapses in Backyard Brawl and West Virginia football history. The Mountaineers surrendered 28 unanswered points, losing to the Panthers 36-35 and leading Bowden to remark that he had "embarrassed the whole state of West Virginia" in the process.[37] Despite the disappointment of the Pitt defeat, West Virginia would go on to finish 8-3 in 1970.[38] The 1970 season also saw Jim Braxton and linebacker Dale Farley earn All-American honors. The Mountaineers continued their winning ways under Bowden in 1971 and '72, posting records of 7-4 and 8-4 respectively. The 1972 West Virginia team earned its first trip back to a bowl game in three years, participating once again in the Peach Bowl against North Carolina State.[39] The season also witnessed the offensive prowess of running back Kerry Marbury and wide receiver Danny Buggs. Marbury ran for 16 touchdowns in 1972, a record that remained unbroken until 2002.[40] Buggs, meanwhile, was an offensive dynamo. Buggs recorded 35 receptions for 791 yards and eight touchdowns, ran for four touchdowns, and returned two punts for touchdowns to amass 14 total touchdowns.[41] The 1973 and '74 seasons, however, were not kind to the Mountaineers, as they finished with lackluster records of 6-5 and 4-7. Despite the disappointment of those seasons, Danny Buggs earned All-American status for his contributions in both campaigns. His 69-yard punt return for a touchdown with 36 seconds remaining to beat Maryland in the 1973 season opener remains one of the greatest moments in Mountaineer history.[42] The 1975 season, however, was very kind to West Virginia and Bobby Bowden. The Mountaineers compiled a 9-3 record, a 13-10 Peach Bowl victory over North Carolina State, and a final ranking of #17 in the Coaches' Poll and #20 in the AP Poll.[43] Additionally, the Mountaineers upset the #20 Pitt Panthers 17-14 on a game-winning field goal in the dying seconds in yet another memorable chapter of the Backyard Brawl. Bowden would later describe the victory as one of the most exciting ones of his coaching career.[37] Following the 1975 season, Bowden left WVU to become the head coach at Florida State, where he would become the second winningest coach in NCAA Division I-A/FBS history. In just six seasons with the Mountaineers Bowden produced a 42-26 record, good for 5th all-time in the program.[28] Bowden's departure not only signaled the end of his tenure at West Virginia, but to the end of WVU's winning ways in the 1970s.
Under the direction of Frank Cignetti, the Mountaineers endured four seasons of losing football. The 1976 season saw West Virginia finish with a 5-6 record, losing four of its final six games.[44] The disappointment of 1976 was realized again the following season, as the Mountaineers posted another 5-6 finish in 1977. After a promising 4-1 start to the season, including an upset road victory over #11 Maryland, WVU lost five of its final six games.[45] The program's futility would reach a new low in 1978, where the Mountaineers finished 2-9 and were outscored 364-167 on the season.[46] It was later revealed that Cignetti had suffered through the season from a rare form of cancer, nearly losing his life on the operating table during a procedure to remove his spleen in the winter of 1978.[47] Fortunately for Cignetti and WVU, he recovered in time for the 1979 season, his final with the program. The Mountaineers produced another 5-6 finish, losing its first three games and later dropping three out of their final four games to close the book on Cignetti's coaching career at West Virginia.[48] Despite the program's apparent shortcomings during Cignetti's tenure, there were plenty of positives that came from his legacy at WVU. Cignetti managed to land prized recruit and future Consensus All-American linebacker Darryl Talley, as well as standout quarterback and current Athletic Director Oliver Luck and running back Robert Alexander. Cignetti's coaching staffs also consisted of some of the best coaches in college football, including Nick Saban, Joe Pendry and Rick Trickett (who, along with Rich Rodriguez, was later credited as an innovator in utilizing the zone blocking scheme in conjunction with the run-based spread offense at WVU).[47] However, with a 17-27 record during his four years with the program, and in having to follow in the footsteps of the great Bobby Bowden, Cignetti's tenure with the Mountaineers will likely retain its distinction as one of the most forgettable ones in the program's history.
The Nehlen feelin' (1980-2000)
In the wake of Frank Cignetti's firing, the West Virginia Athletic Department determined that a full rebuild was in order for the program. On December 10, 1979, West Virginia introduced Don Nehlen as its new head coach, the 30th coach in the program's history. Coinciding with Nehlen's hire was the construction of the second incarnation of Mountaineer Field, the program's current home stadium.[49] Nehlen brought sweeping change to the Mountaineer football program, going so far as to implement a new logo and color scheme that remains in use to this day. Most importantly, Nehlen brought a winning attitude to Morgantown and demanded that his players and coaching staff follow suit.[49] The result would forever change the culture of Mountaineer football, bringing about unprecedented consistency and success during his two-decade tenure at West Virginia. After a 6-6 campaign in 1980, Nehlen's 1981 Mountaineers produced the first of 15 winning seasons under his direction. It also marked the first of three consecutive 9-win seasons and four consecutive bowl game appearances for the Mountaineers. Led by senior quarterback Oliver Luck's 2,448 yards passing and 16 touchdowns, the 1981 team posted a 9-3 record and earned a trip back to the Peach Bowl, where they defeated the Florida Gators 26-6. The Mountaineers also finished ranked in the polls for the first time since 1975, coming in at #17 in the AP and #18 in the Coaches'.[50] The 1982 Mountaineers experienced similar success. Sparked by their come-from-behind upset victory over #9 Oklahoma to open the season, the Mountaineers rolled to a 9-2 record, remaining ranked in the AP poll throughout the season en route to a Gator Bowl berth with Bobby Bowden and Florida State. Despite its Gator Bowl loss, West Virginia once again finished the season 9-3 and ranked 19th in both final polls.[51] Nehlen's '82 Mountaineers also produced its first Consensus All-American since 1955 in linebacker Darryl Talley, who recorded 140 tackles and seven sacks in his senior year.[52] The 1983 season saw the Mountaineers produce its third consecutive 9-win season. Led by quarterback Jeff Hostetler's 2,345 yards passing and 16 touchdowns, West Virginia rolled to a 6-0 record out of the gate and finished the season at 9-3 after defeating Kentucky in the Hall of Fame Classic. It was also the third consecutive season for WVU to finish ranked, coming in at #16 in both the AP and Coaches' polls.[53] Kicker Paul Woodside also received All-American honors, as he converted 21 of 25 field goal attempts and all 37 of his extra point attempts en route to a team-leading 100 points.[54]
Although the 1984 season had all the makings of a memorable one for West Virginia, the Mountaineers experienced their first letdown in Nehlen's tenure. While West Virginia managed to finish 8-4 with a Bluebonnet Bowl victory over Texas Christian, it had squandered a 7-1 start to the season (which included WVU's first victory over Penn State in 29 years) and lost its final three regular season games.[55] Despite its disappointing end to the season, the Mountaineers managed to achieve a #21 ranking in the Coaches' poll and produced two All-Americans in return specialist Wille Drewery and tight end Rob Bennett. After four consecutive seasons of bowl berths and finishes in at least one of the polls, West Virginia went on a two-year drought in 1985 and '86, finishing those seasons with records of 7-3-1 and 4-7 (Nehlen's first of only four losing seasons) respectively. The shortcomings of those seasons came to a head in 1987, where a young, promising Mountaineer team endured a season of growing pains and near-misses. Despite a 1-3 start, West Virginia rallied to finish the regular season at 6-5 with four of their five losses coming by 5 points or less.[56] Freshman quarterback Major Harris led the way for the Mountaineers, compiling 16 total touchdowns and providing glimpses of what was to come in his illustrious collegiate career.[57] Perhaps fittingly, the season of near-misses culminated in a 35-33 loss to #11 Oklahoma State in the Sun Bowl, a game in which the Mountaineers led 24-14 at halftime and lost on a failed two-point conversion attempt with 1:13 remaining.[58] The near-misses of 1987, however, gave way to the 1988 season, a season that will live on as one of the greatest in Mountaineer history.
The 1988 edition of the Mountaineers was one for the ages, featuring gifted sophomore quarterback Major Harris and a stifling defense. Entering the season at #16 in the AP Poll, West Virginia breezed through its schedule for its first undefeated regular season since 1922 and its first ever 11-win season. The Mountaineers averaged 43 points and 483 yards per game during the regular season, rolling up 30 or more points in 10 of its games (including a 51-30 rout of Penn State, the most points ever surrendered by a Joe Paterno-coached team).[59] The success of the regular season culminated in West Virginia's first (and only) trip to a National Championship Game in its history, where the #3 Mountaineers met #1 Notre Dame in the Fiesta Bowl. It was there that the magical run would come to an end. On the third play from scrimmage, Harris separated his left shoulder.[60] His injury diminished his scrambling ability for the rest of the game, as he amassed only 11 yards rushing. Despite the injury and with WVU trailing 26-13 in the 3rd quarter, Harris and the Mountaineers were in position to mount a comeback at the Irish 26 yard line. The WVU offense sputtered, however, and Notre Dame's Tony Rice put the game out of reach with his second touchdown pass of the contest. Notre Dame went on to win the Fiesta Bowl 34-21 and the National Championship. The once prolific Mountaineer offense hit a wall against the Irish defense, amassing only 282 yards.[60] West Virginia finished the 1988 campaign ranked #5 in both the AP and Coaches' Polls. Major Harris compiled 610 yards rushing, 1,915 yards passing, and 20 total touchdowns on the season.[61]
Coming off of its first ever 11-win season and with junior Major Harris returning to lead a potent offense, West Virginia entered the 1989 season ranked 17th in the AP Poll and with high expectations. The Mountaineers started the season accordingly, racing to a 4-0 record and to #9 in the AP Poll. In Week 5 against #10 Pitt, however, West Virginia fell victim to another memorable collapse in the Backyard Brawl. Trailing 31-9 in the 4th quarter, Pitt scored 22 unanswered points and kicked a game-tying field goal as time expired to force a 31-31 tie.[62] The Mountaineers would suffer another heartbreaking result the following week with a 12-10 home loss to Virginia Tech, as well as a 19-9 loss to #16 Penn State in State College. Despite those disappointing defeats, WVU finished the regular season at 8-2-1, a #17 ranking in the AP Poll, and a trip to the Gator Bowl to face #14 Clemson. The Mountaineers faltered, however, losing 27-7 and finished the season at 8-3-1 with a #21 ranking in the AP and Coaches' Polls.[63] After a lackluster 4-7 season in 1990, West Virginia's final season as in Independent in the NCAA Division I-A ranks, and equally disappointing campaigns as new Big East Conference members of 6-5 and 5-4-2 in 1991 and 1992, the 1993 season saw the Mountaineers return to ranks of the college football elite.
For the second time in six seasons, West Virginia produced an undefeated, 11-win regular season in 1993. The Mountaineers put together a slew of heart-stopping victories in 1993, beginning with a 36-34 upset of #17 Louisville in Morgantown. The two most memorable wins, however, would come in the final two games of the regular season in Big East Conference play. Facing a 14-10 deficit in the 4th quarter against #4 Miami, running back Robert Walker scored on a 18-yard touchdown run to upset the Hurricanes before a record crowd of 70,222 at Mountaineer Field.[64] The following week, the Mountaineers trailed #11 Boston College 14-3 in the 4th quarter of the regular season finale. With a Big East title and possible trip to the National Championship Game on the line, senior quarterback Darren Studstill engineered two touchdown-scoring drives, including a 24-yard touchdown pass to Ed Hill with 1:08 remaining, to cap another thrilling 17-14 victory and give the Mountaineers their first ever Big East Conference Championship.[65] Despite being ranked #2 in the Coaches' Poll and #3 in the AP Poll, West Virginia was not selected to play in the Orange Bowl for a possible National Championship, as 11-1 Florida State was selected to play Nebraska. Instead they were chosen for the Sugar Bowl along with SEC Champion Florida. The Gators routed the Mountaineers 41-7, denying West Virginia of its perfect season. WVU finished the season at 11-1, ranked #6 in the Coaches' Poll and #7 in the AP Poll. Robert Walker amassed a then-school record 1,250 rushing yards along with 11 touchdowns on the season.[66]
Unfortunately for Nehlen, the '93 season would be his final season with double-digit victories as his subsequent Mountaineer teams failed to recapture that magic. After posting a 7-6 record in 1994 and a 5-6 mark in '95, the 1996 Mountaineers showed promise of returning the program to national prominence. West Virginia jumped out to a 7-0 record in 1996, only to lose three of its final four regular season games en route to a 8-3 record and a 20-13 defeat in the Gator Bowl at the hands of #12 North Carolina to finish 8-4.[67] The 1997 season witnessed another strong start from the Mountaineers, taking a 7-2 record into the final two weeks of the season. Once again, the Mountaineers faltered as they lost 21-14 at Notre Dame and 41-38 in triple overtime to a 5-5 Pitt team to finish the regular season at 7-4. The late season collapse culminated in another bowl game defeat, this time to Georgia Tech in the Carquest Bowl.[68] Despite the disappointing conclusion to the season, quarterback Marc Bulger emerged as a capable leader throwing for 2,465 yards and 14 touchdowns, while running back Amos Zereoue shattered Robert Walker's rushing record with 1,589 yards and his 18 touchdowns remain a school record (tied with Pat White).[69] The 1998 season brought with it high expectations for the Mountaineers, as the program entered the season ranked #11 in the AP Poll. Despite dropping its opening game to #1 Ohio State, West Virginia rebounded to win its next four games and went on to finish the season with a 8-3 record and 5-2 mark in Big East conference play. The Mountaineers failed to attain nine wins, however, as they were defeated for the 8th consecutive time in a bowl game by Missouri in the Insight.com Bowl.[70] Marc Bulger set two WVU records with 3,607 yards passing and 31 touchdown passes, while Amos Zereoue amassed 1,462 yards rushing and 13 touchdowns in his final season as a Mountaineer. In addition, receivers Shawn Foreman and David Saunders finished with eight touchdown receptions each.[71] After a forgettable 4-7 finish in 1999, Don Nehlen's final season saw his Mountaineers finish 7-5 with a victory in the Music City Bowl over Ole Miss, ending West Virginia's streak of futility in bowl games.[72] Overall, Nehlen posted a 149-93-4 record during his tenure at West Virginia, making him both the longest-serving and winningest coach in Mountaineer history.[28] As the man responsible for shaping the Mountaineer football program and bringing it to national relevancy in his 21 seasons in Morgantown, Nehlen was inducted into the College Football Hall of Fame in 2005. Most importantly, he left a legacy of success that laid the foundation for the program's most successful and prominent era.
Golden era (2001-present)
After Don Nehlen's retirement, the program entered a new era with its first new head coach in 20 years and the 31st coach in its history: Rich Rodriguez. If taking over for a legend wasn't difficult enough for Rodriguez, his first season at the helm of the program while instituting his run-based conception of the spread offense made his job all the more stressful. The 2001 edition of the Mountaineers finished 3-8, its worst record since 1978. Perhaps most importantly, however, the conclusion 2001 season set the stage for the emergence of the most successful era in Mountaineer football history.[7]
The 2002 season represented the biggest single-season turnaround in program history. Despite a 5-3 record through the season's first eight games, the Mountaineers reeled off four consecutive victories, including upset road wins over then-ranked rivals Virginia Tech (#13) and Pitt (#17).[73] West Virginia finished the regular season at 9-3 overall, with a 6-1 conference record for 2nd place in the Big East, and a berth in the Continental Tire Bowl with Virginia. Despite losing its bowl game, West Virginia finished with a 9-4 record and was ranked in both the Coaches' (#20) and AP (#25) polls for the first time since 1993.
The excitement generated from the accomplishments of the 2002 campaign was short-lived as the Mountaineers stumbled to a 1-4 record early 2003 season. West Virginia rebounded, however, and in similar fashion to the previous season reeled off seven consecutive victories. Once again those wins included triumphs over #3 Virginia Tech and #16 Pitt. The victory over Pitt was especially memorable for the Mountaineers as they scored 52 points in the Backyard Brawl for the 3rd time in five years, outscoring a vaunted Panther offense that featured wide receiver Larry Fitzgerald.[74] The Mountaineers completed their impressive turnaround with a 8-4 regular season record and a 6-1 conference mark, earning them a share of their first Big East title since 1993.[75] West Virginia earned a trip to the Gator Bowl for a rematch with rival Maryland. The result for the Mountaineers was nearly a duplicate of their 34-7 defeat to the Terrapins earlier in the season, as they fell 41-7 and finished the season 8-5.
In contrast to 2002 and 2003, the 2004 Mountaineer season may best be remembered for being the antithesis of those seasons and for what the Mountaineers didn't accomplish. West Virginia, ranked #10 in the AP Poll to begin the season, jumped out to a 8-1 record.[76] In the final two games of the regular season, however, the Mountaineers collapsed, losing to #21 Boston College and to unranked Pitt. Most importantly, those losses culminated in West Virginia's squandering of its opportunity to win the Big East outright for the first time since 1993, leading to a four-way tie for first place and the BCS Fiesta Bowl nomination going to Pitt by virtue of tiebreaker. The disappointing season drew to a close with 30-18 loss to Florida State in the Gator Bowl.
Thankfully for the program and its fans, the sour taste of 2004 did not carry into the 2005 season, a special one for the Mountaineers. After a 5-1, albeit unimpressive, start to the season, the Mountaineers came alive in Week 7 against #19 Louisville as quarterback Pat White and running back Steve Slaton cut loose on the Cardinal defense to erase a 24-7 4th quarter deficit en route to a thrilling 46-44 triple overtime victory.[77] From that point forward, the Mountaineers cruised through the remaining Big East schedule, outscoring their opponents 111-26 en route to a 10-1 finish and an undefeated record in conference play for their 2nd outright Big East championship (3rd overall).[78] The Mountaineers earned their first ever BCS bowl game berth when they faced #8 Georgia in the Sugar Bowl. West Virginia jumped on the Bulldogs with 21-1st quarter points and never looked back, stunning Georgia with a 38-35 victory. Slaton earned Sugar Bowl MVP honors for his performance (204 yards rushing and three touchdowns).[79] The Mountaineers finished the 2005 season with their third ever 11-win season, earning rankings of #5 and #6 in the AP and Coaches' Polls respectively. The emergence of White and Slaton provided the Mountaineers with two of the most prolific offensive performers in NCAA football history.
The Mountaineers once again posted 11 wins in the 2006 season, narrowly missing out on another Big East championship after disappointing losses to Louisville and South Florida. The Mountaineers did, however, pull out another triple overtime thriller with a 41-39 victory over #13 Rutgers in the final game of the regular season. West Virginia remained ranked the the top 15 in both polls throughout the season, earning another New Year's Day bowl game as they met the Georgia Tech in the Gator Bowl. West Virginia came away with another 38-35 victory, winning consecutive bowl games for the first time since the 1983 and 1984 seasons. Additionally, center Dan Mozes and running back Steve Slaton earned Consensus All-American honors. Slaton's 1,744 rushing yards in 2006 remains West Virginia single-season record.[80] The 2006 edition of the Mountaineers managed to register 505 points, a single-season record for West Virginia at that time.[81]
The 2007 season may well be regarded as the most infamous season in West Virginia football history. The Mountaineers, fresh off the successes of the 2005 and 2006 seasons, attained a preseason ranking of #3 in the country and had aspirations of a National Championship. The Mountaineers raced to 4-0 out of the gate, outscoring their opponents by a 189-68 margin.[82] In Week 5, however, West Virginia suffered an upset defeat at the hands of #18 South Florida before a sellout crowd at Tampa's Raymond James Stadium.[82] The Mountaineers would rebound, however, winning their next six games, including a 66-21 victory over UConn to secure its 5th Big East title and its 2nd BCS bowl appearance. West Virginia rose to as high as #2 in the AP Poll and #1 in the Coaches' Poll, needing only a victory in Morgantown over a 4-7, heavy underdog Pitt team in the 100th installment of the Backyard Brawl to secure its second ever National Championship Game appearance. That victory did not come, however, as Pat White was injured in the first half and the Mountaineer offense sputtered against an inspired Pitt defense to the tune of a devastating 13-9 defeat.[83] The fallout of that defeat reached beyond National Championship implications for the program, as it culminated in the departure of Rich Rodriguez to Michigan, ending his tenure at West Virginia with a 60-26 record making him the 2nd winningest coach in the program's history.[84][85] Rodriguez left prior to West Virginia's meeting with #3 Oklahoma in the Fiesta Bowl. The Mountaineers proved resilient, however, as they put together an upset of their own with an impressive 48-28 victory over the Sooners. Long-time assistant coach Bill Stewart, named as interim head coach for the game, was rewarded thereafter with a five-year contract to become West Virginia's 32nd head coach.[86] Despite the upset loss to Pitt and Rodriguez's departure, the Mountaineers managed to win another BCS bowl game and secure its fifth 11-win season. Furthermore, West Virginia shattered the 2006 record of points scored in a season by posting 515 (an average of 39 points per game) in 2007.[87]
The 2008 season saw the Mountaineers transition into the Bill Stewart era. It was also the final season of Pat White's decorated collegiate career. Resolve and resiliency were once again the hallmark of the program in 2008, rebounding from a 1-2 start to finish in 2nd place in the Big East at 9-4 overall with a Meineke Car Care Bowl victory over North Carolina and a #23 ranking in the AP Poll. The bowl victory was West Virginia's fourth in a row, giving White a postseason record of 4-0 as a starting quarterback, a feat never before accomplished in collegiate play.[88] White's biggest accomplishment came in Week 13, however, when he set the NCAA rushing yardage record for quarterbacks with a 200-yard performance in a 35-21 win over Louisville.[89]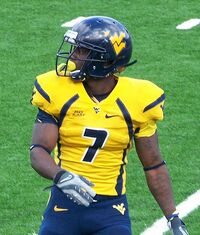 The 2009 edition of the Mountaineers saw West Virginia post another 9-win season and 2nd place finish in the Big East. Most notably, the Mountaineers ended their two-year losing streak in the Backyard Brawl and exacted a measure of revenge with a thrilling upset victory over #8 Pitt on Tyler Bitancurt's game-winning 43-yard field goal in the closing seconds. West Virginia failed to reach an attainable 10 win-season, however, when it lost the Gator Bowl to a 6-6 Florida State team in Bobby Bowden's final game. Junior running back Noel Devine posted career bests with 1,465 yards rushing and 13 touchdowns,[90] while senior Jarrett Brown became the first Mountaineer quarterback since Chad Johnston in 1995 to throw for over 2,000 yards.[91]
Despite achieving their third consecutive 9-win season, the 2010 season was ultimately a disappointing campaign for the Mountaineers. Despite assembling arguably the best defense in program history (surrendering only 176 total points, an average of 13.5 per game) and having a talented offense featuring Noel Devine, quarterback Geno Smith, and receiver Jock Sanders, West Virginia struggled with consistency all season. The regular season saw the Mountaineers lose to #15 LSU, Syracuse and UConn by a combined 14 points. The Mountaineer defense did not surrender more than 23 points against all season. Perhaps the most glaring defeat of the season came against UConn in Week 9 where West Virginia lost four fumbles, including one at UConn's 1-yard line in overtime, in a 16-13 loss.[92] The loss came back to haunt the Mountaineers as they failed to win the Big East conference outright and again lost out on a BCS Bowl bid by virtue of tiebreaker (head-to-head record) to UConn. Prior to West Virginia's Champs Sports Bowl match up with North Carolina State, Athletic Director Oliver Luck announced that Dana Holgorsen would be hired as the "coach-in-waiting," serving as offensive coordinator during the 2011 season and replacing Stewart as head coach in 2012. Luck explained that he didn't believe that the Mountaineers had an opportunity to win a national championship with the direction that the program was headed under Stewart as the reasoning for his decision.[93] Nearly six months later, the coach-in-waiting arrangement imploded as Stewart resigned amidst controversy surrounding his remarks to local newspaper reporters in regard to Holgorsen's reputation. Holgorsen assumed the role of head coach as of June 10, 2011.[94]
The onset of the Dana Holgorsen era brought about heightened expectations for the program as the Mountaineers entered the 2011 season. The potential for a prolific offensive attack under Holgorsen's guise coupled with West Virginia's selection as the odds-on favorite to win the Big East title provided optimism for a return to a BCS bowl game for the first time since 2007.[95][96] The season began on a positive note, as the Mountaineers raced to a 5-1 start (the loss coming to #1 LSU) and a #11 ranking in the AP Poll.[97] West Virginia stumbled, however, losing to an eventual 5-7 Syracuse team and to upstart Louisville, bringing its record to 6-3 with three games remaining. With the season hanging in the balance, the Mountaineers engineered 4th quarter comebacks in each of their final three games to defeat #23 Cincinnati, Pitt and South Florida to finish the regular season at 9-3 (5-2 in Big East play) with a share of its 7th Big East title.[98] Because West Virginia finished in a three-way tie for the Big East championship with Cincinnati and Louisville, and all three teams compiled a 1-1 head-to-head record amongst each other, the conference tie-breaking procedure stipulated that the highest ranked team in the final BCS Poll would receive the Big East's BCS bid.[99] The Mountaineers, being the only Big East team ranked in the final BCS Poll at #23, earned the BCS bid and were subsequently selected to play in the Orange Bowl against ACC champion #14 Clemson.[100] The game will be WVU's first ever appearance in the Orange Bowl, its 3rd BCS Bowl appearance and its 31st overall bowl appearance.
The past ten years have yielded the most successful era of Mountaineer football to date. Since 2002, West Virginia has compiled a 94-33 record for a .740 winning percentage,[101] participating in bowl games at the conclusion of each of those ten seasons, as well as producing six Big East Conference titles and three BCS bowl game appearances during that span. West Virginia joins Boise State and Virginia Tech as one of only three FBS programs to have won at least nine games each season for the past seven seasons.[102]
Conference affiliations
Notable seasons
Despite never having won a National Championship, the Mountaineers have achieved success in their history. Beyond the recent successes of the past ten seasons, West Virginia has one undefeated season to its credit, five 11-win seasons, 15 conference championships, and 30 bowl appearances.
| Season | Coach | Conference Record | Overall Record | Final Ranking (AP/Coaches') | Notes |
| --- | --- | --- | --- | --- | --- |
| 1922 | Clarence Spears | Independent | 10-0-1 | - | First and only undefeated season, first season with 10 wins. |
| 1953 | Art Lewis | 4-0 (Southern) | 8-2 | 10/13 | First ever conference championship. |
| 1954 | Art Lewis | 3-0 (Southern) | 8-1 | 12/ - | Second consecutive 8-win season and conference championship. |
| 1955 | Art Lewis | 4-0 (Southern) | 8-2 | 19/17 | Third consecutive 8-win season and conference championship. |
| 1969 | Jim Carlen | Independent | 10-1 | 17/18 | Second ever 10-win season. |
| 1975 | Bobby Bowden | Independent | 9-3 | 20/17 | Bobby Bowden's final and winningest season at West Virginia. |
| 1981 | Don Nehlen | Independent | 9-3 | 17/18 | Don Nehlen's first winning season at West Virginia. |
| 1982 | Don Nehlen | Independent | 9-3 | 19/17 | Second consecutive 9-win season. |
| 1983 | Don Nehlen | Independent | 9-3 | 16/15 | Third consecutive 9-win season. |
| 1984 | Don Nehlen | Independent | 8-4 | - /21 | First WVU team to win consecutive bowl games. |
| 1988 | Don Nehlen | Independent | 11-1 | 5/5 | First ever 11-win season, first ever top-10 poll finish, loss in Fiesta Bowl remains West Virginia's lone National Championship Game appearance. |
| 1989 | Don Nehlen | Independent | 8-3-1 | 21/ - | Finished season ranked in both polls. |
| 1993 | Don Nehlen | Independent | 11-1 | 7/6 | Second ever 11-win season, second ever top-10 poll finish, first Big East Championship. |
| 2002 | Rich Rodriguez | 6-1 (Big East) | 9-4 | 25/20 | Rallied from 3-9 season in 2001 to finish 2nd in Big East. |
| 2005 | Rich Rodriguez | 7-0 (Big East) | 11-1 | 5/6 | Sugar Bowl victory, first BCS Bowl Game victory, 2nd outright Big East Championship, and 3rd top-10 poll finish. |
| 2006 | Rich Rodriguez | 5-2 (Big East) | 11-2 | 10/10 | Fourth 11-win season in WVU history, 4th top-10 poll finish. |
| 2007 | Rich Rodriguez/Bill Stewart | 5-2 (Big East) | 11-2 | 6/6 | Fiesta Bowl victory, 2nd BCS Bowl Game victory, 3rd consecutive 11-win season (5th overall), and 5th top-10 poll finish. |
| 2008 | Bill Stewart | 5-2 (Big East) | 9-4 | 23/ - | Bill Stewart's first season as head coach. |
| 2009 | Bill Stewart | 5-2 (Big East) | 9-4 | 25/22 | Second consecutive 9-win season, 5th consecutive season to finish ranked in at least one poll (WVU record). |
| 2010 | Bill Stewart | 5-2 (Big East) | 9-4 | - | Third consecutive 9-win season. |
| 2011 | Dana Holgorsen | 5-2 (Big East) | 10-3 | 17/18 | 7th Big East Championship, 7th consecutive season with 9-wins or more, first ever Orange Bowl berth, and 3rd BCS Bowl appearance. |
Notable games
Several games in West Virginia history stand out amongst others. Whether the following games encompass a historical milestone for the program, a memorable victory or a disappointing defeat, each game listed below retains its significance within Mountaineer football lore in its own unique fashion. Special consideration is paid to games with conference and/or seasonal implications, rivalry games, major upset victories and defeats, and historically significant games for the Mountaineer program.
Season
Opponent
WVU Score
Opp. Score
Result
Notes
1893

Mt. Pleasant

12
0
Win
First victory in West Virginia University football history.
1914
Duquesne
37
0
Win
100th victory.
1915
Marshall
92
6
Win
West Virginia single-game record for points scored.
1922
Gonzaga
21
13
Win
First ever bowl victory (East-West Classic), secured only undefeated season in WVU history.
1932
Marquette
34
7
Win
200th victory.
1938
Texas Tech
7
6
Win
First January bowl victory (Sun Bowl).
1947
Pitt
17
2
Win
Ended Pitt's 15-year winning streak in the Backyard Brawl.
1951
Geneva
89
0
Win
West Virginia single-game record for largest margin of victory.
1953
Washington & Lee
40
14
Win
300th victory.
1965
Pitt
63
48
Win
Most combined points scored in Backyard Brawl history.
1969
South Carolina
14
3
Win
Peach Bowl victory was WVU's first bowl victory since 1948, secured second ever 10-win season.
1970
Pitt
35
36
Loss
After leading 35-8 at halftime, the Mountaineers surrendered 28 unanswered points to lose to Pitt in another memorable edition of the Backyard Brawl.
1970
Colorado St.
24
21
Win
400th victory.
1973
Maryland
20
13
Win
With 36 seconds remaining and the score tied at 13, Danny Buggs returns a punt 69 yards for a touchdown to give the Mountaineers an improbable victory over the rival Terrapins in College Park.
1975
Pitt
17
14
Win
Bill McKenzie kicks a 38-yard field goal as time expires.
1975
North Carolina St.
13
10
Win
Peach Bowl victory, Bobby Bowden's final game as West Virginia head coach.
1979
Virginia Tech
34
23
Win
Final victory at Old Mountaineer Field.
1980
Cincinnati
41
27
Win
First game at the new Mountaineer Field, the debut of the "Flying WV" logo, and

John Denver

performed "Take Me Home, Country Roads" to cap the festivities.
1982
#9 Oklahoma
41
27
Win
Facing a 14-0 1st quarter deficit, Jeff Hostetler led the visiting Mountaineers to a come from behind, upset victory over the Sooners.
1983
Pitt
24
21
Win
Ended Pitt's 6-year winning streak in the Backyard Brawl.
1984
#4 Boston College
21
20
Win
The Mountaineers held the Doug Flutie's offense to its lowest point total of the season, limiting the Eagles to a 1-for-12 3rd Down Conversion rate.
1984
#19 Penn State
17
14
Win
Pat Randolph's 22-yard touchdown run in the 4th quarter gave the Mountaineers their first victory over Penn State since 1955.
1985
Rutgers
27
0
Win
500th victory.
1988
Penn State
51
30
Win
Most points ever scored against a Joe Paterno-coached team.
1988
#14 Syracuse
35
9
Win
Rivalry game victory secured undefeated regular season, first ever 11-win season.
1988
#1 Notre Dame
21
34
Loss
#3 WVU defeated in Fiesta Bowl, lone National Championship game appearance.
1989
#10 Pitt
31
31
Tie
#9 WVU squanders 31-9 4th quarter lead to tie #10 Pitt for the 3rd time in the history of the Backyard Brawl.
1993
#4 Miami
17
14
Win
Robert Walker's 19-yard touchdown run in the 4th quarter led the Mountaineers to an upset victory. Mountaineer Field attendance record (70,222).
1993
#11 Boston College
17
14
Win
Game-winning touchdown reception by Eddie Hill to clinch first outright Big East title, secured undefeated regular season and second ever 11-win season.
1993
#8 Florida
7
41
Loss
#3 WVU defeated in Sugar Bowl, finished season 11-1.
1994
Pitt
47
41
Win
Chad Johnston connects with Zack Abraham for a game-winning 60-yard touchdown with 15 seconds remaining.
1995
Boston College
31
19
Win
1,000th game in West Virginia football history.
1997
Pitt
38
41
Loss
Pitt managed to stay alive on a 4th and 17 conversion in the 3rd overtime, leading to the game-winning touchdown and upset of the Mountaineers in yet another memorable Backyard Brawl.
2000
Idaho
28
16
Win
600th victory.
2000
Ole Miss
28
16
Win
Music City Bowl victory, Don Nehlen's final game.
2003
#3 Virginia Tech
28
7
Win
Highest ranked team ever beaten by West Virginia
2003
#16 Pitt
52
31
Win
Upset victory over high-powered Pitt team in Backyard Brawl.
2004
Virginia Tech
13
19
Loss
#6 WVU upset by unranked Virginia Tech in Black Diamond Trophy rivalry game.
2004
#21 Boston College
17
36
Loss
#13 WVU upset by Boston College at home.
2004
Pitt
13
16
Loss
#21 WVU loses to unranked Pitt in Backyard Brawl, upset for 2nd consecutive game (3rd time of the season) and squandered opportunity to win Big East Championship outright.
2005
#19 Louisville
46
44
Win
Freshmen

Pat White

and Steve Slaton engineer comeback from 24-7 4th quarter deficit in thrilling triple overtime victory. Slaton ran for 188 yards and 5 touchdowns.
2005
Pitt
45
13
Win
Backyard Brawl rivalry victory secured WVU's 2nd outright Big East title.
2005
#8 Georgia
38
35
Win
Upset victory in Sugar Bowl, first BCS appearance.
2006
#5 Louisville
34
44
Loss
#3 WVU loses shootout in Louisville. Would later prove to be the "de facto" Big East championship game.
2006
South Florida
19
24
Loss
#7 WVU upset in the first of what would be consecutive times by South Florida.
2006
#13 Rutgers
41
39
Win
#15 WVU defeats #13 Rutgers in triple overtime thriller at Mountaineer Field.
2007
#18 South Florida
13
21
Loss
#5 WVU upset for 2nd consecutive time by South Florida in front of Bulls' first ever home sellout crowd.
2007
Pitt
9
13
Loss
In the 100th installment of the Backyard Brawl, #2 ranked and 28-point favorite WVU upset at home by 4-7 Pitt with BCS National Championship berth at stake.
2007
#3 Oklahoma
48
28
Win
The Mountaineers responded to their upset loss to Pitt by pulling off an upset of their own. This victory in the Fiesta Bowl was WVU's second BCS appearance, and also marked the beginning of Bill Stewart's head coaching tenure.
2008
Louisville
35
21
Win
Pat White becomes NCAA's all-time rushing leader among Quarterbacks (4,292 yards).
2008
North Carolina
31
30
Win
Pat White becomes the only Quarterback in NCAA history to post a 4-0 record in bowl games.
2009
#8 Pitt
19
16
Win
Upset victory on Tyler Bitancurt's game-winning 43-yard field goal as time expired.
2009
Florida State
21
33
Loss
WVU squanders a 14-3 1st quarter lead to lose to FSU in Bobby Bowden's final game. It was WVU's 6th Gator Bowl loss.
2010
Marshall
24
21
Win
Facing a 21-6 4th quarter deficit, Geno Smith guided WVU to touchdown drives of 96 and 98 yards in the final 8:28 (including the tying score and two-point conversion with 0:12 remaining) to force overtime, where WVU won after Marshall missed a 39-yard field goal attempt.
2010
Connecticut
13
16
Loss
WVU fumbles seven times (losing four), including on the 1-yard line in overtime. Would later prove costly for the Mountaineers as Big East Co-Champion UConn earned the conference's BCS bid by virtue of this match up.
2011
South Florida
30
27
Win
700th victory and 7th Big East title on Tyler Bitancurt's game-winning 28-yard field goal as time expired.
2011
#14 Clemson
-
-
-
First ever Orange Bowl appearance and the third overall BCS appearance for WVU.
Accomplishments
Bowl games
West Virginia has participated in 30 bowl games throughout its history, compiling a 13–17 record. Of those 30 appearances, the Mountaineers have participated in two BCS Bowl Games and one National Championship Game, posting records of 2-0 and 0-1 respectively. West Virginia's participation in the 2012 Orange Bowl marks the program's 31st bowl game and its third BCS appearance.
Conference championships
West Virginia has won or shared a conference title 15 times, including seven Big East titles. As members of the Southern Conference and the Big East, the Mountaineers have a all-time record of 154-64-3 (.703 winning percentage) in conference play. Since joining the Big East in 1991, West Virginia has amassed a 93-51-1 (.644) record against conference opponents, tops amongst the remaining original conference members (Pitt, Rutgers and Syracuse). The Mountaineers have also been the most successful program in the Big East since the inclusion of Cincinnati, Connecticut, Louisville, and South Florida into the reconfigured Big East.[103]
# Denotes co-champions
† Denotes BCS representative
Lambert-Meadowlands Trophy
The ECAC Lambert-Meadowlands Trophy is an annual award given to the best team in the Eastern Region of FBS-level college football. West Virginia has won the award on four occasions.
Traditions
See also: WVU Pageantry, WVU Sports Traditions, and WVU Band Traditions
The pre-game show, performed by the Pride of West Virginia, includes such traditions as the 220-beat per minute run-on introductory cadence, the formation of the "Flying WV" logo to the tune of "Fight Mountaineers," and the forming of the state of West Virginia whilst playing the university fight song "Hail, West Virginia."
During the games, the Mountaineer mascot will fire his musket at the conclusion of each quarter and following every score. WVU students (encompassing the "Mountaineer Maniacs" section) and fans alike participate in the "Let's Go...Mountaineers" chant, as well as in the "1st Down" and "3rd Down" cheers. The "1st Down" cheer, created by WVU students, can be heard at both home and away games prior to the announcement of a Mountaineer first down. Mountaineer fans raise their hands and hold a cheer of "OH!" in unison until the first down call is made by the public address announcer. Following the call, the fans lift their arms up-and down three times to a chant of "W-V-U," clap and then signal to the end zone chanting "first down!"[104] The "3rd Down" cheer is similar, with Mountaineer fans raising their arms and waving three fingers upon the announcement of "third down" by the public address.
The newest addition to the list of Mountaineer football traditions is the "Mountaineer Mantrip," instituted during the 2011 season by head coach Dana Holgorsen to recognize the significance of West Virginia's coal industry.[105] Named for the shuttle that transports coalminers into and out of an underground mine at the start and end of their shift, the Mountaineer players and coaching staff walk along the pathway dividing the Blue Lot and the Light Blue Lot outside of Mountaineer Field. They are accompanied by the Pride of West Virginia and cheerleaders. WVU students and fans line the path to create a tunnel-like effect for the passing team members, providing for an interactive and enthusiastic environment. When the team reaches the east end of Mountaineer Field, they stop to rub a 350-pound chunk of coal, donated by Alpha Natural Resources from the Upper Big Branch coal mine.[106]
Rivalries
Current
† Since the series began interchanging annually between Morgantown and Pittsburgh in 1963, the Mountaineers have held a 25-22-2 advantage over Pitt.
Inactive
† Since the inception of the Black Diamond Trophy in 1997, Virginia Tech has held a 6-3 advantage over the Mountaineers.
Logos and uniforms
Since 1980, West Virginia's standard uniform has consisted of a dark blue jersey (home) or a white jersey (away) with gold pants and a dark blue helmet adorned by the gold "Flying WV" logo on both sides.[107] West Virginia has since implemented both blue and white pants into its uniform scheme. Previously, the Mountaineers incorporated a more metallic gold color during the 1960s and 70's. Beginning in 1970, the Mountaineers donned the program's first official logo - the WVU "state outline" - on their helmets through the 1979 season.[108] West Virginia used a white helmet with the state outline logo from 1970–72, a gold helmet with the same logo from 1973–78, and reverted back to the white helmet and state outline logo in 1979.
The "Flying WV" is the trademark logo for West Virginia Mountaineer football, adorning the team's helmet and uniform. It debuted in 1980 along with the current gold and blue color scheme as a part of a football uniform redesign by head coach Don Nehlen, and was adopted as the official logo of West Virginia University in 1983.[109] The football program also utilizes a West Virginia "script" logo in conjunction with the Flying WV.
Having worn a gold jersey sparingly over the course of its history (namely during the 1960s), West Virginia reintroduced its gold alternate jersey prior to the 2007 season. The uniforms were first worn against Mississippi State for the 2007 homecoming game, as well as for West Virginia's first official "Gold Rush" game against Louisville. The gold jersey continues to be utilized as both an alternative home and away uniform.
The Mountaineers also wore a Nike Pro Combat System of Dress uniform specifically designed to pay tribute to West Virginia's coal mining industry for the 2010 edition of the Backyard Brawl. The uniform consisted of a shade of white accented by a layer of coal dust, along with accents of university gold that referenced the canaries once used to test toxicity levels in coalmines. The helmet had a yellow line designed to embody the beam of light emitted by a miner's headlamp.[110] West Virginia also donned the coal miner uniforms later that season for its Champs Sports Bowl match up with North Carolina State.
Coaches
Current coaching staff
| Name | Position | Years at WVU |
| --- | --- | --- |
| Dana Holgorsen | Head Coach/Offensive Coordinator | First |
| Jeff Casteel | Defensive Coordinator/Linebackers Coach | 11th |
| Steve Dunlap | Safeties Coach/Defensive Special Teams Coach | 25th |
| Bill Kirelawich | Defensive Line Coach | 33rd |
| David Lockwood | Defensive Backs Coach | 6th |
| Daron Roberts | Wide Receivers Coach/Offensive Special Teams Coach | First |
| Bill Bedenbaugh | Offensive Line Coach | First |
| Jake Spavital | Quarterbacks Coach | First |
| Shannon Dawson | Inside Receivers Coach | First |
| Robert Gillespie | Running Backs Coach | First |
| Mike Joseph | Head Strength & Conditioning Coach | 7th |
Head coaches
Records
All statistical records are courtesy of WVUStats.com unless otherwise cited.
School records
Individual records
Passing
Rushing
Receiving
Defensive
Punting
Punt Returns
Individual accomplishments
Retired numbers
Heisman Trophy candidates
NCAA award winners
Conference/regional award winners
WVU Conference/Regional award winners

| Season | Name | Pos. | Conference/Region | Award |
| --- | --- | --- | --- | --- |
| 2003 | Rich Rodriguez | Head Coach | Big East | Coach of the Year |
| 2004 | Adam "Pac-Man" Jones | RS | Big East | Special Teams Player of the Year |
| 2004 | Rasheed Marshall | QB | Big East | Offensive Player of the Year |
| 2005 | Steve Slaton | RB | Big East | Rookie of the Year |
| 2005 | Rich Rodriguez | Head Coach | Big East | Coach of the Year |
| 2006 | Pat White | QB | Big East | Offensive Player of the Year |
| 2007 | Pat White | QB | Big East | Offensive Player of the Year |
| 2011 | Tavon Austin | RS | Big East | Special Teams Player of the Year |
All-Americans
A total of 38 Mountaineers have been selected as All-Americans by various media sources. Among those selections, 11 have achieved Consensus All-American status.
WVU All-American Selections

    

- denotes Consensus All-Americans
Mountaineers in professional football
Active
Inactive and retired
Bill Anderson

Alex Bailey

Pete Barnum

Walt Brewster

A.B. Brown

Antonio Brown

Woody Bruder

Red Chenoweth

Carl Crennell

Carl Davis

Dick Dolly

Garrett Ford, Jr.

Ken Fryer

Hank Goodman

Mike Gussie

Rudy Hagberg

Steve Hathaway

Gene Heeter

Frank Kimble

Larry Krutko

Gordon Lambert

Ron Lee

Bill Lopasky

Jeff Lucas

Johnny Lucente

John Mallory

Harry Marker

Harry Merdon

Jim Merritts

Kelly Moan

Gary Mullen

Aaron Oliker

Bill Parriott

John Ray

Bernard Russ

Clarence Ryan

Ed Seibert

John Shonk

Matt Smith

Bill Sortet

Steve Superick

John Talley

Calvin Turner

Pat White

Amos Zereoue
Hall of Fame inductees
References
External links
Big East Conference football
Current teams
Future teams

Former teams

West Virginia Mountaineers
Championships & awards
Seasons
---
---