The West Virginia Intercollegiate Athletic Conference (WVIAC) was a collegiate athletic conference which historically operated exclusively in the state of West Virginia, but expanded into Pennsylvania in its final years. It participated in the NCAA's Division II, but held its final athletic competitions in spring 2013, and officially disbanded on September 1 of that year. Its football-playing members announced in June 2012 that they planned to withdraw to form a new Division II conference effective at the end of the 2012–13 season; this led to a chain of conference moves that saw all but one of the WVIAC's members find new conference homes.
The conference was rated as one of the oldest in intercollegiate athletics, dating back to its founding in 1924 by the West Virginia Department of Education.
In its final school year of 2012–13, the WVIAC offered championships in 16 sports and was headquartered in Princeton, West Virginia. Men's championships were offered in football, basketball, baseball, track, cross country, soccer, tennis, and golf. Women's titles were contested in volleyball, softball, basketball, cross country, soccer, track, tennis, and golf.
The WVIAC moved into the NCAA Division II in 1994 after its long affiliation with the NAIA.
Its post-season basketball tournament, which was first conducted in 1936, was at the time of the conference's demise one of the oldest college post-season tournaments in continuous existence—only the Southern Conference Men's Basketball Tournament, established in 1922, was older.
WVIAC breakup
Edit
On June 18, 2012, nine football-playing members of the WVIAC announced they would withdraw from the league to form a new regional all-sports conference.[1]
The WVIAC officially ceased to exist on September 1, 2013.[2] Eight of the nine football-playing members (Concord, Charleston, Fairmont State, Glenville State, Shepherd, West Liberty, West Virginia State, and West Virginia Wesleyan) and one non-football playing member (Wheeling Jesuit) of the conference joined a provisional D-II member from Virginia (UVA-Wise) and two associate Great Lakes Intercollegiate Athletic Conference members from Ohio (Notre Dame and Urbana) to form a new all-sports conference, the Mountain East Conference.[3] Seton Hill and Pitt-Johnstown joined the Pennsylvania State Athletic Conference. Three of the remaining non-football members (Alderson–Broaddus, Davis & Elkins, and Ohio Valley) accepted invitations to join the Great Midwest Athletic Conference.[4] By the end of August 2012, the only WVIAC member without a conference home for 2013–14 was Bluefield State.
Member schools leaving before 2013
Edit
Institution
Location
Founded
Type
Enrollment
Nickname
Joined
Left
Current Conference
Alderson College
Alderson, West Virginia
1901
Private
?
?
1924
1932
merged to form Alderson–Broaddus College
Broaddus College
Philippi, West Virginia
1871
Private
?
?
1924
1932
West Virginia University
Morgantown, West Virginia
1867
Public
29,707
Mountaineers
1924
1927
Big 12
Morehead State University
Morehead, Kentucky
1887
Public
11,172
Eagles
1929
1933
OVC
Mountain State University
Beckley, West Virginia
1933
Private
8,200
Cougars
1946
1977
KIAC (NAIA) until 2011-12
n/a - lost accreditation1
Marshall University2
Huntington, West Virginia
1837
Public
13,450
Thundering Herd
1924
1949
C-USA
Bethany College
Bethany, West Virginia
1840
Private
1,030
Bison
1924
1962
Presidents' (NCAA DIII)
Potomac State College
of West Virginia University
Keyser, West Virginia
1901
Public
?
Catamounts
1924
1963
PCAA (NJCAA)
West Virginia University
Institute of Technology
Montgomery, West Virginia
1895
Public
1,106
Golden Bears
1924
2006
NAIA/USCAA Independent
Salem International University
Salem, West Virginia
1888
Private
835
Tigers
1924
2010
G-MAC
Notes
- Mountain State's main campus (Beckley) became the University of Charleston–Beckley on January 1, 2013.
- Marshall stopped competition in the conference when it joined the Buckeye Conference in 1932, but was required by state regulations to remain a member on a technical basis until 1949.
Member schools at breakup
Edit
Institution1
Location
Founded
Type
Enrollment
Nickname
Joined
Left
New Conference
Alderson Broaddus University*
Philippi, West Virginia
1871
Private
800
Battlers
1932
2013
G-MAC
Bluefield State College*
Bluefield, West Virginia
1895
Public
1,800
Big Blues (men's)
Lady Blues (women's)
1955
2013
ECAC
University of Charleston
Charleston, West Virginia
1888
Private
1,315
Golden Eagles
1924
2013
Mountain East (MEC)
Concord University
Athens, West Virginia
1872
Public
3,000
Mountain Lions (men's)
Lady Lions (women's)
1924
2013
Mountain East (MEC)
Davis & Elkins College*
Elkins, West Virginia
1904
Private
600
Senators
Lady Senators
1924
2013
G-MAC
Fairmont State University
Fairmont, West Virginia
1865
Public
7,000
Falcons
1924
2013
Mountain East (MEC)
Glenville State College
Glenville, West Virginia
1872
Public
1,600
Pioneers (men's)
Lady Pioneers (women's)
1924
2013
Mountain East (MEC)
Ohio Valley University*
Vienna, West Virginia
1960
Private
512
Fighting Scots
1999
2013
G-MAC
University of Pittsburgh at Johnstown*
Johnstown, Pennsylvania
1927
Public
3,029
Mountain Cats
2006
2013
PSAC
Seton Hill University
Greensburg, Pennsylvania
1883
Private
1,860
Griffins
2006
2013
PSAC
Shepherd University
Shepherdstown, West Virginia
1871
Public
3,900
Rams
1924
2013
Mountain East (MEC)
West Liberty University
West Liberty, West Virginia
1837
Public
2,400
Hilltoppers (men's)
Lady Toppers (women's)
1924
2013
Mountain East (MEC)
West Virginia State University
Institute, West Virginia
1891
Public
5,000
Yellow Jackets
1955
2013
Mountain East (MEC)
West Virginia Wesleyan College
Buckhannon, West Virginia
1890
Private
1,400
Bobcats (men's)
Lady Bobcats (women's)
19242
2013
Mountain East (MEC)
Wheeling Jesuit University*
Wheeling, West Virginia
1954
Private
1,232
Cardinals
1957
2013
Mountain East (MEC)
Notes
- All colleges are listed by their names as of 2013; most have had name changes over the years. See articles on individual schools for details.
- West Virginia Wesleyan left the WVIAC after the 1985-86 season, and later returned in the 1988-89 season.
* - Denotes a non-football member
Membership timeline
Edit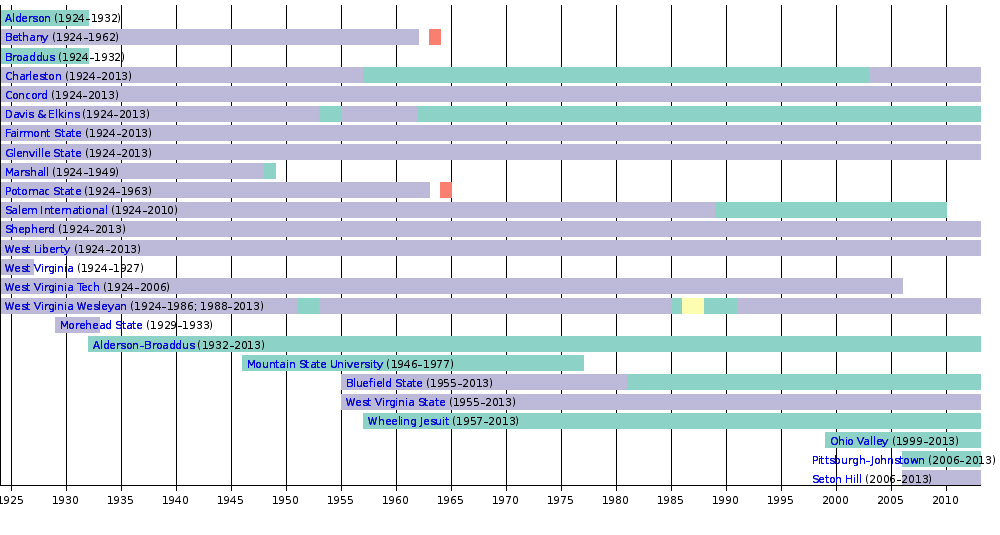 References
Edit
External links
Edit
Community content is available under
CC-BY-SA
unless otherwise noted.