Muskegon Thunder
Founded
2007
Folded
2010
History
Muskegon Thunder 2007-2009
West Michigan ThunderHawks 2010-future
League
CIFL 2007-2008
IFL 2009-present
Arena
DeltaPlex Arena
Based in
Walker, Michigan
Colors
navy blue, powder blue, gold

              

Championships
0
Titles
0
President
Don Pringle
Head Coach
Terry Foster
Dancers
The Rumble Dance Team
Mascot
Boomer
The West Michigan ThunderHawks are a member of the Indoor Football League L The team is based in Grand Rapids, Michigan, starting in 2010 the ThunderHawks will play their home games at the DeltaPlex Arena in nearby Walker From their inception in 2007 until 2009, the ThunderHawks were known as the Muskegon Thunder and played at L.C. Walker Arena (in their first two seasons they played in the Continental Indoor Football League). In 2010 the team moved to Grand Rapids, MI. This is where the downfall of the team took place. The season started off hopeful with a 5-2 record. After week 7 the players were promised money at a later date as long as they played (money that they never received). The 2011 season will not take place for the ThunderHawks due to the bad management by Rob Preston. Mr. Preston took this great team of professional athletes and treated them like Pop Warner adolescent children . Players were expected to lived with no food, no money, and no electricity.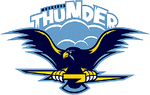 For their first season, the Thunder had Shane Fairfield as head coach. A well-respected figure in local high school football, he took the Holton Red Devils to a conference championship as well as two back to back district championships against Muskegon Catholic. Prior to that he coached his alma mater Muskegon Catholic Central, and Muskegon High School.
For their first season with their brand-new identity the Head Coach and defensive coordinator will be Detroit native Terry Foster, once a star for the Grand Valley State University team. Foster played in the AFL for the Grand Rapids Rampage and last year was assistant coach there. Offensive coordinator Brent White almost mirrored Fairfield's path from Muskegon to Holton, playing for the Big Reds from 1999 to 2002 and then stepping off the field as assistant JV coach at Holton. He quickly became offensive coordinator for the Holton Red Devils where he led his team to some record-breaking performances.
Season-By-Season
Edit
Note: W = Wins, L = Losses, T = Ties
Season
W
L
T
Finish
Playoff results
Muskegon Thunder (CIFL)
2007
4
8
0
5th Great Lakes
Lost GLD Qualifier (Marion)
2008
5
7
0
2nd Great Lakes East
Lost GLD East Finals (Kalamazoo)
Muskegon Thunder (IFL)
2009
1
13
0
5th United Atlantic
--
West Michigan ThunderHawks (IFL)
2010
5
9
0
3rd Atlantic East
--
2011*
0
0
0
--
--
Totals
15
39
0
(including playoffs)
* = Current Standing
2007 Season Schedule
Edit
2008 Season Schedule
Edit
Standings
Edit
2010 Atlantic East Division
W
L
T
PCT
GB
DIV
PF
PA
STK
y-Richmond Revolution
13
1
0
0.929
---
10-1
663
489
W10
x-Rochester Raiders
9
5
0
0.643
4.0
6-5
641
554
L1
West Michigan ThunderHawks
5
9
0
0.357
8.0
4-5
606
728
L4
Maryland Maniacs
1
13
0
0.071
12.0
1-10
370
644
W1
On January 18, 2009, Adam Pringle, player, part-owner of the club, and son of the club's president, died from injuries sustained in a snowmobile accident.[9]
References
Edit
External links
Edit
Community content is available under
CC-BY-SA
unless otherwise noted.