Wellington Timothy Mara (August 14, 1916 – October 25, 2005) was the co-owner of the NFL's New York Giants from 1959 until his death, and one of the most influential and iconic figures in the history of the National Football League. He was the younger son of Tim Mara, who founded the Giants in 1925. Wellington was a ball boy for that year.
Life and career
Edit
Mara was born in Rochester, New York, the son of Elizabeth "Lizette" (née Barclay), a homemaker, and Timothy James Mara.[1] He was an alumnus of the Jesuit schools, Loyola School and Fordham University in New York City.
In 1930, Tim Mara split his ownership interests between Wellington (then 14) and his older brother Jack. Soon after graduating from Fordham University, Wellington moved into the Giants' front office. He served as Assistant to the President and Treasurer, 1937; Secretary, 1938–1940; Vice-President and Secretary, 1945–1958; Vice-President, 1959–1965; President, 1966–1990; President and Co-Chief Executive Officer, 1991–2005. For his first 28 years in the organization, he handled the franchise's football decisions.
During the early 1960s, Wellington and his brother Jack, the owners of the NFL's largest market, agreed to share television revenue on a league-wide basis, dividing the amounts of money available in cities like New York with smaller market teams such as the Pittsburgh Steelers and the Green Bay Packers. That concept of revenue sharing allowed the NFL to grow and is still being used today. This is certainly Mara's lasting contribution to his game.
Under Mara's direction the New York Football Giants won six NFL titles (including two Super Bowl wins), nine conference championships (including six Eastern Conference championships in the days before the NFL-AFL merger and three NFC championships post-merger), and thirteen division championships. An eighth NFL title, fourth Super Bowl victory, fifth NFC championship (eleventh conference championship overall), and fifteenth division title have been captured since his passing under the leadership of his son, John, and co-owner Steve Tisch (who in turn is the son of Wellington's former co-owner from 1991–2005, Bob Tisch; Tisch also died in 2005, with his death coming three weeks after Mara's).
The Giants have also accumulated the third highest number of victories in National Football League history. Mara was also well liked by the Giants' players, and was known to stick by them even when they struggled with off-the-field problems. When Lawrence Taylor was inducted into the Pro Football Hall of Fame in 1999 he credited Mara for supporting him even during the worst times of his drug addiction saying, "He probably cared more about me as a person than he really should have."[2] Taylor has since lived a clean life style and credits Mara with helping him fight his addiction.[3]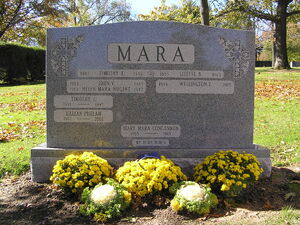 He had surgery in May 2005 to remove
cancerous
lymph nodes
from his neck and under his armpit, but was initially given a good prognosis by his doctors who said the cancer had not
metastasized
, according to his son,
John Mara
, who is the Giants' co-chief executive officer.
The Wilson football used in NFL games prior to the AFL merger (1941–69) was nicknamed "THE DUKE" after Mara.[4] For the 2006 season and beyond, a new version of "THE DUKE" has been used in NFL games.
He was enshrined in the Pro Football Hall of Fame in 1997. Mara was married to Anne Mumm. His granddaughters are actresses Kate Mara and Rooney Mara.
In 2012, Mara was elected into the New Jersey Hall of Fame.[5]
Wellington Mara succumbed to lymphoma later that year at age 89. He was interred at Gate of Heaven Cemetery in Hawthorne, New York, after his funeral at New York's Saint Patrick's Cathedral.[6][7] He is survived by his wife, Ann, 11 children, and 42 grandchildren. His team honored him after his death by defeating the team he always viewed as the Giants' biggest (and oldest) rival, the Washington Redskins, 36–0 at Giants Stadium. The 80,000 fans in attendance gave his mention a standing ovation.[8] Mara is considered one of the greatest owners in NFL history, establishing a legacy that sets the standard for current and future owners.
References
Edit
External links
Edit
NFL Alumni Order of the Leather Helmet
1978: Pete Rozelle, George Halas, Art Rooney |
1979: Paul Brown, Red Grange, Bronko Nagurski |
1980: Don Shula, Wellington Mara, Dominic Olejniczak, Pro Football Hall of Fame |
1981: Lamar Hunt, Tom Landry |
1982: William Bidwill, Alex Wojciechowicz, Bud Grant |
1983: F. William Harder, LeRoy Neiman |
1985: George P. Marshall, Weeb Ewbank |
1986: Howard Cosell, Vince Lombardi, Vic Maitland |
1987: Ray Scott, Steve Sabol, Ed Sabol, Bert Bell |
1988: Raymond Berry |
1989: Tex Schramm |
1990: Bill Dudley, Ollie Matson, Steve Van Buren |
1991: Hugh McElhenny 1992: Chuck Bednarik, Art Modell |
1993: Elroy Hirsch, Marion Motley |
1994: Sid Luckman, Sammy Baugh |
1995: Otto Graham, Chuck Noll |
1996: Johnny Unitas, Curt Gowdy |
1997: Pat Summerall, Ralph Wilson |
1998: Jim Brown, Al Davis |
1999: Bobby Mitchell, Paul Tagliabue |
2000: Len Dawson, Deacon Jones |
2001: Mike McCormack, Mel Renfro |
2002: Mel Blount, Jim Otto, Jim Tunney |
2003: Tom Flores, Willie Davis  |
2004: Dick Vermeil, Val Pinchbeck, Don Weiss |
2005: Larry Wilson, Joe Greene |
2007: Sonny Jurgensen, Jack Youngblood |
2008: Eric Dickerson, John Madden, Alex Spanos
---
---
Community content is available under
CC-BY-SA
unless otherwise noted.