The United States Football League (USFL) was an American football league which was in active operation from 1983 to 1987. It played a spring/summer schedule in its first three seasons and a traditional autumn/winter schedule was set to commence before league operations ceased.
---
---
The USFL was conceived in 1965 by New Orleans, Louisiana, businessman David Dixon, who saw a market for a football league which would play while the established National Football League was in its off-season. Dixon had been a key player in the expansion of the NFL into New Orleans; the New Orleans Saints began play in 1967.
The USFL had notable successes: three consecutive Heisman Award winners: Georgia running back Herschel Walker and Boston College quarterback Doug Flutie signed with the New Jersey Generals and Nebraska running back Mike Rozier signed with the Pittsburgh Maulers out of college. Additionally, future Pro Football Hall of Fame members defensive end Reggie White of the University of Tennessee and quarterbacks Jim Kelly of the University of Miami and Steve Young of Brigham Young University, began their professional careers with the USFL's Memphis Showboats, Houston Gamblers, and Los Angeles Express, respectively. Some veterans, such as quarterbacks Chuck Fusina and Cliff Stoudt, who had extremely limited success in the NFL, had successful careers in the USFL. Former Cincinnati Bengals offensive lineman Dave Lapham notably signed an unusual personal services contract (rather than a traditional players' contract) with billionaire New Jersey Generals owner Donald Trump.
However, after its inaugural season, the United States Football League was plagued with franchise instability. A number of franchises either relocated or merged with others. However, there were franchises in several cities without NFL teams which would later receive them, such as Jacksonville, Florida.
The Michigan Panthers were the first USFL champions. The Philadelphia Stars won the second USFL championship and, after relocating to Baltimore, Maryland, won the final USFL championship as the Baltimore Stars.
Ultimately, the USFL lost over $163 million. A 1986 anti-trust suit filed against the National Football League was decided that the NFL was found to have violated anti-monopoly laws, but the USFL won a judgment of just $1, which, under anti-trust laws, was tripled to $3.[1]
Organization
Edit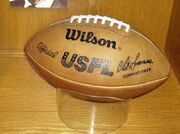 The USFL was the brainchild of
David Dixon
, a
New Orleans
antiques dealer, who had been instrumental in bringing the
New Orleans Saints
to town. In 1965, he envisioned
football
as a possible spring and summer sport.
Over the next 15 years, he studied the last two challengers to the NFL's dominance of pro football—the AFL and the World Football League. In 1980, he commissioned a study by Frank Magid Associates that found promising results for a spring and summer football league. He'd also formed a blueprint for the prospective league's operations, which included early television exposure, heavy promotion in home markets, and owners willing to absorb years of losses—which he felt would be inevitable until the league found its feet. He also assembled a list of prospective franchises located in markets attractive to a potential television partner.
With respected college and NFL coach John Ralston as the first employee, Dixon signed up 12 cities—nine where there already were NFL teams and three where there were not. They quickly reached an over-the-air television deal with ABC Sports and a cable deal with then-fledgling ESPN. The deals yielded roughly $13 million in 1983 and $16 million in 1984, including $9 million per year from ABC. ABC had options for the 1985 season at $14 million and 1986 at $18 million.
After almost two years of preparation, Dixon formally announced the USFL's formation at the 21 Club in New York City on May 11, 1982, to begin play in 1983. ESPN president Chet Simmons was named the league's first commissioner.
1983 Atlantic Division Team W L T PCT. Philadelphia Stars 15 3 0 .833 Boston Breakers 11 7 0 .611 New Jersey Generals 6 12 0 .333 Washington Federals 4 14 0 .222 Central Division Michigan Panthers 12 6 0 .667 Chicago Blitz 12 6 0 .667 Tampa Bay Bandits 11 7 0 .611 Birmingham Stallions 9 9 0 .500 Pacific Division Oakland Invaders 9 9 0 .500 Los Angeles Express 8 10 0 .444 Denver Gold 7 11 0 .389 Arizona Wranglers 4 14 0 .222 Division Playoffs: Philadelphia 44, Chicago 38 (OT) | Michigan 37, Oakland 21 Championship game: Michigan 24, Philadelphia 22
Play begins
Edit
Like almost all startup pro football leagues, the USFL had some off-the-field factors that prevented the league from starting out with their preferred membership. The problems started when the original owner of the Los Angeles franchise, Alex Spanos, pulled out and instead became a minority owner of the NFL's San Diego Chargers.
Jim Joseph, a real estate developer who had lost out to friend Tad Taube for the USFL's San Francisco Bay area franchise, had thought he would be content to be a part-owner of the Oakland Invaders. When the potentially more lucrative Los Angeles franchise became available, Joseph snapped up the rights to the area. The owners of the USFL's San Diego franchise, cable television moguls Bill Daniels and Alan Harmon, were denied a lease for Jack Murphy Stadium—in part due to pressure from the Chargers (Major League Baseball's Padres held the lease to the stadium at the time). Los Angeles was seen as critical to the league's success, and Dixon and Simmons felt that two cable moguls would be better suited to head the league's efforts there. Joseph was forced to move his operation to Phoenix, Arizona, where it became the Arizona Wranglers. Daniels and Harmon's team became the Los Angeles Express.
The League's Boston franchise also had stadium problems. The Boston ownership group wanted to play in Harvard Stadium, but were unable to close a deal with the university. Next, they tried to organize a lease with Sullivan Stadium, the home of the New England Patriots. They were again unsuccessful. Finally they were able to negotiate a lease to play at tiny (21,000 seat) Nickerson Field on the campus of Boston University, with the hope of selling out every game and managing to hold on until a lease with a larger stadium became available.[citation needed]
Once play actually started, the league experienced the same kind of franchise instability, relocation, and closure that most leagues competing with the NFL have seen. It certainly can be argued by proponents that most teams going over budget starting in the first year and having overly optimistic attendance and viewership projections accelerated franchise churn.[citation needed]
The 1983 season
Edit
The 1983-1984 off-season
Edit
The Boston Breakers were unable to find a more suitable venue in the Boston area, so the Breakers were sold to New Orleans businessman Joseph Canizaro, who moved the team to New Orleans.
Seeing the out of control spending worsening, Blanding sold his Denver Gold to Doug Spedding for $10 million. Blanding is widely thought to be the only owner to make a profit on the USFL.
Needing fresh capital, the league chose to expand league membership from 12 to 18 teams, adding the Pittsburgh Maulers, Houston Gamblers, San Antonio Gunslingers, Memphis Showboats, Oklahoma Outlaws and Jacksonville Bulls. The Dixon plan called for expansion to 16 in the league's second year. The Outlaws were originally slated to play in San Diego, but as was the case with what became the Express, could not get a lease for Jack Murphy Stadium. The Outlaws opened play in Tulsa at Skelly Stadium. The Gamblers were technically not an expansion team. Founder David Dixon had reserved a franchise for himself in founding the league. He had chosen not to field a team in 1983 to help guide the league. By 1984, Dixon was disgusted with the path the league was on and the league owners were sick of Dixon's constant complaints about them overspending. With their blessing he sold his franchise for slightly less than the $6 million expansion fee. Dixon's franchise became the Houston Gamblers.
After seeing the Wranglers lose 10 in a row to finish with 4-14 (tied with Washington for the league's worst record) and perhaps more importantly seeing attendance wilt in summer heat at Sun Devil Stadium, Joseph decided to sell the Wranglers. Meanwhile, in spite of having the league's highest profile coach, (George Allen), and being at worst the third best team in the league, the Chicago Blitz had drawn an anemic 18,133 per game, unable to contend with Major League Baseball's Cubs and White Sox, the latter on its way to the postseason for the first time in 24 years. Blitz owner Dr. Ted Diethrich, a Phoenix resident, felt the losses did not justify an investment so far from his home in Phoenix. Dietrich sold the Blitz to Milwaukee heart surgeon James Hoffman, and then bought the Wranglers from Joseph. Almost immediately after Diethrich closed on his purchase of the Wranglers, he and Hoffman swapped their team assets—coaching staff, most of the players, and all. To Blitz fans, it seemed that Hoffman had jettisoned one of the league's elite teams in favor of a team that tied for the league's worst record. In truth it was worse than that. In a league starved for competent QB play, Wrangler triggerman Alan Risher stayed in Arizona. The new Blitz would feature inaccurate, longtime Bear backup QB Vince Evans (signed in November 1983 to a 4 year $5 million deal). In January, The Blitz tendered an offer that would have been the largest contract in football --- $2 million dollars a year for 3 years --- to Bears running back Walter Payton. Payton advised he would consider the offer, but would not be rushed by the Blitz. The Blitz 1984 season was scheduled to start on the 2/27/84 and they had little success selling season tickets. The Blitz needed Payton to sign quickly to help season ticket sales, so they had put a deadline on the offer of 2/9/84. Before he made up his mind, the Blitz withdrew the offer realizing they simply did not have the finances. With a less talented team and no big names to excite the fans, Chicago's season ticket sales predictably flatlined, in spite of Hoffman sinking a lot of money into advertising. Just prior to the start of the season, a frustrated Hoffman walked away from the Blitz, leaving the team to the minority owners.
The Los Angeles Express were sold to J. William Oldenburg and the New Jersey Generals were sold to Donald Trump. The league believed that the teams based in the nation's two largest markets were owned by the owners with the deepest pockets. Trump and Oldenburg both went on signing sprees. Trump poached several NFL starters, including Cleveland's QB Brian Sipe. Oldenburg's Express went after a number of highly regarded collegiate players. This combined with a general lack of quality QBs (only 9 QB's in the 12 team league finished the 1983 season with QB ratings above 70) and HBs (even in an 18 game season only 6 rushers broke the 1000 yard mark) tipped off another explosion in league spending as USFL teams raided the NFL and college ranks to keep up.
The 1984 season
Edit
After a game 1 blowout 53-14 road loss to the expansion Jacksonville Bulls, Washington Federals Head Coach Ray Jauch was fired. In week 2, star RB Craig James was injured. The team collapsed. Despite solid play from 2nd year QB Mike Hohensee, WR Joey Walters, and HB Curtis Bledsoe, the team would finish 3-15, losing twice to the 3-15 expansion Pittsburgh Maulers and going 0-7 vs. the expansion teams. With seven games to go in the season, a press conference was held to announce the Federals had been sold to Sherwood "Woody" Weiser who intended to move the team to Miami. The team would be coached by Miami Hurricanes' coach Howard Schnellenberger.
After 2 games, William Tatham Jr., son of Oklahoma Outlaws owner William Tatham, announced Skelly Stadium was insufficient to support a pro team and that the Outlaws would be moving the following year. In spite of this lame duck status, awful spring weather, and a season ending 10 game losing streak, the team drew an average of 21,038 fans per game.
A few games into the season, with the Chicago Blitz struggling and the fans staying away in droves, the team was near financial collapse. The league was forced to take over the Blitz for the remainder of the 1984 season in order to protect the league's TV deals which called for teams in the New York, Los Angeles and Chicago markets. With 4 games to go, a press conference was held announcing that Eddie Einhorn would become the new owner of the USFL's Chicago franchise. At the press conference, it was stated that although the new team would not be the Blitz, Einhorn's franchise would retain the rights to all Blitz players and coaching staff—strongly implying the team would play in the 1985 season.
The "expansion" Houston Gamblers Rookie QB Jim Kelly of the University of Miami emerged as the league's second superstar carrying his team to win the central conference with a 13-5 record. Kelly threw 44 TDs and piled up over 5000 yards. The Gamblers would fall to the eventual league runner up Arizona Wranglers in the playoffs, 17-16.
The Los Angeles Express' signings of high profile collegiate players culminated with the signing of BYU QB Steve Young to a $40 million guaranteed contract—at the time, far and away the largest contract in pro football history. The young talent was slow to adapt to the pro game and the Express continued to hover around .500. With one of the leagues' highest payrolls and poor attendance, financial losses mounted. It is estimated that the Express lost as much as $15 Million in 1984. The Express did manage to make the playoffs and defeated the defending league champion Panthers 27-21 in triple overtime, before falling to the eventual league runner-ups, Allen's Arizona Wranglers, 35-23.
In spite of seeing his Wranglers team make it to the title game, Ted Diethrich had seen enough. He had lost millions for the second year in a row. Despite fielding a dramatically improved team, he had only had seen a negligible increase in attendance in Arizona over the previous year's numbers.
The Philadelphia Stars again finished with the league's best record and made it to the title game, this time defeating Dietrich's Wranglers, 23-3.
The 1984-1985 off-season
Edit
The 1985 season
Edit
The league financed and ran the Express all season, but could not find an owner. With a huge salary burden and dreadful attendance, the Express barely survived the season.
San Antonio Gunslingers owner Clinton Manges stopped paying the team's bills with about a month to go in the season. Players and coaches had seen their paychecks bounce on numerous occasions throughout the season. The situation was so dire that some players were forced to trade tickets for goods and others were forced to move in with sympathetic fans. Manges was already notorious throughout the league for running the Gunslingers as a low-budget operation. Up to this point, rumors had abounded that he'd simply paid expenses out of pocket as they arose.
The Denver Gold's attendance flatlined due to the planned move to the fall, as fans were not willing to choose between the Gold and the NFL's Broncos. The Gold would have hosted a playoff game against the Memphis Showboats, but ABC forced the league to move the game to Memphis rather than endure the embarrassment of playing in a near-empty Mile High Stadium.
After the 1985 season
Edit
The San Antonio Gunslingers had their franchise revoked when Manges ignored a league-imposed deadline to make restitution for the team's debts.
The Breakers were disbanded after owner Joe Canizaro suffered two-year losses in the realm of $17 million.
Los Angeles and Oakland announced that they would suspend operations, and Einhorn announced that his Chicago team would also not take the field in 1986.
Denver merged with Jacksonville, to play the 1986 season in Jacksonville, while Houston merged with New Jersey, to play in New Jersey.
Some franchises folded before or after a season's play, and others moved and/or merged. However, unlike the WFL and other leagues that have competed against the NFL, no USFL team actually folded during a season's play. This was because, with the notable exception of San Antonio, all of the league's teams were fairly well capitalized from the start, as Dixon had anticipated the league would have to absorb years of red ink before coming into its own. By comparison, most of the WFL's teams appeared to be severely undercapitalized. Chicago, Los Angeles, and San Antonio did come close to folding in midseason, but league intervention helped these teams make it through the season.
Competition vs. NFL
Edit
The Dixon Plan vs. building a league of stars
Edit
At first the USFL competed with the older, more established National Football League by following the Dixon plan and trying not to compete directly with it, primarily by playing its games on a March–June schedule but also having slightly different rules, most notably:
The two-point conversion (since adopted by the NFL, in 1994).
The college rule of stopping the clock after first downs was used only for the final two minutes of each half.
For the 1985 season, a method of challenging officials' rulings on the field via instant replay (using a system that is almost identical to that used by the NFL today).
A salary cap of $1.8 million to reduce inevitable losses and spread talent throughout the league. The NFL introduced a salary cap in 1994.
A territorial draft, in hopes of stocking teams with local stars to help the gate. (Similar to the proposed All-American Football League)
Although the Dixon plan called for a $1.8 million salary cap in anticipation of slow growth, several teams exceeded it in the pursuit of stars.
Ironically, the league's biggest splash—the signing of Walker—has been considered in hindsight to have foreshadowed the league's demise. Like the NFL, the USFL barred underclassmen from signing. However, league officials were certain that this rule would never stand up in court, so they allowed Walker to sign with the New Jersey Generals. More importantly, Walker signed a three-year contract valued at $4.2 million with a $1 million signing bonus. Due to the USFL's salary cap rules, this was a personal-services contract with Generals owner J. Walter Duncan, and not a standard player contract. Nonetheless, the other owners did not raise any objections, knowing how important Walker was to the league.
In fact, much of the league's credibility with fans as being a serious challenger to the establishment NFL arose from its willingness to sign a few marquee talent such as high profile college stars like Walker, Craig James, Anthony Carter and Kelvin Bryant as well as some familiar NFL vets like Chuck Fusina and members of the NFL vet laden Chicago Blitz, like Greg Landry. The league also made a serious run at some other stars, such as Eric Dickerson. No one can dispute that in particular, the signing of Walker and several other Heisman Trophy winners gave the league much-needed credibility, but the Dixon plan did not call for as much spending on talent as the league did in 1983.
This desire to win and be seen as NFL caliber eventually led to almost all of the teams jettisoning Dixon's plan, with many of them spending large amounts of money to put competitive teams on the field. For instance, the Michigan Panthers reportedly lost $6 million—three times what Dixon suggested a team could afford to lose in the first season—even as they became the league's first champions.
Dixon urged the members of the league to reduce spending. Rather than backing off spending and dispersing some of the larger contracts to alleviate the problem, the league sought other options to take on revenue to cover increased costs, magnifying the problem. The league added six more teams in 1984 rather than the four initially envisioned by Dixon, to pocket two more expansion fees. The league was so desperate for capital that it accepted an application from San Antonio, despite a study that advised in no uncertain terms that San Antonio could not support a USFL team. A frustrated Dixon sold his stake and got out.
With the new wave of teams, college stars like Marcus Dupree, Mike Rozier, Reggie White, Jim Kelly, Steve Young and other young stars of the day signed high dollar contracts to play for USFL teams in 1984, as did high profile NFL stars like Doug Williams, Brian Sipe, Joe Cribbs, and Gary Barbaro.
Dan Marino was the first player drafted by a USFL team, but never signed. The Los Angeles Express picked him with the 1st overall pick. Jerry Rice was also selected first overall pick in the 1985 Draft, by the Birmingham Stallions, but never played a game for them.
In addition to producing many NFL players, the USFL also produced at least three future World Champion professional wrestlers: Lex Luger& Ron Simmons.
Spring schedule vs. fall schedule
Edit
In 1984, the league began discussing the possibility of competing head-to-head with the NFL by playing its games in the fall beginning in 1986. The idea was to force a merger in which the NFL would be forced to admit some USFL teams. Despite the protests of many of the league's "old guard," who wanted to stay with the original plan of playing football in the spring months, the voices of Chicago owner Eddie Einhorn and Generals owner Donald Trump and others would eventually prevail. Trump sold a majority of the other owners on the gamble that if a merger did occur, their teams would instantly be worth the $70 million or so NFL franchises were worth at that time --- tripling, quadrupling, or more their cash investment.
On October 18, 1984, the league's owners voted to go along with Einhorn and Trump's idea and begin playing a fall season in 1986. The spring advocates had lost and the fall advocates would accept nothing less than victory vs. the NFL, either by forcing a merger or winning a sizeable settlement and securing a TV network for fall broadcasts. Spring football had been replaced with an incredibly risky gamble for a huge return.
This vote would permanently destroy the viability of the league by taking it out of several viable large markets. It would directly lead to the end of USFL play in 4 cities --- Pittsburgh, Philadelphia, New Orleans and Detroit --- and the dramatic drop in attendance in 2 others --- Houston and Denver --- and the USFL not coming to Miami. Additionally, one of the chief advocates of the move to the fall was Einhorn. With an expectation of fall play in 1986, Einhorn decided not to field a team for the final lame duck spring 1985 season --- effectively ending USFL play in Chicago, a 7th USFL city.
As a direct result of this decision, the Pittsburgh Maulers folded rather than compete with the Steelers, the sale of the struggling Washington Federals to the Miami ownership group collapsed, the well supported Philadelphia Stars and the New Orleans Breakers had to relocate, and the 1983 champion Michigan Panthers surprised the commissioner with an announcement that they would not be playing in Michigan for the 1985 season. (The Panthers management informed the league at the meeting that they had negotiated a conditional merger with Tad Taube's Oakland Invaders depending on the outcome of the vote.)
ABC offered the USFL a 4 year, $175 million TV deal to play in the spring in 1986. ESPN offered $70M over 3 years. Following all the mergers and shutdowns, there just were not enough spring football advocates left in the league to accept those contracts. The owners in the league walked away from what averaged out to $67 million per year starting in 1986 to pursue their big picture --- merger with the NFL.
After the 1985 season, more plans were announced to accommodate the fall schedule, pool financial resources and avoid costly head-to-head competition with NFL teams. Two mergers were announced. The Denver Gold merged with the Jacksonville Bulls (to play in Jacksonville). Trump bought the assets of the Houston Gamblers for an undisclosed amount and merged them with the New Jersey Generals (to play in New Jersey). In spite of all of these changes, the USFL would never play a fall game.
USFL v. NFL lawsuitEdit
In another effort to keep themselves afloat while at the same time attacking the more established National Football League, the USFL filed an antitrust lawsuit against the older league, claiming it had established a monopoly with respect to television broadcasting rights, and in some cases, to access of stadium venues.
The USFL claimed that the NFL had bullied ABC, CBS and NBC into not televising USFL games in the fall. It also claimed that the NFL had a specific plan to eliminate the USFL, the "Porter Presentation." In particular, the USFL claimed the NFL conspired to ruin the Invaders and Generals. The USFL sought damages of $567 million, which would have been tripled to $1.7 billion under antitrust law. It hoped to void the NFL's contracts with the three major networks. The USFL proposed two remedies: either force the NFL to negotiate new television contracts with only two networks, or force the NFL to split into two competing 14-team leagues, each limited to a contract with one major network.
Each NFL franchise was named as a co-defendant, with the exception of the then-Los Angeles Raiders; Raiders owner Al Davis was a major witness for the USFL. Howard Cosell was also a key witness for the USFL.
The case went to trial in the spring of 1986 and lasted 42 days. On July 29, a six-person jury handed down a verdict that, while technically a victory for the USFL, in fact devastated the league. The jury declared the NFL a "duly adjudicated illegal monopoly," and found that the NFL had willfully acquired and maintained monopoly status through predatory tactics.
However, it rejected the USFL's other claims. The jury found that the USFL had changed its strategy to a more risky goal of merger with the NFL. Furthermore, the switch to a fall schedule caused the loss of several major markets (Philadelphia, Denver, Detroit, Miami, the San Francisco Bay area). It has been established that Donald Trump, owner of the Generals, specifically wanted to force a merger knowing that the majority of teams would be eliminated.
Most importantly, the jury found that the NFL did not attempt to force the USFL off television. In essence, the jury felt that while the USFL was harmed by the NFL's de facto monopolization of pro football in the United States, most of its problems were due to its own mismanagement. It awarded the USFL only one dollar in nominal damages, which was tripled under antitrust law to three dollars. It later emerged that the jury incorrectly assumed that the judge could increase the award.
The verdict was a classic Pyrrhic victory. The USFL had essentially staked its future on the outcome of the suit, and considered the television-related claims to be the heart of its case. Almost immediately upon announcement of the verdict, it announced it was suspending operations for the 1986 season, with the intent of returning in 1987. Players signed to contracts were free to sign with NFL (or other professional teams) immediately. Indeed, the NFL had held a draft in 1984 for teams to acquire the rights to USFL players, in the event of the league (or teams in the league) folding. However, it is unlikely the USFL would have been able to put together a viable product in any case. Many of its players had signed contracts with NFL teams after the 1985 season, and the league was some $160 million in debt. With nearly all of its players under contract to the NFL and Canadian Football League, Usher announced the league would stay shuttered in 1987 as well.
The USFL appealed the award, but it was rejected by the United States Court of Appeals for the Second Circuit in 1988. This decision ended any chance of the USFL returning to the field, and the league formally dissolved shortly afterward. However, due to a provision of antitrust law which allows an "injured" party in an antitrust action to recover its attorney fees and costs of litigation, the USFL was awarded over $5.5 million in attorney fees and over $62,000 in court costs. That award was appealed by the NFL; it was affirmed on appeal and ultimately allowed to stand by the U.S. Supreme Court in 1990, long after the USFL had ceased operations.
The USFL finally received a check for $3.76 in damages in 1990, the additional 76¢ representing interest earned while litigation had continued. Notably, that check has never been cashed.[3]
Aftermath
Edit
It is widely acknowledged that the USFL had a dramatic impact on the National Football League both on the field and off. Almost all of the USFL's on-field innovations were eventually adopted by the older league, and a multitude of star players in the USFL would go on to very successful careers in the NFL.
The NFL would also eventually have franchises in some of the markets where the USFL proved fertile or renewed interest in the game, including Arizona (the St. Louis Cardinals moving there in 1988), Jacksonville (the Jaguars being awarded as an expansion franchise for the 1995 season), Tennessee (the Houston Oilers, while waiting for their Nashville stadium to be completed, commuted to Memphis for home games), and Baltimore (the Ravens establishing themselves in 1996, effectively taking the entire Cleveland Browns organization except the name and history).
It was no coincidence that most of these markets were in the Sun Belt—a region where the USFL was particularly a hit. Tampa Bay, Jacksonville, Birmingham and Memphis, none of whom had Major League Baseball teams at the time to compete against for the spring sports dollar (Tampa Bay would not get the Devil Rays until 1998), were among the league's leaders in attendance. Along with Philadelphia/Baltimore (the league's most successful team) and New Jersey (with its biggest star, Walker), these teams at least had the potential to be viable ventures had the USFL been better run.[citation needed]
The last player of the USFL on an NFL roster was Philadelphia Stars punter Sean Landeta, who was signed in late 1986 by the New York Giants. He officially announced his retirement on March 6, 2008, the 25th anniversary of the first USFL game. (He last played in 2006 but he did not officially retire during the 2007 season.) The last non-kicker to retire was quarterback Doug Flutie, who played until 2005.
In popular culture
Edit
The USFL still has a presence in movies, commercials, and television shows today. Footage of the games are often shown to represent football. Using NFL footage costs a fee. Since the USFL no longer exists, it's easier to show archive video. Gary Cohen of Triple Threat TV is the exclusive proprietor of all USFL stock footage.
In the SpongeBob SquarePants episode "Band Geeks," there is footage of the USFL's Liberty Bowl game (Memphis Showboats vs. Tampa Bay Bandits) used for the "Bubble Bowl" background in some scenes of the band's version of "Sweet Victory."
USFL footage is used in a Scientology.com commercial where there is a short clip of Anthony Carter scoring a touchdown for the Michigan Panthers.
As part of the ESPN film project 30 for 30, filmmaker Mike Tollin produced a documentary called "Small Potatoes: Who Killed The USFL?" It aired October 20, 2009. As part of the project, sister station ESPN Classic aired the 1984 and 1985 USFL championship games in their entirety on the same day, leading up to the movie.
Notable people and achievements
Edit
USFL alumni in the Pro Football Hall of Fame
Edit
As of August 2010, there are six USFL alumni who are enshrined in the Pro Football Hall of Fame:
MVP awards
Edit
Commissioners
Edit
All-time leaders
Edit
Prior to the jury award in USFL v. NFL, the league had planned to go forward with a 1986 season comprising eight teams, divided into an "Independence Division" and a "Liberty Division":
Tampa Bay owner John Bassett had initially declared that they would not participate in the Fall in 1986, but the franchise was sold by an ailing Bassett to Lee Scarfone, on July 30, 1985, and the Bandits then agreed to participate in the Fall 1986 schedule.[4].
Due to the legal aftermath pertaining to the USFL, this divisional format, and the whole 1986 season for that matter, would never come to fruition.
Season by season
Edit
W = Wins, L = Losses, T = Ties, PCT= Winning Percentage, PF= Points For, PA = Points Against
  y  = Division Champion,   x  = Wild Card
Atlantic Division
Team
W
L
T
PCT
PF
PA
Stadium
1983 Capacity
Avg. Att.
Avg. % filled
Coach
y-Philadelphia Stars
15
3
0
.833
379
204
Veterans
72,204
18,650
26%
Jim Mora
Boston Breakers
11
7
0
.611
399
334
Nickerson Field
21,000
12,817
61%
Dick Coury
New Jersey Generals
6
12
0
.333
314
437
Meadowlands
76,891
35,004
46%
Chuck Fairbanks
Washington Federals
4
14
0
.222
297
422
RFK
54,794
13,850
25%
Ray Jauch
Central Division
Team
W
L
T
PCT
PF
PA
Stadium
1983 Capacity
Avg. Att.
Avg. % filled
Coach
y-Michigan Panthers
12
6
0
.667
451
337
Silverdome
80,638
22,250
28%
Jim Stanley
x-Chicago Blitz
12
6
0
.667
456
271
Soldier Field
65,793
18,133
28%
George Allen
Tampa Bay Bandits
11
7
0
.611
363
378
Tampa
72,812
39,896
55%
Steve Spurrier
Birmingham Stallions
9
9
0
.500
343
326
Legion Field
77,000
22,046
29%
Rollie Dotsch
Pacific Division
Team
W
L
T
PCT
PF
PA
Stadium
1983 Capacity
Avg. Att.
Avg. % filled
Coach
y-Oakland Invaders
9
9
0
.500
319
319
Oakland Coliseum
54,615
31,211
57%
John Ralston
Los Angeles Express
8
10
0
.444
296
370
LA Coliseum
94,000
19,002
20%
Hugh Campbell
Denver Gold
7
11
0
.389
284
304
Mile High
75,123
41,736
56%
Red Miller/Charley Armey/Craig Morton
Arizona Wranglers
4
14
0
.222
261
442
Sun Devil
70,030
25,776
37%
Doug Shivley
Home team in capitals
Divisional Playoffs:
PHILADELPHIA 44, Chicago 38 (OT)
MICHIGAN 37, Oakland 21
USFL Championship game (at Denver, Colorado)
Michigan 24, Philadelphia 22
Eastern Conference
Atlantic Division
Team
W
L
T
PCT
PF
PA
Stadium
1984 Capacity
Avg. Att.
Avg. % filled
Coach
y-Philadelphia Stars
16
2
0
.889
479
225
Veterans
72,204
28,668
40%
Jim Mora
x-New Jersey Generals
14
4
0
.778
430
312
Meadowlands
76,891
37,716
49%
Walt Michaels
Pittsburgh Maulers
3
15
0
.167
259
379
Three Rivers
59,000
22,858
39%
Joe Pendry/Ellis Rainsberger
Washington Federals
3
15
0
.167
270
492
RFK
54,794
7,694
14%
Ray Jauch/Dick Bielski
Southern Division
Team
W
L
T
PCT
PF
PA
Stadium
1984 Capacity
Avg. Att.
Avg. % filled
Coach
y-Birmingham Stallions
14
4
0
.778
539
316
Legion Field
77,000
36,850
48%
Rollie Dotsch
x-Tampa Bay Bandits
14
4
0
.778
498
347
Tampa
72,812
46,158
63%
Steve Spurrier
New Orleans Breakers
8
10
0
.444
349
395
Superdome
72,675
30,557
42%
Dick Coury
Memphis Showboats
7
11
0
.389
320
455
Liberty Bowl
50,180
27,599
55%
Pepper Rodgers
Jacksonville Bulls
6
12
0
.333
327
455
Gator Bowl
80,100
46,730
58%
Lindy Infante
Western Conference
Pacific Division
Team
W
L
T
PCT
PF
PA
Stadium
1984 Capacity
Avg. Att.
Avg. % filled
Coach
y-Los Angeles Express
10
8
0
.556
338
373
LA Coliseum
94,000
15,361
16%
John Hadl
x-Arizona Wranglers
10
8
0
.556
502
284
Sun Devil
70,030
25,568
37%
George Allen
Denver Gold
9
9
0
.500
356
413
Mile High
75,123
33,953
45%
Craig Morton
Oakland Invaders
7
11
0
.389
242
348
Oak. Coliseum
54,615
23,644
43%
John Ralston/Chuck Hutchison
Central Division
Team
W
L
T
PCT
PF
PA
Stadium
1984 Capacity
Avg. Att.
Avg. % filled
Coach
y-Houston Gamblers
13
5
0
.722
618
400
Astrodome
47,695
28,152
59%
Jack Pardee
x-Michigan Panthers
10
8
0
.556
400
382
Silverdome
80,638
32,457
40%
Jim Stanley
San Antonio Gunslingers
7
11
0
.389
309
325
Alamo
32,000
15,444
48%
Gil Steinke
Oklahoma Outlaws
6
12
0
.333
251
459
Skelly
40,235
21,038
52%
Woody Widenhofer
Chicago Blitz
5
13
0
.278
340
466
Soldier Field
65,793
7,455
11%
Marv Levy
Conference Semifinals
PHILADELPHIA 28, New Jersey 7
LOS ANGELES 27, Michigan 21 (3 OT)
BIRMINGHAM 36, Tampa Bay 17
Arizona 17, HOUSTON 16
Conference Championships
ARIZONA 35, Los Angeles 23
PHILADELPHIA 20, Birmingham 10
USFL Championship Game (at Tampa, Florida)
Philadelphia 23, Arizona 3
Eastern Conference
Team
W
L
T
PCT
PF
PA
Stadium
1985 Capacity
Avg. Att.
Avg. % Filled
Coach
y-Birmingham Stallions
13
5
0
.722
436
299
Legion Field
77,000
32,065
42%
Rollie Dotsch
x-New Jersey Generals
11
7
0
.611
418
378
Meadowlands
76,891
41,268
54%
Walt Michaels
x-Memphis Showboats
11
7
0
.611
429
337
Liberty Bowl
50,180
30,948
62%
Pepper Rodgers
x-Baltimore Stars
10
7
1
.583
368
260
Byrd
51,500
14,275
28%
Jim Mora
x-Tampa Bay Bandits
10
8
0
.556
405
422
Tampa
72,812
45,220
62%
Steve Spurrier
Jacksonville Bulls
9
9
0
.500
407
402
Gator Bowl
80,100
44,325
55%
Lindy Infante
Orlando Renegades
5
13
0
.278
308
481
Citrus Bowl
52,000
24,136
46%
Lee Corso
Western Conference
Team
W
L
T
PCT
PF
PA
Stadium
1985 Capacity
Avg. Att.
Avg. % Filled
Coach
y-Oakland Invaders
13
4
1
.750
473
359
Oakland Coliseum
54,615
17,509
32%
Charlie Sumner
x-Denver Gold
11
7
0
.611
433
389
Mile High
75,123
14,446
19%
Darrell "Mouse" Davis
x-Houston Gamblers
10
8
0
.556
544
388
Astrodome
47,695
19,120
40%
Jack Pardee
Arizona Outlaws
8
10
0
.444
376
405
Sun Devil
70,030
17,881
26%
Frank Kush
Portland Breakers
6
12
0
.333
275
422
Civic
32,500
19,919
61%
Dick Coury
San Antonio Gunslingers
5
13
0
.278
296
436
Alamo
32,000
11,721
37%
Jim Bates/Gil Steinke
Los Angeles Express
3
15
0
.167
266
456
LA Coliseum
94,000
8,415
9%
John Hadl
Home team in capitals
Quarterfinals
Birmingham 22, Houston 20
MEMPHIS 48, Denver 7
OAKLAND 30, Tampa Bay 27
Baltimore 20, NEW JERSEY 17
Semifinals
Baltimore 28, Birmingham 14
Oakland 28, MEMPHIS 19
USFL Championship game (at East Rutherford, New Jersey)
Baltimore 28, Oakland 24
Championship games
Edit
The country music group, Alabama, performed the national anthem prior to the 1984 Championship Game. One of the members wore a jacket of the Birmingham Stallions.
References
Edit
External links
Edit
---
---
Community content is available under
CC-BY-SA
unless otherwise noted.