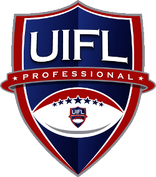 The Ultimate Indoor Football League is a regional professional indoor football league set to begin its inaugural season in 2011. The league co-founders are Michael Taylor and Andrew Haines; Haines was also the owner and founder of the Atlantic/American Indoor Football League and the Mid-Atlantic Hockey League. The UIFL has a logo nearly identical to the one used by the AIFL in the 2006 season (though blue instead of red), and will apparently also use the AIFL red, white and blue football also in use in the American Indoor Football Association. The league is based in Canton, Ohio.
The league has announced its first five teams will be located in the Appalachia region, with teams based in Canton, Ohio; Johnstown, Pennsylvania; Pikeville, Kentucky; Highland Heights, Kentucky; and Huntington, West Virginia. Of those five markets, three (Canton, Johnstown, and Huntington) had teams in Haines's previous league, the AIFL. The two markets in Kentucky have never had a professional indoor football team in any league (though Highland Heights is usually considered part of the Cincinnati, Ohio metropolitan area, and the city of Cincinnati has had several indoor teams). The sixth team, the Saginaw Sting, will have come from the Indoor Football League.
The league offers a $500 per game salary,[1] higher than the estimated $400 per game currently offered by the Arena Football League.
Teams
Current League Members
| Team | Location | Arena (Capacity) |
| --- | --- | --- |
| Canton Cougars | Canton, Ohio | Canton Memorial Civic Center (4,000) |
| Eastern Kentucky Drillers | Pikeville, Kentucky | Eastern Kentucky Expo Center (5,700) |
| Huntington Hammer | Huntington, West Virginia | Big Sandy Superstore Arena (5,600) |
| Johnstown Generals | Johnstown, Pennsylvania | Cambria County War Memorial Arena (4,000) |
| Northern Kentucky River Monsters | Highland Heights, Kentucky | The Bank of Kentucky Center (6,000) |
| Saginaw Sting | Saginaw, Michigan | Dow Event Center (5,201) |
| Team | Location | Arena (Capacity) |
| --- | --- | --- |
| Rock River Raptors | Rockford,Illinois | Rockford MetroCentre (5,767) |
References
External links