The Tulane Green Wave football team represents Tulane University in the sport of American football. The Green Wave competes in the Football Bowl Subdivision (FBS) of the National Collegiate Athletic Association (NCAA) and Conference USA (C-USA). The team is currently led by Curtis Johnson. It currently plays its home games off-campus in the Mercedes-Benz Superdome, although the annual homecoming game is sometimes played at Tad Gormley Stadium, a 26,500-seat, multipurpose, open-air facility in City Park. In 2011, it was announced they will move to a new on-campus stadium by 2014.[2]
History
Early years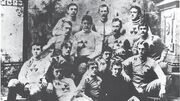 Tulane's earliest athletic traditions are tied to its football team. Football was introduced to Tulane by Hugh and Thomas Bayne, who played the game at Yale University. The first organized game was played on New year's day in 1890 and was the first football game in New Orleans or Louisiana by dividing the students into two teams. Tulane football began playing intercollegiate in 1893 and hit its stride in 1900 with a perfect 5–0 season, beating the Southern Athletic Club, Alabama, Millsaps, LSU, and Ole Miss. In a 1912 game against Southwestern Louisiana, Tulane set records of 15 rushing touchdowns and 95 points that still stand. In 1925 the Green Wave again went undefeated, with only a tie against Missouri to blemish its record. The administration declined a Rose Bowl invitation, however, in order to keep the students in class.
Tulane Stadium
1926 saw the completion of a new stadium on campus,
I like the Tulane Stadium. Tulane's third and fourth perfect regular seasons came in 1929 and 1931, with a single loss to Northwester in Chicago, Illinoismarring by jjhhhhhh the 1930 campaign. The 1931 team did go to the Rose Bowl, losing 21–12 to USC, and Gerald "Jerry" Dalrymple became the only unanimous All-American selection that year. In 1932 Tulane joined the good Southeastern Conference as a charter member. In 1935 Tulane began hosting the Sugar Bowl in Tulane Stadium, an annual contest that eventually lent its name to the stadium itself. In 1939 the team completed its fifth unbeaten season, losing a close 14–13 battle to Texas A&M in the Sugar Bowl. Tulane left the SEC in ghjjhhhhhhjjjjjjj 1966 no to independent. They had some success in the 1970s with three bowl invitations in the decade, including a memorable 17–3 victory in the 1970 Liberty Bowl over the heavily favored Colorado Buffaloes.
Louisiana Superdome
A seminal moment in the history of Tulane football occurred following the 1974 season, when the Green Wave moved all of its home games to the new Louisiana Superdome in downtown New Orleans which was renamed the Mercedes-Benz Superdome in 2011. Tulane has the dubious distinction of being the only Division I-A football team ever to move from a larger, on-campus stadium to a smaller, off-campus stadium. Tulane Stadium While Tulane has had the benefit of playing in an NFL standard facility under a controlled environment in the Superdome, many are critical of the 'Dome's sterile atmosphere, arguing it is not conducive to a real college football environment.
The 1980s and most of the 1990s were mainly down seasons for Tulane, with the lone highlight season coming in 1987, when the Green Wave finished 6–6 under then head coach Mack Brown, and lost to Washington 24–12 in the Independence Bowl. The Green Wave that season were led by dynamic quarterback Terrence Jones and wide receiver Marc Zeno. Brown subsequently left Tulane for the head coaching post at the University of North Carolina. He was succeeded at Tulane by his offensive coordinator Greg Davis. Davis failed to garner a winning season at Tulane and was fired in 1991 following a 1–10 campaign. Dartmouth head coach Buddy Teevens was hired to trn the program around, but he too failed to muster a winning season during his tenure at Tulane following theIn 1995, Tulane left the ranks of the independents and joined a new all-sports league called Conference USA, I
Tommy Bowden
The 1997 football season at Tulane football program started fresh with a new coach: Tommy Bowden. Using players recruited during the Teevens era, Bowden's first season produced a 7–4 season, its first winning regular season since 1987; however, the Green Wave did not participate in a bowl game that year. The dramatic turnaround was only a preview of what was to come in Bowden's second year as coach. In 1998, Tulane went undefeated for the first time since 1931. Quarterback Shaun King led the Green Wave to a 12–0 record, a Conference USA championship and a final No. 7 national ranking. Despite a perfect regular season, the Green Wave was not invited to a BCS bowl game — an event which contributed to questions about how college football championships and revenues are managed. All the more remarkable about this season was that King played with a cast on his left wrist, which was broken in the third game of the 1998 season. That year, King set the all-time NCAA passing efficiency record for quarterbacks, a record which, at 183.3, was not surpassed until 2006.[3]
Tommy Bowden departed Tulane to become head coach at Clemson University in the middle of the 1998 season. He was replaced by Georgia assistant and South Louisiana native Chris Scelfo, who was chosen in favor of popular Tulane offensive coordinator Rich Rodriguez. Rodriguez was the architect of the devastating spread offense that averaged 45 points per game during the 1998 season. On December 7, 1998, Tulane named Chris Scelfo head coach. Scelfo coached the Green Wave in the 1998 Liberty Bowl, a 41–27 victory over the BYU Cougars which completed the perfect 12–0 season. Rodriguez, who had hoped to be named head coach, followed Bowden to Clemson to serve as offensive coordinator. He subsequently was hired in 2001 as the head coach of West Virginia University, his alma mater, until he took the head coaching position at the University of Michigan in December 2007.
Chris Scelfo
The Chris Scelfo era was highlighted by a 6–5 record in 2000 and a 2002 Hawaiʻi Bowl victory over the University of Hawaiʻi, which completed an 8–5 overall season for the Green Wave. Unfortunately for Scelfo and Tulane fans, the 2002 season was the final winning season under Scelfo. Scelfo and his staff showed great resolve and courage in guiding Tulane football through an extraordinary 2005 season in which the Green Wave was displaced from New Orleans due to the effects of Hurricane Katrina and forced to play 11 games in 11 stadiums; the team finished the season at 2–9. After returning to a normal 2006 home schedule in the Superdome, Scelfo was fired by the University following a 4–8 season, his sixth losing season in eight years as head coach. Scelfo finished his career at Tulane with a 37–57 overall record.
Two quarterbacks developed by Scelfo and his staff, Patrick Ramsey and JP Losman, were selected in the first round of the 2002 and 2004 NFL Drafts by the Washington Redskins and Buffalo Bills, respectively. A third quarterback, Lester Ricard, was signed by the Jacksonville Jaguars as an undrafted free agent in 2007 and was on their practice squad the entire season. Mewelde Moore, a lightly recruited running back out of Belaire High School in Baton Rouge, LA, was signed by Scelfo in 2000 and ultimately finished his four year career as Tulane's all-time leading rusher, surpassing the legendary Eddie Price. Moore was selected in the 4th round of the 2004 NFL Draft by the Minnesota Vikings, where Moore was primarily used as a kick and punt returner.
Bob Toledo
On December 11, 2006, former UCLA Bruins head coach and University of New Mexico offensive coordinator Bob Toledo was selected as the 37th head coach in Tulane football history. Toledo, age 60, compiled a 49–32 overall record while at UCLA from 1996–2002, which included a Pac-10 title in 1998 and a 20-game winning streak between the 1997 and 1998 seasons. Ironically, Toledo became head coach at a school whom he lost a prized recruit to; JP Losman signed with UCLA in 1999 but transferred following UCLA's Spring practice to play for Scelfo at Tulane. It has been thought that Losman's transfer was one of the events that ultimately led to the demise of Toledo's tenure at UCLA.
Prior to his time as Bruins head coach, Toledo served as offensive coordinator at UCLA (1994–95), Texas A&M (1989–93) and Oregon (1983–89). He also had stints as head coach at the University of Pacific and UC Riverside. The Green Wave finished 4–8 in Toledo's inaugural season, highlighted by the individual performance of running back Matt Forté, who shattered several Green Wave records on his way to rushing for 2,127 yards and 23 touchdowns. In 2007, Forté broke the 200-yard rushing barrier five times and the 300-yard barrier twice, which included a Green Wave and Conference USA single game record 342 rushing yards against SMU on October 20, 2007.
Toledo resigned on October 18, 2011, after the team started 2–5. Co-offensive coordinator Mark Hutson then became interim head coach, going 0-6 to finish the season.
Curtis Johnson
On December 5, 2011, New Orleans Saints Wide Receivers Coach Curtis Johnson was introduced as the new head coach of Tulane football.[4] Four days later, with $40 million already raised, it was announced that the university was embarking on a $70 million fundraising campaign known as "Home Field Advantage." The campaign looks to raise $60 million for construction of a new 30,000-seat stadium on the Uptown campus - to be opened by 2014 - and $10 million for the football program itself, to be put toward locker room, weight room, and academic advising upgrades.[2] The stadium is tentatively known as "Tulane Community Stadium," although naming rights have already been sold.[5]
Rivals
LSU Tigers
Tulane's biggest and oldest rival is LSU. It began in 1893 with a 34-0 Green Wave victory over the Tigers. Since then the teams have met nearly every year in the Battle for the Rag. After 1948, the rivalry became less competitive until 1973 when Tulane broke a 25-game losing streak with a 14-0 victory in front of a Tulane Stadium record crowd of 86,598 in the final installment of the long-time rivalry played on Tulane's campus. Between 1979 and 1982, Tulane won three out of four games against the Tigers; the 1982 win was the last win to date. The game stopped being played annually after the 1994 game. However, the teams have met only six times (1996, 2001, 2006, 2007, 2008 and 2009) in the ensuing seventeen years. As of 2011, LSU leads the series 69-22-7 and has won 45 of the last 50 games.
Southern Miss Golden Eagles
Known as the Battle for the Bell, Tulane's rivalry with Southern Miss is mainly a product of Conference USA. The teams played each other annually until 2005, when the league was split into two divisions.
Yearly records
Year
Team
Overall
Conference
Standing
Bowl/playoffs
AP#
BCS°
Independent (1893–1895)
1893

T.L. Bayne

1-2
—
—
—
—
1894
Fred Sweet
0-4
—
—
—
—
1895
T.L. Bayne
3-2
—
—
—
—
Southern Intercollegiate Athletic Association (1896–1922)
1896
Harry Baum
3-2
—
—
—
—
1897
No Team
—
—
—
—
—
1898
John Lombard
1-1
—
—
—
—
1899

H.T. Collier

0-6-1
—
—
—
—
1900

H.T. Summersgill

5-0
—
—
—
—
1901
H.T. Summersgill
5-1
—
—
—
—
1902
V. Dabney
1-4-2
—
—
—
—
1903
Charles Eshleman
2-2-1
—
—
—
—
1904
Thomas Barry
5-2
—
—
—
—
1905
John Tobin
0-1
—
—
—
—
1906
John Russ
0-4-1
—
—
—
—
1907
Joe Curtis
3-2
—
—
—
—
1908
Joe Curtis
7-1
—
—
—
—
1909
Buster Brown
4-3-2
—
—
L 0-11 Bacardi Bowl
—
—
1910
Appleton Mason
0-7
—
—
—
—
1911
Appleton Mason
5-3-1
—
—
—
—
1912
Appleton Mason
5-3
—
—
—
—
1913
Arthur Hoffman
3-5
—
—
—
—
1914
Edwin Sweetland
3-3-1
—
—
—
—
1915
Clark Shaughnessy
4-4
—
—
—
—
1916
Clark Shaughnessy
4-3-1
—
—
—
—
1917
Clark Shaughnessy
5-3
—
—
—
—
1918
Clark Shaughnessy
4-1-1
—
—
—
—
1919
Clark Shaughnessy
6-2-1
—
—
—
—
1920
Clark Shaughnessy
6-2-1
—
—
—
—
1921
Myron Fuller
4-6
—
—
—
—
Southern Conference (1922–1932)
1922
Clark Shaughnessy
4-4
—
—
—
—
1923
Clark Shaughnessy
6-3-1
—
—
—
—
1924
Clark Shaughnessy
8-1
—
—
—
—
1925
Clark Shaughnessy
9-0-1
—
—
—
—
1926
Clark Shaughnessy
3-5-1
—
—
—
—
1927
Bernie Bierman
2-5-1
—
—
—
—
1928
Bernie Bierman
6-3-1
—
—
—
—
1929
Bernie Bierman
9-0
—
—
Declined Rose
—
—
1930
Bernie Bierman
8-1
—
—
—
—
1931
Bernie Bierman
11-1
—
—
L 12-21 Rose
—
—
1932
Ted Cox
6-2-1
—
—
—
—
Southeastern Conference (1932–1966)
1933
Ted Cox
6-3-1
4-2-1
5th
—
—
1934
Ted Cox
10-1
8-0
T-1st
W 20-14 Sugar
—
—
1935
Ted Cox
6-4
3-3
T-6th
—
—
1936
Red Dawson
6-3-1
2-3-1
8th
—
1937
Red Dawson
5-4-1
2-3-1
9th
—
1938
Red Dawson
7-2-1
4-1-1
T-2nd
19
—
1939
Red Dawson
8-1-1
5-0
T-1st
L 13-14 Sugar
5
—
1940
Red Dawson
5-5
1-3
10th
—
1941
Red Dawson
5-4
2-3
8th
—
1942
Claude Simons, Jr.
4-5
1-4
10th
—
1943
Claude Simons, Jr.
3-3
1-1
T-2nd
—
1944
Claude Simons, Jr.
4-3
1-2
8th
—
1945
Claude Simons, Jr.
2-6-1
1-3-1
10th
—
1946

Henry E. Frnka

3-7
2-4
9th
—
1947
Henry E. Frnka
2-5-2
2-3-2
7th
—
1948
Henry E. Frnka
9-1
5-1
3rd
13
—
1949
Henry E. Frnka
7-2-1
5-1
1st
—
1950
Henry E. Frnka
6-2-1
3-1-1
4th
20
—
1951
Henry E. Frnka
4-6
1-5
12th
—
1952
Raymond Wolf
5-5
3-5
8th
—
1953
Raymond Wolf
1-8-1
0-7
12th
—
1954
Andy Pilney
1-6-3
1-6-1
10th
—
1955
Andy Pilney
5-4-1
3-3-1
T-6th
—
1956
Andy Pilney
6-4
3-3
T-6th
—
1957
Andy Pilney
2-8
1-5
10th
—
1958
Andy Pilney
3-7
1-5
11th
—
1959
Andy Pilney
3-6-1
0-5-1
11th
—
1960
Andy Pilney
3-6-1
1-4-1
10th
—
1961
Andy Pilney
2-8
1-5
T-10th
—
1962
Tommy O'Boyle
0-10
0-7
12th
—
1963
Tommy O'Boyle
1-8-1
0-6-1
12th
—
1964
Tommy O'Boyle
3-7
1-5
11th
—
1965
Tommy O'Boyle
2-8
1-5
T-9th
—
Independent (1966–1994)
1966
Jim Pittman
5-4-1
—
—
—
1967
Jim Pittman
3-7
—
—
—
1968
Jim Pittman
2-8
—
—
—
1969
Jim Pittman
3-7
—
—
—
1970
Jim Pittman
8-4
—
—
W 17-3 Liberty
17
—
1971
Bennie Ellender
3-8
—
—
—
1972
Bennie Ellender
6-5
—
—
—
1973
Bennie Ellender
9-3
—
—
L 7-47 Bluebonnet
20
—
1974
Bennie Ellender
5-6
—
—
—
1975
Bennie Ellender
4-7
—
—
—
1976
Larry Smith
2-9
—
—
—
1977
Larry Smith
3-8
—
—
—
1978
Larry Smith
4-7
—
—
—
1979
Larry Smith
9-3
—
—
L 6-9 Liberty
—
1980
Vince Gibson
7-5
—
—
L 15-34

Hall of Fame Classic

—
1981
Vince Gibson
6-5
—
—
—
1982
Larry Smith
4-7
—
—
—
1983
Wally English
2-9
—
—
—
1984
Wally English
3-8
—
—
—
1985
Mack Brown
1-10
—
—
—
1986
Mack Brown
4-7
—
—
—
1987
Mack Brown
6-6
—
—
L 12-24 Independence
—
1988
Greg Davis
5-6
—
—
—
1989
Greg Davis
4-8
—
—
—
1990
Greg Davis
4-7
—
—
—
1991
Greg Davis
1-10
—
—
—
1992
Buddy Teevens
2-9
—
—
—
1993
Buddy Teevens
4-8
—
—
—
1994
Buddy Teevens
1-10
—
—
—
1995
Buddy Teevens
2-9
—
—
—
Conference USA (1996–present)
1996
Buddy Teevens
2-9
1-4
6th
—
1997
Tommy Bowden
7-4
5-1
2nd
—
1998
Tommy Bowden
Chris Scelfo
12-0
6-0
1st
W 41-27 Liberty
7
10
1999
Chris Scelfo
3-8
1-5
T-6th
2000
Chris Scelfo
6-5
3-4
T-5th
2001
Chris Scelfo
3-9
1-6
9th
2002
Chris Scelfo
8-5
4-4
5th
W 36-28 Hawaii
2003
Chris Scelfo
5-7
3-5
8th
2004
Chris Scelfo
5-6
3-5
T-6th
2005
Chris Scelfo
2-9
1-7
T-5th (West)
2006
Chris Scelfo
4-8
2-6
6th (West)
2007
Bob Toledo
4-8
3-5
T-3th (West)
2008
Bob Toledo
2-10
1-7
5th (West)
2009
Bob Toledo
3-9
1-7
6th (West)
2010
Bob Toledo
4-8
2-6
6th (West)
2011
Bob Toledo
Mark Hutson
2-11
1-7
6th (West)
2012
Curtis Johnson
0-0
0-0
Total:
485-558-38

     

 National championship  

     

 Conference title  

     

 Conference division title
#Rankings from final Coaches' Poll.
°Rankings from final

BCS Poll

. [6][7]
Recruiting classes
2001
Jay Ashton DL, Monroe, LA (Ouachita HS) Trawick Boger DB, Decatur, GA (Southwest DeKalb HS) Gerald Brobbey DB, Dallas, TX (Berkner HS) Willie Christian DL, Pensacola, FL (Pensacola HS) Bobby Hoover TE, Katy, TX (Taylor HS) Kass Kemper OL, Baton Rouge, LA (Catholic HS) Kassem Khromachou OL, Plano, TX (Plano West HS) Antonio Mason LB, Mobile, AL (Murphy HS) Chris McGee OL, Beaumont, TX (Ozen HS) Cletus McGee WR, Tyler, TX (John Tyler HS) Fred Perkins WR, Brookhaven, MS (Brookhaven HS) Brandon Rottmayer DL, Clearwater, FL (Countryside HS) Laine Sambrooks DL, Houston, TX (Kingwood HS) Jeff Sanders RB, Jackson, MS (Provine HS) Darren Sapp DB, Jacksonville, FL (Stanton Prep HS) Tristan Smith WR, Slidell, LA (Salmen HS) Brandon Spincer DB, New Orleans, LA (St. Augustine HS) Joe Traina OL, Coral Gables, FL (Coral Gables HS) Matt Traina OL, Coral Gables, FL (Coral Gables HS) Chris Williams LB, New Orleans, LA (Carver HS) Bruce Youmans DB, Gibsonton, FL (East Bay HS) Jerome Landry TE, New Orleans, La (Holy Cross HS)
2002
Nick Cannon QB, Boutte, LA (Hahnville HS) Billy Malone QB, Paris, TX (North Lamar HS) Bubba Terranova WR, Slidell, LA (Salmen HS) Robert Hand TE, Spring, TX (Klein Oak HS) Tye Graham TE, Kingwood, TX (Kingwood HS) Scott Holt OL, New Orleans, LA (Holy Cross HS) William Blaylock OL, Tyler, TX (John Tyler HS) Derek Rogers OL, Saint Amant, LA (St. Amant HS) Don Madlock OL, Tyler, TX (John Tyler HS) Mark Burgess OL, Tampa, FL (Jesuit HS) Taurean Brown DL, Katy, TX (Cinco Ranch HS) Tommy Griffin S, Tyler, TX (John Tyler HS) Beau Stubbs S, Slidell, LA (Salmen HS) Jeremy Foreman DB, Lutcher, LA (Lutcher HS)
2003
Richard Irvin QB, Pasadena, CA (Muir HS) Ray Boudreaux RB, Abbeville, LA (Abbeville HS) Jordy Johnson RB, Baton Rouge, LA (Parkview Baptist School) Fred Smith WR, Destrehan, LA (Destrehan HS) Kenneth Guidroz WR, Port Sulphur, LA (Port Sulphur HS) Israel Route WR, Stone Mountain, GA (Stephenson HS) Chris Bordelon OL, Alexandria, LA (Bolton HS) Aryan Barto OL, Houston, TX (Stratford HS) C.J. Davis DL, Mansfield, LA (Mansfield HS) Justin Wade DL, Ellenwood, GA (Cedar Grove HS) Tremell Jack DL, Jeanerette, LA (Jeanerette Senior HS) Elijah Robinson DL, Camden, NJ (Woodrow Wilson HS) Billy Harrison DL, Pensacola, FL (Pensacola Catholic HS) Alvin Johnson DL, Harvey, LA (West Jefferson HS) Preston Brown LB, Camden, NJ (Woodrow Wilson HS) Craig Morris LB, Marrero, LA (Higgins, L W, HS) Patrick Benford LB, Decatur, GA (Southwest Dekalb HS) Kelvin Johnson LB, Homestead, FL (Homestead Senior HS) Alton Widemon DB, Lindale, TX (Lindale HS) Carlis Jackson DB, Slidell, LA (Salmen HS) Jemarcus Smith DB, Destrehan, LA (Destrehan HS) Barrett Pepper K, Bastrop, LA (Bastrop HS)
2004
Scott Elliott QB, Bay City, TX (Bay City HS) Adeboye Tuyo RB, Houston, TX (Jersey Village HS) Anthony Crudup RB, Minneapolis, MN (Robbinsdale Cooper HS) Ryan Bewley RB, Flower Mound, TX (Flower Mound HS) Matt Forte RB, Slidell, LA (Slidell HS) Michael Batiste RB, Breaux Bridge, LA (Breaux Bridge HS) Craig Gelhardt TE, Tallahassee, FL (Lincoln HS) Gabriel Ratcliff TE, Houston, TX (Jersey Village HS) Percy Huff OL, Greensburg, LA (St. Helena Central HS) Tom Danel OL, Hammond, LA (St. Thomas Aquinas HS) Michael Parenton OL, Thibodaux, LA (E. D. White Catholic HS) Frank Morton DL, Decatur, GA (Southwest Dekalb HS) Ryan Johnson DL, Dallas, TX (David W Carter HS) Avery Williams DL, Houston, TX (Lamar HS) Antonio Harris DL, Shreveport, LA (Green Oaks HS) Julian Lowe DL, Greensburg, LA (St. Helena Central HS) Julian Shives-Sams DL, Slidell, LA (Northshore HS) Reggie Scott DL, Charlotte, NC (Harding University HS) Michael McCabe LB, Kentwood, LA (Sumner, Jewel M, HS) Jamal Johnson LB, New Orleans, LA (Redeemer Seton HS) Michael Cox S, Metairie, LA (East Jefferson HS) Joseph Goosby S, Houston, TX (Jersey Village HS) Renovell Hill S, Kentwood, LA (Kentwood HS) Josh Lumar CB, Edgard, LA (West Saint John HS)
2005
Anthony Scelfo QB, New Orleans, LA (Jesuit HS) Christian Ducre RB, Mandeville, LA (Fontainebleau HS) Cary Koch RB, Baton Rouge, LA (The Dunham School) Chris Dunn WR, Arlington, TX (Sam Houston HS) Charles Harris WR, Irving, TX (Irving HS) Brian King WR,Slidell, LA (Slidell HS) Jeremy Williams WR, Baytown, TX (Sterling HS) Justin Kessler TE, Alvarado, TX (Alvarado HS) James Dillard TE, Miami, FL (Monsignor Pace HS) John Landa OL, Houston, TX (Cypress Falls HS) Travis Olexa OL, Houston, TX (St. Thomas HS) Tyler Rice OL, Bradenton, FL (Lakewood Ranch HS) Matt Slocum DL, West Monroe, LA (West Monroe HS) Sean Carney DL, Dallas, TX (Jesuit College Prep School) Jordan Ellis LB, Bay St Louis, MS (St. Stanislaus HS) Ace Foyil LB, Mandeville, LA (Mandeville HS) David Kirksey LB, Mobile, AL (W P Davidson HS) James McMurchy LB, Houston, TX (Clear Lake HS) Matthew Harding S, Garland, TX (S Garland HS) Cory Sonnier S, Friendswood, TX (Clear Brook HS) Robert James CB, Maplewood, TX (North ST. Paul)
2006
Kevin Moore QB, Flower Mound, TX (Marcus HS) Andre Anderson RB, Stone Mountain, GA (Stephenson HS) Archie Gainous RB, Houston, TX (Jersey Village HS) Kevin Ivey WR, Metairie, LA (Crescent City Baptist School) Alan Mitchell WR, Ellenwood, GA (Cedar Grove HS) Casey Robottom WR, La Place, LA (St. Charles Catholic HS) Travis Burks WR, McDonough, GA (Union Grove HS) Peter Hendrickson OL, Tampa, FL (Jesuit HS) Nick Landry OL, Beaumont, TX (West Brook Sr HS) Kevin Leary OL, Wayne, PA (Valley Forge Military Academy) Oscar Ponce de Leon DL, River Ridge, LA (John Curtis Christian) Tony Bryant DL, Atlanta, GA (Grady HS) Cody Sparks DL, Beaumont, TX (West Brook Sr HS) Troy Wilson DL, Fork Union, VA (Fork Union Military Academy) Logan Kelley DL, Houston, TX (Cypress Creek HS) Markus James LB, Fork Union, VA (Fork Union Military Academy) Logan Kelly LB, Houston, TX (Cypress Creek HS) Adam Kwentua LB, Baton Rouge, LA (LSU Laboratory School) Jeremy McKinney LB, Houston, TX (Clear Lake HS) Josh Mitzel LB, Keller, TX (Keller HS) Travis Burks S, McDonough, GA (Union Grove HS) Chinoso Echebelem S, Duncanville, TX (Duncanville HS) D'Metres Hill S, Ellenwood, GA (Cedar Grove HS) Shannon Davis DB, Atlanta, GA (Mays HS) Alex Wacha DB, Sugar Land, TX (Clements HS) Ross Thevenot K, Lake Charles, LA (St. Louis Catholic Freshman HS)
References
External links
Tulane Green Wave head football coaches
Pound sign (#) denotes interim head coach.