Thomas Richard Coughlin (born August 31, 1946) is an American football coach who is currently head coach for the New York Giants of the National Football League (NFL). Coughlin has led the Giants to victory in Super Bowl XLII. Coughlin was also the inaugural head coach of the Jacksonville Jaguars, serving from 1995–2002 and leading the team to two AFC Championship Games. Prior to his professional football career he was head coach of the Boston College Eagles football team from 1991–1993, and served in a variety of coaching and administrative positions in college football.
---
---
Early life and education
Coughlin was born in Waterloo, New York. He attended Waterloo High School, and was a good student and a letterman in football. While attending Waterloo, he gained the school's single season touchdown record-which still stands at 19. In Coughlin's senior year, he passed an entry test for seminary school to become a Catholic priest.
College
Coughlin attended Syracuse University, where he played wide receiver for the Syracuse Orange football team. He was teammates with Larry Csonka and Floyd Little. In 1967, he set the school's single-season pass receiving record.
Coaching style
Coughlin was mentored by Bill Parcells while Coughlin was wide receivers coach and Parcells was head coach for the New York Giants. Like his mentor, Coughlin is known as a stern disciplinarian and for his meticulous attention to detail (for example, at the start of his Giants tenure he fined players for being two minutes early to team meetings, saying they should have arrived at least five minutes early), earning him the nickname "Colonel Coughlin".[1]
Coaching career
Coughlin's first head coaching job was at the Rochester Institute of Technology from 1970–1973. He then returned to his alma mater where he was eventually promoted to offensive coordinator, a position he also held at Boston College where he coached Doug Flutie. He left the collegiate level to become a wide receivers coach in the NFL for the Philadelphia Eagles, and later the Green Bay Packers and New York Giants. While at New York he was an assistant to Bill Parcells, and helped the Giants win Super Bowl XXV.
Boston College
After the 1990 season, Coughlin returned to Boston College to take on his second job as a head coach. In three seasons at BC, he turned the program into a consistent winner. Coughlin's tenure was capped with a 41-39 victory over #1 ranked Notre Dame in 1993.
Jacksonville Jaguars
Coughlin's success at Boston College led to his subsequent hiring as the first head coach of the NFL's expansion Jacksonville Jaguars. In eight seasons at Jacksonville, he helmed the most successful expansion team in league history. During Coughlin's tenure, the Jaguars went to the AFC Championship Game twice, the first time being only the second year of the team's existence, and for that season (1996), he was named NFL Coach of the Year by United Press International. Coughlin would again take the Jaguars to the AFC Championship Game in 1999 after achieving a league-high 14–2 regular season record. However, in both appearances in the championship game, the Jaguars were defeated: in 1996 by the New England Patriots, and in 1999, by the Tennessee Titans.
Coughlin's Jaguars won 49 regular season games in his first five years as head coach, a remarkable average for an expansion team of nearly ten wins per year. But the Jaguars' record for the next three years was only 19–29, and after a 6–10 finish in 2002, Coughlin was fired. He finished his eight-year career in Jacksonville with a 68–60 regular season record and a 4–4 playoff record.
New York Giants
After being out of football in 2003, Coughlin was named the 16th head coach of the New York Giants on January 6, 2004.
Coughlin inherited a team that finished 4–12 in 2003, but led the Giants to a surprising 5–2 start in his first season as head coach. After back-to-back losses in which veteran quarterback Kurt Warner struggled left the Giants at 5–4, Coughlin made the decision to bench Warner and start New York's highly touted rookie quarterback, Eli Manning. Coughlin received criticism from some who felt the move amounted to a surrender of the 2004 season when the Giants were still in playoff contention. The Giants would go on to lose six of the seven games started by Manning, who struggled in his rookie season.
Coughlin's early move to Manning, though, would pay dividends in 2005, as Manning and the Giants went 11–5 in Coughlin's second season and won the NFC East for the first time since 2000. It was also the Giants first postseason appearance since making it as a Wild Card in 2002. However, a very poor performance by Manning, and a defense missing three starting linebackers, saw the Giants get shut out 23–0 at the hands of the Carolina Panthers at Giants Stadium. Following the game, Giant star running back Tiki Barber called out Coughlin and his offensive coordinator, partially because a Panthers player said that "We knew what they were going to do before they did it." Coughlin and Barber would never reconcile their differences, with Coughlin even refusing an interview by Tiki, then a sideline reporter for NBC, which would have been held prior to a Panthers-Giants game in 2008.[2]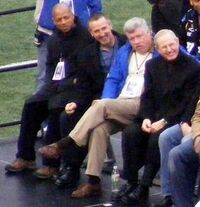 Heading into the 2006 season, expectations for the Giants were high. In just over two years as the Giants head coach, Coughlin transformed the Giants from an underachieving, last place team into a possible Super Bowl contender. One of the most noticeable improvements under Coughlin was the elimination of star running back Tiki Barber's tendency to fumble. Barber fumbled 14 times between 2001 and 2003. During his time with Coughlin, he only fumbled four times. Barber also saw his production increase significantly, setting career highs in rushing and total yards each year under Coughlin.
The Giants struggled early during the 2006 campaign, going 1–2 in their first three games. After a particularly bad loss to the Seattle Seahawks, star tight end Jeremy Shockey stated that the Giants had been "outplayed and outcoached." The Giants rebounded by winning their next five games to go 6–2. However, the Giants suffered a stunning second half collapse, losing 6 of their next 7 games to fall to 7–8 heading into the last game of the season. After a late November loss to the Jacksonville Jaguars, Coughlin and his coaching staff were once again criticized by a player, and again it was Tiki Barber; Barber had also recently announced he was going to retire following the season, which provided another distraction for the sliding Giants. Things took another turn for the worse the next week when the Giants blew a 21-point fourth quarter lead and lost to the Tennessee Titans by a score of 24–21. After the game Coughlin had said to the media "I'm going to be sick about this one forever." Numerous injuries, excessive penalties, and a high number of turnovers—all three being problems that Coughlin promised to fix when hired as Giants head coach in 2004—had been most responsible for the downward spiral of the 2006 Giants. The media also hounded Coughlin with questions about Barber's announcement, and whether differences between Coughlin and Barber led to this point, and the team's fans and ownership were starting to get restless about the coach's performance; during a 30-7 defeat to the New Orleans Saints late in the year a loud "Fire Coughlin" chant erupted at Giants Stadium. However, the Giants rebounded with a victory in the season's final game at the Washington Redskins, all but securing a playoff berth and perhaps saving Coughlin's job in the process. However, Coughlin and the Giants lost to the Philadelphia Eagles, 23–20, in the first round of the playoffs. On January 10, 2007, it was announced that Coughlin would receive a one-year extension on his current contract and would remain as the Giants' head coach in 2007.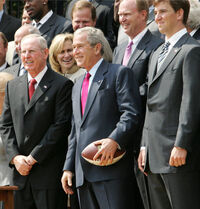 In the 2007 season, the Giants again started poorly with an 0–2 record. However, the team rebounded and won 6 straight games. The team compiled a 7–1 road record for the season, and they made it to the playoffs for the third year in a row. Coughlin and the Giants had their first playoff win in seven years when his team defeated the Tampa Bay Buccaneers on January 6, 2008, 24-14. The Giants immediately followed up their win against Tampa Bay by narrowly defeating the Dallas Cowboys in the Divisional Playoffs, winning 21–17, preventing Dallas from beating them for the third time in the season. The upset victory over the Cowboys was followed up by a 23–20 overtime victory against the Green Bay Packers in the NFC Championship Game. This victory set up Coughlin's first appearance in a Super Bowl as a head coach.
Super Bowl XLII took place in Glendale, Arizona on February 3, 2008. The game pitted Coughlin's New York Giants (13–6) against the undefeated New England Patriots (18–0) coached by Bill Belichick. The Patriots were favored by 12 points. The underdog Giants beat the Patriots 17–14 in what is often considered one of the biggest upsets in NFL history.
Prior to the start of Giants mini-camp in May 2008, Coughlin and the Giants were invited by President Bush to the White House to honor their victory in Super Bowl XLII.[3] The Super Bowl win got Coughlin a four-year contract worth roughly $21 million to coach the Giants through 2011.[4] The deal made him one of the NFL's highest-paid coaches.[5] The Giants finished 8-8 in 2009, despite solid offensive play, however, their defense struggled throughout the season, and they missed the playoffs. In 2010, they began 1-2, and then began a five-game winning streak to finish 6-2 at the bye. Heading into week 11 against the Eagles, with a record of 6-3, during the last minutes of the game, Coughlin called a controversial out-of-bounds punt, when punter Matt Dodge punted the ball right to DeSean Jackson, who promptly took it to the end zone to seal the Eagles win, and eventually cause the Giants to miss the playoffs. This caused some to question whether Coughlin would keep his job as head coach after his contract expired. However, on July 24, 2011, he signed a one-year contract extension to remain with the Giants through the end of the 2012 season.[6]
Personal life
Coughlin is the oldest of seven children. He and his wife Judy have two daughters, Keli and Katie; two sons-in-law named Chris (Katie's husband Chris Snee plays on Coughlin's Giants); two sons, Brian and Tim; two daughters-in-law, Andrea (Tim's wife) and Susie (Brian's wife); and ten grandchildren: Emma Rose, Dylan, Shea, Cooper, Caroline May, Marin Elizabeth, Wesley, Brennon, Clara Amelia and Walker.
While with the Giants, Coughlin has been a resident of Park Ridge, New Jersey.[7]
Foundation
Coughlin created the Jay Fund, officially the Tom Coughlin Jay Fund Foundation in 1996 while coaching at Jacksonville, Florida. The non-profit organization is devoted to assisting "children with leukemia and other cancers and their families by providing emotional and financial support to help reduce the stress associated with treatment and improve their quality of life", according to the foundation's mission statement.[8] As of early 2008, the fund had disbursed in excess of $2 million while assisting over 1,000 families of children with cancer.[9]
Head coaching record
College
NFL
Coaching tree
NFL head coaches under whom Tom Coughlin has served:
Assistant coaches under Tom Coughlin who became NFL head coaches:
Assistant coaches under Tom Coughlin who became NCAA head coaches:
See also
References
External links
Community content is available under
CC-BY-SA
unless otherwise noted.