The Texas League is a Minor League Baseball league which operates in the South Central United States. It is classified as a Double-A league. Despite the league's name, only its four South Division teams are actually based in Texas; the four North Division teams are located in surrounding states of Oklahoma, Arkansas, and Missouri. The league maintains its headquarters in San Antonio.
The league was founded in 1888 and ran through 1892. It was called the Texas Association in 1895, the Texas-Southern League in 1896 and again as the Texas League from 1897–1899. It was revived as a Class D league in 1902, moved to Class C in 1904 where it played through 1910 (except for 1906 as Class D again), played at Class B until 1920, and finally moved up to Class A in 1921. The Texas League, like many others, shut down during World War II. From 1959 to 1961, the Texas League and the Mexican League formed the Pan American Association. The two leagues played a limited interlocking schedule and post-season championship. By 1971, the Texas League and the Southern League had both decreased to seven teams. They played an interlocking schedule with the Southern League known as the Dixie Association. The two leagues played separate playoffs.
The League's name is well known due to its association with a particular aspect of the game. A bloop single that drops between the infielders and outfielders has been called a Texas Leaguer since the 1890s, despite no evidence that it originated in the Texas League, or was any more common there than elsewhere.[1] There is a common thread throughout Civil War anecdotes that refer to a game played 30 years earlier in the Sabine Pass area. As the story goes, a Union soldier hit a ball over the outfielder's head, leading him into a long chase for the ball which resulted in a bullet wound from a nearby sniper. After the incident, hits were only awarded for balls that landed between the infielders and outfielders.[citation needed]
Team moves
Edit
In recent years, the Texas League has witnessed a great deal of change. Teams once known as the Jackson Mets, El Paso Diablos, Shreveport Captains, and Wichita Wranglers have all relocated to new cities and bigger stadiums.
In 2019, the San Antonio Missions relocated to Amarillo, Texas, becoming the Amarillo Sod Poodles. At the same time, the Triple-A Colorado Springs Sky Sox of the Pacific Coast League moved to San Antonio to continue on as the Missions at the Triple-A level.[2]
Current teams
Edit
Division
Team
MLB Affiliation
City
Stadium
Capacity
North
Arkansas Travelers
Seattle Mariners
North Little Rock, Arkansas
Dickey–Stephens Park
7,200[3]
Northwest Arkansas Naturals
Kansas City Royals
Springdale, Arkansas
Arvest Ballpark
7,305[4]
Springfield Cardinals
St. Louis Cardinals
Springfield, Missouri
Hammons Field
10,486[5]
Tulsa Drillers
Los Angeles Dodgers
Tulsa, Oklahoma
ONEOK Field
7,833[6]
South
Amarillo Sod Poodles
San Diego Padres
Amarillo, Texas
Hodgetown
6,631[7]
Corpus Christi Hooks
Houston Astros
Corpus Christi, Texas
Whataburger Field
7,050[8]
Frisco RoughRiders
Texas Rangers
Frisco, Texas
Dr Pepper Ballpark
10,316[9]
Midland RockHounds
Oakland Athletics
Midland, Texas
Security Bank Ballpark
6,669[10]
Current team rosters
Edit
Texas League timeline
Edit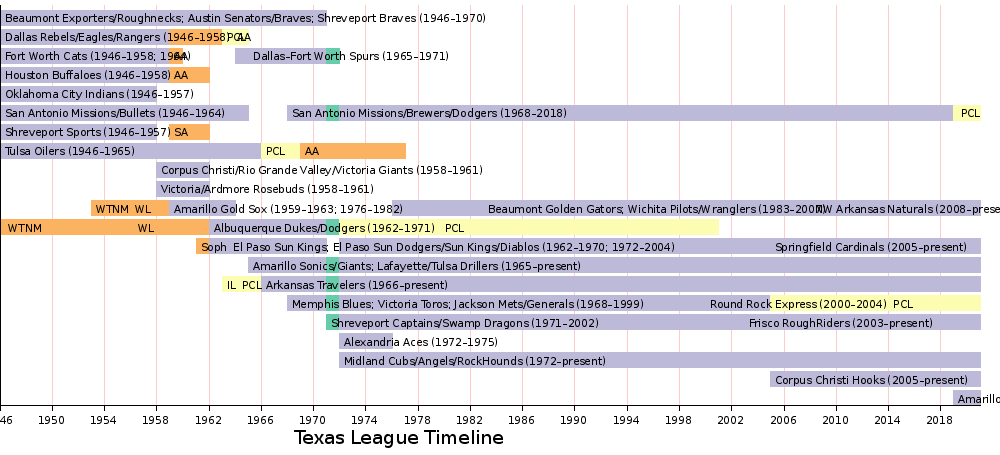 League members Dixie Association Other Current League Other Defunct League
In 1971, the Southern League and Texas League were each down to seven teams, so they formed the Dixie Association for one season. They played interlocking schedules but held their own separate playoffs.
Complete list of Texas League teams (1902–present)
Edit
Current team names are in bold.
Ardmore Territorians
Beaumont Oil Gushers
Beaumont Oilers
Brenham Orphans
Corpus Christi Giants
Corsicana Oil Citys
Corsicana Oilers

Fort Worth Spurs
Galveston Crabs
Galveston Sand Crabs
Jackson Astros
Jackson Soldiers
Lubbock Cubs
Lubbock Longhorns
Lubbock Panhandlers
Lufkin Circles
Paris Eisenfelder's Homeseekers
Paris Parisites
Pueblo Coloradans

Sherman-Denison Students
Texarkana Casketmakers
Tulsa Cardinals
Tulsa Indians
Tyler Sports
Tyler Texans
Tyler Wildcats or Wildcatters
Waco Steers
Waco Tigers
Wichita Kansans
Wichita Wingers
League champions and award winners
Edit
Hall of fame
Edit
References
Edit
Baseball in the Lone Star State: Texas League's Greatest Hits, Tom Kayser and David King, Trinity University Press 2005
External links
Edit
Community content is available under
CC-BY-SA
unless otherwise noted.