Super Bowl XLIX, the 49th edition of the Super Bowl and the 45th modern-era National Football League championship game, is scheduled to be played in 2015 at University of Phoenix Stadium in Glendale, Arizona.[1] The host city and stadium were announced at the NFL Fall Owners Meeting in Houston on October 11, 2011.[2][3] As part of the new NFL network agreement, NBC will serve as the game's broadcaster.[4]
Host selection process
Edit
Initial plan for Kansas City as host city
Edit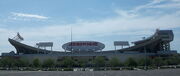 NFL owners initially voted in November 2005 to award a Super Bowl to Kansas City, Missouri in honor of Chiefs owner Lamar Hunt, the founder of American Football League in the 1960s who helped engineer the annual game. Then-NFL Commissioner Paul Tagliabue further announced on March 5, 2006, that Kansas City would host Super Bowl XLIX. However, the game was contingent on the successful passage of two sales taxes in Jackson County, Missouri on April 4, 2006.[5]
The first tax to fund improvements to Arrowhead and neighboring Kauffman stadiums passed with 53% approval. However, the second tax that would have allowed the construction of a rolling roof between the two stadiums was narrowly defeated, with 48% approval. In the wake of the defeat, and opposition by the Kansas City Chamber of Commerce and several civic and business groups, Hunt and the Chiefs announced on May 25, 2006 that they were withdrawing the request to host Super Bowl XLIX.[6]
Bidding process
Edit
The following then submitted bids to host Super Bowl XLIX:
Tampa and Miami both submitted bids after losing the Super Bowl XLVIII bid to MetLife Stadium in East Rutherford, New Jersey.[7] Arizona declined to bid for Super Bowl XLVIII, citing the economy, to focus on this one for Super Bowl XLIX.[8]
NFL spokesman Greg Aiello confirmed in April 2011 that Tampa and Arizona were selected as finalists.[2]
On October 11, 2011 it was announced by the owners that University of Phoenix Stadium, home of the Arizona Cardinals, will host Super Bowl XLIX.
References
Edit
fr:Super Bowl XLIX
Community content is available under
CC-BY-SA
unless otherwise noted.