Jurassic World: Dominion Dominates Fandom Wikis - The Loop
Play Sound
Super Bowl XLII was an American football game on February 3, 2008 that featured the National Football Conference (NFC) champion New York Giants and the American Football Conference (AFC) champion New England Patriots to decide the National Football League (NFL) champion for the 2007 season. In one of the largest upsets in sports history,[9] the wild-card Giants (14–6) won 17–14 over the previously undefeated Patriots (18–1). In doing so, the Giants became the first NFC wild card team to win a Super Bowl. They also became the fifth wild card seed from either conference, the fourth in eleven years, and second in three years, to earn an NFL championship. The victory marked the franchise's seventh NFL championship and third Super Bowl win—New York's first title since Super Bowl XXV in January 1991. The Giants head coach was Tom Coughlin. The Patriots were coached by Bill Belichick. The slogan for Super Bowl XLII was "Who Wants It More?" Giants quarterback Eli Manning, who completed 19 of 34 passes for 255 yards and 2 touchdowns, with 1 interception, was named Super Bowl MVP.
The game, held on February 3, 2008 at University of Phoenix Stadium in Glendale, Arizona,[10] was a rematch of the final game of the regular season. In that game, the Patriots won 38–35 to complete the first perfect regular season since the 1972 Miami Dolphins team, and the first one since the league expanded to a 16-game regular season schedule in 1978. Thus, New England entered Super Bowl XLII as 12-point favorites.
Background
Host selection process
As is always the case, the league considered several other cities before settling on the Phoenix area. In this case, the process was of special interest because the league considered holding Super Bowl XLII in New York City or Washington, D.C. as a symbol of the recovery from the September 11 attacks.[11] New York City's bid did not go far. Aside from the obvious climatic concerns, there were issues with finding a suitable stadium. Proposed renovations to the 1970s-vintage Giants Stadium were still being disputed amongst the various parties. (Giants Stadium lacked a roof, as did both of New York City's baseball stadiums.) Also, the City of New York and the New York Jets failed to make a deal to build a new West Side Stadium (which, according to the initial plans, would have been built with a roof.)[12] During the years since the Super Bowl XLII bid fell through, Giants Stadium has been demolished. Its replacement, New Meadowlands Stadium, bid for and was awarded Super Bowl XLVIII.
Washington DC's bid proved to be more viable. The DC area had a relatively new (albeit roofless) stadium, FedEx Field, and DC's winter weather (although still potentially problematic) is milder than New York's.
In the end, the process boiled down to three finalists: Washington, DC; Phoenix; and Tampa. NFL owners finally chose what is now known as University of Phoenix Stadium in Glendale, Arizona as the site for Super Bowl XLII during their October 2003 meeting in Chicago, Illinois.[13] In subsequent years, Raymond James Stadium in Tampa was chosen as the site for Super Bowl XLIII and the West Side Stadium was briefly designated as the venue for Super Bowl XLIV. (However, Super Bowl XLIV was moved to Miami when it became clear that the new stadium in New York City would not be built in time for the February 2010 game.)
Venue
The kickoff for the game was at 4:32 p.m. MST (23:32 UTC). This was the first time a Super Bowl was played on a retractable natural-grass field surface; the University of Phoenix Stadium's removable surface is unique among American sports venues.[14]
This was the second Super Bowl played in a retractable-roof stadium (with the first being Reliant Staidum in Houston for Super Bowl XXXVIII) (designed by Peter Eisenman and HOK Sport). During the regular season, the home team decides 90 minutes before kickoff whether the roof would be open or closed, and an open roof must remain open unless weather conditions get worse. However, as a neutral site, the NFL controls the option to open or close without any restrictions. The first time this was employed was in Super Bowl XXXVIII at Reliant Stadium; the roof was open for pregame and halftime shows and closed during the game.[15] Because there was rain in the forecast for Super Bowl XLII, the roof was closed for the entire day's activities.
During a February 6, 2007 ceremony with Arizona Governor Janet Napolitano, the NFL and the Arizona Super Bowl Host Committee unveiled the slogan "Who Wants It More?" along with its mascot "Spike the Super Ball" (an anthropomorphized football with sunglasses and sneakers) and a large "Super Bowl XLII Countdown Clock" at Phoenix Sky Harbor International Airport.[16] The Super Bowl XLII logo was also unveiled, featuring the shape of the state of Arizona in red. The two horizontal white stripes in the middle represent the vertical lines on the University of Phoenix Stadium. The turquoise Roman numerals represent the Native American culture of Arizona. The red star represents the AFC and the blue star represents the NFC.[16]
Teams
New England Patriots
By the time the Patriots arrived at Super Bowl XLII, not only were they competing in their fourth Super Bowl since the 2001 season, they were already billed as one of the greatest teams in NFL history. They compiled a perfect 16-0 record (the first team to go undefeated in a 16 game regular season—the NFL expanded the regular season to 16 games in 1978), and set NFL records with 589 points scored (an average of 36.8 points per game), 75 total touchdowns, and a net differential of +315 points (they gave up 274 points, fourth best in the league). Some experts have suggested that the Patriots' 16-0 record is the culmination of a larger trend towards better records for top NFL teams since the league realignment in 2002.[17]
The team was led by quarterback Tom Brady who won his first NFL MVP & NFL Offensive MVP award, throwing for a career high 4,806 yards and an NFL record 50 touchdowns (22 more than his previous best season), and just eight interceptions. His passer rating of 117.2 was the second-highest season rating in NFL history. One often-cited reason for Brady's improved numbers was the acquisition of receivers Randy Moss and Wes Welker.[18] The Patriots acquired Moss, a nine-year veteran, from the Oakland Raiders for a fourth-round pick in the 2007 NFL Draft after Moss had, statistically, the worst year of his career (with 42 receptions for 553 yards and three touchdowns). With the Patriots, though, Moss caught 98 receptions for 1,493 yards and an NFL record 23 touchdowns, and was selected a first-team All Pro. The Patriots also gave the Miami Dolphins second- and seventh-round picks for Welker; Welker tied for the league lead with 112 receptions for 1,175 yards and 8 touchdowns and was named a second-team All Pro. Welker and Moss both earned votes for Offensive Player of the Year. Other major contributors to the Patriots' passing game included Donté Stallworth, who added 697 yards and three touchdowns, and tight end Benjamin Watson, whose 36 receptions totaled 389 yards and six touchdowns.
Running back Laurence Maroney was the Patriots' top rusher with 835 yards and six touchdowns, while Sammy Morris added 385 yards & 3 TDs, and Kevin Faulk had 265 yards. (Morris ended up on injured reserve midway through the season, and thus could not play in the Super Bowl.) Faulk was also a reliable receiver out of the backfield, catching 47 passes for 383 yards and a touchdown. The Patriots also had an offensive line that featured three players selected to the Pro Bowl, guard Logan Mankins, tackle Matt Light, and center Dan Koppen.
The Patriots defensive line was led by nose tackle Vince Wilfork, who was selected to his first Pro Bowl; he was also fined four times during the season for unnecessary roughness.[19] The Patriots also had a set of veteran linebackers who had a combined 16 Pro Bowl selections. Outside linebacker Mike Vrabel had, statistically, the best season of his career to date. He led the team in sacks with a career high 12.5, while also forcing five fumbles and earning his first Pro Bowl selection. Adalius Thomas, an off-season signing from the Ravens, recorded six sacks. Junior Seau, who had been selected to the Pro Bowl 12 times during his career but had never won a Super Bowl, returned for his 18th season and got 74 tackles with 3½ sacks. Tedy Bruschi recorded 92 tackles and two sacks. The Patriots secondary featured another player selected to the Pro Bowl, cornerback Asante Samuel, who led the team with six interceptions.
New York Giants
Unlike the Patriots, the Giants began the season with low expectations since their star running back, Tiki Barber, had retired. The Giants had lost in the NFC Wild Card round in each of the previous two seasons and had not won a playoff game in seven years. Quarterback Eli Manning, the younger brother of Super Bowl XLI MVP quarterback Peyton Manning, had struggled to find consistency. In his three seasons as a starter, he had completed less than 54% of his passes with a career passer rating of 73.4. While generally regarded as a solid quarterback, he had been unable to achieve the same level of success as fellow 2004 draftees Philip Rivers (for whom he was traded) and Ben Roethlisberger, the latter of whom had already won a Super Bowl (Super Bowl XL). By the 2007 season, many sports writers were starting to question if Eli would ever live up to the expectations of someone selected with the first overall pick in a draft.[20]
The criticism of Manning intensified as the Giants lost the first two games of the regular season, before recovering with six consecutive wins and finished the year with 10 wins, despite the loss of running back Derrick Ward, defensive end Mathias Kiwanuka, and four-time Pro Bowl tight end Jeremy Shockey to injury. Despite the injuries, Manning led the Giants to three road playoff wins without throwing a single interception. Their three playoff wins gave them an NFL record 10 consecutive wins on the road. The Giants finished the season with a franchise-low 77 penalties, after setting a franchise record two years before with 146.
Manning finished the 2007 season with 3,336 yards, 23 touchdowns, and 20 interceptions. His main target, Plaxico Burress, caught 70 passes for 1,050 yards and 12 touchdowns. Amani Toomer, the Giants all-time leading receiver and one of only two players remaining from their last Super Bowl appearance in Super Bowl XXXV, was also a reliable target with 59 receptions for 760 yards, while Shockey contributed 57 receptions for 619 yards and 3 touchdowns before suffering a season-ending injury in week 15. The Giants' ground game was led by running back Brandon Jacobs, who at 6'4" (193 cm) and 264 pounds (118 kg), was one of the largest starting halfbacks in the NFL. He finished the season with 1,009 yards and an average of five yards per carry, while also catching 23 passes despite starting only nine games.
The Giants had a defensive line that was led by defensive ends Osi Umenyiora (the lone Pro Bowl representative on the team, the fewest a Super Bowl team has ever had), Michael Strahan, and Justin Tuck. Umenyiora led the defense with 13 sacks and five forced fumbles. Strahan, another veteran from the Giants' last Super Bowl appearance in 2000, had nine sacks, giving him a career total of 141.5 and breaking the franchise record held by Lawrence Taylor. Tuck recorded ten sacks and 48 solo tackles. In the secondary, cornerback Sam Madison and safety Gibril Wilson led the team with four interceptions each. Cornerback R. W. McQuarters had no interceptions during the season, but he had been effective in the playoffs, with interceptions in each of their first three post-season games. Punter Jeff Feagles played in his first Super Bowl after 20 years in the NFL. This was also the last game for Giants athletic trainer John Johnson having been with the team for 60 years. Strahan and Toomer were the only Giants remaining from the franchise's last Super Bowl appearance in Super Bowl XXXV.
The Giants became only the fourth team to win the Super Bowl without playing a single home game in the preceding playoffs. They joined the Green Bay Packers (who won Super Bowl I against the Kansas City Chiefs), the Kansas City Chiefs (who won Super Bowl IV against the Minnesota Vikings) and the Pittsburgh Steelers (who won Super Bowl XL against the Seattle Seahawks) in accomplishing this feat. However, Green Bay had to win two games, Kansas City three, and Pittsburgh and the Giants, four, in order to accomplish this.
The Giants were the only NFC team to make multiple Super Bowl appearances in the 2000 decade. Starting with the Rams' appearance in 2001, nine different NFC teams represented the conference in the last nine seasons of the decade (Rams, Bucaneers, Panthers, Eagles, Seahawks, Bears, Giants, Cardinals, and Saints).
Playoffs
The Patriots continued to set NFL records on their road to the Super Bowl. First, Brady set the NFL record for completion percentage in a single game (92.9%) with 26 of 28 completions for 268 yards and three touchdowns in their 31–20 win over the Jacksonville Jaguars in the divisional round, while safety Rodney Harrison tied an NFL record by recording an interception in his fourth consecutive postseason game. One week later, the Patriots defeated the San Diego Chargers 21–12. Although Brady threw three interceptions in the game, the Patriots defense forced two turnovers and limited San Diego to four field goals, while Maroney rushed for 122 yards and a touchdown for the second game in a row.
Meanwhile, the Giants became the first NFC team (third overall) ever to advance to the Super Bowl by winning three playoff games on the road. After beating the fourth-seeded Tampa Bay Buccaneers 24–14, the Giants upset the top-seeded Dallas Cowboys 21–17 when McQuarters intercepted a pass from Cowboys quarterback Tony Romo in the end zone as time expired. They advanced to the Super Bowl with a 23–20 overtime win over the second-seeded Green Bay Packers in the third coldest game of all-time (-1°F at kickoff, -24°F wind chill) with an interception by Corey Webster that set up Lawrence Tynes's game-winning 47-yard field goal. The field goal was the longest by a visiting kicker in Lambeau Field postseason history. This would also mark the last time Brett Favre played for the Packers.
Pre-game notes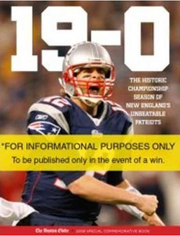 New England was heavily favored to win the game and become the first NFL team to go through a 16-game season and postseason undefeated. However, others predicted that the Giants could accomplish a win. New York's record of 10 consecutive road wins included five teams favored to beat them. This included their playoff wins against the Cowboys (who had defeated New York twice in the regular season) and Packers (who had beaten them in week 2).[21]
The Patriots and Giants had played against each other in the last week of the regular season. Technically, the game had little significance, since both teams had already clinched their respective spots in the playoffs. But due to the Patriots' quest for an undefeated season, this game was one of the most heavily watched games in league history. NFL Network was originally scheduled to air the game as part of their Saturday Night Football coverage, with WCVB and WWOR carrying the game locally in Boston and New York. Shortly before the game was scheduled to air CBS and NBC bought broadcast rights to the game and NFL Network's broadcast was carried by both networks, marking the first time in NFL history that an NFL game was carried on three broadcast networks at the same time. As they were favored to do, the Patriots won the game to finish the regular season undefeated, but it was a close and competitive game, with both teams playing their starters for all 60 minutes. New England won, 38–35, by overcoming a 12-point deficit in the third quarter, the largest deficit they had faced all season. "There is nothing but positives," Giants coach Tom Coughlin said after the game. "I told the players in playing this game everything would be positives, there would be no negatives and that is how I feel. I don't know any better way to be prepared for the playoffs than to go against a team that was 15–0."[22]
This would be the third time in the Giants' four Super Bowl appearances that they had previously played their eventual AFC opponent during that year's regular season. Both of the prior occasions saw the Giants beat said opponents in the Super Bowl (defeating Denver in Super Bowl XXI and Buffalo in Super Bowl XXV, the latter after Scott Norwood's infamous missed field goal in the final seconds of regulation).
For the third consecutive year, the arrival dates for the teams were staggered, with the Patriots arriving on Sunday, January 27 (corresponding to the traditional day that teams arrive for the game with the two-week break) and the Giants waiting to come in until Monday, January 28. A report filed by ESPN's Rachel Nichols suggested that the Giants stayed to practice more of their game plan in their home facility before arriving at the Super Bowl. By electing to stay back at home the Giants chose to follow a tactic that the previous two Super Bowl champions, the Indianapolis Colts (before Super Bowl XLI) and the Pittsburgh Steelers (before Super Bowl XL), had employed.
The Patriots practiced at Sun Devil Stadium on the campus of Arizona State University, while the Giants practiced at the Arizona Cardinals' practice facility, both of which are located in Tempe.
Broadcasting
Television
United States
The game was telecast in the United States on the Fox network in 720p high definition resolution. Joe Buck and Troy Aikman called the game, while Pam Oliver (Giants) and Chris Myers (Patriots) were the sideline reporters.[6]
This Super Bowl had an unprecedented nine hours of game-related coverage prior to kickoff on game day. Fox News started the coverage on the Fox network at 9:00 a.m. ET.[23]
Official pre-game coverage began at 2:00 p.m. ET, and was handled by the Fox NFL Sunday pregame show team led by Curt Menefee, joined by Terry Bradshaw, Howie Long, and Jimmy Johnson. Jillian Reynolds served as Weather and Entertainment Reporter for the pre-game show. In addition Frank Caliendo appeared in various comedic skits and Ryan Seacrest provided coverage of celebrity arrivals to the game site.[6] This was the first Fox Super Bowl not to be hosted by James Brown, who had returned to CBS after the 2005 season.
The official game broadcast began at 6:00 p.m. ET, with kickoff at 6:32 PM EST.[24]
NFL Network had extensive post-game coverage.
The Giants became the fifth team to win Super Bowls on three different networks (CBS-XXI, ABC-XXV and Fox).
The Patriots were in their fourth (of a possible fifth) Super Bowl televised by Fox (the others being XXXI, XXXVI, XXXIX; the Patriots did not advance to Super Bowl XXXIII and their Super Bowl XXXVIII win was carried on CBS).
The telecast was the most watched Super Bowl until Super Bowl XLIII, with an average of 97.5 million viewers in the United States (a title which Super Bowl XLV now holds with an average of 111 million viewers) and 148.3 million total viewers watching some part of the game. The broadcast achieved the highest Nielsen ratings (43.3) for the game since Super Bowl XXXIV. It was also the second (now fifth) most watched TV program of all time in the United States.[25]
Commercials
The scheduled date for Super Bowl XLII was two days before Super Tuesday (Tuesday, February 5), the date in which 24 states held their presidential primaries, state conventions or caucuses. As such, some presidential hopefuls had considered purchasing Super Bowl ads. An adviser to Republican presidential candidate John McCain said that the football audience is "a very ripe and timely target."[26] However, Fox Television nixed the prospect of any political ads, citing equal time regulations and the fact that the ad space had already sold out before any candidates had asked for it.[27] Instead, candidates purchased advertising time before or after the game or in two dozen local markets.[28] For this game Fox pulled in $250 million in revenue from the ads.[29]
One of sixty-three thirty-second spots among thirty-seven different advertisers cost an estimated $2.7 million (excluding production costs),[8] up from $2.6 million in 2007. However, advertisers are usually offered discounted rates below the official one. Cars.com, which had yet to buy a Super Bowl Ad, made an early announcement that it would purchase two spots.[30]
Five automobile companies advertised during Super Bowl XLII: Audi, General Motors, Hyundai, Nissan, and Toyota. Audi took the opportunity to pay homage to the decapitated horse's head scene from The Godfather using the front of a Rolls-Royce,[31] while Hyundai, initially hesitant to air their spots,[31] eventually gave the green light to their first Super Bowl commercials since 1989.[32]
Throughout the NFL and United Way's history, the two organizations have aired commercials highlighting how they work together bettering communities around the US. This year the United Way launched a youth fitness campaign through mobile donations with a 10-second spot[33] running during the first half of the Super Bowl.[34] The campaign asked viewers to donate $5 by texting "FIT" to 'UNITED' (864833). The commercial featured the voice of Tom Brady, and was the first national text message donating campaign to launch from mGive and Mobile Accord.[35]
Following up on its Super Bowl XLI ad, which was one of several fan-created ads that year, the Doritos brand used its spot to air a brief performance by Kina Grannis, winner of an online contest that included a recording contract with Interscope Records.[36] Other ads that aired were: Under Armour's new "Prototype" cross-training shoe; Vitamin Water's new G2 low-calorie sports drink featuring Derek Jeter, Peyton Manning, and Bill Parcells; Victoria's Secret; and Salesgenie.com. All but the G2 ad were done in-house.
They joined Super Bowl regulars such as Pepsi-Cola, which featured Justin Timberlake in his continuing rebound from the Super Bowl XXXVIII halftime show controversy four years earlier, being dragged through all sorts of situations to promote a rewards program started by Pepsi, a Diet Pepsi Max commercial inspired by the Saturday Night Live "Roxbury" skits (including the iconic sketch theme "What Is Love?" by Haddaway and a cameo by Chris Kattan telling them to "stop it") and a SoBe Life Water spot featuring Naomi Campbell and 30 CGI lizards performing the Michael Jackson Thriller dance. Other returnees included GoDaddy.com (with World Wrestling Entertainment diva and spokesperson Candice Michelle along with IndyCar driver Danica Patrick); Coca-Cola spoofing balloons in the Macy's Thanksgiving Day Parade (including a fictional Stewie Griffin balloon; the commercial, titled "It's Mine" won a Cannes Advertising Award and was also nominated for an Emmy Award as Best Animated Commercial plus a snippet of the ad appeared in an actual Macy's commercial celebrating their 150th Anniversary that premiered during the 60th Primetime Emmy Awards in September), as well as its Glacéau Vitaminwater brand featuring Shaquille O'Neal as a jockey; CareerBuilder.com; Planters with an Ugly Betty inspired female using their cashews as a sexually arousing perfume; and seven major Hollywood movie studios promoting blockbuster releases.
The winners of the 20th annual USA Today Super Bowl Ad Meter were:
Anheuser-Busch

's

Budweiser

brand, featuring a tribute to the Oscar winning Best Picture

Rocky

: a

Clydesdale

who narrowly missed the team that pulls the beer's iconic wagon is inspired by a personal trainer — the wagon's

dalmatian

.
A CGI

FedEx

ad featuring gigantic

carrier pigeons

gone wrong.
Another computer animated ad from tire manufacturer

Bridgestone

, with a collection of computer generated screaming animals in a forest as an oncoming car approached a squirrel.
A Doritos ad from last year's amateur contest called "Mousetrap", where a person dressed in a mouse costume attacks a man who places a small piece of the tortilla chip on said device.
A

Bud Light

ad with a fire-breathing date gone awry.
Users of YouTube in their survey chose:
Tide-To-Go

's "Interview", with a prospective employee getting talked down by a stain.
The Budweiser Clydesdale training montage.
SoBe's aforementioned "Thrillilicious" ad.
The Bridgestone screaming animals.

E-Trade

's ad showing a baby trading stocks online.
ADBOWL results reflected the following ranking:
Budweiser: Clydesdale – Team
Bridgestone Tires: Scream
Coca-Cola: It's Mine
FedEx: Carrier Pigeons
Pepsi: Magnetic Attraction w/

Justin Timberlake
The NFL itself ran an ad following the third quarter's completion, featuring the winner of a fan vote in an online contest. The idea was to emphasize the personalities of NFL players. The winning ad featured Houston Texans teammates and former San Diego State Aztecs Ephraim Salaam and Chester Pitts.
The commercials aired during Super Bowl XLII were made available online after the game on MySpace, as advertised by Fox during the game.[37]
Eels attempted to run[38] a one-second edit[39] of their seven-second ad[40] to promote the compilation Useless Trinkets, but were denied by the National Football League. Lead singer E reported:
In the end we were told that the NFL would have to find 29 other advertisers to buy 1 second spots to fill a standard 30 second advertising slot and that they do not sell advertising time by the second. They also noted that a rapid fire 30 second segment of thirty 1 second commercials could cause people with certain medical conditions to have seizures and that it was against network regulations.[41]
PETA had an ad ready claiming that, "Vegetarians have better sex." It was rejected and never shown on TV because it was too risque.[citation needed]
International
Outside North America, Super Bowl XLII was distributed by the NFL and NFL International. Overall, the game was available to an estimated potential audience of one billion viewers within 223 countries and territories.[42] However, viewing figures outside North America rose only marginally on previous years with an estimated 10 million people tuning in from outside the USA, Canada and Mexico for an overall global audience in the region of 114 million. Dick Stockton and Sterling Sharpe were the announcers for the International broadcast.[43]
United Kingdom
The BBC acquired the rights in the United Kingdom. The game aired live on BBC Two, carrying the NFL International feed,[44] ending ITV Sport's coverage, which began in 2005. The game was also subsequently available on the BBC's on demand service, iPlayer. Sky Sports broadcast the game in both standard and high definition using Fox's feed and announcers.
Internet broadcast streams
Independent Phoenix television station KTVK broadcast a live video stream from a Webcam located outside of the University of Phoenix Stadium. The camera provided millions of Internet users from around the world a chance to peer in on pre- and post-game activities, watching thousands of spectators file into and out of the stadium on Sunday, February 3. The Stadium Cam broadcast from Friday, February 1 to Monday, February 4, 2008 on the station's website.
NFL.com's "NFL.com/live" carried its own coverage of Super Bowl events leading up to and after the game, mostly simulcasting NFL Network.
Radio
On radio, Westwood One had the national broadcast rights to the game in the United States and Canada; Marv Albert and Boomer Esiason served as the announcing team for that network. The game was carried on BBC Radio 5 Live in the United Kingdom with Arlo White commentating.
Sirius Satellite Radio carried twelve feeds in eight languages in the United States. The following language feeds were offered:
Westwood One (American English)

Univision Radio

/

United Stations

(Mexican Spanish, U.S.)

New England Patriots Radio Network

New York Giants Radio Network

BBC Radio 5 Live (British English)

NHK

Japan (Japanese)

NTV Plus

(Russian)

SMG

(Mandarin Chinese)
FieldPass, the subscription Internet radio service provided by the league at NFL.com, carried most of these feeds, with select international feeds for free.
Locally, Gil Santos and Gino Cappelletti called the game for the Patriots on WBCN radio, and Bob Papa, Dick Lynch, and Carl Banks called the Giants' radio broadcast on WFAN-AM. By NFL rules, only WBCN, WFAN, Sirius and FieldPass carried the teams' local broadcasts, and affiliate stations instead carried the Westwood One feed. WBCN, WFAN, and Westwood One are all owned by CBS Radio.
DVD
The official DVD of the Super Bowl was released on February 26, 2008. The DVD covered the entire 2007 New York Giants season, as well as special features including the NFL Network post game commentary, the halftime show in its entirety, the Media Day highlights, the NFC Divisional Game and NFC Championship Game highlights, profiles on Mathias Kiwanuka and Tom Coughlin, and features on Eli Manning and Michael Strahan. The New York Giants: Road to Super Bowl XLII was released on June 3, 2008. It was a 5 disc set that featured the full broadcasts of the last game of the regular season and all four playoff games. On August 26, 2009 New York Giants 10 Greatest Games was released, in which Super Bowl XLII was included as well.
Entertainment
Pre-game ceremonies
Willie Nelson performed for a NFL-sponsored pre-game tailgate party, singing a duet with Sara Evans of his song "Mamas Don't Let Your Babies Grow Up to Be Cowboys" as part of Fox's pre-game show.[45]
This year's Super Bowl entertainment had many connections to Fox's series American Idol. On August 16, both the NFL and Fox confirmed that Idol host Seacrest would serve as emcee for the pre-game show, with Alicia Keys as the primary performer; as she sung a medley of her songs, including... "Go Ahead", "Fallin'", "If I Ain't Got You", "Teenage Love Affair", and "No One" as the final performance. Idol Season Six winner Jordin Sparks, herself a native of Glendale and daughter of former New York Giants cornerback Phillippi Sparks, performed the National Anthem,[46] while Phoenix College professor and theatrical interpreter A Dreamer interpreted it into American Sign Language.[47] The anthem was followed by a flyover from the U.S. Navy precision flying team, the Blue Angels.[48] In addition, judge Paula Abdul premiered her first music video in over a decade, Dance Like There's No Tomorrow, which she made with fellow judge Randy Jackson as part of Fox's pregame coverage to kickoff her official comeback.[49]
The coin toss ceremony posthumously honored Pro Football Hall of Fame head coach Bill Walsh, who died on July 30, 2007. His former players Ronnie Lott, Jerry Rice and Steve Young joined Walsh's children, Craig and Elizabeth, at the ceremony.[3]
The Giants entered University of Phoenix Stadium first, to "Stronger" by artist Kanye West.
The Patriots entered last, as they were the "home" team, to "Crazy Train" by Ozzy Osbourne.
Halftime
As is always the case, several big names were mentioned as possible performers for the halftime show before a final choice (i.e., Tom Petty) was announced. The halftime entertainer selection process in late 2007 was not unusual: however, since the site selection process four years earlier was of special interest, it is necessary to also mention some of the acts who might have performed, but did not do so.
According to the entertainment publication Variety, a wish list of potential halftime performers was developed by the NFL. Among those on the wish list were Bruce Springsteen (who performed during halftime at Super Bowl XLIII the following year), Norah Jones and the Eagles.[50] In addition, interest in the slot was expressed by Bon Jovi, who had planned to open the U.S. leg of their Lost Highway Tour with a performance during the halftime show.[51]
According to Rolling Stone, the engagement was actually offered to the Eagles by the NFL, but the offer was turned down.[52]
Then, on December 2, 2007, it was officially announced that the halftime entertainment would be provided by Tom Petty and The Heartbreakers. The songs "American Girl", "I Won't Back Down", "Free Fallin'", and "Runnin' Down a Dream" were performed by the band to kick off their 2008 world tour. Bridgestone served as the halftime show sponsor.[53] The halftime show itself, produced by Don Mischer and White Cherry Entertainment in association with NFL Network, was nominated for an Emmy Award in 2009.
Post-game ceremonies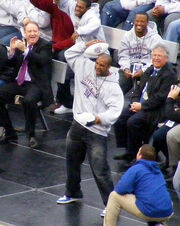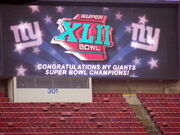 Former Redskins quarterback Doug Williams, MVP in Super Bowl XXII, commemorating the twentieth anniversary of becoming the first African American quarterback to lead a team to victory in the Super Bowl, took part in the Vince Lombardi Trophy presentation ceremony after the game.[54]
Eli Manning was awarded the Pete Rozelle Trophy for being named MVP,[1] and also received the keys to a 2009 Cadillac Escalade hybrid SUV.[55] Though not the only brothers to play in a Super Bowl, Eli Manning and Peyton Manning (Super Bowl XLI) are the first brothers to be named Super Bowl MVPs (doing so in successive years).
After the game, New York City erupted in celebration, with the sounds of cheers and honking horns echoing through city streets. Crowds of elated New Yorkers, surprised by their team's unexpected victory, packed Second Avenue in Manhattan, stalling traffic around Manhattan.[56] Times Square was swarmed with celebrating Giants fans well past midnight; similar celebrations arose throughout Brooklyn, Queens, The Bronx, Staten Island, Long Island, Westchester County, Fairfield County, and North Jersey, where the Giants play their home games.[57]
New York Mayor Michael Bloomberg, witnessing the first New York sports team championship victory as mayor, praised the hometown team's upset victory, saying; "New York has come back many times in the past, and Big Blue proved tonight that you should never, ever, count us out." Many New Yorkers polled the Giants' win to be among the most satisfying championship victories in New York sports history.[58] There were also a series of firsts with the championship, not just for the Giants, but also for the city of New York and the New York metropolitan area. Those firsts were:
Giants:
City of New York:

Super Bowl championship since the Giants won Super Bowl XXV in 1991.
Major professional sports championship since:

The Yankees won the 2000 World Series.
This was also the first championship for a team other than the Yankees since the Rangers won the

1994 Stanley Cup

.
The city of New York had its first major professional sports championship since September 11, 2001.

New York Metropolitan area:

Super Bowl championship since the Giants win in 1991.
Major professional sports championship since the New Jersey Devils won the

2003 Stanley Cup

.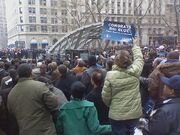 On the following Tuesday, February 5, New York City hosted for the Giants a ticker-tape parade up Broadway in Lower Manhattan. It was the first along the famed "Canyon of Heroes" since the New York Yankees won the 2000 World Series, and the Giants' first parade in New York. (Because of acrimonious relations at that time between New York City and the state of New Jersey, the team chose not to participate in a Manhattan parade for its Super Bowl XXI championship in 1987, but instead held a "Victory Rally" at Giants Stadium in The Meadowlands.[59][60] After their Super Bowl XXV championship in 1991, then-owner Wellington Mara chose not to hold any celebrations due to the Gulf War.[61]) After six years in office, Bloomberg became the 14th consecutive mayor of New York City to preside over a ticker-tape parade. (In contrast, his predecessor, Rudy Giuliani presided over his first ticker-tape parade just five months after becoming mayor, after the Rangers won the Stanley Cup) Also attending were New York Governor Eliot Spitzer and Senator Chuck Schumer.[62] Spitzer also announced the availability of a New York Giants Super Bowl XLII Champions custom license plate and issued a proclamation declaring the day "New York Giants Super Bowl Champions Day" throughout the state of New York.[62]
Following the parade, the Giants held two victory rallies: one at New York's City Hall and another one two hours later at Giants Stadium in the New Jersey Meadowlands.
Avoided shooting incident
After the game, federal authorities revealed Kurt William Havelock, a would-be bar owner angry at being denied a liquor license, had threatened to shoot people at the Super Bowl and drove to within sight of the stadium. Havelock had sent letters to the media, vowing to "shed the blood of the innocent." After buying an AR-15 rifle and 200 rounds of ammo, he drove to the stadium and then changed his mind. After calling some family members, Havelock turned himself in to the police.[63]
Game summary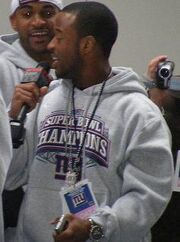 After scoring a combined 73 points in their regular season meeting, the teams scored a mere 10 points by the end of the third quarter, with the Patriots leading 7–3. The Patriots' record-setting offense gave up five sacks and one lost fumble, while the Giants' offense managed only five first downs in the second and third quarters. Yet in the fourth quarter, quarterback Eli Manning threw two touchdown passes, including the winning drive that culminated with a 13-yard touchdown pass to Plaxico Burress with 35 seconds remaining.
After calling tails to win the coin toss, the Giants started the game with the longest drive in Super Bowl history,[64] a 16-play, 77-yard march that consumed 9 minutes, 59 seconds and featured four third-down conversions, the most ever on a Super Bowl opening drive. But New England halted the drive at their own 14-yard line, forcing the Giants to settle for a 32-yard field goal from Lawrence Tynes that gave New York a 3–0 lead.
New England then responded with its own scoring drive as Laurence Maroney returned the kickoff 43 yards to the Patriots' 44-yard line, after which he rushed twice for 15 yards. Quarterback Tom Brady then completed three passes for 23 yards, but after two incomplete passes, New England was faced with 3rd-and-10 on the Giants' 17. However, on that play, New York linebacker Antonio Pierce committed pass interference by striking the helmet of tight end Benjamin Watson in the end zone, giving New England 1st-and-goal at the 1. This set up a Maroney 1-yard touchdown run two plays later, the first play of the second quarter, for a 7–3 lead. The two teams each only had one drive in the entire opening quarter, a Super Bowl record. It was the first Super Bowl since Super Bowl XXXIII in which both teams scored on their initial possession of the game.
On the Giants first drive of the second quarter, on 3rd-and-7, receiver Amani Toomer caught in a deep pass from Manning along the left sideline while dragging his feet in-bounds for a 38-yard gain, moving the ball to the Patriots' 19. But three plays later, Manning threw a pass that bounced out of the arms of rookie receiver Steve Smith and into the hands of cornerback Ellis Hobbs for an interception.
The Patriots' ensuing drive resulted in a three-and-out as on 3rd-and-1 James Butler and Michael Strahan tackled Maroney for a two-yard loss and New England was forced to punt.
Then on the Giants' next drive, rookie running back Ahmad Bradshaw fumbled a Manning hand-off and it looked as though Patriots' linebacker Pierre Woods had recovered the ball at the Giants' 30. But after the officials picked through the pile, it was determined that Bradshaw had made the recovery. The Giants maintained possession and wound up punting. New England's next drive ended with consecutive Giants' sacks, the first by linebacker Kawika Mitchell, the second by end Justin Tuck.
On the Giants' following drive, New York moved the ball to the New England 25, but linebacker Adalius Thomas sacked Manning and forced a fumble. Smith recovered the ball, however Bradshaw was penalized for illegally batting the ball forward before the recovery. The penalty pushed the Giants out of field goal range, and following an incompletion, they were forced to punt.
After the punt, two 18-yard receptions by Moss and Donté Stallworth moved the ball to the Giants' 44. But with 22 seconds left before halftime, Brady fumbled while being sacked by Tuck and defensive end Osi Umenyiora recovered the ball. The game then went to halftime with the Patriots leading 7–3.
On the first drive of the second half, New England had a 4th-and-2 and chose to punt. However, after the play had been run, Patriots' head coach Bill Belichick challenged that New York had too many players on the field and replay confirmed that was the case as Giants linebacker Chase Blackburn was unable to get to the sidelines as the ball was being snapped. Therefore, referee Mike Carey reversed the play, and the Giants were penalized 5 yards for having too many players on the field, giving the Patriots a first down. The Patriots then drove to the Giants' 25, but Strahan sacked Brady for a 6-yard loss on third down. Then on 4th-and-13, with the ball on the Giants' 31, Belichick decided against a long field goal attempt by Stephen Gostkowski (which would have been a 49-yard attempt, near Gostkowski's season long of 50 yards) and tried to pick up a first down instead. Brady's pass to Jabar Gaffney was incomplete as it went out of the back of the end zone and the Giants took over on downs.
On the Giants' first drive of the fourth quarter, Manning completed a 45-yard pass to rookie tight end Kevin Boss. Following three runs by Bradshaw and a 17-yard reception by Smith on third down, Manning finished the 7-play, 80-yard drive with a 5-yard touchdown pass to David Tyree, giving New York a 10–7 lead with 11:05 left in the game. The touchdown was a perfect example of arm strength. Any less velocity and Manning's pass would have been tipped or intercepted by Patriots cornerback Asante Samuel. Instead, the Giants had the lead deep into Super Bowl XLII.
After consecutive three-and-outs by the Patriots and Giants, New England got the ball at its own 20 with 7:54 to play. Brady then completed a 5-yard pass to Wes Welker and a 10-yard pass to Moss, followed by a 9-yard run by Maroney to give the Patriots a first down at their own 44. Brady followed with a 13-yard pass to Welker, a four-yard completion to Kevin Faulk, and then a 10-yard pass to Welker for a first down at the Giants' 29. After that, Brady found Moss for an 11-yard completion and Faulk for a 12-yard completion and New England now had 1st-and-goal from the Giants' 6. Following two incomplete passes, New York cornerback Corey Webster slipped while backing into coverage, leaving Moss wide open in the end zone where Brady found him for a touchdown to give New England a 14–10 lead with 2:42 left in the game.
On the ensuing kickoff, Raymond Ventrone tackled Domenik Hixon after a 14-yard return, giving New York the ball on their own 17 with 2:39 left and three timeouts remaining. Following two receptions by Toomer for 20 yards, Brandon Jacobs kept the drive going with a 2-yard run on 4th-and-1. Two plays later, on 2nd-and-5, Patriots' cornerback Asante Samuel had a potential interception on a ball intended for Tyree that would have potentially ended the game go off his hands and out of bounds to stop the clock with 1:15 remaining. On the next play, 3rd-and-5 from the New York 44-yard line, Manning found himself in trouble as the Patriots' pass rush got to him quickly after the snap. He eluded Adalius Thomas, who missed Manning despite having the clearest shot at him, and then broke free from the grasp of Jarvis Green and Richard Seymour, both of whom had Manning by the jersey. Manning then righted himself and threw the ball toward the middle of the field, where Tyree and Rodney Harrison went up for the ball. Tyree made a leaping one-handed catch, outjumping Harrison, and maintained possession by pinning the ball against his helmet as he fell to the ground. The amazing play went for 32 yards and kept the drive alive. Three plays later, on 3rd-and-11, Manning found a wide-open Smith for a 12-yard gain to the New England 13, who stepped out of bounds to stop the clock. On the next play, the Giants sent four receivers into the pattern while the Patriots sent six pass rushers after Manning and flipped four pass defenders to the right side of the field—resulting in Patriots' cornerback Ellis Hobbs being isolated on the left side to cover Giants' wide receiver Plaxico Burress one-on-one. Hobbs bit on a fake slant inside (a "slant-and-go" or "SluGo" route) and Manning lofted a pass to the end zone where Burress caught the ball for a touchdown to complete the 12-play, 83-yard drive and give the Giants a 17–14 lead with 35 seconds left.
New England began its next possession on its own 26 with 29 seconds remaining and three timeouts, but the Giants' defense didn't allow a single yard, forcing an incompletion on first down, a 10-yard sack by rookie lineman Jay Alford on second down, and then two deep incomplete attempts to Moss, the first that was broken up by Webster, and the second of which, on 4th-and-20, was broken up by Giants' safety Gibril Wilson and caused a turnover on downs with two seconds remaining. After the incompletion, it appeared that the officials would run out the clock, as it briefly read zero, before one second was re-added.[65] and coaches, players, reporters, and fans crowded the field as if the game had ended. Belichick hugged Giants' Coach Tom Coughlin at midfield, then left for the locker room. This early departure was later criticized by some sportswriters.[66][67] Other reporters took no issue with Belichick's actions because A) he didn't snub the winning coach as he left the field and B) it had appeared that the game was over, with many players and coaches either celebrating (New York) or filtering towards the exits (New England); it took several minutes to clear the field, bring the Giants' offense and Patriots' defense back on the field, and have Manning take a knee, finally allowing the clock to expire and sealing the historic Super Bowl XLII championship for the Giants.
Box score
| | 1 | 2 | 3 | 4 | Total |
| --- | --- | --- | --- | --- | --- |
| Giants | 3 | 0 | 0 | 14 | 17 |
| Patriots | 0 | 7 | 0 | 7 | 14 |
Game information
1st Quarter

NYG – Lawrence Tynes 32 yard field goal, 5:01. Giants 3–0. Drive: 16 plays, 63 yards, 9:59.

2nd Quarter
3rd Quarter
4th Quarter

NYG – David Tyree 5 yard pass from Eli Manning (Lawrence Tynes kick). 11:05. Giants 10-7. Drive: 6 plays, 80 yards, 3:47.
NE – Randy Moss 6 yard pass from Tom Brady (Stephen Gostkowski kick), 2:42. Patriots 14–10. Drive: 12 plays, 80 yards, 5:12.
NYG – Plaxico Burress 13 yard pass from Eli Manning (Lawrence Tynes kick), 0:35. Giants 17–14 Drive: 12 plays, 83 yards, 2:07.
Statistics
Overview
Manning completed 19 of his 34 passes for 255 yards, including a mark of 9-of-14 for 152 yards and two touchdowns in the fourth quarter, to be named the game's Most Valuable Player. Manning also became the first quarterback to throw two go-ahead touchdowns in the fourth quarter of a Super Bowl. Toomer was the Giants' leading receiver, with 6 catches for 84 yards, and Bradshaw and Jacobs rushed for 45 and 42 yards, respectively. Burress had only 2 receptions for 27 yards, but one of those was the game winning touchdown with 35 seconds left. The Patriots' offense recorded 274 total yards to the Giants' 338. While he never scored, Welker tied a Super Bowl record with 11 receptions for 109 yards. Moss had five catches for 62 yards and a touchdown, and Maroney rushed for 36 yards and a TD. Brady completed 29 of his 48 passes for 266 yards and a touchdown. Brady's 29 completions gave him a career total of 100 in his four Super Bowls, surpassing the previous record for Super Bowl completions that was held by Joe Montana at 83. Justin Tuck and Adalius Thomas were the top defensive performers for the Giants and Patriots, respectively, as each recorded five solo tackles, two sacks, and one forced fumble.
Records
With this game, the Giants set a record with an unprecedented 11 consecutive victories away from home in a single season. The Giants' matchup in Week 8 vs. the Miami Dolphins in London was an official Giants road game because it was originally scheduled to be played at Dolphin Stadium. The Giants were also officially classified as the "road" team for Super Bowl XLII based on the annual Super Bowl rotation where the NFC champions serve as the away team in even-numbered years.[68][69] Also note that the Week 5 game vs. the New York Jets was considered a "home" game for the Giants.
Patriots receiver Wes Welker tied the record for most catches in a Super Bowl, with 11. Welker was the fourth player to record 11 receptions in a Super Bowl, following Dan Ross of the Cincinnati Bengals in Super Bowl XVI, Jerry Rice of the San Francisco 49ers in Super Bowl XXIII, and Deion Branch of the Patriots in Super Bowl XXXIX.
With his 4th-quarter touchdown pass to Moss, Brady became just the third quarterback with a touchdown pass in four different Super Bowls, joining Joe Montana and Terry Bradshaw. He also became the sixth quarterback to start at least four Super Bowls, joining Montana, Bradshaw, Roger Staubach, Jim Kelly and John Elway.
The Giants opening drive consumed 9 minutes and 59 seconds, making it the longest drive in Super Bowl history. The drive was 27 seconds longer than the previous record, which the Giants had set in winning Super Bowl XXV against the Buffalo Bills.
Due to the length of the Giants' opening drive (which itself contained a record 4 third-down conversions), the first quarter featured only two possessions, a record for an opening quarter.[70]
The three lead changes in the fourth quarter were also a Super Bowl record.[71]
Statistical comparison
| Source: NFL.com | New York Giants | New England Patriots |
| --- | --- | --- |
| First downs | 17 | 22 |
| Third down efficiency | 8/16 | 7/14 |
| Fourth down efficiency | 1-1 | 0-2 |
| Total yards | 338 | 274 |
| Passing yards | 247 | 229 |
| Passing – completions/attempts | 19/34 | 29/48 |
| Rushing yards | 91 | 45 |
| Rushing attempts | 26 | 16 |
| Yards per rush | 3.5 | 2.8 |
| Penalties-yards | 4-36 | 5-35 |
| Sacks against-yards | 3-8 | 5-37 |
| Fumbles-lost | 2-0 | 1-1 |
| Interceptions thrown | 1 | 0 |
| Time of possession | 30:27 | 29:33 |
Individual leaders

*Completions/Attempts aCarries bLong play cReceptions
Starting lineups
Officials
Mike Carey was chosen to be the head referee for this game, marking the first time that a black man has been chosen to be the head official in a Super Bowl.[4] Carey also refereed the last game between the Giants and Patriots. The full officiating crew was:[72]
Referee: Mike Carey #94
Umpire: Tony Michalek #115
Head Linesman: Gary Slaughter #30
Line Judge: Carl Johnson #101
Field Judge: Boris Cheek #41
Side Judge: Larry Rose #128
Back Judge: Scott Helverson #93
Replay Official: Ken Baker
Video Operator: Jim Grant
Effect of Yankees—Red Sox rivalry
Because the teams were from New York City and Boston, which are approximately three and a half hours apart by car, the Super Bowl played out the fierce rivalry between the New York Yankees and the Boston Red Sox in Major League Baseball, games of which are often televised by Fox.[73] Both teams fans wore Yankees and Red Sox hats and showed off Fenway Park and Mickey Mantle T-shirts.[73] Patriots fans said that they had no natural hatred for the Giants. Many old-time New Englanders, in fact, grew up rooting for the Giants before Boston got its AFL franchise in 1960, and are more accustomed to rooting against the Jets.[73] Giants fans, however, discussed their great hatred for the Dallas Cowboys and the Philadelphia Eagles, rivalries due to history and division status.[73] Many Giants fans also wore hats and shirts of the New York Mets and the New York Rangers as part of discussing their hatred for the Eagles, as all three teams have intense rivalries with their Philadelphia counterparts (Eagles, Phillies, and Flyers).[74][73] Kyle Eckel of the Patriots grew up a fan of the Eagles and knew about the hatred the Giants and Eagles have for each other.[75]
Patriots quarterback Tom Brady, who spends much of his free time in Manhattan, was once famously photographed in a Yankees hat.[73]
Before the game, Patriots fans said that wanted to continue the trademark "Yankees Suck!" chant, which began after they won Super Bowl XXXVI in 2002,[73] while Giants fans wanted revenge for 2004, when the Red Sox came back from a 3-0 deficit to beat the Yankees in the ALCS en route to winning the World Series.[73]
The post-game celebrations even played out the rivalry, but to a lesser extent. Giants fans called it revenge for the Red Sox coming back from 3-0 down to beat the Yankees in the 2004 American League Championship Series, en route to ending the Curse of the Bambino.[57] In response to Patriots fans chanting "Yankees suck!" when celebrating their victory in Super Bowl XXXVI,[76][77] Dan Shaughnessy of The Boston Globe wrote "Can you imagine a Giants or Jets celebration in New York City in which a New York player would take the time to chant, 'Red Sox suck?'"[77] He referred for retaliation for the "Yankees suck!" chants.
After the game Giants fans chanted "18 and 1!", reminiscent of the infamous "1918!" chant the Yankees made at the Red Sox each time they visited Yankee Stadium until the Red Sox won the 2004 World Series, towards Patriots fans as they left the stadium, referring to the Patriots' final record.[78] The same chant was also heard by Giants players and fans during the parade and rallies. There were no chants of "Red Sox suck!" or "Boston sucks!"[62] because they would direct derogatory chants at Philadelphia, playing out the New York–Philadelphia rivalry, as part of discussing their hatred for the Eagles (for example, the rivalries between the New York Mets and the Philadelphia Phillies in Major League Baseball and the New York Rangers and the Philadelphia Flyers in the National Hockey League).[74]
References
↑ 1.0 1.1 Ashdown, John (2008-02-04). "New England Patriots 14-17 New York Giants". London: The Guardian. http://sport.guardian.co.uk/ussports/story/0,,2252075,00.html

. Retrieved 2008-02-04

.
↑ 3.0 3.1 Wong, Scott (2007-10-31). "Super Bowl XLII to honor Bill Walsh".

The Arizona Republic

. http://www.azcentral.com/sports/superbowl/glendale/articles/1031walsh1031-ON.html

. Retrieved 2008-02-02

.
↑ 4.0 4.1 "Carey To Be First Black Super Bowl Referee". Associated Press. 2008-01-18. http://www.nfl.com/news/story?id=09000d5d80614a4a&template=without-video&confirm=true

. Retrieved 2008-01-18

.
↑ "The Big Game On the Horizon". Buccaneers.com. 2008-02-09. http://www.buccaneers.com/news/newsdetail.aspx?newsid=6289

. Retrieved 2008-02-13

.
↑ 6.0 6.1 6.2 "FOX Sports rolls out red carpet for Super Bowl XLII pregame show". Fox Sports. 2008-01-24.
↑ 7.0 7.1 Bauder, David (2008-02-04). "Thrilling Giants-Patriots game makes Super Bowl the second most watched TV show ever". Associated Press. http://sports.yahoo.com/nfl/news?slug=ap-superbowl-ratings&prov=ap&type=lgns

. Retrieved 2008-02-04

.
↑ 8.0 8.1 "Who's Buying What in Super Bowl XLII".

Advertising Age

. 2007-12-14. http://adage.com/article?article_id=122644

. Retrieved 2008-01-24

.
↑ "Fox Wins With Super Bowl Upset". Associated Press. 2008-02-03. http://ap.google.com/article/ALeqM5hHC1Iz-LbkPgwJ0e2CRnT8tFtxagD8UJ8QPG0

. Retrieved 2008-02-04

.
↑ Loverro, Thom. "D.C.'s so unSuper in winter".

Washington Times

. Archived from the original on 2005-04-15. http://web.archive.org/web/20050415175629/http://washingtontimes.com/sports/20040131-120320-9611r.htm

. Retrieved 2005-09-10

.
↑ Pedulla, Tom (2003-09-22). "N.Y./N.J. Super Bowl in 2008 may not come to pass". USA Today. http://www.usatoday.com/sports/football/nfl/2003-09-22-ny-nj-superbowl_x.htm

. Retrieved 2005-09-10

.
↑ "Arizona awarded 2008 Super Bowl". NFL.com. 2003-10-30. Archived from the original on 2007-06-27. http://web.archive.org/web/20070627002516/http://www.nfl.com/news/story/6792635

. Retrieved 2007-02-08

.
↑ "Cards stadium rolls field into place for 1st time" (Press release). CMX. 2006-06-15. http://www.azcardinals.com/stadium/detail.php?PRKey=960

. Retrieved 2007-05-09

.
↑ "Open and shut case". Associated Press. 2004-02-01. http://sportsillustrated.cnn.com/2004/football/nfl/specials/playoffs/2003/02/01/bc.fbn.superbowl.roof.ap/index.html

. Retrieved 2008-02-06

.
↑ 16.0 16.1 "Governor Napolitano and Arizona Super Bowl Host Committee Unveil Countdown Clock, Official Super Bowl Logo, Statewide Outreach Program, and Mascot". Arizona Super Bowl Host Committee. 2007-02-06. Archived from the original on 2007-08-19. http://web.archive.org/web/20070819095206/http://www.azsuperbowl.com/news_detail.aspx?id=545

. Retrieved 2007-02-07

.
↑ "16-0: The Myth of Perfection". The Fount. http://www.thefount.info/16-0isthenew15-1.html

. Retrieved 2008-02-06

.
↑ Pompei, Dan (2008-01-19). "Brady demands perfection, and gets it". NBC Sports. http://www.msnbc.msn.com/id/22687674/

. Retrieved 2009-01-28

.
↑ "NFL fines Patriots' Wilfork for unnecessary roughness". Associated Press. National Football League. 2008-01-28. http://www.nfl.com/news/story?id=09000d5d8064845d&template=without-video&confirm=true

. Retrieved 2009-01-28

.
↑ Vacchiano, Ralph (2007-11-04). "John Mara: Giants sticking with Eli Manning". New York Daily News. http://www.nydailynews.com/sports/football/giants/2007/11/14/2007-11-14_john_mara_giants_sticking_with_eli_manni.html.
↑ "Giants' grit will overcome Pats' talent in Super Bowl". Sports Illustrated. 2008-01-22. http://sportsillustrated.cnn.com/2008/writers/dr_z/01/22/superbowlxlii/index.html

. Retrieved 2008-02-04

.
↑ "The Patriots complete their perfect regular season, beat Giants". Associated Press. 2007-12-29. http://www.nfl.com/gamecenter/recap?game_id=29435&displayPage=tab_recap&season=2007&week=REG17

. Retrieved 2008-02-03

.
↑ "Fox Sets Shepard Smith Super Bowl Special". broadcastingandcable.com. 2007-01-16. http://www.broadcastingcable.com/article/CA6523339.html

. Retrieved 2007-01-27

.
↑ "Primetime Listings: Sunday, February 3" (Press release). Fox Broadcasting Company. http://www.foxflash.com/div.php/main/page?aID=1z4&ID=73

. Retrieved 2008-01-27

.
↑ de Moraes, Lisa (2008-02-06). "Super Bowl's Big Score: 97.5 Million Viewers". The Washington Post.
↑ "Political ads during Super Bowl?". Associated Press. http://www.wistv.com/Global/story.asp?S=6364507&nav=menu36_3

. Retrieved 2007-05-21

.
↑ Teinowitz, Ira. Fox Won't Sell Super Bowl Ads to Candidates.

TV Week

. January 24, 2008.
↑ Kuhnhenn, Jim. Obama to run ad during Super Bowl. Associated Press. February 3, 2008.
↑ "Fox sets new Super Bowl records with audience and ad revenues". Brand Republic. 2007-02-05. http://www.brandrepublic.com/News/781159/Fox-sets-new-Super-Bowl-records-audience-ad-revenues

. Retrieved 2007-02-05

.
↑ Elliott, Stuart (2007-10-08). "Super Bowl XLII Is More Than CX Days Away, But...". New York Times. http://tvdecoder.blogs.nytimes.com/2007/10/08/super-bowl-xlii-is-more-than-cx-days-away-but/

. Retrieved 2010-05-24

.
↑ 31.0 31.1 BOARDROOM SPORTS: Inside advertisers' playbooks : Columns & Blogs : The Rocky Mountain News
↑ "Doritos Gives Undiscovered Music Act the Stage of a Lifetime". PR Newswire. 2008-10-11. http://www.prnewswire.com/cgi-bin/stories.pl?ACCT=104&STORY=/www/story/10-12-2007/0004681139&EDATE=.
↑ Boggs, Chris (2008-02-05). "Super Bowl XLII Ads – Where's the URL?". Search Engine Watch. http://searchenginewatch.com/showPage.html?page=3628342

. Retrieved 2008-02-06

.
↑ Eels' homepage accessed 2008-02-02
↑ "Super Bowl XLII TV and Radio Facts and Figures". LexisNexis. 2008-01-25. http://www6.lexisnexis.com/publisher/EndUser?Action=UserDisplayFullDocument&orgId=574&topicId=100021158&docId=l:734531662&isRss=true

. Retrieved 2008-01-31

.
↑ "Super Bowl XLII: The luck of London? (101)". bbc.co.uk. 2008-01-30. http://www.bbc.co.uk/blogs/sporteditors/2008/01/what_a_superb_owl.html

. Retrieved 2008-02-20

.
↑ "BBC win rights to show Super Bowl". NFLUK.com. 2007-12-18. Archived from the original on 2007-12-08. http://web.archive.org/web/20071208080328/http://www.nfluk.com/games/tvschedule/index.aspx

. Retrieved 2007-12-18

.
↑ "On the Road Again Tour Schedule". All Access Today. 2007-12-18. Archived from the original on 2008-02-03. http://web.archive.org/web/20080203115140/http://www.allaccesstoday.com/tourhq/tourshow.php?function=tourinfo&siteID=16&tourID=11239

. Retrieved 2007-12-18

.
↑ "'Idol' Jordin Sparks to sing anthem at Super Bowl XLII". The Arizona Republic. 2007-12-14. http://www.azcentral.com/arizonarepublic/local/articles/1214jordin1214.html

. Retrieved 2007-12-18

.
↑ Wong, Scott (2008-01-29). "Living the dream: Prof to sign anthem for deaf". The Arizona Republic. http://www.azcentral.com/sports/superbowl/ent/articles/0129sb-dreamer0129-ON.html

. Retrieved 2008-01-30

.
↑ http://www.blueangels.navy.mil/ Blue Angels web site January 27, 2008
↑ "Paula Abdul to debut new music video during Super Bowl pregame". RealityTVWorld.com. 2008-01-14. http://www.realitytvworld.com/news/paula-abdul-debut-new-music-video-during-super-bowl-pregame-6388.php

. Retrieved 2008-01-15

.
↑ The Arizona Republic (2007-02-28). "NFL not naming wish list for Super Bowl halftime". azcentral.com. http://www.azcentral.com/arizonarepublic/local/articles/0228B1-talker0228.html

. Retrieved 2007-03-01

.
↑ "Bon Jovi to play one-off Christchurch show". Stuff.co.nz. http://www.stuff.co.nz/4242429a4500.html

. Retrieved 2007-10-22

.
↑ Tom Petty: Eagles turned down Super Bowl offer. Contact Music via Rolling Stone. December 20, 2007.
↑ "Tom Petty to Play Super Bowl Halftime Show". WashingtonPost.com. 2007-12-02. http://www.reuters.com/article/topNews/idUSN0236253220071202

. Retrieved 2007-12-04

.
↑ "Super Bowl to honor Williams during trophy presentation XLI". ESPN.com. 2008-01-29. http://sports.espn.go.com/nfl/news/story?id=3219782

. Retrieved 2008-02-02

.
↑ "New England Patriots vs New York Giants—Superbowl (sic) Preview". Imperial Valley News. 2008-02-03. http://www.imperialvalleynews.com/index.php?option=com_content&task=view&id=781&Itemid=2

. Retrieved 2008-02-03

.
↑ "Hero's Welcome: City Preps For Giants' Victory Parade After Historic Super Bowl Win". New York 1. February 4, 2008. http://www.ny1.com/ny1/content/index.jsp?stid=1&aid=78132.
↑ 57.0 57.1 Associated Press (February 3, 2008). "New Jerseyans, New Yorkers revel in Giant win". MSNBC.com. http://www.msnbc.msn.com/id/22984633/.
↑ Baumbach, Jim (February 4, 2008). "Giants' win ranks among NY's best". Newsday.
↑ Gergen, Joe (February 4, 2008). Newsday.
↑ Matuszewski, Erik; Dolmetsch, Chris (February 5, 2008). "Super Bowl-Champion Giants Saluted in Broadway Parade". Bloomberg News. http://www.bloomberg.com/apps/news?pid=20601079&sid=awB5hl2mYPxE&refer=home.
↑ Dottino, Paul (Feb 5, 2008). Giants Victory Parade.
↑ 62.0 62.1 62.2 Dobnik, Verena (February 5, 2008). "New York Hails Giants With Super Parade". Associated Press. FOXNews.com. http://www.foxnews.com/printer_friendly_wires/2008Feb05/0,4675,FBNGiantsParade,00.html

. Retrieved May 3, 2011

.
↑ "Super Bowl evades mass shooting". Sports Illustrated. 2008-02-07. Archived from the original on 2008-02-11. http://web.archive.org/web/20080211092620/http://sportsillustrated.cnn.com/2008/football/nfl/02/07/superbowl.gunfire.ap/index.html?cnn=yes

. Retrieved 2008-02-16

.
↑ "Giants prevent perfect season, beat Patriots". Sporting News. 2008-02-08. http://www.sportingnews.com/yourturn/viewtopic.php?t=346770

. Retrieved 2008-02-08

.
↑ "What it's all about, Giants' title a reminder of why we watch sports". SI.com. 2008-02-05. http://sportsillustrated.cnn.com/2008/writers/peter_king/02/05/giants/index.html?eref=fannation

. Retrieved 2008-02-10

.
↑ "Belichick has left the building...a second early". ESPN.com. 2008-02-04. http://myespn.go.com/blogs/hashmarks/0-5-366/Belichick-has-left-the-building---a-second-early.html

. Retrieved 2008-02-13

.
↑ "Belichick Shows He Has No Class". Newsday. 2008-02-05. http://www.newsday.com/sports/columnists/ny-spwally055565082feb05,0,2316915.column

. Retrieved 2008-10-11

.
↑ "Which jerseys will Bears wear in Super Bowl?". 2007-01-22. http://www.chicagobears.com/news/ChalkTalkStory.asp?story_id=2961

. Retrieved 2008-04-12

. "The home team alternates every Super Bowl with the NFC representative serving as the home team in odd-numbered years and the away team in even-numbered years."
↑ "XLII facts about Super Bowl XLII". 2008-01-22. http://www.nfl.com/superbowl/story?id=09000d5d8062bc41&template=with-video&confirm=true

. Retrieved 2008-04-12

. "The AFC is the home team in this year's Super Bowl [Super Bowl XLII]."
↑ Greg Garber (2008-02-03). "Eli, monster defense power Giants to shocking Super Bowl victory". ESPN. http://sports.espn.go.com/nfl/recap?gameId=280203017

. Retrieved 2008-02-04

.
↑ "Elias Says...". ESPN. 2008-02-03. http://sports.espn.go.com/espn/elias?date=20080203

. Retrieved 2008-02-07

.
↑ "Carey is first black referee on Super Bowl crew". Associated Press. 2008-01-30. http://sports.espn.go.com/nfl/playoffs07/news/story?id=3222459

. Retrieved 2008-02-02

.
↑ 73.0 73.1 73.2 73.3 73.4 73.5 73.6 73.7 Steinberg, Dan (February 2, 2008). "Baseball's Fault Lines Show Stress In Arizona". The Washington Post: p. E11. http://www.washingtonpost.com/wp-dyn/content/article/2008/02/01/AR2008020103259_pf.html.
↑ 74.0 74.1 Mucha, Peter (January 5, 2001). "A City's Hopes Fly High on the Wings of Eagles". Philadelphia Inquirer: p. A1. "New York teams—the Mets, Rangers, Giants and Knicks—rank among Philadelphia's most loathed rivals."
↑ Brookover, Bob (February 2, 2008). "From S. Philly to Super Bowl–Patriots' Eckel grew up an Eagles fan". The Philadelphia Inquirer.
↑ Goldberg, Jeff (January 31, 2008). "Five Things I Hate About You". Hartford Courant: p. C6.
↑ 77.0 77.1 Shaughnessy, Dan (February 8, 2002). "Patriotic Thoughts Parade By". Boston Globe: p. E1.
↑ "Money well spent, Giant fans fly back to toast Big Blue at final party". New York Daily News. February 5, 2008. http://articles.nydailynews.com/2008-02-05/sports/17890717_1_giants-fans-giant-experience-plaxico-burress

. Retrieved December 15, 2011

.
External links
Super Bowl
1960s
1970s
1980s
1990s
2000s
2010s

L (2016)

LII (2018)
LIII (2019)

* Champions

Adbowl

Super Bowl Sunday