The Sun Belt Conference is a college athletic conference that has been affiliated with the NCAA's Division I since 1976. Originally a non-football conference, the Sun Belt began sponsoring football in 2001. Its football teams participate in the Division I Football Bowl Subdivision (FBS). The 11 member institutions of the Sun Belt are distributed primarily across the southern United States.
The Sun Belt Conference was founded on August 4, 1976 with New Orleans, South Alabama, Georgia State, Jacksonville, Charlotte and South Florida. Over the next ten years the conference would add WKU, Old Dominion, UAB, and Virginia Commonwealth. Also, New Orleans was forced out of the league in 1980 due to its small on-campus gymnasium that the Conference did not deem suitable for Conference competition. UNO competed as an independent before joining the newly-formed American South Conference in 1987.
After the 1990–91 basketball season, all members of the Sun Belt except WKU, South Alabama, Jacksonville, and incoming member Arkansas–Little Rock departed for other conferences. The Sun Belt then merged with the American South Conference, made up of Arkansas State, Louisiana Tech, Southwestern Louisiana (now Louisiana–Lafayette), Texas–Pan American, New Orleans, Lamar, and UCF. Although the American South was the larger conference, the merged league retained the Sun Belt name. UCF left the league following the 1991-92 academic year. Lamar, Texas–Pan American and Jacksonville departed at the end of the 1997-98 academic year. FIU joined in 1998, and Denver was added in 1999. Louisiana Tech departed after the 2000-01 academic year.
The conference did not sponsor football until 2001, when the league added former Big West Conference members New Mexico State and North Texas and then-independent Middle Tennessee State as full members and added independent Louisiana–Monroe and Big West member Idaho as "football only" members. Another Big West school, Utah State, was added as a "football only" member in 2003, then departed in 2005 with Idaho and New Mexico State for the WAC.
In 2004, Troy became a "football only" member until 2005 when they joined the conference in all sports. In 2006, Louisiana–Monroe joined the conference as a member in all sports when it left the Southland Conference, and Florida Atlantic joined the conference in all sports.
On November 11, 2009, New Orleans announced they were investigating a move from Division I to the NCAA's Division III. In order to maintain athletic scholarships, UNO instead opted for entry into Division II. On April 20, 2011, UNO officially received transition approval from NCAA Division II Membership Committee.[1] (Since then, UNO has decided to remain in Division I and has since agreed to join the Southland Conference.)
Florida Atlantic joined the league as a member in all sports on July 1, 2006. WKU joined the Sun Belt Conference for football in 2009 after its Board of Regents voted to upgrade the school's football program to Division I FBS.[2]
On April 9, 2012, Georgia State, one of the founding members of the Sun Belt Conference, announced that it would be returning to the conference as a full member in 2013. As part of the move, the football program will begin a transition from FCS to FBS in the 2012 season; it will play a full Sun Belt schedule as a "transitional" FBS member in 2013, and become a full FBS member, with bowl eligibility, in 2014.[3] On May 2, 2012, Texas State announced it would leave the WAC after just one year and join the Sun Belt in July 2013 to begin play for the 2013-14 academic year. At the press conference to announce Texas State's addition, Sun Belt Commissioner Karl Benson also hinted that more changes could be on the way for the conference.[4] On May 25, 2012, the conference announced that the Texas–Arlington had accepted an invitation to join the conference and would become a full member by 2013.
Member schools
Edit
Current members
Edit
The Sun Belt has 11 members for the 2012–2013 academic year. All of the full members compete in football except for Arkansas–Little Rock, the Sun Belt's lone non-football member.
Institution
Nickname
Location
Founded
Type
Enrollment
U.S. News Ranking[5]
Joined
East Division
Florida Atlantic University
Owls
Boca Raton, Florida
1961
Public
29,290

(National)
205–270
2005 (football)
2006 (all sports)
Florida International University
Panthers
Miami, Florida
1965
Public
47,966

(National)
205–270
1998
Middle Tennessee State University
Blue Raiders
Murfreesboro, Tennessee
1911
Public
24,660

(National)
205–270
2000
University of South Alabama
Jaguars
Mobile, Alabama
1963
Public
15,007

(National)
205–270
1976
Troy University
Trojans
Troy, Alabama
1887
Public
29,689

(Regional: South)
67
2004 (football)
2005 (all sports)
Western Kentucky University
Hilltoppers (men's)
Lady Toppers (women's)
Bowling Green, Kentucky
1906
Public
18,391

(Regional: South)
33
1982
West Division
University of Arkansas at Little Rock
Trojans
Little Rock, Arkansas
1927
Public
13,176

(National)
205–270
1991
Arkansas State University
Red Wolves
Jonesboro, Arkansas
1909
Public
13,415

(Regional: South)
56
1991
University of Louisiana at Lafayette
Ragin' Cajuns
Lafayette, Louisiana
1900
Public
16,885

(National)
205–270
1991
University of Louisiana at Monroe
Warhawks
Monroe, Louisiana
1931
Public
8,632

(Regional: South)
91
2001 (football)
2006 (all sports)
University of North Texas
Mean Green
Denton, Texas
1890
Public
35,722

(National)
205–270
2000
Departing members in pink.
North Texas, FIU, Florida Atlantic, and Middle Tennessee will join Conference USA on July 1, 2013.
Arkansas–Little Rock is the only non-football member in the conference.
Future members
Edit
Georgia State will become an all-sports member, including football, in 2013. However, as a transitional FBS school, it will not be eligible for the conference title, or for postseason play, until 2014.
Texas–Arlington will be a non-football member.
Former members
Edit
Institution
Nickname
Location
Joined
Left
Current Conference
University of Alabama at Birmingham (UAB)
Blazers
Birmingham, Alabama
1979
1991
C-USA
University of Central Florida (UCF)
Knights
Orlando, Florida
1991
1992
C-USA (Big East in 2013)
University of Denver
Pioneers
Denver, Colorado
1999
2012
WAC (The Summit League in 2013)
Jacksonville University
Dolphins
Jacksonville, Florida
1976
1998
Atlantic Sun (A-Sun)
Lamar University
Cardinals
Beaumont, Texas
1991
1998
Southland
Louisiana Tech University
Bulldogs (men's)
Lady Techsters (women's)
Ruston, Louisiana
1991
2001
WAC (C-USA in 2013)
New Mexico State University
Aggies
Las Cruces, New Mexico
2000
2005
WAC
University of New Orleans
Privateers
New Orleans, Louisiana
1976
1991
1980
2010
NCAA D-I Independent (Southland in 2013)
University of North Carolina at Charlotte (Charlotte)
49ers
Charlotte, North Carolina
1976
1991
Atlantic 10 (A-10) (C-USA in 2013)
Old Dominion University
Monarchs
Norfolk, Virginia
1982
1991
CAA (C-USA in 2013)
University of South Florida
Bulls
Tampa, Florida
1976
1991
Big East
University of Texas–Pan American
Broncs
Edinburg, Texas
1991
1998
Great West (WAC in 2013)
Virginia Commonwealth University (VCU)
Rams
Richmond, Virginia
1979
1991
Atlantic 10 (A-10)
Former affiliate members
Edit
Membership timeline
Edit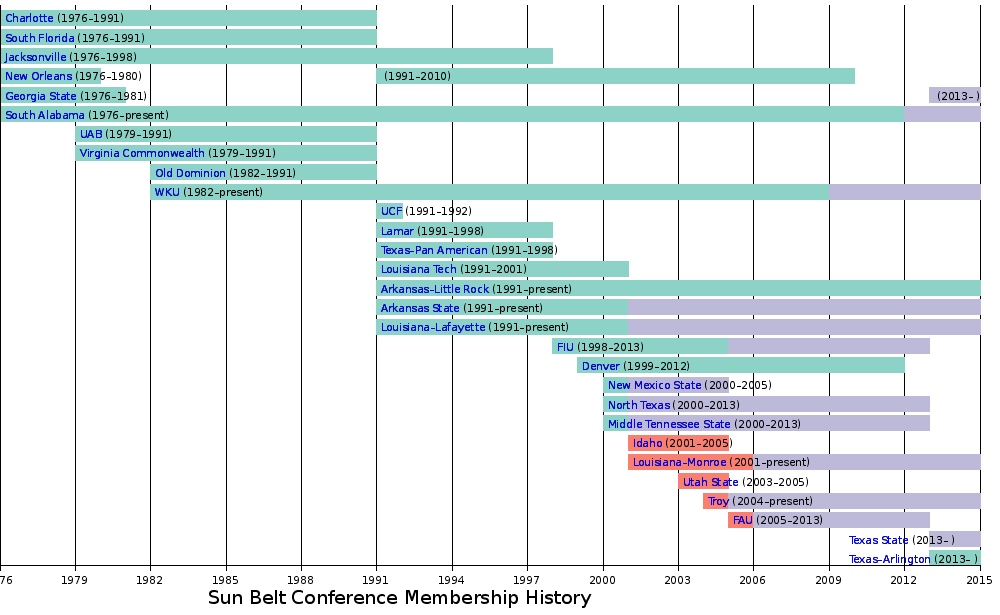 Full members (non-football) Full members (all sports) Associate members (football-only)
Commissioners
Edit
In addition to the five Sun Belt commissioners, three future league leaders served on the Sun Belt staff prior to becoming conference commissioners, including Doug Elgin (Missouri Valley), John Iamarino (Northeast, Southern) and Tom Burnett (Southland).
On October 12, 2011, ESPN reported that Wright Waters would retire, effective July 1, 2012.[10] On February 15, 2012, Karl Benson was hired as the new commissioner of the Sun Belt, after having been the commissioner of the Western Athletic Conference for 17 years. Waters would later move his departure date to March 15, allowing Benson to take over at that time.[3]
The Sun Belt Conference sponsors championship competition in eight men's and ten women's NCAA sanctioned sports.[11] Future member Georgia State is an Associate member for men's and women's cross country and track and field.
40px For the current season, see 2012 Sun Belt Conference football season
[12]
Sun Belt champions
Bowl games
The Sun Belt has secondary tie-ins to serve as an alternate in the Little Caesars Pizza Bowl or Beef 'O' Brady's Bowl if the primary contracted participants cannot participate.[13]
Rivalries
Football rivalries involving Sun Belt teams include:
Basketball
Edit
The Sun Belt Conference has sponsored an annual baseball tournament to determine the conference winner since 1978. South Alabama has won the most championships, at 11.
| School | Tourney Titles | Title Years |
| --- | --- | --- |
| South Alabama | 11 | 1980, 1981, 1983, 1984, 1987, 1992, 1996, 1997, 2000, 2001, 2005 |
| New Orleans | 3 | 1978, 1979, 2007 |
| South Florida | 3 | 1982, 1986, 1990 |
| FIU | 2 | 1999, 2010 |
| Lamar | 2 | 1993, 1995 |
| Middle Tennessee | 2 | 2003, 2009 |
| WKU | 2 | 2004, 2008 |
| Alabama–Birmingham | 1 | 1991 |
| Arkansas–Little Rock | 1 | 2011 |
| Arkansas State | 1 | 1994 |
| Jacksonville | 1 | 1989 |
| Southwestern Louisiana | 1 | 1998 |
| Louisiana-Monroe | 1 | 2012 |
| New Mexico State | 1 | 2002 |
| Old Dominion | 1 | 1985 |
| Troy | 1 | 2006 |
| Virginia Commonwealth | 1 | 1988 |
Teams in bold represent current conference members.
Championships
Edit
NCAA champions
Edit
The following current Sun Belt teams have won NCAA Division I team championships:
Facilities
Edit
School
Football Stadium
Capacity
Basketball Arena
Capacity
Baseball Stadium
Capacity
Arkansas–Little Rock
Non-football school
Jack Stephens Center
5,600
Gary Hogan Field
2,550
Arkansas State
Liberty Bank Stadium
33,410
Convocation Center
10,563
Tomlinson Stadium–Kell Field
1,000
Florida Atlantic
FAU Stadium
30,000
FAU Arena
5,000
FAU Baseball Stadium
3,000
FIU
FIU Stadium
23,500
U.S. Century Bank Arena
5,000
FIU Baseball Stadium
2,000
Georgia State
Georgia Dome
71,228
GSU Sports Arena
4,500
GSU Baseball Complex
1,092
Louisiana–Lafayette
Cajun Field
31,000
Cajundome (men)
Earl K. Long Gymnasium (women)
12,068
1,500
M.L. Tigue Moore Field
3,755
Louisiana–Monroe
Malone Stadium
30,427
Fant–Ewing Coliseum
7,085
Warhawk Field
1,800
Middle Tennessee
Johnny "Red" Floyd Stadium
31,000
Murphy Center
11,802
Reese Smith Jr. Field
2,600
North Texas
Apogee Stadium
30,850
UNT Coliseum
10,032
Non-baseball school
South Alabama
Ladd Peebles Stadium
40,646
Mitchell Center
10,041
Eddie Stanky Field
4,500
Texas State
Bobcat Stadium
30,000
Strahan Coliseum
7,200
Bobcat Baseball Stadium
2,000
Texas–Arlington
Non-football school
College Park Center
7,000
Clay Gould Ballpark
1,600
Troy
Veterans Memorial Stadium
30,000
Trojan Arena
6,000
Riddle–Pace Field
2,000
Western Kentucky
Houchens Industries – L. T. Smith Stadium
22,000
E. A. Diddle Arena
7,326
Nick Denes Field
1,500
Notes:
References
Edit
External links
Edit
Sun Belt Conference
Football members
Non-football members
Future members
† will join the conference for football in 2013
Community content is available under
CC-BY-SA
unless otherwise noted.