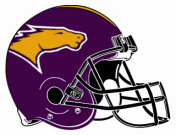 The St. Louis Stallions were a proposed National Football League expansion team to be located in St. Louis, Missouri St. Louis had lost the Cardinals franchise, which moved to Phoenix and became the Arizona Cardinals. The city entered the race to get a team for the 1995 NFL season.
The team would have played, at that time, in the newly-built Edward Jones Dome. The Stallions were believed to be a favorite to regain a new franchise, but in November 1993, the NFL chose the Jacksonville Jaguars over the Stallions as the new choice. St. Louis ended up losing their bid, but Los Angeles Rams owner Georgia Frontiere, a native of the St. Louis area, relocated the Rams to St. Louis that very season and incorporated part of the Stallions' proposed logo, an arch over the team's name in text, into the Rams logo.
The proposed Stallions name was also going to be the new name of the New England Patriots had the former owner and St. Louis native, James Orthwein moved the Patriots to St. Louis in 1993. Orthwein was on the verge of doing so until Robert Kraft stepped in and bought the Patriots. The St. Louis Stallions uniform can be seen at the New England Patriots Hall of Fame in Foxboro, Massachusetts.
References
Edit
Community content is available under
CC-BY-SA
unless otherwise noted.