The Sooner Athletic Conference (SAC) is a small college athletics conference affiliated with the National Association of Intercollegiate Athletics (NAIA). Originally developed as a five-team conference of Oklahoma-based schools, the SAC now boasts 12 schools in a league that spans four states – Oklahoma, Texas, Arkansas and Kansas.
As of December 2017, SAC member institutions have collected 102 National Association of Intercollegiate Athletics (NAIA) team championships – the most among NAIA conferences – since the league formed in 1978.
Throughout the league's 39-year history, the SAC continues to be known as the conference "Where Champions Play". Various institutions have competed under the SAC banner over the years. Today only the University of Science and Arts of Oklahoma remains from the original group that was formed when Bethany Nazarene (now Southern Nazarene), Oklahoma Baptist, Oklahoma Christian and Phillips University withdrew from the Texoma Conference to form the SAC.
Membership has changed over the years with today's current members being admitted as follows: Oklahoma City (1985), Wayland Baptist (1994), John Brown (1995), Mid-America Christian (2007), Southwestern Assemblies of God (2013), Texas Wesleyan (2013), Southwestern Christian (2013), Bacone (2014), Central Christian (2017) and Oklahoma Panhandle State (2017).
The league also includes associate members on a per-sport basis, with University of Houston-Victoria, University of the Southwest and University of St. Thomas being part of the SAC in women's golf since 2017. Indiana Institute of Technology and Lourdes University were added as associate members in men's wrestling for 2017–18.
In the 2018–19 school year, the SAC will crown league champions in 17 intercollegiate sports – eight for women and nine for men. Women's sports are basketball, softball, golf, tennis, cross country, soccer, volleyball, indoor track & field, and outdoor track & field. Men compete in football, basketball, baseball, golf, tennis, cross country, indoor track & field, outdoor track & field, soccer, and wrestling. The newest conference sport is football, added for the 2018 season.
The conference is known for a rich basketball tradition. Member schools have won the men's NAIA tournament 12 times and women's NAIA tournament 16 times. SAC member schools also boast 12 NAIA national titles in men's golf, 11 in softball, 10 in women's golf, 8 in women's indoor track and field, 7 in men's cross country, 5 in men's tennis, 4 each in men's and women's outdoor track and field, 3 in men's indoor track and field, 2 in baseball and 1 in competitive cheer.
Member schools
Edit
Current members
Edit
Institution
Location
Founded
Enrollment
Nickname
Joined
Bacone College
Muskogee, Oklahoma
1880
990
Warriors
2015
Central Christian College
McPherson, Kansas
1884
1,013
Tigers
2017
John Brown University
Siloam Springs, Arkansas
1919
2,708
Golden Eagles
1980;
1995
Langston University
Langston, Oklahoma
1897
2,554
Lions
2018
Mid-America Christian University
Oklahoma City, Oklahoma
1953
2,405
Evangels
2007
Oklahoma City University
Oklahoma City, Oklahoma
1904
2,968
Stars
1986
Oklahoma Panhandle State University
Goodwell, Oklahoma
1909
1,207
Aggies
2017
University of Science and Arts of Oklahoma
Chickasha, Oklahoma
1908
813
Drovers
1978;
2000
Southwestern Assemblies of God University
Waxahachie, Texas
1927
2,080
Lions
2013
Southwestern Christian University
Bethany, Oklahoma
1946
764
Eagles
2013
Texas Wesleyan University
Fort Worth, Texas
1890
2,373
Rams
2013
Wayland Baptist University
Plainview, Texas
1908
5,077
Pioneers
1994
John Brown – left the SAC in 1983, and re-joined in 1995.
USAO – left the SAC in 1994, and re-joined in 2000.
Affiliate members
Edit
Former members
Edit
Membership timeline
Edit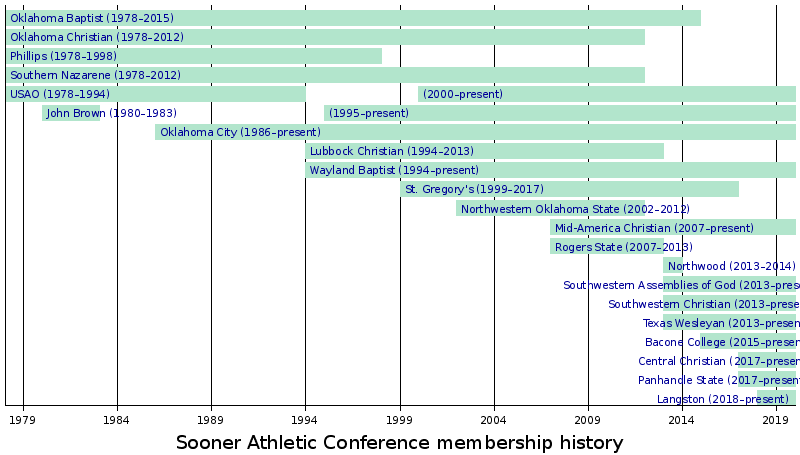 References
Edit
External links
Edit
Sooner Athletic Conference
NAIA conferences

Division I
Division II

Football-only
† Conference sponsors football
Community content is available under
CC-BY-SA
unless otherwise noted.