The San Francisco Demons (Originally named San Jose Demons) were a short-lived springtime American football team based in San Francisco, California. This team was part of the failed XFL begun by Vince McMahon of World Wrestling Entertainment and by NBC, a major television network in the United States. Originally they were to be based in San Jose but prior to the start of the season they were moved to San Francisco. They were in the Western Division with the Los Angeles Xtreme, Las Vegas Outlaws and Memphis Maniax.
The team played in Pacific Bell Park in San Francisco; despite having the smallest stadium in the league, they also had the highest average attendance (34,954).[1] The fans had a cheering section nicknamed "The Hellhole"
The team was coached by Jim Skipper, former offensive coordinator for the NY Giants.
History
In their first and only season of existence, the Demons went 5-5 to capture 2nd place in the regular season and qualified for post season play. In the first round, the Demons defeated the Orlando Rage, who had the best regular season record (8-2), by a score of 26-25. In the XFL's Million Dollar Game, which was the league championship game and last game in its history, the Demons were defeated by the Los Angeles Xtreme 38-6.
NBC dropped the XFL concept after the first season (2001) due to dismal ratings, and the league folded soon afterwards. The Demons played their home games in what was then Pacific Bell Park, also the home of Major League Baseball's San Francisco Giants.
The most notable Demons players were Mike Pawlawski and Pat Barnes. Both played quarterback for the Demons in 2001. Pawlawski and Barnes both played for the California Golden Bears. Pawlawski was signed by the Demons after playing Arena Football for the Albany Firebirds. Barnes had been invited to training camp by the Oakland Raiders.
Season-By-Season
Note: W = Wins, L = Losses, T = Ties
Season
W
L
T
Finish
Playoff results
2001
5
5
0
2nd Western
Won Semifinals (Orlando)
Lost Million Dollar Game (Los Angeles)
Totals
6
6
0
(including playoffs)
San Francisco Demons players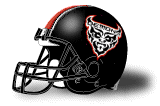 Team leaders
References