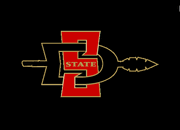 The San Diego State football team represents San Diego State University in college football. The Aztecs, a Division I FBS team and a member of the Mountain West Conference, play their home games at Qualcomm Stadium in San Diego, California. The field is natural grass and has a maximum capacity of 71,294. The Field was formerly known as "Jack Murphy" Stadium. The current head coach of the Aztecs is to be announced. Coaching the 2009 Aztecs is his first year as the head coach. San Diego State had a 465-359-32 all-time record entering the 2009 football season. They have won thirteen conference championships [1] and three national championships at the small college division. Their rivals are the BYU Cougars, the UNLV Rebels, and the Fresno State Bulldogs.[2]
San Diego State University was originally two separate schools. San Diego Normal School had school colors of white and gold. San Diego Junior College had school colors of blue and gold. They decided to merge schools in 1921 to form San Diego State College. The first school colors of SDSC were blue, white and gold. During the 1921 school year they had their first football game. The 1943-44 seasons were not played, due to the circumstances involving WWII.[citation needed]
Years later the school decided to adopt purple and gold as the new school colors. However, local confusion between the Aztecs and St. Augustine High School forced the school to change their colors yet again. The school voted on new colors and landed on scarlet and black. It is now a very well known tradition that the Aztecs wear all black on home games.
Night games
Edit
Night games have become a San Diego State University football tradition. The first SDSU night game was played on September 25, 1930 at Lane Field. Over 5,000 fans attended the game to watch the Aztecs beat the San Diego Marines 39-0. Since that day, over 75% of all Aztec games, home and away, have been played at night.
Bowl appearances
Edit
Coach (Alma Mater)/Years/Win Percentage
C.E. Peterson 1921-29, .577
W.B. Herreid 1930-34, .489
Leo Calland (Southern Calif. '23) 1935-41, .600
John Eubank (Washington St. '33) 1942, .071
Bob Breitbard (San Diego St. '41) 1945, .286
Bill Terry (Western Kentucky '32) 1946, .600
Bill Schutte (Idaho '33) 1947-55, .568
Paul Governali (Columbia '43) 1956-60, .310
Don Coryell (Washington '50) 1961-72, .840
Claude Gilbert (San Jose St. '59) 1973-80, .697
Doug Scovil (Pacific '52) 1981-85, .432
Denny Stolz (Alma College '55) 1986-88, .457
Al Luginbill (Cal Poly - Pomona '67) 1989-93, .534
Ted Tollner (Cal Poly '62) 1994-01, .473
Tom Craft (San Diego St. '77) 2002-05, .396
Chuck Long (Iowa '85) 2006-08, .250
Brady Hoke (Ball State '80)2009–2011, .428
Brady Hoke is in his second year as the head coach of the San Diego State football team. He is the 17th head coach in San Diego State football history. In the 2008 season, Hoke was the head coach of the Ball State Cardinals football team. Hoke led the Cardinals to an undefeated regular season and the MAC Championship game. However, after a loss in the championship, Hoke decided to resign. He then signed with the Aztecs in December 2008 to become the new head football coach. After seven games in the 2009 season, Hoke has led the Aztecs to a 3-4 record and a currently a sixth place standing in the Mountain West Conference. Hoke left in 2011 for Michigan.
Notable alumni
Edit
San Diego State athletics have contributed richly to the National Football League (NFL). Distinguished NFL head coaches were proud members of the Aztec Football program:
Some of the more famous San Diego State students to later star in the NFL are:
Facilities
Edit
The football team plays at Qualcomm Stadium (formerly known as "Jack Murphy" Stadium). See also The Q.
References
Edit
External links
Edit
Community content is available under
CC-BY-SA
unless otherwise noted.