Sam Bradford
220pxpx
Sam Bradford before a game in Denver in 2010.
No. 8     

St. Louis Rams

Quarterback

Personal information

Date of birth: November 8, 1987
Place of birth: Oklahoma City, Oklahoma
Height: 6 ft 4 in (1.93 m)
Weight: 236 lb (107 kg)

Career information

College: Oklahoma
NFL Draft: 2010 / Round: 1 / Pick: 1
Debuted in 2010 for the St. Louis Rams

Career history

Roster status: Active

Career highlights and awards

Most consecutive passes thrown without an interception by a rookie (169)
Most attempts by a rookie in NFL history (590).
Most completions by a rookie in NFL history (354).
Heisman Trophy (2008)

Career NFL statistics as of Week 9, 2011

TD–INT  
  24-19
Passing yards  
  5,099
QB Rating  
  72.3
Stats at NFL.com
Samuel Jacob "Sam" Bradford (born November 8, 1987) is an American football quarterback for the St. Louis Rams of the National Football League. He was the first overall pick in the 2010 NFL Draft, and played college football at Oklahoma. In 2008, as a redshirt sophomore, Bradford became the second sophomore to win a Heisman Trophy. Bradford also holds the NCAA record for most touchdown passes by a freshman quarterback, with 36.
In his first season in the NFL, Bradford set the record for most completions by a rookie in NFL history, which helped earn him the NFL Offensive Rookie of the Year award.
Early years
Bradford was born in Oklahoma City, Oklahoma.[1] He attended Putnam City North High School in Oklahoma City, where he starred in football, basketball and golf. As a senior quarterback for his high school football team in 2005–2006, he threw for 2,029 yards and 17 touchdowns in 12 games.[2] His senior year in basketball, he averaged a double-double.[3] However, Bradford was a three-star recruit not that highly ranked among the high school class of 2006,[4] with his highest ranking being No. 12 amongst only Pro-Style quarterbacks by recruiting source Rivals.com, behind Pat Devlin, Juice Williams, Josh Freeman, and being overshadowed by the likes of five-star recruits Mitch Mustain, Matthew Stafford and Tim Tebow.[2][5]
College career
Freshman season
In 2006, Oklahoma's starting quarterback Rhett Bomar, then a sophomore, was dismissed from the team for violating NCAA rules. Paul Thompson, a senior quarterback-turned-wide receiver, converted back to quarterback and led the 2006 Oklahoma Sooners football team to win the Big 12 Championship Game. His departure left a void at the quarterback position at Oklahoma. Six players on the roster tried out for the starting position during the following off-season, including three walk-on quarterbacks,[6] true freshman Keith Nichol (a Rivals.com 4-star recruit and 6th-ranked dual-threat quarterback in the 2007 recruiting class, who later transferred to Michigan State University), junior Joey Halzle (the only one with game experience), and Bradford, a redshirt freshman. On August 21, 2007, Bradford won the starting quarterback role for the 2007 team.[7]
In his first game for the Sooners, against the University of North Texas, Bradford completed 21 of 23 attempts for 363 yards and three touchdowns in a little over two quarters, breaking the school record for passing yards in a half, held by his quarterback coach Josh Heupel, with 350.[8] The very next game, Bradford broke Heisman Trophy winner Jason White's school record for most consecutive pass completions with 22 (18 came in the first half and four at the start of the second).[9]
In the second week of the 2007 season, Bradford was named the national offensive player of the week by the Walter Camp Foundation[10] after tying the school record for most touchdown passes in a game with five.[11] Having thrown 25 touchdowns through his first nine games, Bradford was on pace to break the NCAA freshman record of 29 touchdowns set by David Neill in 1998 and tied by Colt McCoy in 2006.
In the November 17, 2007 game against Texas Tech, Bradford suffered a concussion of unknown severity. He was removed from the game and replaced by back-up quarterback Joey Halzle. The Sooners lost the game, 27–34.[12] Bradford was able to play in the Bedlam game against Oklahoma State on November 24.[13][14]
During the November 24, 2007 game against the Oklahoma State Cowboys, Bradford broke the NCAA freshman record of 29 touchdowns by passing his 30th touchdown to Joe Jon Finley during the second quarter.[15] At the Missouri Tigers game, Bradford threw for 209 yards and 0 interceptions. He was 18–26 and threw for two touchdowns.
The Sooners won the Big 12 Championship after defeating Missouri for the second time in a season. The Sooners played the West Virginia Mountaineers in the Fiesta Bowl on January 2, 2008 and lost 48–28. It was Bradford's first BCS bowl game as a starter.
Sophomore season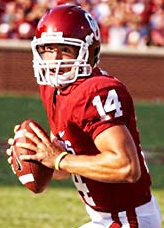 In week 8 of the following season against Kansas, Bradford surpassed quarterback coach Josh Heupel's school record for passing yards in a single game with 468 yards. Bradford led the Sooners to their third straight Big 12 Championship and defeated Missouri 62–21. In the process, the Sooners broke Hawaii's 2006 record for the most points in a single season with 702 points. Also, the Sooners were the first team in NCAA history who had scored 60 or more points in five straight games. Oklahoma finished the 2008 regular season with a 12–1 record, ranking #2 in the AP Poll and #1 in the BCS Standings. The Sooners earned a trip to play Florida at the 2009 BCS National Championship Game.
After the regular season, Bradford captured the Davey O'Brien Award[16] and the Heisman Trophy.[17][18] He is the second sophomore, after 2007 winner Tim Tebow of the University of Florida, to receive the Heisman; he also became the fifth University of Oklahoma player, as well as the first person of Native American descent to capture the trophy.[19] Bradford received 1,726 total points while the other finalists, Colt McCoy, of the University of Texas, and Tim Tebow, received 1,604 and 1,575, respectively. Tebow, however, collected more first-place votes, 309, while Bradford got 300. Bradford got the most points thanks to the help of his 315 second-place votes. A total of 926 voters participated in the balloting.[20]
2008 Heisman Trophy Finalist Voting[21]
Finalist
First place votes
(3 pts. each)
Second place votes
(2 pts. each)
Third place votes
(1 pt. each)
Total points
Sam Bradford
300
315
196
1,726
Colt McCoy
266
288
230
1,604
Tim Tebow
309
207
234
1,575
When combined with Blake Griffin's Naismith Award, Oklahoma became the first school to have a winner in both top basketball and football individual awards in the same year. Bradford was also voted the Associated Press College Football Player of the Year. Bradford received 27 votes, again beating McCoy (17 votes) and Tim Tebow (16 votes).[22] Bradford is the third Oklahoma Sooner to win the award, joining Josh Heupel (2000) and Jason White (2003). Heupel and White were also quarterbacks, with Heupel being the current quarterbacks coach for Oklahoma.
Bradford faced Florida, led by Tebow, in the 2009 BCS National Championship Game.[23] He threw 26-of-41 passes for 256 yards, two touchdowns, and two interceptions. Florida ended up beating Oklahoma 24–14.[24]
Junior season
Bradford announced that he would forgo the 2009 NFL Draft to return to Oklahoma for his junior season.[25] In the Sooners' first game of the season (against Brigham Young), Bradford suffered a 3rd degree AC joint sprain one play after becoming Oklahoma's all-time passing leader. Playing without Bradford for the second half of the game, Oklahoma went on to lose 13–14. Bradford was originally scheduled to return in about three to six weeks,[26] but head coach Bob Stoops initially refused to either confirm or deny that timetable.[27] After missing three weeks, Bradford returned to the field during the Baylor game, and completed 27-of-49 passes for 389 yards and one touchdown, leading the Sooners to a 33–7 victory.[28] Bradford re-injured his right shoulder on October 17, 2009 in the Red River Rivalry against Texas on the second drive of the game. It was later announced that he would undergo season-ending shoulder surgery and enter the 2010 NFL Draft.[29]
Awards and honors
2010 NFL Draft First overall pick
2010 Carroll Rosenbloom Memorial Award (St. Louis Rams' rookie of the year award)
Statistics
Source:[49]
Professional career
2010 NFL Draft
Although he likely would have been one of the first quarterbacks taken in the 2009 NFL Draft, Bradford decided to return to Oklahoma for his junior season in January 2009.[50] But on October 25, 2009, Bradford announced he would forgo his final year at Oklahoma and enter the 2010 NFL Draft.[51] Commonly considered one of the top prospects available, Bradford was projected as high as the No. 1 overall pick for most of the preseason and the early part of the regular season.[52][53][54]
Due to his shoulder injury, Bradford did not throw at the 2010 NFL Combine, however he was measured and participated in interviews and medical examinations. He was measured at 6–4¼ and 236 pounds, about 15 pounds above his college playing weight.[55] Bradford scored 36 out of 50 on the Wonderlic test, well above the average of 28.5 for the 30 NFL quarterbacks slated to start in 2010.[56]
On March 19, Bradford met with St. Louis Rams general manager Billy Devaney and offensive coordinator Pat Shurmur in Pensacola, Florida, where he has been training and rehabbing since undergoing surgery on his throwing shoulder.[57]
St. Louis Rams
On April 22, 2010, Bradford was selected by the St. Louis Rams as the first overall pick in the 2010 NFL Draft.[59] It was the first time the Rams selected a quarterback in the first round of a draft since the selection of Bill Munson in the 1964 NFL Draft. Bradford is the first No. 1 pick out of Oklahoma since Billy Sims was selected top overall by the Detroit Lions in the 1980 NFL Draft. Bradford chose the #8 in honor to Troy Aikman who also attended OU before transferring to UCLA.[60]
On July 30, 2010, Bradford signed a six-year, $78 million deal, which has $50 million of guarantees and has a maximum value of $86 million making it the largest contract ever for an NFL rookie.[61][62]
In the preseason opener against the Minnesota Vikings on August 14, Bradford went 6-of-13 for 57 yards and was also sacked 3 times in a Rams loss.[63] After another unimpressive showing against the Browns in his second game, Bradford bounced back in a big way against the Patriots in the third game of the preseason. He got his first start in place of the injured A. J. Feeley, throwing two first half touchdowns and helping lead the Rams to a 36–35 victory.
He competed for the starting quarterback position with Feeley and on September 4, Bradford was named the starting quarterback for the 2010 season opener.[64]
On September 12, 2010, in his first regular season game as the starting quarterback for the Rams, Bradford completed 32/55 passes for 253 yards, 1 touchdown and 3 interceptions.The Arizona Cardinals won 17–13. His first NFL touchdown came on a 1-yard pass to Laurent Robinson. Two weeks later, he then achieved his first victory as an NFL starter when the Rams defeated the Washington Redskins in an upset by a score of 30–16, which snapped a 13-game overall home losing streak. The next week, he passed for 289 yards and two TDs in leading the Rams over the Seahawks, 20-3. This was their first win in a division game since November 2007.
In week 8 against the Carolina Panthers, Bradford connected on 25 of 32 passes, two of them for touchdowns. In his first eight games he scored eleven TDs, which tied an NFL record—held by Dan Marino ( 1983), Peyton Manning ( 1998), and Ben Roethlisberger ( 2004)—for over that span by a rookie since the AFL–NFL merger in 1970.[65] Bradford went 3-2 as a starter in October, passing for 1019 yards and 7 TDs against 3 INTs. He was named the NFL's offensive rookie of the month.
During October and November, he established a record for most consecutive passes without an interception for a rookie (169), which ended with an interception by William Moore in a home game against the Atlanta Falcons on November 21.[66] On November 28, 2010, against the Denver Broncos, Bradford became the first rookie in NFL history to pass for at least 300 yards and three touchdowns with no interceptions during a road victory.[67] He capped November by becoming the first rookie QB to win two consecutive Offensive Rookie of the Month awards.
On December 26, Bradford surpassed Peyton Manning's record for most completed passes by an NFL rookie quarterback (326). Bradford finished the season with 354 completions out of 590 attempts, therefore also surpassing Manning's record of 575 for most attempts by an NFL rookie quarterback. Bradford became just the third rookie quarterback to start all 16 regular season games and pass over 3000 passing yards, joining Peyton Manning and Matt Ryan.[68][69]
Statistics
Regular season
Year
Team
G
GS
Passing
Rushing
Sacked
Fumbles
Att
Comp
Pct
Yds
Y/A
TD
Int
Rtg
Att
Yds
Avg
TD
Sack
YdsL
Fum
FumL
2010
STL
16
16
590
354
60.0
3512
6.0
18
15
76.5
27
63
2.3
1
34
224
7
2
Total
16
16
590
354
60.0
3512
6.0
18
15
76.5
27
63
2.3
1
34
224
7
2
Personal
Bradford is 1/16th Cherokee[70][71] and listed as an official citizen on the Cherokee Nation tribe's rolls.[72][73] Bradford is the first person of identified Cherokee descent to start at quarterback for a Division I university since Sonny Sixkiller, a full-blooded Cherokee, who played for the University of Washington during the 1970–1972 seasons.[74] Bradford also holds the distinction of being the first Native American to win the Heisman Trophy.[75]
His father, Kent Bradford, was an offensive lineman for the Sooners from 1977 to 1978.[76]
Bradford is also an avid ice hockey fan. At one point Bradford compared his love for hockey to his love for football. According to a January 6, 2009 report, his favorite team is the Vancouver Canucks.[77] Bradford is a scratch golfer and was a star basketball player in high school.[78]
Bradford is a member of the Fellowship of Christian Athletes, as he has been since high school. He also reads the story of David and Goliath before every game, and was featured on the cover of STV (a Christian athletic magazine).[79] Bradford also appeared in a short film of testimonials from celebrity videos called, I Am Second, sharing his faith about Jesus Christ and winning the Heisman Trophy.[80]
In 2009, Oklahoma City Mayor Mick Cornett declared January 13 as "Sam Bradford Day" in Oklahoma City.[81]
References
External links
Community content is available under
CC-BY-SA
unless otherwise noted.