The Portsmouth Spartans were a professional football team from Portsmouth, Ohio founded in 1929. In 1930 they joined the fledging National Football League, competing in the league until 1934, when the owner of Detroit radio station WJR bought the Spartans, and moved them to Detroit, where they became the Detroit Lions.
The Spartans formed in 1929, drawing players from defunct independent professional and semi-pro teams in the Ohio-Kentucky-West Virginia tri-state area. They immediately made an impact by twice defeating the Ironton Tanks, a nearby independent professional team who had regularly played NFL member teams since the early 1920s with considerable success.[citation needed]
In 1929, Portsmouth residents agreed to fund the construction of a football stadium that comparable to those in neighboring communities along the Ohio River. That approval prompted the National Football League to offer the city a franchise in July 1930, and led to the construction of Universal Stadium, which opened September 14, 1930 with a capacity of 8,200.[1] Portsmouth became the NFL's second smallest city, ahead of only Green Bay. During the team's first year in the league it compiled a record of 5–6–3 in league contests.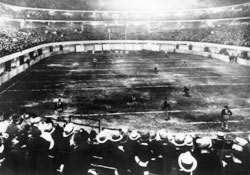 Early highlights as the Portsmouth Spartans include the "iron man" game against Green Bay in 1932. In that game, Spartan coach Potsy Clark refused to make even a single substitution against the defending NFL champion Packers. Portsmouth won 19–0 and used only 11 players all game.[2] At the end of the 1932 season, the Spartans were tied for first place in the league with the Chicago Bears.[3] That prompted what in retrospect became known as the first NFL playoff game Blizzard conditions in Chicago meant the game was moved from Wrigley Field indoors to Chicago Stadium, which allowed for only an 80-yard field. The game was won 9-0 by the Bears, on a touchdown pass from Bronko Nagurski to Red Grange.[3] The resulting interest led to the establishment of Eastern and Western conferences and a regular championship game beginning in 1933.[2]
Despite success on the field, low revenue and the Great Depression threatened the Spartans' survival. In 1934, a group led by George Richards, the owner of Detroit radio station WJR bought the Spartans, and moved them to Detroit for the 1934 NFL season. Richards renamed the team the Lions, as a complement to the Detroit Tigers.
References
Edit
Community content is available under
CC-BY-SA
unless otherwise noted.