Pop Warner Little Scholars (also known as Pop Warner, Pop Warner Football) is a non-profit organization that provides youth football, cheerleading, and dance programs for participants in 43 U.S. states and several countries around the world. It is headquartered in Langhorne, Pennsylvania. Consisting of approximately 425,000+ young people ranging from ages 5 to 16 years old, Pop Warner is the largest and oldest national youth football, cheer and dance organization in the United States. It is also the only youth sports organization with an academic requirement.
In 1929, the owner of a new factory in Northeast Philadelphia enlisted the aid of a young friend, Joseph J. Tomlin, to solve a recurring problem. The factory's huge ground-to-floor windows were constantly being shattered - 100 broken windows in just one month - by teenagers hurling stones from a nearby vacant lot.
Joe Tomlin, an enthusiastic athlete who had excelled in sports in high school and college, had a possible answer. Since the other factories in the area were also being plagued by the young vandals, he suggested that the building owners get together to fund an athletic program for the kids. In those days, the city did not have organized recreation programs to keep idle kids occupied and out of trouble.
The owners agreed, and asked Tomlin to set up a program. Commuting from his job as a stockbroker in New York City, he returned to his home in Philadelphia each weekend. Fall was approaching, so football seemed a logical choice to begin the new project. He set up a schedule for a four-team Junior Football Conference in time for the 1929 season.
Then October came, and with it the collapse of the stock market. He left New York and returned to Philadelphia to concentrate on youth work.
By 1933, the Junior Football Conference had expanded to 16 teams. That year
Glenn Scobey "Pop" Warner
, already a legend among active football coaches, arrived in Philadelphia to coach the
Temple Owls
. Joe Tomlin met Pop Warner at a winter banquet and asked him to lecture at a spring clinic Tomlin was planning for his JFC teams.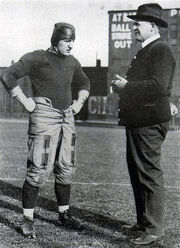 On the evening of April 19, 1934, the temperature dropped to an unseasonable low, with high winds and torrential rain mixed with sleet. Of the dozen area college football coaches scheduled to speak at the clinic, only Pop Warner showed up. The 800 excited young football players kept him talking and answering questions for two hours. By the end of the evening, by popular acclaim, the fledgling youth program was renamed the Pop Warner Conference.
The prestigious Warner name was a powerful attraction. By 1938, there were 157 teams. Most of the players were at least 15 years old and a few were even over 30. Competition was organized along top weights only, except for the youngest kids. Teams represented neighborhoods in the city, while suburban teams represented towns.
During the depression years, a large number of kids left school. Tomlin, a great believer in the importance of education, fought the trend with literature and speakers. He also arranged for tutors for "marginal" kids who wanted to stay in school.
When World War II came, the Pop Warner Conference lost most of its older players. Some squads folded, while others merged. Only 42 teams remained.
Although the Conference rebounded to 100 teams in the 1947 season, there was a shift in membership. Many of the returning service-men abandoned football. Increasingly, the teams were composed of 15-year-olds or younger. Rules were set up for their benefit, including minimum and maximum weights. The era of "midget football" had begun.
The first "kiddie" bowl game, called the Santa Claus Bowl, was played on December 27, 1947, in 6 inches of snow before 2000 freezing spectators. The Clickets midget team, sponsored by Palumbo's, a Philadelphia supper club, competed against Frank Sinatra's Cyclones, a New York team. The Philadelphia team won the game, 6-0, and the Philadelphia Pop Warner Conference won the attention of the nation for the first time.
As football for kids began to develop in communities across the country, Tomlin was deluged with requests for help in starting teams. By the early 1950s, he was determined to "go national." Although he had some supporters, he also had detractors. Many people were convinced that tackle football was too dangerous for kids. Joe told them that the Philadelphia midget program had operated for 15 years without a fatality or serious injury. They wouldn't listen.
In 1953, he spoke at the National Education Association symposium on "Sports for Youth" in Washington, D.C. He suggested to the attendees that a liaison should be formed between the sports and educational establishments for the good of the students. They wouldn't listen.
But there were others who did. Among them: the American Football Coaches Association which bestowed its coveted "Stagg Award" on Joe Tomlin in 1955 for his pioneering work among youth; a major national insurance underwriter which offered a plan with rates based on empirical evidence that tackle football for kids is as safe as its proponents claimed; and Bert Bell, then NFL Commissioner, who, shortly before his death, agreed to introduce the PW program to team owners to gain their support nationally.
Tomlin's dream finally became a reality when Pop Warner Little Scholars was officially incorporated as a national non-profit organization in 1959. The name was selected to underscore the basic concept of Pop Warner- that the classroom is as important as the playing field.
Walt Disney, attracted by this philosophy, filmed a two-hour show,"Moochie of Pop Warner Football".It aired on ABC in 1960, and can still be seen today on the Disney cable channel.
In the 1960s, Pop Warner Football burgeoned in small hamlets, mid-sized cities and metropolitan areas from coast to coast. By the end of the decade there were over 3000 teams.
But football was for boys and girls felt left out. Cheering from the stands wasn't enough. They wanted, somehow, to share in the excitement and fun down on the field. So Pop Warner introduced a new activity: cheerleading. The girls loved it, and during the 1970s this new branch of Pop Warner grew rapidly.
In 1983, in response to many requests, a flag football program was initiated. Originally designed for teams on a tight budget, this sport has become an excellent training ground for tackle leagues.
Today, there are over 400,000 boys and girls, ages 5–16, participating in Pop Warner programs in the United States. Teams in Mexico, Japan and other countries have also joined the "Pop Warner family." There are now over 5,000 football teams, playing in eight different age/weight classifications.
Cheerleading programs have expanded beyond the traditional "sideline squads" to include performing groups such as majorettes, pom squads, dancing boots and pep squads. The first National Cheerleading Competition was held in 1988 and now shares the spotlight with the annual Pop Warner Super Bowl, held each year at Walt Disney World.
Pop Warner Super Bowl
Edit
Each year, Pop Warner Little Scholars, Inc. hosts the Pop Warner Super Bowl and National Cheer and Dance Championships.
For the past 14 years, the event has taken place at ESPN Wide World of Sports Complex in Lake Buena Vista, FL during the first full week of December.
The Pop Warner Football Championships (referred to as the Pop Warner Super Bowl) are divided into teams competing in Division I and Division II. 64 football teams compete for National Championships in 4 different age/weight ranges (Jr. Pee Wee, Pee Wee, Jr. Midget & Midget).
In order to advance to the Pop Warner Super Bowl, a team must win its respective League Championship as well as the Regional Championship. Each advancing team is guaranteed to play two games at the Super Bowl, with a National Champion being crowned in each age-weight division and competition level.
Pop Warner National Cheer and Dance Championships
Edit
For a cheerleading or dance squad, the difficult road to the national championship is quite similar to that of the football teams'. A spirit squad will showcase their best (2:30) two minute and thirty second routine complete with music and cheering at a league championship level. The top 2 squads advance to regional competition in each small and large category, Novice, Intermediate and Advanced.
At regional competition, a spirit squad will again perform their top (2:30) two-minute and thirty second routine in hopes of winning. The first and second place squads in the region in each small and large category, Novice, Intermediate and Advanced are invited to perform at the ESPN Wide World of Sports Complex in hopes of winning a national championship for their local association.
The participants in the Pop Warner program are unique as opposed to those of other programs. While they are taught about the values of competition, they are also maintaining their grades at a satisfactory level in order to attain the ultimate prize of being named a Pop Warner National Champion.
Academic requirements
Edit
Pop Warner Little Scholars, Inc. (PWLS) was the first youth sports organization in America that required its participants to perform adequately in the classroom before permitting them to play. Competing organizations such as American Youth Football have similar requirements.
Pop Warner believes that the standards they have set give these children a sense of responsibility and an appreciation for academics and athletics that will help them develop later on in life.
Like such organizations as the National Collegiate Athletic Association (NCAA) and National Federation of High Schools (NFHS), PWLS has academic guidelines and criteria that need to be met in order for a child to participate.
Proof of satisfactory progress in school is required. A 2.0/70% or the equivalent shall be the minimum grade point average acceptable to participate.
All-American Scholar Program
Edit
Each year, the most academically accomplished Pop Warner kids compete for Academic All-American status. This process begins at the association level and up through each of the eight Pop Warner regions to the national level.
In 2010, over 400,000 kids participated in Pop Warner. 280+ First Team members, over 5,000 Second Team members and 2,000+ Honorable Mention scholars were named as Academic All-Americans at the National Level for 2008-2009.
The PWLS All-American Program requires a minimum 96% grade point average to apply for All-American status. After the applications have been processed, Pop Warner determines National First Team All-Americans (35 football, 35 cheer per grade), National Second Team All-Americans and National Honorable Mention Scholars.
All-American selection process
Edit
A final score is calculated for each student that consists of up to 100 points (85%) for the student's grades for the prior school year, along with up to 18 points (15%) awarded for the attached Addendum sheet of activities and achievements. Once the scores have been calculated, First Team All-Americans are selected. The top 35 football players and 25 cheerleaders per grade (plus ties) are selected as National First Team All-Americans. Second Team All-Americans are then determined by Pop Warner based upon the number of applications that were submitted for that year.
Annual Scholastic Banquet
Edit
Pop Warner hosts an awards program each year to celebrate the accomplishments of their participants. Scholarships are awarded and those that have contributed and served as exemplary ambassadors for Pop Warner, are recognised.
Nationally, First Team, Second Team and Honorable Mention All-Americans are selected, and scholarships for higher education to the most deserving students in grades 8 and above are awarded.
The Pop Warner Scholastic Banquet has become a staple at Disney venues. Through 2009, the event alternated annually between Disneyland and Walt Disney World.
However, beginning in 2010 with the special 50th Annual Scholastic Banquet, the venue will be rotated across the country.
The 2010 Scholastic Banquet took place in Philadelphia, the birthplace of Pop Warner Little Scholars, Inc., while the 2011 All-American Scholar Weekend was held in downtown Chicago at the Marriott, Magnificent Mile. In 2012 it was held at Disney's Beach Club Resort in Lake Buena Vista. In 2013 it was held in Boston. In 2014 it will be held in Back at Disney World at a yet to be announced location. All Scholastic All-Americans (1st Team, 2nd Team & Honorable Mention) are eligible to attend the PWLS National All-American Banquet.
Scholar tributes
Edit
Since the Dinner Program is a balance of recognizing adult honorees and the Scholars, the morning ceremony provides the opportunity to focus solely on the children. This informal event will include brief congratulatory remarks from various speakers.
Those Scholars who attend will receive a certificate if they are the First or Second team. Senior Scholars (8th grade and above First Team All-Americans) will receive an engraved plaque. Every Scholar present will also receive gifts donated by Pop Warner sponsors, companies, and various NFL Teams.
A professional photographer will also be on hand to capture the moments of every child being honored.
Dinner banquet
Edit
In the evening, Pop Warner recognizes its top scholar-athletes and deserving adults outside of Pop Warner who have contributed to the advancement of academics and athletics in the United States. Various Pop Warner friends and supporters are awarded each year for their contributions towards serving the youth and community. These awardees range from various public figures to businessmen to professional athletes.
A special highlight of the evening is always the announcement of scholarships to those First Team All-Americans in 8th grade and above. Since 1993, nearly $1,000,000 in scholarship dollars has been awarded through the Pop Warner Awards Program.
Age and weight divisions
Edit
| Division | Age requirements | Weight requirements | End of Season Max |
| --- | --- | --- | --- |
| Tiny-Mite | 4, 5, 6 | 35–75 lbs | 84 lbs. |
| Mitey-Mite | 7, 8, 9 | 45–95 lbs | 99 lbs. |
| Junior Peewee | 8, 9, 10, (11) | 60–105 lbs (60–85 lbs) | 114 lbs. (94 lbs) |
| Peewee | 9, 10, 11, (12) | 75–120 lbs (75–100 lbs) | 129 lbs. (109 lbs) |
| Junior Midget | 10, 11, 12, (13) | 85–145 lbs (85–120 lbs) | 154 lbs. (129 lbs) |
| Midget | 11, 12, 13, 14, (15) | 105–170 lbs (105–140 lbs) | 179 lbs. (149 lbs) |
| Unlimited | 12, 13, 14, 15 | 170+ lbs | Unlimited |
| Junior Bantam | 12, 13, 14, (15) | 120–170 lbs (120–150 lbs) | 179 lbs. (159 lbs) |
| Bantam | 13, 14, 15, (16) | 135–185 lbs (135–165 lbs) | 194 lbs. (174 lbs) |
The ages in (parenthesis) in each division allow the so-called "older but lighter" player to also qualify. The last year of eligibility falls under more stringent weight restrictions, per above. All games feature eight minute quarters, a smaller size football, and a smaller sized football field.
Division I Midget national champions
Edit
1987: Oak Grove (CA) Roughriders
1988: Elgin (IL) Steelers
1989: Alachua (FL) Raiders
1990: Danbury (CT) Trojans
1991: Northwood (MD) Rams
1992: Bolingbrook (IL) Trojans
1993: Oak Grove (CA) Roughriders
1994: Bolingbrook (IL) Trojans
1995: Elgin (IL) Steelers
1996: Oak Grove (CA) Roughriders
1997: Oak Grove (CA) Roughriders
1998: Naples (FL) Gators
1999: Cypress Lake (FL) Hornets
2000: Suniland (FL) Sundevils
2001: Northwood (MD) Rams
2002: Northwood (MD) Rams
2003: Dale City (VA) Cowboys
2004: White Oak (MD) Warriors
2005: Oak Grove (CA) Eagles
2006: Marshall Heights (DC) Bison
2007: Lakeshore(FL) Raiders
2008: Frankford (PA) Chargers
2009: Richmond-Perrine (FL) Giants
2010: Overtown (FL) Rattlers
2011: Jupiter (FL) Mustangs
2012: Sweetwater (FL) Eagles
2013: Overtown (FL) Tornadoes
Controversy
Edit
In 2011, the Northborough, Southborough T-Hawks of Massachusetts decided to move to American Youth Football and were subsequently sued by Pop Warner Little Scholars. [1] by giving $55,000 of its bankroll plus $20,000 worth of equipment to Pop Warner to secure their release from National Pop Warner. PWLS claimed the funds were to be used to maintain a Pop Warner presence in the town. As of 2012, Pop Warner has not attempted to field teams in Northborough-Southborough, MA and the community is still wondering where funds donated have been allocated
References
Edit
External links
Edit
Community content is available under
CC-BY-SA
unless otherwise noted.