Orlando Rage (XFL)
Founded
2001
Folded
2001
Leagues
XFL
History
Orlando Rage (2001)
Arena
Citrus Bowl
Based in
Orlando, Florida
Colors
Red, Navy, Gold, White

    

    

    

    

Division Titles
Eastern Division (2001)
Championships
Head coach
Galen Hall
President
Official Dance Team
Mascot
The Orlando Rage was an American football team based in Orlando, Florida as part of the failed XFL begun by Vince McMahon of the World Wrestling Federation and by NBC, a major television network in the United States.
The team's colors were scarlet, yellow, navy blue and white with jersey numbers in a unique jagged font. They played their home games at Orlando's Citrus Bowl. The team's General Manager was Tom Veit a former Major League Soccer Vice President and were coached by former Florida Gators head coach Galen Hall. They were in the XFL's Eastern Division with the NY/NJ Hitmen, Chicago Enforcers and Birmingham Thunderbolts.
Jeff Brohm was the quarterback of the Rage for most of the regular season, amassing a 6–0 record as starter during his first time at the helm. The team looked to be the league's powerhouse franchise under Brohm. He showed his toughness after he suffered an injury from a devastating hit by at the hands of Memphis Maniax defensive end Shante Carver in Week 5. Brohm came back a week later against Las Vegas, but the following week he suffered a career ending shoulder injury against the Los Angeles Extreme and his season was done for good. It led to him being replaced by Brian Kuklick after six games. While Kuklick filled in the role of quarterback admirably, the team lost a valuable leader on offense. The team went 2–2 in Kuklick's care.
The team finished their only regular season with an 8–2 record, the best in the league, but were upset in the first round of the playoffs by the 5–5 San Francisco Demons. Orlando had an early 16–0 advantage but allowed San Francisco to pull ahead and take a 26–16 lead by the fourth quarter. The Rage got within one point but the Demons successfully ran out the clock and won 26–25. San Francisco would go on to lose the XFL Championship Game versus Los Angeles 38–6. Many in the league were disappointed, hoping for a match-up against the two division champions. NBC dropped the XFL concept after the first season (2001) due to dismal ratings, and the league folded soon afterward.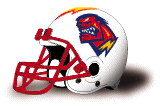 Season-by-season
Edit
Note: W = Wins, L = Losses, T = Ties
Season
W
L
T
Finish
Playoff results
2001
8
2
0
1st Eastern
Lost Semifinals (San Francisco)
Totals
8
3
0
(including playoffs)
Personnel
Edit
2001 Orlando Rage staff
Front office

Vice President/General Manager – Tom Veit
Director of Player Personnel – Will McClay

Head coaches

Head Coach/Director of Football Operations – Galen Hall

Offensive coaches

Offensive Coordinator/Quarterbacks – Mike Kelly
Wide Receivers – Mike Jones
Tight Ends – Les Moss
Offensive Line – Whitey Jordan

Defensive coaches

Defensive Coordinator/Linebackers – Charlie Bailey
Defensive Line – Mickey Mays
Secondary – Steve Carson

Special teams coaches



Standings
Edit
Statistical leaders
Edit
Passing yards: 998, Brian Kuklick
Awards and honors
Edit
References
Edit
Community content is available under
CC-BY-SA
unless otherwise noted.