Nose tackle
Edit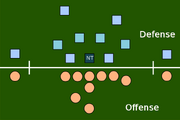 Nose tackle (also nose guard or middle guard) is a defensive alignment position for a defensive lineman. In the 3-4 defensive scheme the sole defensive tackle is referred to as the nose tackle. In some 4-3 defensive schemes, the nose tackle is one of two defensive tackles. The nose tackle aligns across the line of scrimmage from the offense's center before the play begins in the "0-technique" position. In five-linemen situations, such as a goal-line formation, the nose guard is the innermost lineman, flanked on either side by a defensive tackle or defensive end. The nose guard is also used in a 50 read defense. In this defense there is a nose guard, two defensive tackles, and two outside linebackers who can play on the line of scrimmage or off the line of scrimmage in a two point stance. The nose guard lines up head up on the center about six to eighteen inches off the ball. In a reading 50 defense, the nose guard's key is to read the offensive center to the ball. In run away, the nose guard's job is to shed the blocker and pursue down the line of scrimmage, taking an angle of pursuit. The primary responsibility of the nose tackle in this scheme is to absorb multiple blockers so that other players in the defensive front can attack ball carriers and rush the quarterback.
In order for a 3-4 to be effective, it needs a dominant nose tackle, which is very hard to find. Ted Washington, who in his prime weighed around 350 pounds, is considered the prototypical 3-4 nose tackle of his era. A few examples of nose tackles in the NFL are Vince Wilfork, Casey Hampton, Kelly Gregg, Jay Ratliff, Jamal Williams, Kyle Williams, Antonio Garay, B. J. Raji, Aubrayo Franklin, Sione Pouha, Phil Taylor, and Terrence Cody among others.[1]
The terms "nose guard" or "middle guard" were more commonly used with the five-man defensive line of the older 5-2 defense. Effective against the inside run but not the short pass, the 5-2 was phased out of the pro game in the 1950s, but was still used by some major college programs into the 1980s. In the 4-3 defense, the upright middle linebacker replaced the middle guard.
References
Edit
Community content is available under
CC-BY-SA
unless otherwise noted.