We're Getting Mutants in the MCU - The Loop
Play Sound
New Meadowlands Stadium (colloquially known as simply The Meadowlands) is a stadium in East Rutherford, Bergen County, New Jersey, United States, as part of the Meadowlands Sports Complex, in the New York City Metropolitan Area. It is the home of the New York Giants and New York Jets of the National Football League and is adjacent to the site of the former Giants Stadium, which was home to the Giants from 1976 until 2009 and the Jets from 1984 until 2010. Like its predecessor, the new stadium is the only NFL stadium shared by two teams. However, unlike Giants Stadium in which the Jets were a junior partner, the new stadium is a 50/50 partnership between both NFL teams, and while the stadium is owned by the New Jersey Sports and Exposition Authority on paper, the two teams jointly built the stadium using private funds, and administer it jointly through New Meadowlands Stadium Corporation. New Meadowlands Stadium opened on April 10, 2010 when it featured the Big City Classic lacrosse event.[1] At a construction cost of approximately $1.6 billion,[2] it is the most expensive sports stadium ever built.[3] It is the largest stadium in the NFL in terms of seating capacity.
On May 25, 2010, it was announced that Super Bowl XLVIII was awarded to this stadium, the first time a Super Bowl would be played in the New York metropolitan area, and the first time that a non-domed stadium in the northern United States would host the biggest American football game in the professional ranks.[4]
Capacity
The new stadium has seating for 82,566 fans, including 10,005 club seats and approximately 218 luxury suites, making it the largest NFL stadium in total seating. [5][6]
| lower bowl | mid-bowl | upper bowl |
| --- | --- | --- |
| 33,346 | 21,323 | 27,897 |
Design
The stadium is distinguished by an outer skin of aluminum louvers and by interior lighting that switches colors depending on which team is playing at home.[7] Essentially, unlike Giants Stadium, New Meadowlands can easily be converted from a Giants game to a Jets game within a matter of hours or vice versa.[8] This is a technique originated at the Allianz Arena in Munich, Germany, which is shared between the city's two major futbol teams, Bayern Munich and 1860 Munich. The special louvers and the associated hanging system were custom designed and manufactured by Architectural Wall Systems of Des Moines, Iowa, and Overgaard Ltd. of Hong Kong. The total linear amount of louvers is exactly 50,000 meters (50 kilometers) or 163,681 feet (31.1 miles). Front row 50 yard line seats are 46 feet (14 m) away from the sideline, which is the shortest distance of all NFL Stadiums. The actual changing of the field decorations is about an 18 hour process that involves two 4-man crews rolling up 40 sections of FieldTurf that make up the teams' respective endzones.[9]
Unlike a number of other new NFL venues, New Meadowlands Stadium does not have a roof, as proposals to include a roof failed due to a dispute over funding.[10] Thus, indoor events such as the Final Four cannot be held at the facility, which runs counter to the original aims for a new stadium in northern New Jersey.[11]
Twenty giant high-definition-ready light emitting diode (LED) pylons designed, manufactured and installed by Daktronics at the north and east entrances display videos of each team, depending on which is playing. The pylons measure approximately 54 feet (16 m) high by 20 feet (6 m) wide. Inside, four 30 feet (9 m) by 116 feet (35 m) video displays from Daktronics, which incorporate high definition video technology, hang from each corner of the upper deck.[12]
Lease terms
The lease for the new stadium is for 25 years, with options to extend it that could eventually reach 97 years. After the 15th year of the lease, every five years, one of the two teams may opt out of the lease, giving the state 12 months notice. However, if one team leaves for a new stadium, the other team would have to remain for the remainder of the lease. Based on the teams' histories, this clause presumably allows the Jets to eventually decide that they want to play in their own stadium and leave if they can find a way to finance it, although the high cost of the stadium and relocation of team facilities to New Jersey makes this unlikely. It is unknown if the lease starts upon construction or upon the stadium's opening. The teams also get parking revenue from the Meadowlands' western parking lots year round, even when there are no events at the stadium (this would occur when other parts of the Meadowlands host events).[13]
Transportation
The Meadowlands Rail Line operates on event days between the newly constructed Meadowlands Station and Hoboken Terminal via Secaucus Junction, where there is connecting service to Pennsylvania Station (New York City), Pennsylvania Station (Newark), and other New Jersey Transit rail operations. The line opened to the public on July 26, 2009.[14]
Naming rights
Allianz, a financial services company based in Germany, expressed interest in purchasing naming rights to the stadium. The proposal was for a period of up to 30 years,[15] and was estimated to be valued at somewhere between $20 million and $30 million USD. However, it sparked protests from New York's Jewish community (the largest outside of Israel) and the Anti-Defamation League, which opposed the move due to close ties in the past between Allianz and the government of Nazi Germany during World War II. However, Rabbi Jay Rosenbaum, secretary general of the North American Board of Rabbis, agreed that although survivors' sensibilities are understandable, a naming deal is legitimate. "I have found Allianz to be receptive, to be sensitive and a friend of the Jewish people today," he said.[16] Allianz already sponsors the venue that inspired the color-change technology for New Meadowlands Stadium: Allianz Arena in Munich. No agreement was reached and talks between Allianz and the teams ended on September 12, 2008.[17]
On June 10, 2010, TMZ.com reported that Ashley Madison, an online dating site marketed primarily to those already in a relationship, made an offer to rename the stadium to AshleyMadison.com Stadium.[18]
On June 27, 2011, it was reported that insurance company MetLife is in discussions to purchase naming rights to New Meadowlands Stadium.[19]
EPA agreement
In June 2009, the New Meadowlands Stadium Corporation and the EPA signed a memorandum of understanding that outlines plans to incorporate environmentally-friendly materials and practices into the construction and operation of New Meadowlands Stadium. The agreement includes strategies to reduce air pollution, conserve water and energy, improve waste management, and reduce the environmental impact of construction. The goal of the agreement is to save the emission of nearly 1.68 million metric tons of carbon dioxide during the stadium's construction and its first year of operation. Under this agreement, the stadium construction must use around 40,000 tons of recycled steel, recycle 20,000 tons of steel from Giants Stadium, install seating made from recycled plastic and scrap iron, and reduce air pollution from construction vehicles by using cleaner diesel fuel, diesel engine filters, and minimizing engine idle times. Other goals of this agreement include providing mass transit options for fans and replacing traditional concession plates, cups and carries with compostable alternatives. The New Meadowlands Stadium Corporation will report the progress on its goals to EPA every six months. Based on the reports, EPA will quantify the benefits of the venue's environmental efforts.[20][21]
Super Bowl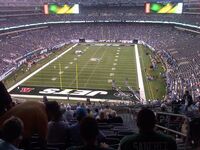 On May 25, 2010, it was announced that the stadium would host Super Bowl XLVIII in February 2014.[22] The NFL requires that a Super Bowl hosting stadium must have a 50-degree climate or be held in an indoor climate-controlled facility. However, NFL commissioner Roger Goodell would waive this requirement. The stadium was allowed on the ballot because of a "unique, once-only circumstance based on the opportunity to celebrate the new stadium and the great heritage and history of the NFL in the New York region".[23]
Notable moments
Other events
The first concert at the New Meadowlands was New Jersey natives Bon Jovi, who performed four shows at the venue on their The Circle Tour. The second concert at the stadium was Hot 97's Summer Jam. The Eagles performed here on June 10 as part of their summer tour. U2 performed at the stadium on July 20, 2011 on their U2 360° Tour. The show was originally to be held on July 19, 2010, but had to be postponed following Bono's emergency back surgery. The show will be the third in the New Jersey/New York area on the U2 360° Tour, the first two being at Giants Stadium on September 23 and 24, 2009. The stadium hosted a friendly soccer match between the United States and Brazil on August 10, 2010. Brazil won 2-0 in front of a near-sellout crowd of 77,223; the game was played on a temporary grass field.[26][27] The stadium also hosted a friendly soccer match between the United States and Argentina on March 26, 2011. The match was tied 1-1 in front of a sellout crowd of 78,926.[28]
See also
Meadowlands

- An entertainment complex to be built at the

Meadowlands Sports Complex

.
Giants Stadium - Former venue for the Giants, Jets, and Red Bulls.
West Side Stadium - a proposed home for the Jets, which would have been built in the

West Side Yard

in Manhattan.
Yankee Stadium, a new baseball stadium in The Bronx for the New York Yankees, which opened in April 2009, replacing the Yankees' previous home of 85 years, Yankee Stadium (1923), located at 161st Street and River Avenue.

Citi Field

, a new baseball stadium for the New York Mets also opened in 2009, replacing the Mets' previous home Shea Stadium in northern Queens (New York City).

Prudential Center

, a new arena built for the New Jersey Devils in Newark, New Jersey. The New Jersey Nets will play here while their new arena in Brooklyn is built.

Barclays Center

, an arena currently under construction for the New Jersey Nets of the National Basketball Association, being built by and over the

Metropolitan Transportation Authority

's

Atlantic Avenue

railyards in northwestern Brooklyn (New York City).
Red Bull Arena, the new stadium for the Major League Soccer team New York Red Bulls, replaced Giants Stadium.
References
↑ "Big City Classic". http://www.bigcityclassic.com/

. Retrieved 2010-02-21

.
↑ Belson, Ken (April 8, 2010). "New Stadium, a Football Palace, Opens Saturday With Lacrosse". The New York Times. http://www.nytimes.com/2010/04/09/sports/football/09stadium.html

. Retrieved 2010-04-25

.
↑ "World's Most Expensive Sport Stadium Ever Built". http://www.mostexpensivefacts.com/general/worlds-most-expensive-sport-stadium-ever-built.html

. Retrieved 2011-03-20

.
↑ "Owners warm up to New York/New Jersey as Super Bowl XLVIII host". NFL.com. Associated Press. May 25, 2010. http://www.nfl.com/news/story?id=09000d5d8184fc83&template=with-video-with-comments&confirm=true

. Retrieved 2010-05-25

.
↑ Meyers, Gary (March 20, 2010). "Welcome to the Meadowlands: Exclusive Tour of Giants, Jets Brand New $1.7 Billion Stadium". Daily News (New York). http://www.nydailynews.com/sports/football/2010/03/20/2010-03-20_exclusive_tour_of_giants_jets_brand_new_stadium.html

. Retrieved 2010-04-18

.
↑ Meyers, Gary (August 17, 2010). "W". Wikipedia (New York). http://en.wikipedia.org/wiki/List_of_current_National_Football_League_stadiums

. Retrieved 2010-04-18

.
↑ Sandomir, Richard (September 5, 2007). "Kaleidoscope of Colors Coming to New Stadium". The New York Times. http://www.nytimes.com/2007/09/05/sports/football/05stadium.html

. Retrieved 2009-08-03

.
↑ Associated Press (2010). "New Meadowlands Stadium getting ready for soft opening". NFL.com. http://www.nfl.com/news/story?id=09000d5d81769e5f&template=with-video-with-comments&confirm=true

. Retrieved July 19, 2010

.
↑ Rosenberg and Calder (September 13, 2010). "Now that's a big 'turnover'". New York Post. http://www.nypost.com/p/news/local/now_that_big_turnover_y6egXQIvA0PzPS4axbdT2N

. Retrieved 2009-09-14

.
↑ "Giants, Jets revise billion-dollar stadium plan". ESPN.com. March 31, 2006. http://sports.espn.go.com/nfl/news/story?id=2391829

. Retrieved 2009-08-03

.
↑ "Daktronics to get contract for Jets-Giants stadium displays". http://www.sportsbusinessjournal.com/article/59249.
↑ "N.J. officials launch rail service to Meadowlands". The Star-Ledger. Associated Press. July 20, 2009. http://www.nj.com/news/index.ssf/2009/07/nj_officials_launch_rail_servi.html

. Retrieved 2009-08-03

.
↑ Sandomir, Richard; Robinson, Joshua (August 31, 2008). "Negotiations With Allianz on Naming of Stadium". The New York Times. http://www.nytimes.com/2008/09/01/sports/football/01nfl.html

. Retrieved 2009-08-03

.
↑ Yaniv, Oren (September 11, 2008). "Giants and Jets fans join uproar over stadium naming rights bid by firm with Holocaust ties". Daily News (New York). http://www.nydailynews.com/sports/football/giants/2008/09/10/2008-09-10_giants_and_jets_fans_join_uproar_over_st.html

. Retrieved 2008-09-11

.
↑ Sandomir, Richard (September 12, 2008). "Allianz Drops Bid for Naming Rights". The New York Times. http://www.nytimes.com/2008/09/13/sports/football/13stadium.html

. Retrieved 2010-02-28

.
↑ "NFL Stadium Offered $25M to Promote Adultery". TMZ.com. 2010-05-30. http://www.tmz.com/2010/06/09/nfl-new-york-jets-new-york-giants-stadium-meadowlands-ashley-madison-cheaters-adultery-website/

. Retrieved 2010-09-23

.
↑ Lefton, Terry (June 27, 2011). "MetLife eyes the Meadowlands". Sports Business Daily. http://www.sportsbusinessdaily.com/Journal/Issues/2011/06/27/Marketing-and-Sponsorship/MetLife.aspx

. Retrieved 2011-06-27

.
↑ "EPA, New York Giants and New York Jets Team Up to Make New Meadowlands Stadium a Beacon of "Green"" (Press release). United States Environmental Protection Agency. June 1, 2009. http://yosemite.epa.gov/opa/admpress.nsf/0/EB8BD7874DB85F38852575C8005452A8

. Retrieved 2010-02-21

.
↑ "EPA, New Meadowlands Stadium Developers Lay Green Groundwork". Concrete Products. July 1, 2009. http://concreteproducts.com/architectural-structural-prestressed/meadowlands-stadium-groundwork-20090701/

. Retrieved 2010-02-21

.
↑ Manish Mehta (May 25, 2010). "Super Bowl 2014 vote: NFL owners award Super Bowl XLVIII to Giants, Jets & new Meadowlands". New York Daily News. http://www.nydailynews.com/sports/football/2010/05/25/2010-05-25_a_super_victory_for_giants_jets.html

. Retrieved 2010-05-26

.
↑ "SUPER: New Stadium Can Bid for 2014 Game". New York Jets. December 17, 2009. http://www.newyorkjets.com/news/articles/show/3499-super-new-stadium-can-bid-for-2014-game

. Retrieved 2010-05-26

.
↑ Schwartz, Paul (March 16, 2010). "Jets Owner Irked As Coin Toss Gives Giants New Stadium Opener". New York Post. http://www.nypost.com/p/sports/jets/tails_you_lose_NUwEgbB5fOMbOGfMqZrlbK

. Retrieved 2010-03-27

.
↑ "Blackout brings Giants-Cowboys game to brief halt". CNN. November 15, 2010. http://edition.cnn.com/2010/SPORT/football/11/14/new.jersey.stadium.blackout/index.html

. Retrieved 2010-12-21

.
↑ Leonard The stadium will also host Penn State-Syracuse game in 2014, Pat (August 10, 2010). "Young Brazil squad, led by Neymar and Alexandre Pato, dust off veteran U.S. at Meadowlands, 2-0". Daily News (New York). http://www.nydailynews.com/sports/more_sports/2010/08/10/2010-08-10_us_brazil_worlds_apart.html

. Retrieved 2010-08-11

.
↑ "Grass field at Meadowlands for U.S.-Brazil soccer in August". New York Post. Associated Press. May 28, 2010. http://www.nypost.com/p/blogs/soccerblog/grass_field_at_meadowlands_for_brazil_AlkvpkFbhpPUTs0jQ9mymL

. Retrieved 2010-08-12

.
↑ Bell, Jack (March 26, 2011). "Teenage Striker's Energy Propels U.S. to a Tie". The New York Times. http://www.nytimes.com/2011/03/27/sports/soccer/27argentina.html

. Retrieved 2011-03-27

.
External links