Jurassic World: Dominion Dominates Fandom Wikis - The Loop
Play Sound
The Nebraska Cornhuskers represent the University of Nebraska–Lincoln in college football. The program has established itself as a traditional powerhouse, and has the fourth most all-time victories of any NCAA FBS team and is one of only eleven football programs in NCAA Division I history to win 800 or more games.[4] The Cornhuskers are the winningest college football program over the last 50 years, by winning percentage and wins.[5] On June 11, 2010, Nebraska announced that its regents unanimously voted to end the university's affiliation with the Big 12 Conference to join the Big Ten Conference beginning with the 2011 season.[6][7][8]
Nebraska has claimed 43 conference championships and part or all of five national championships: 1970, 1971, 1994, 1995, and 1997. The titles in the 1990s marked the first time since Notre Dame in 1946–49 when a team won three national championships in four seasons. The 2011-2012 Alabama Crimson Tide, the 1994-1995 Nebraska Cornhuskers, and the 1956-1957 Oklahoma Sooners have the only consensus back-to-back national titles by Division 1-A schools.
The Nebraska Cornhuskers also have five undefeated seasons when they were not the national champions; 1902, 1903, 1913, 1914, and 1915. Between 1912 and 1916, a 34-game unbeaten streak was recorded by then head coach Ewald O. Stiehm.[9]
Famous former Huskers include Heisman Trophy winners Johnny Rodgers, Mike Rozier, and Eric Crouch. Rodgers was inducted into the College Football Hall of Fame and for the new millennium he was voted the team's "Player of the Century"; his Cornhusker jersey (No. 20) was retired. Rozier was likewise inducted into the hall in 2006. Other Husker players and coaches who are members of the College Football Hall of Fame include: Forrest Behm, Bob Brown, Guy Chamberlin, Sam Francis, Rich Glover, Wayne Meylan, Bobby Reynolds, Dave Rimington, George Sauer, Will Shields, Clarence Swanson, Ed Weir, Grant Wistrom, and coaches Gomer Jones, Pete Elliott, Francis Schmidt, Dana X. Bible, Bob Devaney, Biff Jones, Tom Osborne, Eddie "Robbie" Robinson, and Fielding H. Yost.[10]
The Husker defense is known by the nickname of the "Blackshirts." Depictions of the Blackshirts often include a skull and crossbones. This nickname originated in the early 1960s and continued as a reference to the black practice jerseys worn by first-string defensive players during practice. This tradition developed when Bob Devaney had Mike Corgan, one of his assistant coaches, find contrastive jerseys to offset the red jerseys worn by the offense in practice.[11] Further credit is given to George Kelly, Devaney's defensive line coach until 1968, who frequently referred to the top defensive unit by the name; eventually the rest of the coaching staff caught on, while the first mention of the Blackshirts in print was not until 1969.
History
The early years (1890–1917)
Nebraska football began play in 1890 with a 10–0 victory over the Omaha YMCA on Thanksgiving Day, November 27.[12]
The football program started strong and experienced success from the very beginning, going twenty-eight years straight with only a single losing season. Until the 1-7-1 losing season in 1899 in coach A. Edwin Branch's only year at the helm, Nebraska had compiled a 40-18-3 (0.680) record.
Nebraska's 4th coach, Frank Crawford (1893–94, 9-4-1, 0.679) was the first paid head football coach at Nebraska. Eddie "Robbie" Robinson (1896–1897, 11-4-1, 0.719) and Fielding H. Yost (1898, 8-3-0, 0.727), the sixth and seventh head coaches, were the earliest Nebraska coaches to eventually be inducted into the College Football Hall of Fame. Walter C. Booth (1900–05, 46-8-1, 0.845) was the program's 9th leader, and had the second-best career record spanning more than a year during this era, bested only by Ewald O. Stiehm (1911–15, 35-2-3, 0.913), who won the conference title in all five of his seasons and whose winning percentage as Nebraska's 12th head coach remains an all-time program best.
A brief slump (1918–20)
When the United States became involved in World War I, many young men went off to war, depleting the ranks of football teams nationwide. In addition, travel was severely restricted, causing the cancellation of numerous scheduled football games. Further complicated by the effects of the 1918 flu pandemic, the 1918 college football season was severely impacted.
William G. Kline led Nebraska through the stunted 1918 season, managing a 2-3-1 (0.417) record. Henry Schulte (1919–20, 8-6-3, 0.559), with thirteen years as a coach at other schools before arriving at Nebraska, managed over the next two years to barely attain a winning record as the program recovered from the war and aftermath. Although Schulte stepped down as head football coach after 1920, he remained at Nebraska to coach other sports and as an assistant football coach through 1938.
Climb back to dominance (1921–41)
By the end of the post-war slump, Nebraska had been led by fifteen head coaches over thirty-one years, but a new period of relative stability followed as Nebraska once again experienced success in college football.
Fred Dawson (1921–24, 23-7-2, 0.750) arrived at Nebraska after stints at Columbia, Denver, and Virginia. During the entire three-year tenure of Knute Rockne's Four Horsemen, Notre Dame lost only two games; one each in 1922 and 1923, both to Nebraska in Lincoln before packed houses. In his four years he won three conference titles and compiled the best record from this era, though it was nearly matched by the two coaches to follow him.
First-time head coach Ernest E. Bearg (1925–28, 23-7-3, 0.742) pulled in a title in his final season before handing over the team to Dana X. Bible (1929–36, 50-15-7, 0.743). Bible had an established reputation after fifteen years of experience as head coach, bringing in five Southwest Conference titles for Texas A&M, and his success continued as he led Nebraska to six more conference titles in his eight seasons.
Biff Jones (1937–41, 28-14-4, 0.652) was not as successful as his predecessors, yet still was a winning coach who claimed two titles in his tenure and brought Nebraska to their first ever bowl game, a loss to Stanford in the 1941 Rose Bowl. The following year, as the nation began to more fully be drawn closer to involvement in World War II, the program set a new record low with five straight midseason losses. One week after the final game of the season, Japan carried out the attack on Pearl Harbor. The country was again at war. Many thousands of young men joined the armed forces and were soon shipped abroad, as Nebraska's fortunes once again headed into a downturn.
Slide into obscurity (1942–61)
Nebraska was led by three head coaches during the war years, with a scarcity of players available as so many of the country's young men were abroad and at war. By 1945, the year the war ended, the Cornhuskers recorded a losing 11-24-0 (0.314) record.
The situation did not improve after the war, as Bernie Masterson (1946–47, 5-13-0, 0.250) recorded the worst head coach career winning percentage ever compiled at Nebraska in his first and only head football coaching appointment. Previous head coach George Clark (1945 & 1948, 6-13-0, 0.316), a veteran of both world wars with an extensive coaching pedigree and who led Nebraska in the final war season of 1945, returned as Nebraska's coach for 1948 temporarily as a search was made for his successor, prior to his ascension to Athletic Director at Nebraska.
Clark hired Bill Glassford (1949–55, 50-40-4, 0.471), and Nebraska's performance improved somewhat over previous years, especially after the 6-2-1 1950 season, and Nebraska's second-ever bowl appearance, a 7-34 loss to Duke in the 1955 Orange Bowl.
Following Glassford, Pete Elliott, a star quarterback who led Michigan to the 1948 national championship, arrived at Nebraska for his first ever head coaching appointment. Although he would go on to achieve successes later in his career, he recorded a 4-6-0 (0.400) record in his one year at Nebraska. His replacement, Bill Jennings (1957–61, 15-34-1, 0.310) fared even worse at the helm, his final career record with the Cornhuskers being the lowest of all but three of Nebraska's coaches.
The Devaney and Osborne dynasties (1962-–97)
Bob Devaney (1962–72, 101-20-2, 0.829) brought about an immediate turnaround in the fortunes of Nebraska football. He led Nebraska to a 9-2 record in his first season, including Nebraska's first ever bowl win against Miami in the 1962 Gotham Bowl. This was the first of what would eventually be 40 consecutive winning seasons, and Nebraska's NCAA-record ongoing sellout streak began in the seventh game of this season. After five straight bowl game seasons, Devaney's squad suffered two 6–4 years in a row in 1967 and 1968, prompting a change in philosophy suggested by offensive assistant Tom Osborne, who would also advance to Offensive Coordinator the following season. Over the next four seasons, Nebraska suffered just four losses, amassed an overall 42-4-2 (0.896) record, won the conference title in each year, and secured Nebraska's first and second national championships.
Devaney stepped down after the 1972 season and took over the duties of Nebraska's Athletic Director. Osborne (1973––97, 255-49-3, 0.836) subsequently became Nebraska's longest-tenured and all-time winningest coach, who also became the NCAA's fifth most winning Division 1-A coach in history over the course of his 25 years at the helm. Osborne never won fewer than nine games in any of his seasons, and secured thirteen conference titles.
Nebraska posted a 60–3–0 record between the 1993-97 seasons to end Osborne's tenure . ESPN.com has named the 1995 Nebraska Cornhusker team the greatest team of all time.[13] Fan voting has consistently pegged the 1995 Cornhuskers or the 2001 Miami Hurricanes (who would later cap their perfect season against Nebraska in the Rose Bowl) as the greatest college football team in history.
The Post-Osborne era (1998-present)
Upon Osborne's retirement, the program was handed over to coaching assistant Frank Solich (1998–2003, 58-18, 0.766), who also had played for Nebraska from 1963-1965. In his six seasons, Solich won one Big 12 North Division title, an outright conference championship, and took the Cornhuskers to the 2001 National Championship Game. After a weak 7-7 campaign in 2002, Solich changed his approach, much as Devaney had done after 1968, and made changes to his assistant coaching staff. The turnaround appeared successful, as Solich's 2003 team went 9-3 in the regular season. However, second-year Nebraska Athletic Director Steve Pederson fired Solich before the bowl game, justifying the move by stating he would not "let Nebraska gravitate into mediocrity", and would not "surrender the Big 12 to Oklahoma and Texas".[14] Solich's defensive coordinator, Bo Pelini, hired in the 2002 staffing shakeup, was appointed interim coach and led the Cornhuskers to a 17-3 Alamo Bowl win over Michigan State to close out the 2003 Nebraska season with a 10-3 record.
Although Pelini interviewed for the position as permanent replacement, ultimately former Oakland Raiders head coach Bill Callahan (2004–2007, 27-22, 0.551) was named as Solich's successor. Callahan's mandate to prevent Nebraska's decline was not immediately successful, as he installed the West Coast offense made popular in the National Football League. His 2004 first-year record of 5-6 was Nebraska's first losing season since 1961. The 8-4 2005 season showed improvement, and Nebraska's 9-5 record in 2006 accompanied a conference division title. However, in 2007, Nebraska dropped five games in a row for the first time since 1958, including a record-setting 76-39 loss to Kansas. Pederson was fired as athletic director in the middle of the five-game slide, and Tom Osborne returned from his political career to fill in as interim athletic director. Callahan subsequently put up just one more win, against Kansas State, before closing the season with a 65–51 loss to Colorado. In four years, Callahan had achieved the lowest winning percentage by a Nebraska head coach in 46 years, and Osborne fired him the following day.
Osborne selected Bo Pelini (2008–present, 38-12, 0.760 as of the end of the 2011 season) to return to Nebraska as the 32nd head coach of the Cornhuskers. Pelini's first team tied for the division title with a 9-4 record, the best record among all twenty-eight first-season coaches in college football's FBS division. In 2009, Nebraska led the nation in scoring defense, finishing 10-4 with another division championship and a #14 overall ranking. Following the 2009 season, Pelini was given his second raise and contract extension. In 2010, Nebraska again finished 10-4 with another division championship and a #20 overall ranking.
The Cornhuskers' 2011 season, its first as a member of the Big Ten Conference, was moderately successful, with wins over eventual Legends division champion Michigan State and Leaders division runner-up Penn State, but a close loss to Northwestern, and blowout losses to Wisconsin and Michigan. Nebraska finished its season in disappointing fashion, losing to South Carolina 30-13 in the Capital One Bowl, for a final record of 9-4.
Logos and uniforms
Nebraska has worn traditional uniforms throughout its history. The first helmet was red, with a white stripe. This was later changed to a plain white helmet with a black number on the side. During 1967–1969, a red, offset "NU" was placed on each side of the helmet. From 1970, the "NU" was changed to the simple, familiar "N" that remains today, although it is thought a few "NU" helmets remained in use as late as 1972. There were not enough U stickers available before the 1970 season, which became the first national championship season. The single letter was considered a good luck charm so it remained.
The helmet design has remained essentially unchanged since 1970, with the exception of the face mask, as it was changed from grey to red prior to the 1982 Orange Bowl game against Clemson.
The jerseys have only been altered a few times, with the addition of shoulder stripes and numbers. In the late 1960s and early 1970s, the Huskers wore full shoulder stripes reminiscent of those worn by the Baltimore/Indianapolis Colts of the NFL. These were gradually phased out when mesh and tearaway jerseys became popular. For the 1974 Cotton Bowl Classic, the jersey has the script "Nebraska" embroidered onto the front. From 1980–83, Nebraska's jerseys featured just a simple block "N" on the sleeves. In 1984, two sleeve stripes and sleeve numbers were added back to the uniform, where they essentially remain today, although the stripes and numbers have decreased in size as jersey sleeves have shortened over the years.
Shoulder patches were added to the jerseys beginning in 1989, with a patch that commemorated the 100th season of Nebraska football. The following season, a patch with "Nebraska Football: A Winning Tradition" embroidered on it was added above the left breast of the jersey. In 1999 a new version of this patch debuted and it has remained there to date.
Names began appearing on the backs of the jerseys for bowl games beginning in the 1970s. Around 1980, the players' names began appearing on the road jerseys. The home jerseys remained nameless except for when worn during bowl games, with one exception. A brief tradition was established for the last home game of each season, where seniors (playing their final game in Memorial Stadium) were allowed to wear names on their jerseys; underclassmen, however, did not. This explains why footage of many Oklahoma-Nebraska games played in Lincoln during this era feature some Nebraska players with names on their jerseys and some without. From approximately 1988 onwards, names were permanently affixed to the home jersey, where they remain.
The team traditionally wears white pants at home and red on the road, although there have been exceptions. Nebraska donned red pants with red jerseys for the first (and to date, only) time in school history for its 1986 contest against Oklahoma. Nebraska led this game for 58½ minutes before losing a 20-17 heartbreaker due to some late OU heroics, and the combination was deemed to be unlucky.
Nebraska began periodically donning all-white, beginning with the 1991 Citrus Bowl game against Georgia Tech (a game in which they were blown out, 45-21). They next tried the combo during the 1992 season, wearing all-white for the first three road games of that year. They lost two of the three, including an embarrassing 19-10 decision to an unranked Iowa State squad. The combination was not tried again until the ill-fated 2002 uniform (see next paragraph) and was also worn during Bill Callahan's last game as head coach (another embarrassing loss, this time 65-51 to Colorado). As a result, Husker fans typically associate the all-white look with losing and tend to prefer the red road pants.
From 1968–94, the pants had two stripes down each side. Originally they were thin stripes, but became thicker sometime in the mid-1970s.These were removed prior to the 1995 season, and the pants remained stripe-less until 2001. For the 2002 season, Nebraska experimented with side panels on the jersey and pants, and went to all white permanently on the road. The look was overwhelmingly disliked by most fans, presumably because the Huskers went 7-7, which was at the time their worst season in 40 years. In 2003, Nebraska returned to a look similar to the one they wore from 1995–2001. In 2004, the two pant stripes returned to the uniform, where they have remained since.
On September 26, 2009, for the first time in school history, the Cornhuskers wore "throwback" uniforms from 1962 in honor of Nebraska's 300th consecutive sell out. Adidas is the official shoe and uniform sponsor of Nebraska athletics.
For the 2010 season, the numbers on the outside of the shoulder were placed on the top of the shoulder pads, similar to the style of the late 1970s.
Memorial Stadium
The Huskers currently hold the record for the most consecutive sold out home games, which celebrated its 325th consecutive sellout on November 17, 2012 when the Huskers played host to the University of Minnesota. The stadium is currently under construction to add approximately 6,000 additional seats bringing attendance to over 92,000 on game days. The sellout streak dates back to November 3, 1962 during Bob Devaney's first season at Nebraska. The Huskers lost the first game in the current streak, a Homecoming game, to Missouri 16–7; 36,501 fans were in attendance.[15][16]
Since the 1994 season, Nebraska's home games have opened with the Tunnel Walk. Before the team enters, the HuskerVision screens light up with a burst of computer animation, and "Sirius" (an instrumental by The Alan Parsons Project) blares from the speakers. Accompanied by cheers from the crowd, the Huskers take the field. When the Cornhuskers play at home in Memorial Stadium, the stadium holds more people than the third-largest city in Nebraska, Bellevue.
Rivalries
Natural
Oklahoma
Historically, the Nebraska–Oklahoma rivalry often carried league championship and occasional national championship implications. The teams regularly battled for the Big Eight Conference title until 1996, when the conference was absorbed by the new Big 12 Conference. Out of the Big Eight, Big Seven, and Big Six's 89-year history, Nebraska or Oklahoma won or shared the conference championship 71 times.[17] The Cornhuskers and Sooners also played several games during the 1970s and 1980s that decided the national championship.[18]
Trophy games
Missouri
The Victory Bell is awarded to the winning team. Nebraska won the last meeting between the two schools and now holds the Victory Bell until a game is scheduled between the two schools again.
Iowa
The Heroes Game awards the Heroes Trophy the winning team.
Coaches
Current coaching staff
Name
Title
First year
in this position
Years at Nebraska
Alma Mater
Bo Pelini
Head Coach
2008
2003, 2008-
Ohio State

John Papuchis

Defensive Coordinator
2012
2008-
Virginia Tech
Tim Beck
Offensive Coordinator
Quarterbacks
2011
2008-
Central Florida
Ron Brown
Running Backs
2011
1987–2003, 2008-
Brown
Barney Cotton
Associate Head Coach
Run Game Coordinator
Tight Ends
2008
2003, 2008-
Nebraska
Ross Els
Linebackers
Special Teams
Recruiting Coordinator
2011
2011-
Nebraska-Omaha
Rich Fisher
Wide Receivers
2011
2011-
Colorado
John Garrison
Offensive Line
2011
2011-
Nebraska
Rick Kaczenski
Defensive Line
2012
2012-
Notre Dame
Terry Joseph
Secondary
2012
2012-

Northwestern State

Jeff Jamrog
Assistant AD for Football
2008
1988–1989, 2000–2003, 2008-
Nebraska
James Dobson
Strength and Conditioning
2008
2008-
Wisconsin
T. J. Hollowell
Graduate Assistant
2011
2011-
Nebraska

Joe Ganz

Graduate Assistant
2012
2010-
Nebraska

Jake Mandelko

Graduate Assistant
2013
2010-

Nebraska-Kearney
Career Coaching Records (1893-2012)
* - Interim Head Coach for 2003 Alamo Bowl
Championship and Post season
National championships
Shared with Texas*
Shared with Michigan
* Texas retained a #1 ranking in the UPI Poll despite a 24-11 loss to Notre Dame in the Cotton Bowl Classic;
prior to the 1974 season, the UPI Poll (coaches) released its final rankings before the bowl games.
Nebraska was #1 in the final AP Poll (writers) for the 1970 season, conducted after the bowl games.
Conference Championships
Bowl results
* - Denotes National title
Date played
Winning team
Losing team
notes
January 1, 1941
Stanford
21
Nebraska
13
1941 Rose Bowl
January 1, 1955
Duke
34
Nebraska
7
1955 Orange Bowl
December 15, 1962
Nebraska
36
Miami
34
1962 Gotham Bowl
January 1, 1964
Nebraska
13
Auburn
7
1964 Orange Bowl
January 1, 1965
Arkansas
10
Nebraska
7
1965 Cotton Bowl Classic
January 1, 1966
University of Alabama
39
Nebraska
28
1966 Orange Bowl
January 2, 1967
Alabama
34
Nebraska
7
1967 Sugar Bowl
December 20, 1969
Nebraska
45
Georgia
6
1969 Sun Bowl
January 1, 1971
Nebraska
17
LSU
12
1971 Orange Bowl*
January 1, 1972
Nebraska
38
Alabama
6
1972 Orange Bowl*
January 1, 1973
Nebraska
40
Notre Dame
6
1973 Orange Bowl
January 1, 1974
Nebraska
19
Texas
3
1974 Cotton Bowl Classic
December 31, 1974
Nebraska
13
University of Florida
10
1974 Sugar Bowl
December 26, 1975
Arizona State
17
Nebraska
14
1975 Fiesta Bowl
December 31, 1976
Nebraska
27
Texas Tech
24
1976 Bluebonnet Bowl
December 19, 1977
Nebraska
21
North Carolina
17
1977 Liberty Bowl
January 1, 1979
Oklahoma
31
Nebraska
24
1979 Orange Bowl
January 1, 1980
Houston
17
Nebraska
14
1980 Cotton Bowl Classic
December 27, 1980
Nebraska
31
Mississippi State
17
1980 Sun Bowl
January 1, 1982
Clemson
22
Nebraska
15
1982 Orange Bowl
January 1, 1983
Nebraska
21
LSU
20
1983 Orange Bowl
January 2, 1984
Miami
31
Nebraska
30
1984 Orange Bowl
January 1, 1985
Nebraska
28
LSU
10
1985 Sugar Bowl
January 1, 1986
Michigan
27
Nebraska
23
1986 Fiesta Bowl
January 1, 1987
Nebraska
30
LSU
15
1987 Sugar Bowl
January 1, 1988
Florida State
31
Nebraska
28
1988 Fiesta Bowl
January 2, 1989
Miami
23
Nebraska
3
1989 Orange Bowl
January 1, 1990
Florida State
41
Nebraska
17
1990 Fiesta Bowl
January 1, 1991
Georgia Tech
45
Nebraska
21
1991 Citrus Bowl
January 1, 1992
Miami
22
Nebraska
0
1992 Orange Bowl
January 1, 1993
Florida State
27
Nebraska
14
1993 Orange Bowl
January 1, 1994
Florida State
18
Nebraska
16
1994 Orange Bowl
January 1, 1995
Nebraska
24
Miami
17
1995 Orange Bowl*
January 2, 1996
Nebraska
62
Florida
24
1996 Fiesta Bowl*
December 31, 1996
Nebraska
41
Virginia Tech
21
1996 Orange Bowl
January 2, 1998
Nebraska
42
Tennessee
17
1998 Orange Bowl*
December 30, 1998
Arizona
23
Nebraska
20
1998 Holiday Bowl
January 2, 2000
Nebraska
31
Tennessee
21
2000 Fiesta Bowl
December 30, 2000
Nebraska
66
Northwestern
17
2000 Alamo Bowl
January 3, 2002
Miami
37
Nebraska
14
2002 Rose Bowl
December 27, 2002
Mississippi
27
Nebraska
23
2002 Independence Bowl
December 29, 2003
Nebraska
17
Michigan State
3
2003 Alamo Bowl
December 28, 2005
Nebraska
32
Michigan
28
2005 Alamo Bowl
January 1, 2007
Auburn
17
Nebraska
14
2007 Cotton Bowl Classic
January 1, 2009
Nebraska
26
Clemson
21
2009 Gator Bowl
December 30, 2009
Nebraska
33
Arizona
0
2009 Holiday Bowl
December 30, 2010
Washington
19
Nebraska
7
2010 Holiday Bowl
January 2, 2012
South Carolina
30
Nebraska
13
2012 Capital One Bowl
January 1, 2013
Georgia
45
Nebraska
31
2013 Capital One Bowl
Rankings
AP Poll began in 1936
All-Americans
The Husker football program has a long tradition of All-Americans. Since 1914, Nebraska has produced 96 players who have collected a total of 110 First-Team All-American awards, including 14 double winners. Nebraska claims 47 Consensus All-Americans who have won a total of 56 Consensus All-American honors and 20 Unanimous All-Americans who have won 21 Unanimous awards.
Year
Player
Position
Consensus
Unanimous
1914
Claire Jaunken[25]
Tackle
1915
Guy Chamberlain[26]
End
*
1924
Ed Weir[27]
Tackle
*
1925
Ed Weir[28]
Tackle
*
*
1926
Lonnie Stiner
Tackle
1928
Dan McMullen
Guard
1929
Ray Richards
Tackle
1930
Hugh Rhea
Tackle
1932
Lawrence Ely
Center
1933
George Sauer
Fullback
*
1936
Sam Francis
Fullback
*
1937
Fred Shirey
Tackle
Charles Brock
Center
1940
Warren Alfson
Guard
Forrest Behm
Tackle
1949
Tom Novak
Center
1950
Bobby Reynolds
Halfback
1952
Jerry Minnick
Tackle
1963
Bob Brown
Guard
*
*
1964
Larry Kramer
Tackle
*
*
1965
Freeman White
End
*
Walter Barnes
Tackle
*
Tony Jeter
End
1966
LaVerne Allers
Guard
*
Larry Wachholtz
Defensive Back
Wayne Meylan
Middle Guard
*
1967
Wayne Meylan
Middle Guard
*
1968
Joe Armstrong
Guard
1970
Jerry Murtaugh
Linebacker
Bob Newton
Tackle
*
1971
Jeff Kinney
Running Back
Larry Jacobson
Defensive Tackle
*
Jerry Tagge
Quarterback
Rich Glover
Middle Guard
*
*
Willie Harper
Defensive End
*
Johnny Rodgers
Wingback
*
1972
Rich Glover
Middle Guard
Willie Harper
Defensive End
*
Johnny Rodgers
Wingback
*
*
Daryl White
Offensive Tackle
1973
John Dutton
Defensive Tackle
*
*
1974
Rik Bonness
Center
Marvin Crenshaw
Offensive Tackle
*
Dave Humm
Quarterback
1975
Rik Bonness
Center
*
*
Bob Martin
Defensive End
Wonder Monds
Defensive Back
1976
Dave Butterfield
Defensive Back
*
Vince Ferragamo
Quarterback
Mike Fultz
Defensive Tackle
1977
Tom Davis
Center
1978
Kelvin Clark
Offensive Tackle
*
George Andrews
Defensive End
1979
Junior Miller
Tight End
*
*
1980
Derrie Nelson
Defensive End
Jarvis Redwine
I-Back
*
Randy Schleusener
Offensive Guard
*
1981
Dave Rimington
Center
*
*
Jimmy Williams
Defensive End
1982
Dave Rimington
Center
*
*
Mike Rozier
I-Back
*
1983
Irving Fryar
Wingback
*
*
Mike Rozier
I-Back
*
*
Dean Steinkuhler
Offensive Guard
*
1984
Bret Clark
Defensive Back
Harry Grimminger
Offensive Guard
Mark Traynowicz
Center
*
*
1985
Bill Lewis
Center
Jim Skow
Defensive Tackle
1986
Danny Noonan
Middle Guard
*
*
1987
John McCormick
Offensive Guard
Neil Smith
Defensive Tackle
Steve Taylor
Quarterback
Broderick Thomas
Linebacker
1988
Broderick Thomas
Linebacker
*
*
Jake Young
Center
*
1989
Doug Glaser
Offensive Tackle
Jake Young
Center
*
1990
Kenny Walker
Defensive Tackle
1992
Travis Hill
Linebacker
Will Shields
Offensive Guard
*
*
1993
Trev Alberts
Linebacker
*
*
1994
Brenden Stai
Offensive Guard
*
Ed Stewart
Linebacker
*
Zach Wiegert
Offensive Tackle
*
*
1995
Tommie Frazier
Quarterback
*
Aaron Graham
Center
Jared Tomich
Defensive End
1996
Aaron Taylor
Center
*
Grant Wistrom
Defensive End
*
1997
Jason Peter
Defensive Tackle
*
Aaron Taylor
Offensive Guard
*
*
Grant Wistrom
Defensive End
*
1999
Mike Brown
Defensive Back
Ralph Brown
Defensive Back
*
2000
Russ Hochstein
Offensive Guard
Carlos Polk
Linebacker
Dominic Raiola
Center
*
2001
Keyuo Craver
Defensive Back
Eric Crouch
Quarterback
*
Toniu Fonoti
Offensive Guard
*
2002
DeJuan Groce
Punt Returner
2003
Josh Bullocks
Defensive Back
Kyle Larson
Punter
2009
Ndamukong Suh
Defensive Tackle
*
*
2010
Prince Amukamara
Defensive Back
*
*
Alex Henery
Place Kicker
2011
Lavonte David
Linebacker
*
Alumni
Individual award winners
Pro Football Hall of Fame
Three Nebraska players have been enshrined in the
Pro Football Hall of Fame
:
[29]
Willis Roy (Link) Lyman

,[30] Tackle (1964)
College Football Hall of Fame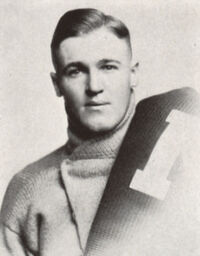 Nebraska boasts 21 inductees into the
College Football Hall of Fame
:
[33]
Nebraska All-Century Football Team
All-century team members were selected via an online poll hosted at huskerwebcast.com during the 1999 football season.
Nebraska's All-Time Team
As selected by Athlon Sports in 2010.[57]
Retired Jerseys/Numbers
Nebraska has only retired three jersey numbers, generally retiring the player's jersey itself rather than the jersey number.
Retired jersey numbers
Nebraska Cornhuskers retired numbers
No.
Player
Position
Career
20
Johnny Rodgers 1
RB
1970–72
60
Tom Novak
C
1946–49
64
Bob Brown
OT
1961–63
1 Rodgers permitted his #20 jersey number to be worn by his son Terry, who played for Nebraska from 1986–1990. Marlon Lucky also wore this number before changing his number to #5. Michael Booker wore #20 for his entire career.
Retired player jerseys
Current NFL Players
There are 29 Huskers are currently on NFL rosters.[63]
Series records
All-Time Record: 856–353–40 (.701)
Updated January 1, 2013
Division I opponents
| Opponent | Record | Last Year Played |
| --- | --- | --- |
| Air Force | 1-1 | 1965 |
| Akron | 1-0 | 1997 |
| Alabama | 2-3 | 1978 |
| Alabama-Birmingham | 1-0 | 1998 |
| Arizona | 1-1-1 | 2009 |
| Arizona State | 6-2 | 2002 |
| Arkansas | 0-1 | 1964 |
| Arkansas State | 2-0 | 2012 |
| Army | 3-2 | 1972 |
| Auburn | 3-1 | 2006 |
| Ball State | 1-0 | 2007 |
| Baylor | 11-1 | 2009 |
| California | 3-0 | 1999 |
| Central Florida | 1-0 | 1997 |
| Cincinnati | 1-0 | 1906 |
| Clemson | 1-1 | 2008 |
| Colgate | 1-0 | 1924 |
| Colorado | 49-18-2 | 2010 |
| Colorado State | 6-0 | 1996 |
| Duke | 0-1 | 1954 |
| Florida | 2-0 | 1995 |
| Florida Atlantic | 1-0 | 2009 |
| Florida State | 2-6 | 1993 |
| Fresno State | 1-0 | 2011 |
| Georgia | 1-1 | 2013 |
| Georgia Tech | 0-1 | 1990 |
| Hawaii | 5-1 | 1982 |
| Houston | 0-1 | 1980 |
| Idaho | 1-0 | 2010 |
| Idaho State | 1-0 | 2012 |
| Illinois | 7-2-1 | 1986 |
| Indiana | 7-9-3 | 1978 |
| Iowa | 28-12-3 | 2012 |

| Opponent | Record | Last Year Played |
| --- | --- | --- |
| Iowa State | 86-17-2 | 2010 |
| Kansas | 91-23-3 | 2010 |
| Kansas State | 78-15-2 | 2010 |
| Louisiana-Lafayette | 1-0 | 2009 |
| Louisiana State | 5-0-1 | 1986 |
| Louisiana Tech | 2-0 | 2006 |
| Maine | 1-0 | 2005 |
| McNeese State | 1-0 | 2002 |
| Miami (FL) | 5-5 | 2002 |
| Michigan | 3-4-1 | 2012 |
| Michigan State | 7-0 | 2012 |
| Middle Tennessee State | 1-0 | 1992 |
| Minnesota | 22-29-2 | 2012 |
| Mississippi | 0-1 | 2002 |
| Mississippi State | 1-0 | 1980 |
| Missouri | 65-36-3 | 2010 |
| Nevada | 1-0 | 2007 |
| New Mexico | 1-0 | 1985 |
| New Mexico State | 3-0 | 2008 |
| Nicholls State | 1-0 | 2006 |
| North Carolina | 1-0 | 1977 |
| North Carolina State | 2-0 | 1973 |
| North Texas | 1-0 | 1993 |
| Northern Illinois | 2-0 | 1990 |
| Northwestern | 4-2 | 2012 |
| Notre Dame | 8-7-1 | 2001 |
| Ohio State | 1-3 | 2012 |
| Oklahoma | 38-45-3 | 2010 |
| Oklahoma State | 37-5-1 | 2010 |
| Oregon | 5-1 | 1986 |
| Oregon State | 9-2 | 1990 |
| Pacific | 2-0 | 1995 |
| Penn State | 8-6 | 2012 |

| Opponent | Record | Last Year Played |
| --- | --- | --- |
| Pittsburgh | 6-15-3 | 2005 |
| Purdue | 0-1 | 1958 |
| Rice | 1-0 | 2001 |
| Rutgers | 1-0 | 1920 |
| San Jose State | 2-0 | 2008 |
| South Carolina | 3-1 | 2012 |
| South Dakota State | 2-0 | 2010 |
| Southern California | 0-3-1 | 2007 |
| Southern Methodist | 1-0-1 | 1932 |
| Southern Mississippi | 3-1 | 2012 |
| Stanford | 0-1 | 1941 |
| Syracuse | 5-7 | 1984 |
| Tennessee | 2-0 | 1999 |
| Tennessee-Chattanooga | 1-0 | 2011 |
| Texas | 4-10 | 2010 |
| Texas A&M | 10-4 | 2010 |
| Texas Christian | 6-1 | 2001 |
| Texas Tech | 7-4 | 2009 |
| Troy | 4-0 | 2006 |
| UCLA | 6-5 | 2012 |
| UNLV | 1-0 | 1988 |
| Utah | 4-0 | 1992 |
| Utah State | 8-0 | 2003 |
| Virginia Tech | 1-2 | 2009 |
| Wake Forest | 3-0 | 2007 |
| Washington | 5-4-1 | 2011 |
| Washington State | 1-3 | 1995 |
| Western Illinois | 1-0 | 2004 |
| Western Kentucky | 1-0 | 2010 |
| Western Michigan | 1-0 | 2008 |
| West Virginia | 1-0 | 1994 |
| Wisconsin | 4-4 | 2012 |
| Wyoming | 6-0 | 2011 |
See also
NCAA Division I-A national football champions

List of Nebraska Cornhuskers football coaches
References
External links
University of Nebraska–Lincoln
Academics

College of Agricultural Sciences and Natural Resources
College of Architecture

College of Arts and Sciences

College of Business Administration

College of Education and Human Sciences

College of Engineering and Technology

Hixson–Lied College of Fine and Performing Arts

Graduate Studies

College of Journalism and Mass Communications

College of Law

Athletics

Football

Baseball

Men's basketball

Women's basketball

Volleyball

Soccer

Men's gymnastics

Women's gymnastics

Rifle

Crew Club

Bob Devaney Sports Center

Haymarket Park

Nebraska Coliseum

Pinnacle Bank Arena

Campus

Innovation Campus

Behlen Observatory

Great Plains Art Museum

Howell Theatre

International Quilt Study Center

Lied Center for Performing Arts

Don L. Love Memorial Library

Maxwell Arboretum

Midwest Roadside Safety Facility

Jeffrey S. Raikes School

Ross Media Arts Center

University of Nebraska Press

Sheldon Museum of Art

University of Nebraska State Museum

Student life

Daily Nebraskan

Innocents Society

KRNU
Big Ten Conference football
Legends Division
Leaders Division
Former team
Championships & awards
Seasons