National Football League Cheerleading, or simply NFL Cheerleading, is a professional cheerleading league in the United States. Twenty six of the 32 NFL teams include a cheerleading squad in their franchise. Cheerleaders are a popular attraction that can give a team more coverage/airtime, popular local support and increased media image. For the NFL, the Baltimore Colts were the first team in the NFL to have cheerleaders in 1954. They were also a part of the Baltimore Colts Marching Band. Currently, six NFL teams have no cheerleaders.
According to most NFL cheerleading sites, cheerleading is classified as a part-time job that consists of time for practice, training camp, games, appearances, photo shoots, and charity events.
Most often, cheerleaders have completed or are attending a university, and continue on to other careers after cheering for an average of one to four seasons.
Apart from their main duties of cheering during the football games, the cheerleaders have many other responsibilities. Nearly every team member is available for appearances at schools, events, conferences, etc., for a set fee. An anticipated annual event is the release of each squad's calendar, featuring members for each month in swimsuits, lingerie, or uniforms. As well as being a mainstay of American football culture, the cheerleaders are one of the biggest entertainment groups to regularly perform for the United States Armed Forces overseas. All performances and tours are enlisted by the USO. Teams send their variety show, an elite group of their best members, to perform combination shows of dance, music, baton twirling, acrobatics, gymnastics, and more. In February 2007, the Buffalo Bills even sent a squad of eight along with their choreographer into the war zone of Iraq. In 1996, the SF 49ers Cheerleaders and their director Angela King-Twitero helicoptered into the war inflicted country of Bosnia with the USO and the U.S. Army. The U.S. troops in Korea have been entertained during the holiday season with the USO's Bob Hope Tour. Over the years, the tour has featured NFL cheerleaders from the Dallas Cowboys and the SF 49ers.
As of 2006, a competition strictly for NFL cheerleaders was introduced on The NFL Network, called NFL Cheerleader Playoffs. Two cheerleaders from each cheerleading team compete against other mini-teams in various athletic events. This includes kayaking, 100 yard dash, obstacle courses, and other events.
A top honor for an NFL Cheerleader is to be selected as Pro Bowl Cheerleader. The group is composed of an all-star cheerleader (one from each NFL cheer team) that represents her NFL team at the Pro Bowl in Hawaii. The Pro Bowl Cheerleaders were founded in 1992 and directed by Jay Howarth and Angela King-Twitero. Choreography by John Peters.
Teams
Listed by name, with corresponding NFL football team.
* Ravens Cheerleading Squad is technically a Co-ed Stunt and All-Female Dance squad.
Teams without cheerleaders
As of 2011, the only teams without cheerleaders are the Chicago Bears, Cleveland Browns, New York Giants, Detroit Lions, Green Bay Packers, and the Pittsburgh Steelers. The February 2011 meeting of the Packers and Steelers at Super Bowl XLV was the first time a Super Bowl featured no cheerleaders.[16]
Notable cheerleaders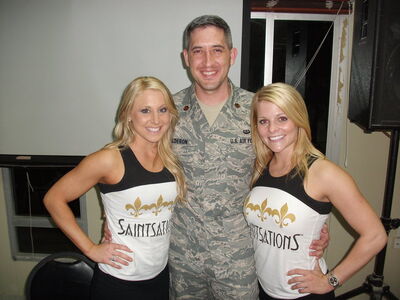 Arizona Cardinals
Atlanta Falcons
Baltimore Ravens
Buffalo Bills
Carolina Topcats
Cincinnati Bengals
Brooke Griffin, (2005–2009), personal trainer, author, and fitness model.[19]
Dallas Cowboys Cheerleaders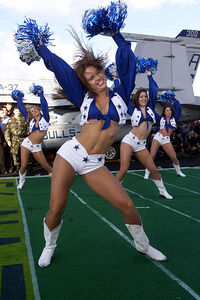 Denver Broncos
Houston Texans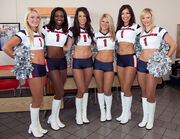 Indianapolis Colts
Kansas City Chiefs
Miami Dolphins
Suzy Tavarez, (1998–2000), On-Air Personality, Miami radio station Y100-FM
Brenda Lowe, (2004–2005), contestant from Survivor: Nicaragua.
Ashley White, (2007–2008), reporter and anchor at WPLG, WYFF, actress in Dolphin Tale, and TV host.
Hennely Jimenez (2003–2004), Actress, 200 mph
Jeanette Dousdebes, wife of member of the Florida House of Representatives, Marco Rubio
Jaime Faith Edmondson, contestant from The Amazing Race in 2009.
Shannon Ford, Miss Florida USA 2002 and contestant on The Bachelor Season 3[23]
Brittany Freeman, Miss New Hampshire Teen USA 2004.[24]
Mireya Mayor, National Geographic Wildlife Correspondent and History Channel's "Expedition:Africa" Wildlife Expert and Explorer.
Fabiola Romero, Original member of the FSU Cowgirls[25]
Lilly Robbins, Maxim Model
Cara Rosenthal, contestant from The Amazing Race in 2009.
Pamela Silva, reporter and anchor of TeleFutura's En Vivo y Directo
Nadia Turner, Season 4 American Idol contestant
Natalie Vickers, news anchor of MountainWest Sports Network
New England Patriots
Oakland/Los Angeles Raiderettes
Erica Arana, actress, television host, and philanthropist
Aubrey Aquino, TV reporter and host[27]
Karen Baughman, wife of Bob Golic
Danielle Gamba, Playboy Cyber Girl of the Month, October 2004.
Paige Green, wife of John Elway.
Jennifer Grijalva, actress, MTV's The Real World (season 18).
Anjelah Johnson, standup comedian.
Cole Martin, contestant on The Bachelor Season 8
Raydeen Revilla, actress
Kiana Tom, TV fitness instructor, model & actress.
Philadelphia Eagles
St. Louis/Los Angeles Rams
San Diego Chargers
San Francisco 49ers
Seattle Seahawks
Tampa Bay Buccaneers
Mary Delgado, (1993–1999), winner on The Bachelor Season 6
Brooke Newton, actress
Bobbie Shay Lee (1996–1998), first NFL cheerleader with a short hair cut, also called a pixie cut. Since then, the team reserves a spot each year for a cheerleader with short hair.
Tennessee Titans
Washington Redskins Cheerleaders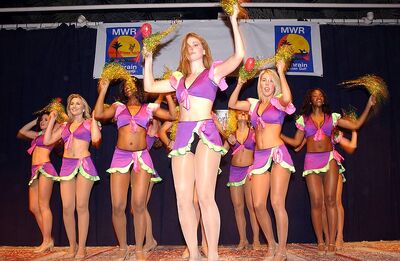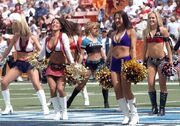 Pro Bowl
Each year, one squad member from every NFL team is chosen to participate in the collective Pro Bowl cheerleading squad. Traditionally, this is the highest honor of talent and popularity an NFL cheerleader can receive. The Pro Bowl Cheerleaders were founded in 1992 and directed by Jay Howarth and Angela King-Twitero, choreographed by John Peters.
See also
References
External links
Community content is available under
CC-BY-SA
unless otherwise noted.