National Football League Cheerleading, or simply NFL Cheerleading, is a professional cheerleading league in the United States. Twenty six of the 32 NFL teams include a cheerleading squad in their franchise. Cheerleaders are a popular attraction that can give a team more coverage/airtime, popular local support and increased media image. In 1954 the Baltimore Colts became the first NFL team to have cheerleaders. They were part of the Baltimore Colts Marching Band.
Most NFL cherleading squads are a part-time job. Often, cheerleaders have completed or are attending a university, and continue on to other careers after cheering for one to four seasons. The members participate in practice, training camp, games, appearances, photo shoots, and charity events. Apart from their main duties of cheering during the football games, the cheerleaders have many other responsibilities. Nearly every team member is available for appearances at schools, events, conferences, etc., for a set fee.
An anticipated annual event is the release of each squad's calendar, featuring members for each month in swimsuits, lingerie, or uniforms.
As well as being a mainstay of American football culture, the cheerleaders are one of the biggest entertainment groups to regularly perform for the United States Armed Forces overseas with performances and tours being enlisted by the USO. Teams send their variety show, an elite group of their best members, to perform combination shows of dance, music, baton twirling, acrobatics, gymnastics, and more. In February 2007, the Buffalo Bills even sent a squad of eight along with their choreographer into the war zone of Iraq. In 1996, the San Francisco 49ers Cheerleaders and their director Angela King-Twitero helicoptered into the war inflicted country of Bosnia with the USO and the U.S. Army. The U.S. troops in Korea have been entertained during the holiday season with the USO's Bob Hope Tour. Over the years, the tour has featured NFL cheerleaders from the Dallas Cowboys and the San Francisco 49ers.
Cheerleader competitions
The first "Battle of the NFL Cheerleaders" was held in 1979 in Hollywood, Florida. Two cheerleaders from each cheerleading team compete against other mini-teams in various athletic events. This includes kayaking, 100 yard dash, obstacle courses, and other events. The Minnesota Vikings Cheerleaders took home the title in 1979. In 1980 it was held in Atlantic City, New Jersey and the Washington Redskinettes were the champions. The winners were Shiona Baum and Jeannie Fritz and each received a car as the grand prize. The competition was resurrected in 2006 by the The NFL Network, and was called NFL Cheerleader Playoffs. The playoffs were taped between July 17 and July 21, 2006 at Six Flags New England in Agawam, Massachusetts. Two-person teams of cheerleaders from 25 of the NFL's 32 teams participated in a four-event series of competitions. The first two events tested the cheerleaders' athletic abilities in events like the 100-yard dash, kayaking, tandem cycling, and the obstacle course. The third event was a trivia challenge called "Know Your NFL". The final competition was a one-minute dance routine, similar to what they normally perform on NFL sidelines. San Diego Chargers team (Casie and Shantel) defeated the Atlanta Falcons and St. Louis Rams squads to win the overall championship. The 3 teams finished in a three-way tie, with 210 points. The Chargers were declared the winners based on winning the dance competition.
Teams
Listed by name, with corresponding NFL football team.
* Ravens Cheerleading Squad is technically a Co-ed Stunt and All-Female Dance squad.
Teams without cheerleaders
As of 2011, the only teams without cheerleaders are the Chicago Bears, Cleveland Browns, New York Giants, Detroit Lions, Green Bay Packers, and the Pittsburgh Steelers. The February 2011 meeting of the Packers and Steelers at Super Bowl XLV was the first time a Super Bowl featured no cheerleaders. The Packers do however use a collegiate squad from time to time in a limited role to cheer at home games.[15]
Teams of "unofficial" cheerleaders began emerging in 2010 for NFL teams that don't have their own dance squad. These unofficial cheerleaders aren't sanctioned by the NFL or any franchise in the NFL and therefore are not allowed to perform at games, represent the football team at any outside functions, or use any of the team's branding or trademarked colors on their uniforms. The teams are sponsored by local businesses, and the cheerleaders perform prior to the game, at tailgate parties, and other local events. Some also attend the local NFL games in uniform, and sit together in their block of season ticket seats. Their audition process, costuming, and choreography are very simiar to official NFL cheer teams. Some also produce an annual swimsuit calendar, just like the legitimate cheerleaders. All of the independent teams hope at some point to be embraced by the NFL as "offical" cheerleaders of their local teams.
The Detroit Pride Cheerleaders were the first independent professional team, put together in August 2010 to support the Lions.[16]
The Gotham City Cheerleaders were organized in August 2011 to support all New York sports, but are most closely associated with the Giants. The team has also been known as the NY Unofficials, the Unofficial Dancers of the New York Giants, and the Gotham's Team Blue Army Dancers.[17]
The Cleveland Spirit Cheerleaders were created in September 2012 to support the Browns. This cheer team was created by the same people responsible for the Detroit Pride.[18]
Notable cheerleaders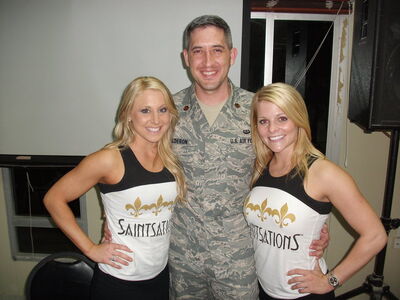 Arizona Cardinals
Aubrey Aquino, TV reporter and host[19]

Danielle Demski

,

Miss Arizona USA

, 2004

Phyllis Smith

, actress on

The Office

(during the team's

St. Louis

days)
Ashlee Tate DeMartino, broadcast meteorologist for

KTNV-TV
Atlanta Falcons
Mickey Crawford-Carnegie, President/Owner of Alumni Cheerleaders, LLC and creator of site www.AlumniCheerleaders.com (where former pro, college, high school cheerleaders/dancers reunite); Started the Atlanta Falcons Cheerleaders Alumni group and is the Director with over 350 members.
Nicole Duncan, Georgia State University Cheerleading Coach[20]
Laurie Flynn, wife of Matt Schaub
Whitney Frink, Hollywood TV Producer

Tiffany Fallon

, Playboy Playmate of the Year 2005
Baltimore Ravens
Stacy Keibler

, (1998), former professional WWE wrestler

Molly Shattuck

, wife of

Mayo A. Shattuck III
Buffalo Bills
Carolina Panthers
Kimberly Coon, (2009), contestant on

The Bachelor

Season 15

. Currently a NASCAR Miss Sprint Cup.
Cincinnati Bengals
Brooke Griffin, (2005–2009), personal trainer, author, and fitness model.[21]

Laura Vikmanis

, (2009–present), currently the oldest cheerleader in the NFL at 43.[22]
Dallas Cowboys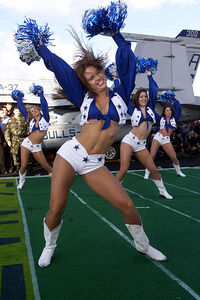 Tina Hernandez

, (1977–1978), actress,

CHiPs

TV Series (1982–1983)
Janet Fulkerson, (1980–1982), actress
Judy Trammell (1980–1984), Dallas Cowboys Cheerleaders choreographer, mother of current DCC member Cassie Trammell

Kelli Finglass

, (1984–1989), director of the Dallas Cowboys Cheerleaders

Sheri Scholz

, (1985),

Miss Texas Teen USA

1983
Kimberly Ball, (1993–1994), reporter of

KTVT

Jill Marie Jones

, (1993–1995), actress, plays Toni On

Girlfriends

Michelle Parma

, (1993–1994), actress, MTV's

Road Rules: Europe

. She died in a car accident in Texas on October 19, 2002

Bonnie-Jill Laflin

, (1996), actress/model

Sarah Shahi

, (1999–2000),[23] actress, plays Carmen on

The L Word

, second season. Most recently on NBC's "Life". Now stars in USA Network's

Fairly Legal

Denise Garvey

, (2000), director and coach of the NY Jets Flight Crew Cheerleading Squad, former New Jersey Nets Dancer, former New York Knicks dancer

Kristin Holt

, (2000–2001), television personality, entertainment news correspondent

Jenni Croft

, (2002–2005), contestant on

The Bachelor

Season 11

Emily Kuchar, (2003–2004), wife of

Zack Greinke

Micaela Johnson

, (2003–2005),

Miss Nebraska USA

2008

Starr Spangler

, (2005–2008), winner of

The Amazing Race 13

Melissa Rycroft

, (2006–2008), ABC's

Dancing with the Stars

contestant and Winner then runner-up on

The Bachelor

Season 13

Kandi Harris, (2006–2009),[24] wife of

Hunter Mahan

Brooke Sorenson, (2006–2011), wife of Laynce Nix

Erica Kiehl Jenkins

, (2007–2009), singer, member of

The Pussycat Dolls

Abigail Klein, (2007–2010), actress
Ann Lux, (2010–2012), fiancee of

Will Middlebrooks

Lezlie Deane

, actress, founder of techno group

Fem2fem

Shaune Stauffer

, model and jewelry designer
Denver Broncos
Michelle Beisner, NFL Network

Katee Doland

,

Miss Colorado USA

2001
Jamie Dukehart-Conti, Miss Colorado 2008
Renee Herlocker, Spike TV, E! News
Kollette Klassen, wife of Jake Plummer

Katie Layman

,

Miss Colorado

2009
Houston Texans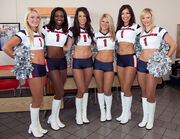 Ashley Clay (2007–2008), wife of

Ryan Cochrane

Laurie Flynn, wife of Matt Schaub

Carrie Milbank

, hostess of The Hockey Show on the NHL network

Carol Newinn
Indianapolis Colts
Mindy Winkler (1998–2000), show personality of radio program,

The Smiley Morning Show

Megan Glaros

(2002), meteorologist of

WBBM-TV

Megan Meadors

,

Miss Indiana

2008
Stephanie Soviar, wife of

Jeff Simmons
Jacksonville Jaguars
Kansas City Chiefs
Krazy George Henderson

(1975–1979)
Dr. Jennifer Horrell, wife of member of the

Missouri House of Representatives

,

Sam Page

Najahe Sherman

, anchor of

KSHB-TV
Miami Dolphins
Suzy Tavarez

, (1998–2000), On-Air Personality, Miami radio station

Y100-FM

Shannon Ford, (2001),

Miss Florida USA

2002 and contestant on

The Bachelor

Season 3[26]
Hennely Jimenez (2003–2004), Actress,

200 mph

Brenda Lowe, (2004–2005), contestant from

Survivor: Nicaragua

.

Jaime Faith Edmondson

, (2004–2009), contestant from

The Amazing Race

in 2009.
Ashley White, (2007–2008), reporter of

WYFF

Pamela Silva Conde

, reporter and news anchor for

Univision

Network
Jeanette Dousdebes, wife of

United States Senator

from Florida,

Marco Rubio

Brittany Freeman,

Miss New Hampshire Teen USA

2004.[27]

Mireya Mayor

, National Geographic Wildlife Correspondent and History Channel's "Expedition:Africa" Wildlife Expert and Explorer.

LauRen Merola

,

Miss Pennsylvania USA

2008

Fabiola Romero

, Original member of the

FSU Cowgirls

[28]
Lilly Robbins, Maxim Model

Cara Rosenthal

, contestant from

The Amazing Race

in 2009.
Nadia Turner, Season 4 American Idol contestant
Natalie Vickers, news anchor of MountainWest Sports Network
New England Patriots
Amber van Eeghen, (2002–2005), wife of Dan Koppen, and daughter of Mark van Eeghen
Kristin Gauvin, (2003–2004),

Miss Massachusetts

2005[29]
Meghan Vasconcellos, (2006), model and wife of Lonie Paxton

Alysha Castonguay

, (2006–2008),

Miss Rhode Island Teen USA

2002,

Miss Rhode Island USA

2009
Kelsey Fournier, (2009–2011),

Miss Rhode Island

2012
Sarah Mitchell, dancer and actress
Oakland/Los Angeles Raiders
Aubrey Aquino, (2001–2002), TV reporter and host[30]

Danielle Gamba

, (2002), Playboy Cyber Girl of the Month, October 2004.

Erica Arana

, actress, television host, and philanthropist
Karen Baughman, wife of Bob Golic
Patty Breton, Playboy Model

Kelli Brook

, Model & actress

Ana Marie Carrasco

, Model & actress
Paige Green, wife of John Elway.

Jennifer Grijalva

, actress, MTV's

The Real World

(season 18).

Anjelah Johnson

, standup comedian.
Jane Lubeck, Playboy Model
Cole Martin, contestant on

The Bachelor

Season 8

Tina Martin, Daytime Actress, Swimsuit Model & Playboy Model

Brooke Morales

, Model & actress

Cheryl Moana Marie Nunes

, television presenter

Raydeen Revilla

, actress

Chandra Roberts

, First female board member National Football Foundation & College Hall of Fame (LA); sole female member (Honorary) of National Football League Players Association (NFLPA), World Class Track & Field Athlete - High Jump/Long Jump.
Kiana Tom, TV fitness instructor, model & actress.
Philadelphia Eagles
Amie Barsky

, actress

Gina Cerilli

,

Miss Pennsylvania USA

2010
Yasmine Shaffie, Miss Pennsylvania International 2007
Carol J. Woliung, wife of Pete Rose
St. Louis/Los Angeles Rams
Jenilee Harrison

,[31] (1978–1980), actress,

Three's Company

Lisa Guerrero

, (1980s) American sports broadcaster, actress, model

Apollonia Kotero

, (1980s) co-star of

Purple Rain

.

Amy Holland Pennell

, actress
San Diego Chargers
Charisma Carpenter

, (1991), actress, played

Cordelia Chase

on

Buffy the Vampire Slayer

and had the same role in the long lived spin-off

Angel
San Francisco 49ers
Teri Hatcher

, (1984), actress

Bonnie-Jill Laflin

, (1994–1996), model, actress, television personality
Ashley Clay, (2008–2009), wife of

Ryan Cochrane

Julie Durda

, meteorologist of

WSVN

and contestant on

The Bachelor

Season 5

Angela King-Twitero

, author of The Business of Professional Cheerleading,[32] and dance costume designer (eight NFL Cheerleading teams wear her designs)[33] Angela transitioned from cheerleader to director of the Gold Rush Cheerleaders, and lead the team from 1992-1997. She also was the founding co-director of the

NFL Pro Bowl Cheerleaders

from 1992-1997.
Seattle Seahawks
Ali Dudek

, singer[34]

Christina Clarke

,

Miss Washington USA

2012

Amber Lancaster

, model on

The Price Is Right

and actress
Lauren Leeds, reporter of

KVEW

Heidi Meili, reporter and anchor of

KECI-TV

Julie Shipley-Childs

, fitness competitor and IFBB professional
Tampa Bay Buccaneers
Maribel Liliana Delgado

, (1993–1999), winner on

The Bachelor

Season 6

Bobbie Shay Lee (1996–1998), first NFL cheerleader with a short hair cut, also called a

pixie cut

. Since then, the team reserves a spot each year for a cheerleader with short hair.

Victoria Vodar

, (2003–2006), actress

Brooke Newton

, actress
Tennessee Titans
Dr. Monica Williams, Vanderbilt University cancer research fellow[35]

April Pennington

, former

TNA Wrestling

ring girl and manager.

Metro-Nashville

Juvenile court clerk
Washington Redskins
Maureen Gardner, (1974–1976), wife of 71st governor of Virginia,

Bob McDonnell

Debbie Barrigan (1994–1995, 1999–2001),

Blast!

dance troupe member[36]

Michaé Holloman

, (2002–2007),

Miss Maryland USA

2007[37]

Monique Thompkins

, (2010–present),

Miss District of Columbia USA

2012
Kelley Cornwell, wife of

Jeff Halpern

Terri Crane-Lamb, Founder of the First NFL Alumni Cheerleader Association (1984)
Christy Oglevee, wife of Chris Cooley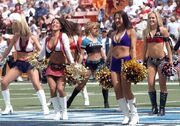 Pro Bowl
A top honor for an NFL Cheerleader is to be selected as Pro Bowl Cheerleader. The group is composed of an all-star cheerleader (one from each NFL cheer team) that represents her NFL team at the Pro Bowl in Hawaii. The Pro Bowl Cheerleaders were founded in 1992 and directed by Jay Howarth and Angela King-Twitero. Each year, one squad member from every NFL team is chosen to participate in the collective Pro Bowl cheerleading squad.
See also
CFL Cheerleading

MLB Cheerleading

NBA Cheerleading

NHL Ice Dancers
References
External links
Team websites
---
---