The Mountain States Conference, also known as the Skyline Conference, was a college athletic conference based in the Western United States. The league was established in 1938 when the seven charter members (see below) pulled out of the Rocky Mountain Athletic Conference.
From 1938 to 1946, the conference was popularly known as the Big Seven. After Colorado left in 1947 to join the Big Six Conference (later the Big Eight Conference) the MSC became popularly known as the Skyline Conference or Skyline Six, while the Big Six took over the Big Seven name. The conference became known as the Skyline Eight after New Mexico and Montana joined in 1951.
The conference dissolved in early 1962 after four of its members (BYU, Utah, New Mexico, and Wyoming) departed to form the Western Athletic Conference (WAC) in July. Montana operated as an independent for one football season in 1962 until the formation of the Big Sky Conference in 1963. Colorado State became independent until it joined the WAC in 1968. Utah State operated as an independent for fifteen seasons, until it joined the Pacific Coast Athletic Association in 1977.
Charter members
Edit
Other members
Edit
Membership timeline
Edit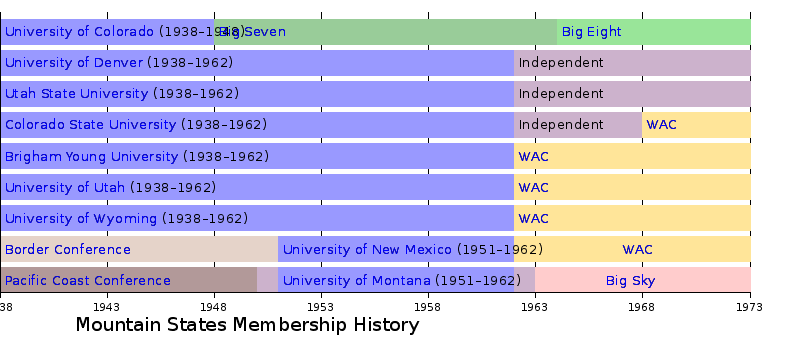 Football champions
Edit
1938 Utah
1939 Colorado
1940 Utah
1941 Utah
1942 Utah and Colorado
1943 Colorado
1944 Colorado
1945 Denver
1946 Denver and Utah State
1947 Utah
1948 Utah
1949 Wyoming
1950 Wyoming
1951 Utah
1952 Utah
1953 Utah
1954 Denver
1955 Colorado State
1956 Wyoming
1957 Utah
1958 Wyoming
1959 Wyoming
1960 Wyoming and Utah State
1961 Wyoming and Utah State
Community content is available under
CC-BY-SA
unless otherwise noted.