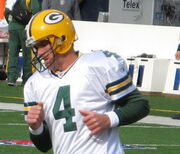 This is a list of the most consecutive starts by a quarterback in the NFL. Only six players in NFL history have been able to achieve regular season streaks of at least 100 games,[1][2][3][4][5][6][7] with only two of those with a regular season streak of at least 200 games.[8][9]
Brett Favre has held the record since November 7, 1999 when he made his 117th consecutive start against the Chicago Bears.[10] His consecutive starts streak is also the longest all-time for a non-special teams player.[11] On December 5, 2010 against the Buffalo Bills, Favre was knocked out of the game on the first drive with a sprained SC joint injury to his right shoulder caused by a hit from linebacker Arthur Moats. After a snowstorm delayed the following Sunday's game against the New York Giants to Monday, December 13, Favre was ruled inactive, ending his streak at a record 297 games. That same night, opposing QB Eli Manning became the sixth quarterback to start at least 100 consecutive games.[12]
Of special note, Peyton Manning's consecutive starts streak is the longest of all-time to begin a career.[13] Also worthy of recognition is Dan Marino, who started 145 consecutive non-strike games from 1984-1993 (154 including playoffs), but due to a player strike in October 1987 where replacement players were used and Marino opted not to participate, this streak is not officially recognized.[14]
Following is the list of quarterbacks to achieve the longest consecutive regular season starts at the quarterback position.
All-time consecutive starts streaks
Edit
Updated through the 2010 season
Bold denotes an active streak
See also
Edit
References
Edit
Community content is available under
CC-BY-SA
unless otherwise noted.