The Mid-States Football Association (MSFA) is a college athletic conference affiliated with the NAIA. Member institutions are located in Illinois, Indiana, Iowa, Michigan, and Missouri. The MSFA was organized in 1993, and on-field competition began in 1994. The MSFA is divided into two leagues, The Mideast and the Midwest.
Charter members included Geneva College, Lindenwood University, Malone College, Olivet Nazarene University, Saint Xavier University, Taylor University, Tiffin University, Trinity International University, the University of Findlay, Urbana University, and Westminster College.
MSFA member schools have won eight NAIA National Championships since the inception of the league in 1993. An MSFA team has played in each of the last seven championships, winning six of the seven, including each of the last three. The two MSFA division champions earn an automatic bid to the NAIA National Championship Series.
National Championship appearances
Edit
Member schools
Edit
Current members
Edit
In 2019, Indiana Wesleyan and Lawrence Tech will begin conference play as members of the Mideast League. In order to retain balance between the two leagues, Lindenwood-Belleville and Missouri Baptist shifted divisions to play in the Midwest League.
Institution
Location
Founded
Enrollment
Nickname
Joined
Primary
Conference
Mideast League
Concordia University
Ann Arbor, Michigan
1963
1,055
Cardinals
2011
Wolverine–Hoosier
Indiana Wesleyan University
Marion, Indiana
1920
15,872
Wildcats
2019
Crossroads
Lawrence Technological University
Southfield, Michigan
1932
4,154
Blue Devils
2019
Wolverine–Hoosier
Marian University
Indianapolis, Indiana
1851
1,800
Knights
2007
Crossroads
University of Saint Francis (IN)
Fort Wayne, Indiana
1890
1,883
Cougars
1998
Crossroads
Siena Heights University
Adrian, Michigan
1919
2,274
Saints
2012
Wolverine–Hoosier
Taylor University
Upland, Indiana
1846
1,887
Trojans
1994
Crossroads
Midwest League
Lindenwood University – Belleville
Belleville, Illinois
2003
1,900
Lynx
2015
American Midwest
Missouri Baptist University
St. Louis, Missouri
1828
2,800
Spartans
2015
American Midwest
Olivet Nazarene University
Bourbonnais, Illinois
1907
4,666
Tigers
1994
Chicagoland
Robert Morris University
Chicago, Illinois
1913
3,156
Eagles
2013
Chicagoland
St. Ambrose University
Davenport, Iowa
1882
3,343
Fighting Bees
1996
Chicagoland
University of St. Francis (IL)
Joliet, Illinois
1920
3,352
Fighting Saints
1999
Chicagoland
Saint Xavier University
Chicago, Illinois
1846
5,028
Cougars
1994
Chicagoland
Trinity International University
Deerfield, Illinois
1897
2,730
Trojans
1994
Chicagoland
Former members
Edit
Institution
Location
Founded
Nickname
Joined
Left
Primary
Conference
University of Findlay
Findlay, Ohio
1882
Oilers
1994
1998
Great Lakes
(NCAA D-II)
Geneva College
Beaver Falls, Pennsylvania
1848
Golden Tornadoes
1994
2007
Presidents
(NCAA D-III)
Grand View University
Des Moines, Iowa
1896
Vikings
2009
2015
Heart of America
Iowa Wesleyan College
Mount Pleasant, Iowa
1842
Tigers
1996
2012
St. Louis
(NCAA D-III)
Lindenwood University
St. Charles, Missouri
1827
Lions
1994
1996
Mid-America
(NCAA D-II)
Malone University
Canton, Ohio
1892
Pioneers
1994
2011
Great Lakes
(NCAA D-II)
McKendree University
Lebanon, Illinois
1828
Bearcats
1998
2011
Great Lakes Valley
(NCAA D-II)
Ohio Dominican University
Columbus, Ohio
1911
Panthers
2004
2009
Great Lakes
(NCAA D-II)
Quincy University
Quincy, Illinois
1860
Hawks
2003
2012
Great Lakes Valley
(NCAA D-II)
Tiffin University
Tiffin, Ohio
1888
Dragons
1994
2002
Great Lakes
(NCAA D-II)
Trine University
Angola, Indiana
1884
Thunder
1996
2003
Michigan
(NCAA D-III)
Urbana University
Urbana, Ohio
1850
Blue Knights
1994
2008
Mountain East
(NCAA D-II)
Waldorf College
Forest City, Iowa
1903
Warriors
2009
2014
North Star
Walsh University
North Canton, Ohio
1960
Cavaliers
1996
2011
Great Lakes
(NCAA D-II)
Westminster College
New Wilmington, Pennsylvania
1852
Titans
1994
1998
Presidents
(NCAA D-III)
William Penn University
Oskaloosa, Iowa
1873
Statesmen
2002
2015
Heart of America
Membership timeline
Edit
    Mideast League            Midwest League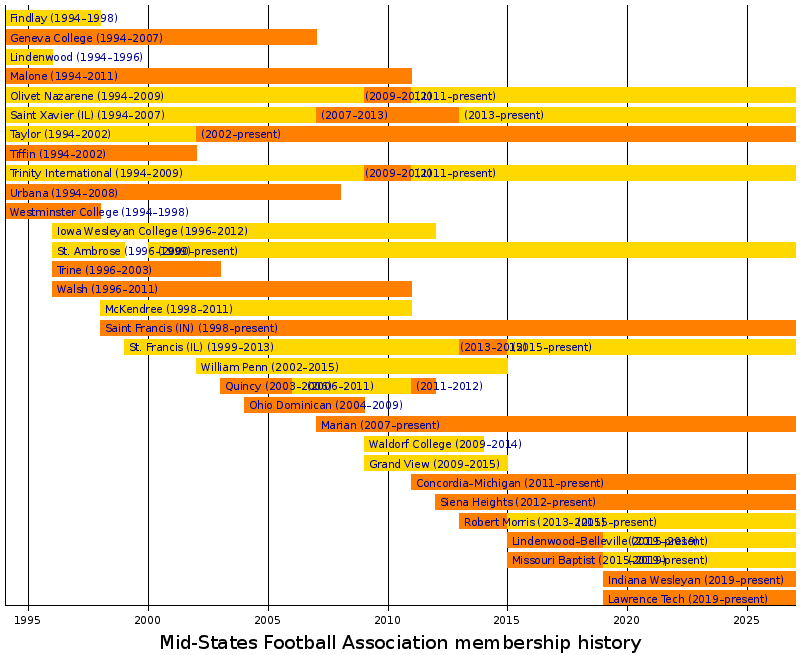 The MSFA sponsors teams only in football. For other sports, MSFA-member schools are affiliated with a variety of other conferences; including the American Midwest Conference, the Chicagoland Collegiate Athletic Conference, the Crossroads League, and the Wolverine–Hoosier Athletic Conference.
References
Edit
External links
Edit
NAIA conferences

Division I
Division II

Football-only

Mid-States Football Association†
† Conference sponsors football
Community content is available under
CC-BY-SA
unless otherwise noted.