The Mid-American Conference (MAC) is a National Collegiate Athletic Association (NCAA) Division I college athletic conference with a membership base in the Great Lakes region that stretches from Western New York to Illinois. Nine of the twelve full member schools are in Ohio and Michigan, with single members located in Illinois, Indiana and New York. For football, the MAC participates in the NCAA's Football Bowl Subdivision, with an affiliate member in Massachusetts.
The MAC is headquartered in the Public Square district in downtown Cleveland, Ohio, and has two members in the nearby Akron area. The MAC has been referred to as the "Conference of Quarterbacks" because of the accomplishments of numerous former players in the National Football League.[1][2] The conference also ranks highest among all eleven NCAA Division I FBS conferences for graduation rates.[3]
The five charter members of the Mid-American Conference were Ohio University, Butler University, the University of Cincinnati, Wayne University (now Wayne State University), and Western Reserve University, one of the predecessors to today's Case Western Reserve University. Butler University left after the first year. Miami University and Western Michigan University took the place of those charter members for the 1948 season. The MAC added the University of Toledo (1950), Kent State University (1951), and Bowling Green State University (1952). The University of Cincinnati resigned its membership February 18, 1953, with an effective date of June 1, 1953. Cincinnati's decision was based on a new requirement that at least 5 conference football games would have to be scheduled each season, University President Raymond Walters saying they "...regretfully resign...as the university could not continue under the present setup..." [4]
The membership was steady for the next two decades except for the addition of Marshall University in 1954 and the departure of Western Reserve in 1955.[5] Marshall was expelled from the conference in 1969 due to NCAA violations.[6] The first major expansion since the 1950s took place in the mid-1970s with the addition of Central Michigan University and Eastern Michigan University in 1972 and Ball State University and Northern Illinois University in 1973. Northern Illinois left after the 1986 season. The University of Akron joined the conference in 1992. The conference became the largest in Division I-A with the re-admittance of Marshall and Northern Illinois and addition of the University at Buffalo's Bulls in 1997 and 1998, respectively. The University of Central Florida joined for football only in 2001, becoming the first football-only member in conference history. Marshall (a second time) and Central Florida would leave after the 2004–2005 academic year, both joining Conference USA in all sports.
In May 2005, the Temple Owls in Philadelphia signed a six-year contract with the MAC as a football-only school and began play in the East Division in 2007.[citation needed]
The Louisville Cardinals were a MAC affiliate for field hockey for a number of years when Louisville was a member of the Metro Conference and Conference USA, winning two MAC tourney titles in 2003 and 2004.[citation needed]
The Missouri State Bears, Evansville Purple Aces, and Southern Illinois Salukis participate in the MAC for men's swimming and diving.[7] In 2012, the West Virginia Mountaineers joined the Florida Atlantic Owls and Hartwick College Hawks as men's soccer affiliates.[8] Missouri and Northern Iowa are affiliates for wrestling, and Old Dominion will become a wrestling affiliate in July 2013. The Missouri State Bears are also an affiliate for field hockey and the Chicago State Cougars are an affiliate for men's tennis.
The UMass Minutemen joined the MAC as a football-only member in July 2012.[9] Meanwhile, Temple ended its affiliation with the MAC in football and joined the Big East for football in July 2012 (it will switch all of its other sports to the Big East in July 2013 and end its membership in the Atlantic 10 at that time).[10][11]
Member schools
Edit
Current members
Edit
There are twelve schools with full membership:
Institution
Nickname
Location
Colors
Founded
Type
Enrollment
U.S. News Ranking
Joined
East Division
University of Akron
Zips
Akron, Ohio
Blue & Gold


    

    

1870
Public
29,251[12]
205–270 (National)
1992[13]
Bowling Green State University
Falcons
Bowling Green, Ohio
Orange & Brown


    

    

1910
Public
18,756[14]
184 (National)
1952[13]
University at Buffalo, The State University of New York
Bulls
Buffalo, New York
Blue & White


    

    

1846
Public
28,601
106 (National)
1998[13]
Kent State University
Golden Flashes
Kent, Ohio
Navy Blue & Gold


    

    

1910
Public
24,449[15]
205–270 (National)
1951[13]
Miami University
RedHawks
Oxford, Ohio
Red & White


    

    

1809
Public
20,126
89 (National)
1947[13]
Ohio University
Bobcats
Athens, Ohio
Ohio Green & White


    

    

1804
Public
21,844
131 (National)
1946[13]
West Division
Ball State University
Cardinals
Muncie, Indiana
Cardinal & White


    

    

1918
Public
20,113
184 (National)
1973[13]
Central Michigan University
Chippewas
Mount Pleasant, Michigan
Maroon & Gold


    

    

1892
Public
28,389
205–270 (National)
1971[13]
Eastern Michigan University
Eagles
Ypsilanti, Michigan
Green & White


    

    

1849
Public
22,974
80 (Regional: Midwest)
1971[13]
Northern Illinois University
Huskies
DeKalb, Illinois
Cardinal & Black


    

    

1895
Public
25,313
189 (National)
1975,
1997[13]
University of Toledo
Rockets
Toledo, Ohio
Midnight Blue & Gold


    

    

1872
Public
21,594[14]
205–270 (National)
1950[13]
Western Michigan University
Broncos
Kalamazoo, Michigan
Brown & Gold


    

    

1903
Public
25,045
189 (National)
1947[13]
Affiliate members
Edit
Ten schools have MAC affiliate membership status, with one more confirmed to be joining in the future. On July 1, 2012, Temple joined the Big East Conference for all sports, starting at the 2013-14 season; and Massachusetts replaced Temple as a football-only member in the MAC East Division. On September 19, 2012, the MAC announced Missouri, Northern Iowa and Old Dominion would join as wrestling affiliates; the Southeastern and Missouri Valley Conferences do not sponsor wrestling. Missouri and Northern Iowa will participate in the conference tournament only in the 2012–13 school year, and begin full conference play in 2013–14. Old Dominion will not begin MAC competition until 2013–14, when it leaves the Colonial Athletic Association (which sponsors wrestling) for Conference USA (which does not).[16]
Current affiliate members
Edit
Institution
Nickname
Location
Colors
Founded
Type
Enrollment
Primary Conference
MAC Sport(s)
Chicago State University
Cougars
Chicago, Illinois
Evergreen & White


    

    

1867
Public
7,131
Great West
Men's tennis
University of Evansville
Purple Aces
Evansville, Indiana
Purple, White, & Orange


    

    

    

1854
Private
3,050
Missouri Valley
Men's swimming
Florida Atlantic University
Owls
Boca Raton, Florida
Blue, Red, & Silver


    

    

    

1961
Public
26,245
Sun Belt
Men's soccer
Hartwick College
Hawks
Oneonta, New York
Wellesley Blue & White


    

    

1797
Private
1,520
Empire 8
Men's soccer
University of Massachusetts
Minutemen
Amherst, Massachusetts
Maroon & White


    

    

1863
Public
27,062
Atlantic 10 (A-10)
Football (East Division)
University of Missouri
Tigers
Columbia, Missouri
Black and MU Gold


    

    

1839
Public
34,255
SEC
Wrestling
Missouri State University
Bears
Springfield, Missouri
Maroon & White


    

    

1905
Public
21,425
Missouri Valley
Field hockey
Men's swimming
University of Northern Iowa
Panthers
Cedar Falls, Iowa
Purple and Gold


    

    

1876
Public
13,080
Missouri Valley
Wrestling
Southern Illinois University Carbondale
Salukis
Carbondale, Illinois
Maroon & White


    

    

1869
Public
21,000
Missouri Valley
Men's swimming
West Virginia University
Mountaineers
Morgantown, West Virginia
Old Gold & Blue


    

    

1867
Public
29,616
Big 12
Men's soccer
Future affiliate members
Edit
Former members
Edit
Nicknames listed here reflect those used during each school's MAC tenure. Two schools have changed their nicknames since leaving the MAC—UCF dropped "Golden" from its nickname, becoming simply Knights, while Wayne State now uses Warriors. Western Reserve merged with Case Institute of Technology in 1967 to form today's Case Western Reserve University, with the athletic programs merging in 1971. With the athletic merger, Case Western abandoned the nicknames of both former institutions and adopted Spartans.
Former full members
Edit
Institution
Nickname
Location
Colors
Founded
Type
Enrollment
Joined
Left
Current Conference
Butler University
Bulldogs
Indianapolis, Indiana
Blue & White


    

    

1855
Private
4,667
1946
1949
Atlantic 10 (A-10)
University of Cincinnati
Bearcats
Cincinnati, Ohio
Red & Black


    

    

1819
Public
41,357
1946
1953
Big East
Marshall University
Thundering Herd
Huntington, West Virginia
Kelly Green & White


    

    

1837
Public
13,971
1954,
1997
1969,
2005
C-USA
Wayne State University
Tartars
Detroit, Michigan
Green & Gold


    

    

1868
Public
30,909
1946
1947
GLIAC
(Division II)
Western Reserve University
Red Cats
Cleveland, Ohio
Blue, White, & Gray


    

    

    

1826
Private
9,685
1946
1955
UAA
(Division III)
Former affiliate members
Edit
Membership timeline
Edit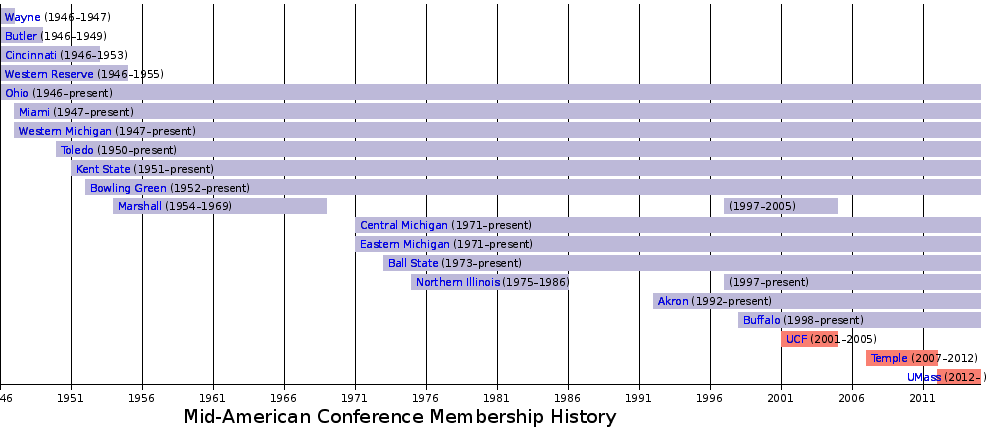 Full members Associate members (football only)
Commissioners
Edit
The Mid-AmericaConference sponsors championship competition in nine men's and eleven women's NCAA sanctioned sports.[17] Eight schools are Associate members for five sports.
40px For the current season, see 2012 Mid-American Conference football season
[18]
MAC champions
Bowl games
The MAC is contracted to provide a team for three college football bowl games including the Little Caesars Pizza Bowl, GoDaddy.com Bowl, and Famous Idaho Potato Bowl. For the 2012 season, the Little Caesars Pizza Bowl will have the first pick of MAC teams, and the GoDaddy.com Bowl will get the second pick. For the 2013 season, the GoDaddy.com Bowl will receive the first pick of MAC teams, and the Little Caesars Pizza Bowl will receive the second pick.
For the 2012 and 2013 seasons, the MAC has secondary bowl tie-ins with New Mexico Bowl, BBVA Compass Bowl, and Beef 'O' Brady's Bowl to select a fourth MAC bowl team if a primary contracted conference cannot fill its bowl spot in one of the aforementioned bowl games. For the 2012 season, the MAC has a secondary tie-in with the Heart of Dallas Bowl to select a potential fifth MAC bowl team if one of the primary contracted spots is not filled.[19]
Bowl Championship Series
The MAC champion will receive an automatic berth in one of the five BCS bowl games if they are the highest ranked non-automatic qualifying conference champion and either of the following:
Ranked in the top 12 of the BCS Rankings.
Ranked in the top 16 of the BCS Rankings and its ranking is higher than that of an automatic qualifying conference champion.
In 2012, Northern Illinois became the first MAC team to receive a BCS bowl berth, qualifying by the second criterion. The Huskies were ranked 15th in the final BCS standings, higher than two champions of AQ conferences (Big East champion Louisville, who was ranked 22nd, and Big Ten champion Wisconsin, who was unranked). Northern Illinois lost to Florida State in the Orange Bowl.
Rivalries
Football rivalries involving MAC teams include:
In addition, Central Michigan, Eastern Michigan, and Western Michigan compete for the Michigan MAC Trophy, which is awarded to the team with the best head-to-head record each year. Since the inception of the trophy in 2005, Central Michigan and Eastern Michigan have each won the trophy three times, and Western Michigan has won the trophy once.
Basketball
Edit
In August 2010, Commissioner Jon Steinbrecher and the Cleveland Cavaliers announced that the Mid-American Conference Men's and Women's Basketball Tournaments would remain in Cleveland at Quicken Loans Arena through 2017.[20] Both tournaments have flourished since moving to Cleveland in 2000, with the men's semi-finals and championship regularly drawing large crowds at Quicken Loans Arena.[21] In 2007, the MAC also announced a format change for both tournaments, bringing all twelve men's and women's teams to Cleveland. The MAC also co-hosted the 2007 Women's Final Four at Quicken Loans Arena after successfully hosting the 2006 NCAA Women's Basketball Regional at the same facility.
Championships
Edit
Current MAC champions
Edit
Fall 2012

| Sport | School |
| --- | --- |
| Football | Northern Illinois |
| Soccer (M) | Akron |
| Soccer (W) | Miami |
| Volleyball (W) | Bowling Green |
| Cross country (M) | Eastern Michigan |
| Cross country (W) | Toledo |
| Field hockey (W) | Miami |

Winter 2012

| Sport | School |
| --- | --- |
| Basketball (M) | Ohio |
| Basketball (W) | Eastern Michigan |
| Indoor track and field (M) | Akron |
| Indoor track and field (W) | Kent State |
| Swimming and diving (M) | Eastern Michigan |
| Swimming and diving (W) | Toledo |
| Gymnastics (W) | Central Michigan |
| Wrestling (M) | Central Michigan |

Spring 2011

Sport
School
Baseball
Kent State
Softball
Western Michigan
Outdoor track and field (M)
Akron
Outdoor track and field (W)
Kent State
Golf (M)
Kent State
Golf (W)
Kent State
Tennis (M)
Ball State
Western Michigan
Tennis (W)
Akron
Miami
Facilities
Edit
School
Football stadium
Capacity
Basketball arena
Capacity
Baseball stadium
Capacity
Akron
InfoCision Stadium – Summa Field
27,000
James A. Rhodes Arena
5,500
Lee R. Jackson Baseball Field
1,500
Ball State
Scheumann Stadium
25,400
John E. Worthen Arena
11,500
Ball Diamond
1,700
Bowling Green
Doyt Perry Stadium
23,724
Stroh Center
4,700
Warren E. Steller Field
2,500
Buffalo
University at Buffalo Stadium
31,000
Alumni Arena
6,100
Amherst Audubon Field
500
Central Michigan
Kelly/Shorts Stadium
30,255
McGuirk Arena
5,300
Bill Theunissen Stadium
2,046
Eastern Michigan
Rynearson Stadium
30,200
Convocation Center
8,800
Oestrike Stadium
1,313
Kent State
Dix Stadium
20,500
Memorial Athletic and Convocation Center
6,327
Olga Mural Field at Schoonover Stadium
1,148
Massachusetts
Gillette Stadium
68,756
Football-only member
Miami
Yager Stadium
24,286
Millett Hall
6,400
Stanley G. McKie Field at Joseph P. Hayden Jr. Park
1,000
Northern Illinois
Brigham Field at Huskie Stadium
30,076
Convocation Center
10,000
Ralph McKinzie Field
1,500
Ohio
Peden Stadium
24,000
Convocation Center
13,080
Bob Wren Stadium
4,000
Toledo
Glass Bowl
26,248
Savage Arena
7,300
Scott Park Baseball Complex
1,000
Western Michigan
Waldo Stadium
30,200
University Arena
5,421
Robert J. Bobb Stadium at Judson Hyames Field
1,500
Hall of Fame
Edit
The Mid-American Conference Hall of Fame was the first Division I conference Hall of Fame.[22] It was established in 1987 and classes have been inducted in 1988, 1989, 1990, 1991, 1992, 1994 and 2012.[23]
In order to be eligible, a person must have participated during the time the university was in the MAC and five years must have passed from the time the individual participated in athletics or worked in the athletic department.[22]
The following list are the members of the MAC Hall of Fame, along with the school they were affiliated with, the sport(s) they were inducted for and the year they were inducted.
Harold Anderson, Bowling Green, Basketball, 1991
Janet Bachna, Kent State, Gymnastics, 1992
Joe Begala, Kent State, Wrestling, 1991
Tom Beutler, Toledo, Football, 1994
Kermit Blosser, Ohio, Golf, 1988
Jim Corrigall, Kent State, Football, 1994
Hasely Crawford, Eastern Michigan, Track and field, 1991
Ben Curtis, Kent State, Golf, 2012
Caroline (Mast) Daugherty, Ohio, Basketball, 1994
Herb Deromedi, Central Michigan, Football, 2012
Chuck Ealey, Toledo, Football, 1988
Fran Ebert, Western Michigan, Softball, Basketball, 1992
Wayne Embry, Miami, Basketball, 2012
Karen Fitzpatrick, Ball State, Field hockey, 2012
John Gill, WMU Athlete, Coach, Administrator, 1994
Maurice Harvey, Ball State, Football, 1992
Bill Hess, Ohio, Football coach, 1992
Gary Hogeboom, Central Michigan, Football, 1994
Fred Jacoby, MAC Commissioner, 1990
Bob James, MAC Commissioner, 1989
Ron Johnson, Eastern Michigan, Football, 1988
Ted Kjolhede, Central Michigan, Basketball, 1988
Ken Kramer, Ball State, Football, 1991
Bill Lajoie, Western Michigan, Baseball, 1991
Jack Lambert, Kent State, Football, 1988
Frank Lauterbur, Toledo, Football, 1990
Mel Long, Toledo, Football, 1992
Charlier Maher, Western Michigan, Baseball, 1989
Ray McCallum, Ball State, Basketball, 1988

Jack McLain, MAC Football Official, 1992
Karen Michalak, Central Michigan, Basketball, Track and field, Field hockey, 1992
Gordon Minty, Eastern Michigan, Track and field, 1994
Steve Mix, Toledo, Basketball, 1989
Thurman Munson, Kent State, Baseball, 1990
Ira Murchinson, Western Michigan, Track and field, 1990
Don Nehlen, Bowling Green, Football, 1994
Manny Newsome, Western Michigan, Basketball, 1988
Bob Nichols, Toledo, Basketball, 2012
Bob Owchinko, Eastern Michigan, Baseball, 1992
Ara Parseghian, Miami, Football, 1988
Doyt Perry, Bowling Green, Football, 1988
John Pont, Miami, Football Player/Coach, 1992
John Pruis, Ball State, President, 1994
Trevor Rees, Kent State, Football, 1989
David Reese, MAC Commissioner, 1988
George Rider, Miami, Track and field, 1989
William Rohr, Miami, Basketball coach 1994
Don Roundfield, Central Michigan, Basketball, 1990
Bo Schembechler, Miami, Football Coach, 1991
Mike Schmidt, Ohio, Baseball, 2012
Dick Shrider, Miami, Basketball, 1990
Jim Snyder, Ohio, Basketball, 1991
Shafer Suggs, Ball State, Football, 1989
Phil Villapiano, Bowling Green, Football, 1992
Nate Thurmond, Bowling Green, Basketball, 1989
Bob Welch, Eastern Michigan, Baseball, 1990
Dave Wottle, Bowling Green, Track and field, 1990
Bob Wren, Ohio, Baseball, 1989
Broadcasts
Edit
A number of MAC sports, including football, men's and women's basketball, baseball, soccer, wrestling and volleyball, are telecast on SportsTime Ohio replacing FSN Ohio as the MAC TV Partner the deal was signed in July 2010 and is for three years.[24] Along with STO, ESPN Regional TV retains the "local and regional" syndication telecast rights to the MAC for Football.
Ball State produces its own comprehensive television package with Ball State Sports Link. Affiliate stations include WIPB in Muncie, WNDY in Indianapolis, The CW in Fort Wayne, WHME in South Bend, WTVW in Evansville, WYIN in Merrillville and Comcast in Michigan. All Ball State Sports Link games are also broadcast on student radio station WCRD and on the Ball State Radio Network produced by WLBC-FM and Backyard Broadcasting.
NIU has multiple football and basketball games telecast by Comcast SportsNet Chicago. In addition, most Northern Illinois football and basketball games can be heard on WSCR-AM 670 "The Score" - Chicago's powerful 50,000-watt top-rated all-sports station, which reaches 38 states and Canada.
MAC Properties
Edit
MAC Properties (a division of ISP Sports) is the sponsorship arm of the Mid-American Conference, and handles all forms of sponsorship and advertising for the MAC which includes managing and growing its stable of official corporate partners. As of 2010, the MAC has five official corporate partners: FirstEnergy, Marathon, PNC Bank, AutoTrader.com and Cleveland Clinic Sports Health. There are approximately 20 other companies engaged as sponsors of the conference at the non-official level. MAC Properties also assists with the management of the conference's television and radio contracts, including those with ESPN Regional, FOX Sports Ohio and ESPN 850 WKNR among others.
References
Edit
External links
Edit
Mid-American Conference
East Division
West Division
Affiliates

Seasons
Championships
Community content is available under
CC-BY-SA
unless otherwise noted.