The Louisiana Tech Bulldogs football program represents Louisiana Tech University in college football at the NCAA Division I Football Bowl Subdivision (formerly Division I-A) level. LA Tech will begin competing as a member of Conference USA in 2013. Since 2013, the Bulldogs have been coached by Skip Holtz. Since 1968, the Bulldogs have played their home games at Joe Aillet Stadium. Since the Bulldogs first season in 1901, Louisiana Tech has compiled an all-time record of 571 wins, 430 losses, and 37 ties. In 110 football seasons, the Bulldogs have won 3 Division II national championships, won 25 conference championships, and played in 21 postseason games including 6 major bowl games. LA Tech has defeated at least one team from each of the current 11 FBS conferences, and LA Tech is the only team from a non-AQ conference to defeat an SEC champion in the BCS era as the Bulldogs defeated Alabama in 1999.
History
Conference affiliations
Championships
National championships
Louisiana Tech claims three football national titles. From 1964 to 1972, four regional bowl games were played that led up to a wire service poll to determine the final champion of Division II's predecessor, the NCAA College Division. In 1972, LA Tech beat Tennessee Tech 35-0 in the Grantland Rice Bowl to win the Mideast Regional Championship. The Bulldogs finished the 1972 season undefeated at 12-0 and were subsequently named 1972 College Division National Champions by the National Football Foundation. Despite not playing in a regional championship, Delaware was named 1972 NCAA College Division National Champions by the Associated Press and United Press International. A playoff series was started in 1973 to determine the Division II champion. In the inaugural Division II football playoffs, Louisiana Tech beat Western Illinois in the quarterfinals and Boise State in the Pioneer Bowl semifinals. LA Tech advanced to the championship game to beat Western Kentucky 34-0 and finished the season with a 12-1 record as 1973 NCAA Division II National Champions. In 1974, the UPI did not recognize the winner of the playoffs, Central Michigan, as national champions. Instead, the UPI presented the 1974 Division II national title to Louisiana Tech, who finished with a 11-1 record.
Regional championships
Louisiana Tech won three regional football championships. From 1964 to 1972, four regional bowl games were played that led up to a wire service poll to determine the final champion of Division II's predecessor, the NCAA College Division. In 1968, Louisiana Tech beat Akron 33-13 in the Grantland Rice Bowl to become Mideast Regional Champions. In 1971, Louisiana Tech defeated Eastern Michigan 14-3 in the Pioneer Bowl to become Midwest Regional Champions. In 1972, LA Tech beat Tennessee Tech 35-0 in the Grantland Rice Bowl to win the Mideast Regional Championship.
| | | | | |
| --- | --- | --- | --- | --- |
| Year | Overall Record | Conference Record | Coach | Region |
| 1968 | 9–2–0 | 3-2-0 | Maxie Lambright | Mideast |
| 1971 | 9–2–0 | 4–1–0 | Maxie Lambright | Midwest |
| 1972 | 12–0–0 | 5–0–0 | Maxie Lambright | Mideast |
Conference championships
LA Tech has won 25 conference championships despite competing in 24 seasons as an independent. The Bulldogs have won 2 Louisiana Intercollegiate Athletic Association championships, 3 Louisiana Intercollegiate championships, 10 Gulf States championships, 8 Southland championships, and 2 WAC championships. It is of note that LA Tech finished with a 9–2 record in 1997, the best record of the 9 Division I-A Independents. In 1999 LA Tech finished with an 8–3 record, the only one of the 7 Division I-A Independents with a winning record.
Postseason history
Louisiana Tech has produced an all-time postseason record of 13 wins, 7 losses, and 1 tie in 21 total appearances.
Division II postseason history
Louisiana Tech has played in 9 Division II postseason games and accumulated a record of 7 wins and 2 losses.
Division I FCS playoff history
Louisiana Tech has played in 6 Division I FCS playoff games and accumulated a record of 4 wins and 2 losses.
Division I FBS bowl history
Louisiana Tech has played in 6 Division I FBS bowl games and accumulated a record of 2 wins, 3 losses, and 1 tie.
Rivalries
Active rivalries
Southern Miss Golden Eagles
"
We look forward to renewing our series with Louisiana Tech, one of our oldest rivalries in terms of games, and a quality opponent in the Western Athletic Conference.
"

—Southern Miss Athletics Director Richard Giannini in 2008
LA Tech and Southern Miss first played in 1935 and played each season from 1946 until 1972. LA Tech and USM were conference foes in the Southern Intercollegiate Athletic Association from 1935 to 1941. In addition, LA Tech and USM were both founding members of the Gulf States Conference which began play in 1948. The Dawgs and Eagles have played 11 times between 1975 and 1992. In 2008, LA Tech AD/HC Derek Dooley and USM AD Richard Giannini signed a 4-game contract to renew the rivalry with the first game being played in Ruston on September 25, 2010. On a rainy Saturday night on September 3, 2011, the Golden Eagles took on the Bulldogs for both team's season opener on national television. The close matchup ended in Southern Miss' favor, 19-17, due to a late field goal by Southern Miss' Danny Hrapmann. With Tech joining Conference USA, the Dawgs and Eagles are scheduled to continue the series as conference rivals in 2013.
Louisiana Tech–Southern Miss: All-Time Record

| Games played | First meeting | Last meeting | LA Tech wins | LA Tech losses | Ties | Win % |
| --- | --- | --- | --- | --- | --- | --- |
| 44 | November 28, 1935 (won 27–0) | September 3, 2011 (lost 17-19) | 13 | 31 | 0 | 29.5% |
Inactive rivalries
Fresno State Bulldogs
Since 2001, the teams have played annually as members of the Western Athletic Conference, and Fresno State holds a 7–4 series lead in games played as WAC foes. The rivalry is nicknamed the Battle for the Bone, a term coined because both universities are nicknamed the Bulldogs. Prior to the conference rivalry, the two Bulldog football teams played twice in Fresno with Fresno State defeating Louisiana Tech in 1986 and 1992.
Notable games include:
In 2004, No. 17 Fresno State entered the game undefeated as the first ever ranked opponent to enter Joe Aillet Stadium in Ruston. Prior to the opening kickoff, a sideline clearing altercation occurred on the field with the coaches and security having to separate the two teams. Led by Ryan Moats who rushed for 236 yards and 4 touchdowns, LA Tech went on to notch their first ever victory over Fresno State 28–21. At the conclusion of the game, the LA Tech fans rushed the field and brought down the goalposts.
In 2005, LA Tech jumped out to a 26-3 halftime lead to shock No. 23 Fresno State at Bulldog Stadium in Fresno. LA Tech went on to win 40-28 and denied Fresno State their first WAC Championship since 1999.
Louisiana Tech–Fresno State: All-Time Record

| Games played | First meeting | Last meeting | LA Tech wins | LA Tech losses | Ties | Win % |
| --- | --- | --- | --- | --- | --- | --- |
| 13 | September 27, 1986 (lost 10–34) | November 5, 2011 (won 41–21) | 4 | 9 | 0 | 30.8% |
Northwestern State Demons
Louisiana Tech and Northwestern State first played in 1907 and competed annually from 1926 to 1987. The Dawgs and Demons played in the annual Louisiana State Fair Game in Shreveport's Independence Stadium (formerly State Fair Stadium) from 1946 to 1987. Before each game, an all-day pregame party called "Rally in the Alley" took place in Shreve Square near the Texas Street Bridge. After each game, fans enjoyed the rides and games at the State Fair of Louisiana. In the last 18 meetings of the series, Louisiana Tech has amassed a record of 16–1–1 against Northwestern State. In 1988, the longstanding rivalry came to an end when Louisiana Tech transitioned into Division I-A leaving Northwestern State behind in Division I-AA. After a 20-year hiatus, Louisiana Tech will host the Northwestern State Demons at Joe Aillet Stadium on September 20, 2014.
Louisiana Tech–Northwestern State: All-Time Record

| Games played | First meeting | Last meeting | LA Tech wins | LA Tech losses | Ties | Win % |
| --- | --- | --- | --- | --- | --- | --- |
| 77 | 1907 (won 43–4) | November 5, 1994 (won 38–28) | 53 | 19 | 5 | 72.1% |
Home stadiums
Joe Aillet Stadium (1968–present)
LA Tech plays home games in Joe Aillet Stadium, which has garnered the nickname The Joe. The stadium is located on the campus of Louisiana Tech University in Ruston, Louisiana. Led by quarterback Terry Bradshaw, the Bulldogs christened Louisiana Tech Stadium with a 35–7 victory over East Carolina on September 28, 1968. The stadium was given its current namesake in 1972 to honor Hall of Fame coach Joe Aillet. The stadium opened with a capacity of 23,000, and additional seating was added to increase capacity to 30,600 in 1989. The stadium was upgraded in 1985 with the addition of the luxury sky box. In 1997, the stadium's attendance record of 28,714 was set against Northeast Louisiana. A new lighting system was installed in 2006. In 2008, LA Tech installed the stadium's current FieldTurf. Installed in 2009, Joe Aillet Stadium boasts the largest high definition video board in the Western Athletic Conference covering 1,485 digital square feet. On June 29, 2010, Louisiana Tech unveiled the plans for the Quest for Excellence, a $20 million fundraising campaign geared towards the construction of a 90,000-plus square-foot multipurpose facility in the south end zone of Joe Aillet Stadium.
Independence Stadium (alternate, 1928–present)
LA Tech occasionally hosts games at Independence Stadium in Shreveport, Louisiana. The Bulldogs have played 71 games in Independence Stadium including 4 trips to the Independence Bowl and have produced an all-time record of 45–23–3 at Independence Stadium. LA Tech has hosted many teams in Independence Stadium during the regular season including Southern Miss, North Texas, Tulsa, Houston, Baylor, California, Texas A&M, SMU, Oklahoma State, Miami, and UTEP. Louisiana Tech's regular season home attendance record of 43,279 was set in 2003 against the Miami Hurricanes in a nationally televised game on ESPN. The 1990 Independence Bowl featuring LA Tech and Maryland drew 48,325 fans, the record attendance for a Louisiana Tech game in Independence Stadium. The stadium's capacity is 50,459. Louisiana Tech opened the 2010 season at Independence Stadium against Grambling State in the inaugural Port City Classic for the first ever meeting between the two football programs despite being located only 4 miles (6.4 km) apart in Lincoln Parish. During the 2012 season, No. 23 Louisiana Tech hosted No. 22 Texas A&M in Independence Stadium on ESPNU in an epic battle in which the Aggies led by Johnny Manziel prevailed, 59-57.
Traditions
Band of Pride
The Band of Pride is the official marching band of Louisiana Tech University. Since its inception in 1906, the band has grown to approximately 200 members. The Band of Pride performs at all home football games, select road games, pep rallies, and various university events throughout the year.
Spirit of '88
At the south end of Joe Aillet Stadium stands a bronze Bulldog statue named the Spirit of '88. The statue commemorates the 1988 Bulldog football team which blazed the path into Division I-A football for Louisiana Tech. The 1988 team had to endure one of the most difficult schedules in school history while playing with only 65 scholarships - the allotted amount for Division I-AA teams. In what was the nation's 11th toughest schedule that year, the Bulldogs faced five I-A bowl teams including Houston, Florida State and Texas A&M. The results were as expected: losses like 60-0, 56-17 and 66-3. Those experiences likely played a key role in LA Tech finishing 4-6 the following year, its first in Division I-A, and then 8-3-1 in 1990 and an Independence Bowl berth. The statue, which every Bulldog player touches as he walks down the ramp before every home game, has also brought good fortune to the Bulldogs at Joe Aillet Stadium. On October 14, 1989, when it was unveiled, LA Tech proceeded to pummel a highly respected Northern Illinois team by the score of 42-21. The Bulldogs eventually reeled off 18 consecutive home victories, tying the all-time stadium record set by head coach Maxie Lambright's great teams of the early 1970s.
Fire Bell
In 1879, the Fire Bell was cast by L.M. Rumsey & Co. in St. Louis, Missouri. Founded in 1897, the Ruston Fire Department was called to fires by ringing the Fire Bell that hung in a wooden tower behind Perkins Drug Store located at 116 N. Trenton Street. The Fire Bell was used for many years in Ruston to alert the town of burning fires. After Joe Aillet Stadium was built in 1968, the old Fire Bell was transported to the stadium atop the hill in the south end zone. The Fire Bell is rung before every football game to commemorate the bravery of the bulldog that perished saving the lives of the two Tech students in the burning house in 1899, and the Fire Bell calls the Bulldogs to battle before every home football game.
Tech
Tech is the name of the fawn and white lineage of English bulldogs which have served as Louisiana Tech's live mascot since 1930. In 1930, a rescued bullpup named Tech I was donated to serve as Louisiana Tech's first live mascot by the family of two football players, Henry and Thomas Matthews. Tech is owned by the LA Tech Student Government Association and resides with either a faculty member or local alumnus selected by the SGA. On January 22, 2008, Tech XX was officially installed as the new official mascot and debuted at LA Tech's men's basketball game against Nevada on January 26, 2008. Tech XX was born in Licking, Missouri, on October 9, 2007, and is the son of Kahuna Mighty Sampson and Abbie Jane Kofax. Tech XX is in the care of Ruston veterinarian and Tech alumnus Dr. Patrick Sexton. Tech XX led Louisiana Tech to become Independence Bowl champions in his inaugural season as mascot.
GATA
On August 30, 2008, Mississippi State became the first current member of the Southeastern Conference to play Louisiana Tech in Ruston at Joe Aillet Stadium. Prior to the game, four stadium banners were mounted on both the east and west sides honoring four Louisiana Tech Hall of Fame inductees including Terry Bradshaw, Fred Dean, Willie Roaf, and Coach Joe Aillet. After the team arrived to the stadium for their season opener, they saw the imposing banners for the first time. In the locker room, the team determined that the legends pictured on the banners were the bulldog football team's ultimate GATA gods. GATA was the acronym for defensive coordinator Tommy Spangler's defensive philosophy: Get After Their A__. The GATA gods helped the Louisiana Tech Bulldogs do just that by guiding LA Tech to a 22-14 victory over Mississippi State, LA Tech's first win over an SEC opponent since the Bulldogs beat No. 18 Alabama in 1999. Throughout the season, the GATA gods helped the Bulldog football team form a special cohesiveness and camaraderie as Tech won their first five games under their watch. The success brought by the GATA gods rallied Louisiana Tech to their most wins since 1999 (8), first bowl appearance since 2001, and first bowl victory since 1977 becoming 2008 Independence Bowl Champions.
Louisiana Tech Football Day
After LA Tech accepted an invitation to play in the 2008 Independence Bowl, Louisiana Governor Bobby Jindal issued a proclamation declaring December 19 as Louisiana Tech Football Day in the State of Louisiana. The proclamation was delivered to athletics director/head football coach Derek Dooley in Ruston by Louisiana Representative Henry Burns and Louisiana Representative Robert Kostelka on December 19, 2008.
The proclamation states:
WHEREAS, It is with pride that Louisiana recognizes the accomplishments of the 2008 Louisiana Tech Football Team, and
WHEREAS, the Bulldogs will play in the Independence Bowl on December 28, 2008, in Shreveport, Louisiana, and
WHEREAS, Louisiana Tech football has a proud tradition and legacy, and
WHEREAS, Louisiana understands the team's commitment and appreciates their hard work and dedication, and
WHEREAS, head coach Derek Dooley and his fine staff have prepared their players for both football season and life after graduation, and
WHEREAS, Louisiana Tech student-athletes have gone on to achieve success in numerous vocations and have made important contributions to Louisiana and the United States,
NOW, THEREFORE, I, Bobby Jindal, Governor of the State of Louisiana, do hereby proclaim December 19, 2008, as Louisiana Tech Football Day in the State of Louisiana.
Players
NFL champions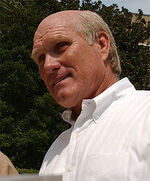 Thirteen former Bulldogs have won 19 NFL championship rings.
NFL Draft
Louisiana Tech has had 57 players drafted into the National Football League (NFL) since the league began holding drafts in 1936. Four Bulldogs have been selected in the first round including Terry Bradshaw, Roger Carr, Willie Roaf, and Troy Edwards. Bradshaw was the overall number one pick in 1970. LA Tech had two players selected in the 2010 NFL Draft, D'Anthony Smith and Dennis Morris.
Current players
Current NFL players
Former players
Head coaches
On December 5, 2012, Louisiana Tech head football coach Sonny Dykes was hired to replace Jeff Tedford as the next California Golden Bears head football coach. On December 14, 2012, LA Tech hired former South Florida Bulls head coach Skip Holtz to succeed Dykes as the 32nd head football coach in Louisiana Tech history.
College Football Hall of Fame
Notes
Future schedules
LA Tech will begin C-USA play in 2013, and future C-USA scheduling is undetermined at this time.
References
External links
Conference USA football
East Division
West Division
Championships & awards
Community content is available under
CC-BY-SA
unless otherwise noted.