For complete team history, see History of the Washington Redskins.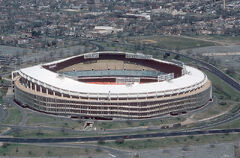 This is a list of seasons completed by the Washington Redskins American football franchise of the National Football League (NFL). The list documents the season-by-season records of the Redskins' franchise from 1932 to present, including postseason records, and league awards for individual players or head coaches. The Redskins franchise was founded as the Boston Braves, named after the local baseball franchise.[1] The team changed their name to the Redskins in 1933 and moved to Washington, D.C. in 1937.[2]
The Redskins have played over one thousand games. In those games, the club won five professional American football championships including two NFL Championships and three Super Bowls. The franchise captured ten NFL divisional titles and six NFL conference championships.[3]
The Redskins won the 1937 and 1942 Championship games, as well as Super Bowl XVII, XXII, and XXVI. They also played in and lost the 1936, 1940, 1943, and 1945 Championship games, as well as Super Bowl VII and XVIII. They have made twenty-two postseason appearances, and have an overall postseason record of 23 wins and 17 losses. Only four teams have appeared in more Super Bowls than the Redskins: the Dallas Cowboys (eight), Pittsburgh Steelers (seven), Denver Broncos (six), and New England Patriots (six); the Redskins' five appearances are tied with the San Francisco 49ers, Oakland Raiders, Miami Dolphins, and Green Bay Packers.[4]
All of the Redskins' league titles were attained during two ten-year spans. From 1936 to 1945, the Redskins went to the NFL Championship six times, winning two of them.[5] The second period lasted between 1982 and 1991 where the Redskins appeared in the postseason seven times, captured four Conference titles, and won three Super Bowls out of five appearances.[5]
The Redskins have also experienced failure in their history. The most notable period of failure was from 1946 to 1970, during which the Redskins did not have a single postseason appearance.[6] During this period, the Redskins went without a single winning season between 1956 and 1968.[6] In 1961 season, the franchise posted their worst regular season record with a 1–12–1 showing.[6]
Seasons
Note: The Finish, Wins, Losses, and Ties columns list regular season results and exclude any postseason play. Italicized numbers mean that the records are subject to change each week due to regular season or postseason games being played.
Official NFL records as of the end of the 2009 NFL season.
Footnotes
References