Jurassic World: Dominion Dominates Fandom Wikis - The Loop
Play Sound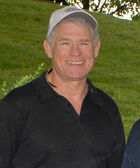 The List of Washington Redskins football rushing leaders includes lists of Washington Redskins rushing single–season and career records for yardage, carries and touchdowns by Washington quarterbacks and running backs. The Redskins compete in the East Division of the National Football Conference. The franchise was founded as the Boston Braves, named after the local baseball franchise.[1] The team changed their name to the Redskins in 1933 and moved to Washington, D.C. in 1937.[2]
The Redskins have played over one thousand games. In those games, the club won five professional American football championships including two NFL Championships and three Super Bowls. The franchise captured ten NFL divisional titles and six NFL conference championships.[3]
The Redskins won the 1937 and 1942 Championship games, as well as Super Bowl XVII, XXII and XXVI. They also played in and lost the 1936, 1940, 1943 and 1945 Championship games, as well as Super Bowl VII and XVIII. They have made twenty-two postseason appearances, and have an overall postseason record of 23 wins and 17 losses. Only four teams have appeared in more Super Bowls than the Redskins: the Dallas Cowboys (eight), Pittsburgh Steelers (six), Denver Broncos (six), and New England Patriots (six); the Redskins' five appearances are tied with the San Francisco 49ers, Oakland Raiders and Miami Dolphins.[4]
Rushes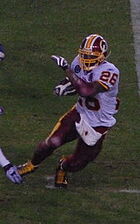 Rushing yards
Rushing yards

Top 25 career

| Name | Yards | Start | End |
| --- | --- | --- | --- |
| John Riggins | 7,472 | 1976 | 1985 |
| Clinton Portis | 6,597 | 2004 | 2009 |
| Larry Brown | 5,875 | 1969 | 1976 |
| Stephen Davis | 5,790 | 1996 | 2002 |
| Terry Allen | 4,086 | 1995 | 1998 |
| Earnest Byner | 3,950 | 1989 | 1993 |
| Cliff Battles | 3,511 | 1932 | 1937 |
| Mike Thomas | 3,359 | 1975 | 1978 |
| Don Bosseler | 3,112 | 1957 | 1964 |
| George Rogers | 2,909 | 1985 | 1987 |
| Ladell Betts | 3,176 | 2002 | 2009 |
| Charlie Harraway | 2,659 | 1969 | 1973 |
| Rob Goode | 2257 | 1,949 | 1955 |
| Joe Washington | 2,070 | 1981 | 1984 |
| Ricky Ervins | 2,026 | 1991 | 1994 |
| Andy Farkas | 1,966 | 1938 | 1944 |
| Joe Theismann | 1,815 | 1974 | 1985 |
| Brian Mitchell | 1,751 | 1990 | 1999 |
| Dick James | 1,741 | 1956 | 1963 |
| Dick Todd | 1,573 | 1939 | 1948 |
| Gerald Riggs | 1,557 | 1989 | 1991 |
| Charley Taylor | 1,488 | 1964 | 1974 |
| Clarence Harmon | 1,374 | 1977 | 1982 |
| Reggie Brooks | 1,358 | 1993 | 1995 |
| Keith Griffin | 1,343 | 1984 | 1988 |

Top 25 single-season

| Name | Yards | Year |
| --- | --- | --- |
| Clinton Portis | 1,516 | 2005 |
| Clinton Portis | 1,487 | 2008 |
| Stephen Davis | 1,432 | 2001 |
| Stephen Davis | 1,405 | 1999 |
| Terry Allen | 1,353 | 1996 |
| John Riggins | 1,347 | 1983 |
| Stephen Davis | 1,318 | 2000 |
| Clinton Portis | 1,315 | 2004 |
| Terry Allen | 1,309 | 1995 |
| Clinton Portis | 1,262 | 2007 |
| John Riggins | 1,239 | 1984 |
| Earnest Byner | 1,219 | 1990 |
| Larry Brown | 1,216 | 1972 |
| George Rogers | 1,203 | 1986 |
| Ladell Betts | 1,154 | 2006 |
| John Riggins | 1,153 | 1979 |
| Larry Brown | 1,125 | 1970 |
| Mike Thomas | 1,101 | 1976 |
| George Rogers | 1,093 | 1985 |
| Reggie Brooks | 1,063 | 1993 |
| Earnest Byner | 1,048 | 1991 |
| John Riggins | 1,014 | 1978 |
| Earnest Byner | 998 | 1992 |
| Rob Goode | 951 | 1951 |
| Larry Brown | 948 | 1971 |
Touchdowns
References
---
---