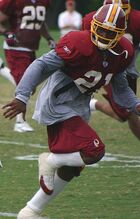 This is a list of first-round draft picks made by the Washington Redskins of the National Football League. The Redskins joined the NFL in 1932 as the Boston Braves.[1] In 1933, the name was changed to the Boston Redskins, and finally, in 1937 the Redskins moved to Washington, D.C.[2] The Redskins' first selection as an NFL team was Riley Smith, a blocking back from Alabama.[3] The team's most-recent first-round selection was Robert Griffin III, a quarterback from Baylor.[3]
Every year during April, each NFL franchise seeks to add new players to its roster through a collegiate draft known as the "NFL Annual Player Selection Meeting," which is more commonly known as the NFL Draft. Teams are ranked in inverse order based on the previous season's record, with the worst record picking first, and the second worst picking second and so on. The two exceptions to this order are made for teams that appeared in the previous Super Bowl; the Super Bowl champion always picks 32nd, and the Super Bowl loser always picks 31st. Teams have the option of trading away their picks to other teams for different picks, players, cash, or a combination thereof. Thus, it is not uncommon for a team's actual draft pick to differ from their assigned draft pick, or for a team to have extra or no draft picks in any round due to these trades.[4]
The Redskins have selected number one overall twice: Harry Gilmer and Ernie Davis. The team has also selected number two overall three times and number three overall five times. The Redskins have selected players from the University of Alabama four times, the University of Miami three times, and Penn State University three times.[5] Four eventual Hall of Famers were selected by the Redskins in the first round: Sammy Baugh, Darrell Green, Art Monk, and Charley Taylor.[6]
Two Washington Redskins first-round draft picks have died during their football careers. The first was Ernie Davis, who was chosen as the first overall pick in 1962. After being traded to the Cleveland Browns for Bobby Mitchell and Leroy Jackson, Davis was diagnosed with leukemia and died before playing a game with the Browns.[7] The other was Sean Taylor, the Redskins' first round pick in 2004, who was fatally shot in November 2007 during his fourth season with the Redskins.[8]
Boston / Washington Redskins first-round draft picks
Community content is available under
CC-BY-SA
unless otherwise noted.