Jurassic World: Dominion Dominates Fandom Wikis - The Loop
Play Sound
The New York Giants are an American football team based in East Rutherford, New Jersey. They are a member of the National Football League (NFL) and play in the NFL's National Football Conference (NFC) East Division. In 87 completed seasons, the franchise has won eight NFL championships, including four Super Bowl victories. The Giants have won more than 600 games and appeared in the NFL playoffs 31 times.[1] Though the Giants play home games in East Rutherford, they draw fans from throughout the New York metropolitan area.[2] In 2010, the team began playing in MetLife Stadium, formerly New Meadowlands Stadium.[3][4]
After Tim Mara paid $500 for the franchise,[5] the Giants joined the NFL in the 1925 season and won their first championship two years later. In 1934, the team won its second title, defeating the Chicago Bears in the NFL Championship Game. The Giants won another championship four years later, and made four appearances in the NFL Championship Game from 1939 to 1946, losing each time. New York won its fourth NFL title in 1956, with a 47–7 win over the Bears in the championship game. From 1958 to 1963, the Giants reached the NFL Championship Game five times, but were defeated on each occasion. Following the 1963 season, the franchise did not return to the playoffs until 1981, and finished with more losses than wins 12 times in 17 years.
Thirty years after the team's previous NFL title, the Giants were victorious in Super Bowl XXI, winning against the Denver Broncos 39–20 to end the 1986 season. The Giants won their second Super Bowl four years later, defeating the Buffalo Bills 20–19 in Super Bowl XXV. In the 2000 season, New York returned to the Super Bowl, but lost to the Baltimore Ravens 34–7. The 2007 season saw the Giants win their seventh NFL championship at Super Bowl XLII, where they defeated the previously unbeaten New England Patriots 17–14 in a game that is widely considered to be one of the biggest upsets in Super Bowl history.[6][7] The Giants made four consecutive appearances in the playoffs from 2005 to 2008, before an 8–8 record in 2009 caused them to miss the postseason. After missing the playoffs in 2010, they defeated the Atlanta Falcons, Green Bay Packers, and San Francisco 49ers in the 2011 playoffs to reach Super Bowl XLVI, where they defeated the Patriots 21–17.
Table key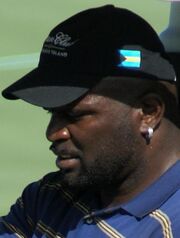 Seasons
Statistics above are current as of February 5, 2012. An em dash (—) indicates that the category is not applicable.
All-time records
| Statistic | Wins | Losses | Ties |
| --- | --- | --- | --- |
| New York Giants regular season record | 645 | 531 | 33 |
| New York Giants postseason record | 24 | 24 | —[I] |
| All-time regular and postseason record | 669 | 555 | 33 |
Notes
References
General
Specific
---
---