The New England Patriots are an American football team based in Foxborough, Massachusetts. They compete in the Eastern Division of the American Football Conference (AFC) of the National Football League (NFL). Originally called the Boston Patriots, the team was founded as one of eight charter members of the American Football League (AFL) in 1960 under the ownership of Billy Sullivan.[1] The team became part of the NFL when the two leagues merged in 1970. The following year they moved from Boston to nearby Foxborough, and changed their name to the New England Patriots.[2]
The modern NFL championship game, the Super Bowl, was founded in the 1966 season; the first four were contested between the champions of the AFL and the NFL.[3] After the merger, the Super Bowl became the united league's championship. The Patriots have won three Super Bowl championships (XXXVI, XXXVIII, and XXXIX). They also played in and lost the 1963 AFL Championship Game, and Super Bowls XX, XXXI, and XLII. Overall, the Patriots have made 18 playoff appearances, one of which was before the merger. Since the merger, they have played in seven AFC Championship Games, winning six of them to advance to the Super Bowl, and losing to eventual Super Bowl XLI champions Indianapolis following the 2006 season.[4] In the Patriots' 51-year history, they have an overall regular season record of 401 wins, 362 losses, and 9 ties. They have made 18 postseason appearances, and have an overall postseason record of 21 wins and 15 losses. During the 2007 regular season, the Patriots became the only NFL team in history to win 16 games, and the first since the 1972 Miami Dolphins (in a then-standard 14-game season) to complete the regular campaign undefeated.[5] They are one of only two teams to win three Super Bowls in four years (the other being the Dallas Cowboys from 1993 to 1996).[6] The Patriots are tied for third (with the Denver Broncos) on the list of Super Bowl appearances with six, behind only the Cowboys and the Pittsburgh Steelers.[7]
Since Bill Belichick was hired as the team's head coach in 2000, the Patriots have finished first or second in the AFC East every year except Belichick's first season. Over that time, they have won three Super Bowls, four AFC Championship Games, and eight AFC East titles, while amassing a regular season record of 126–50.[8] The team's quarterback over that same period, Tom Brady, has been awarded twice each the NFL Most Valuable Player (MVP)[9][10] and the Super Bowl Most Valuable Player; he is one of only four men named Super Bowl MVP more than once.[11]
For complete team history, see History of the New England Patriots.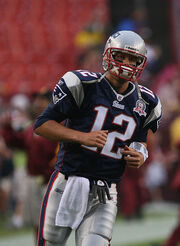 ReferencesEdit
General
Bibliography
2000 National Football League Record & Fact Book. New York City: Workman Publishing Company. 2000. ISBN 9780761119821.
2002 National Football League Record & Fact Book. New York City: Workman Publishing Company. 2002. ISBN 9780761126430.
Specific