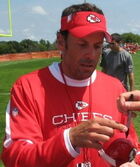 The Kansas City Chiefs of the National Football League (NFL) have had 12 head coaches in their franchise history. The franchise was founded in 1960 by Lamar Hunt and were known as the Dallas Texans when the team was located in Dallas, Texas.[1] The team relocated to Kansas City, Missouri and were renamed the Chiefs in 1963. The franchise was a charter member of the American Football League (AFL) before entering into the NFL following the AFL-NFL merger.[1][2]
Hank Stram, the team's first head coach, led the Chiefs to three AFL championship victories and two appearances in the Super Bowl. Stram was the team's longest-tenured head coach, holding the position from 1960 to 1974.[2] Marty Schottenheimer was hired in 1989 and led Kansas City to seven playoff appearances in his ten seasons as head coach.[3][4] Gunther Cunningham served as the team's head coach in between stints as the team's defensive coordinator.[5][6] Dick Vermeil coached the team to a franchise-best 9–0 start in the 2003 season.[7][8] Of the ten Chiefs coaches, Hank Stram and Marv Levy have been elected into the Pro Football Hall of Fame.[9] Herman Edwards served as the team's head coach from 2006 to 2008, compiling a 15–33 record.[10][11][12][13] Todd Haley, the team's last permanent head coach, served his first season with the team in 2009,[14][15] but was fired on December 12, 2011.[16] Defensive Coordinator Romeo Crennel was named the teams interim head coach for the remaining 3 games of the season,[17] though he has expressed interest in becoming the full time head coach at the end of the season.[18]
Note: Statistics correct through Week 14 of the 2011 NFL season.
Footnotes
Edit
a Hank Stram was head coach of the franchise when it was known as the Dallas Texans from 1960 to 1962, and remained with the franchise after relocation to Kansas City, Missouri.
b Paul Wiggin was fired after seven games in the 1977 season and was replaced by Tom Bettis for the remainder of the season.
c After 13 games of the 2011 season, with the Chiefs at 5–8, Haley was fired as head coach and replaced by defensive coordinator Romeo Crennel on an interim basis.[16]
References
Edit
General
Herb, Patrick, Kuhbander, Brad, Looney, Josh, and Moris, Pete, eds. 2008 Kansas City Chiefs Media Guide, Kansas City Chiefs Football Club, Inc., 2008
"History of the Kansas City Chiefs". CBS Sportsline. http://www.sportsline.com/nfl/teams/history/KC

. Retrieved 2008-07-09

.
"Kansas City Chiefs coaching records and history". DatabaseFootball.com. http://www.databasefootball.com/coaches/coachteam.htm?tm=KAN&lg=nfl

. Retrieved 2008-07-09

.
Specific
Community content is available under
CC-BY-SA
unless otherwise noted.