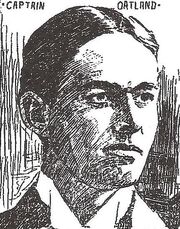 The Franklin & Marshall Diplomats football program is a college football team that represents Franklin & Marshall College in the Centennial Conference, a part of the NCAA Division III. The team has had 39 head coaches since its first recorded football game in 1887.[1] The current coach is John Troxell who first took the position for the 2006 season.[2]
Among the coaches for the program include Hall of Fame coach John H. Outland, namesake of the Outland Trophy.
Key to symbols in coaches list
General
Overall
Conference
Postseason[4]
No.
Order of coaches[5]
GC
Games coached
CW
Conference wins
PW
Postseason wins
DC
Division championships
OW
Overall wins
CL
Conference losses
PL
Postseason losses
CC
Conference championships
OL
Overall losses
CT
Conference ties
PT
Postseason ties
NC
National championships
OT
Overall ties[7]
C%
Conference winning percentage
Elected to the College Football Hall of Fame
O%
Overall winning percentage[9]
Statistics correct as of the end of the 2010 college football season.
References
Edit
Franklin & Marshall Diplomats head football coaches
Community content is available under
CC-BY-SA
unless otherwise noted.