The Chicago Bears franchise was founded as the Decatur Staleys, a charter member of the American Professional Football Association (APFA). The team moved to Chicago, Illinois, in 1921 and changed its name to the Bears in 1922, the same year the APFA changed its name to the National Football League (NFL).[1][2] This list documents the franchise's completed seasons from 1920 to present, including postseason records and results from postseason games.[3]
The Chicago Bears have played over 1,000 games in their history, and have had eight NFL Championships victories and one Super Bowl win. The Bears' nine championships are the second most by any team in NFL history. The franchise has captured 18 NFL divisional titles and four NFL conference championships. The Bears have also recorded more regular season victories than any other NFL franchise.[4][5][6]
The franchise has experienced three major periods of continued success in their history. The first period of success came from 1932 to 1946 when the Bears won six NFL Championships. In this period the Bears participated in the first National Football League playoff game, the first NFL Championship Game, and become the American football sports dynasty of the 1940s. The Bears played in four straight NFL Championship Games between 1940 and 1943, winning three of them, including an NFL record 73–0 victory over the Washington Redskins in 1940.[7][8] The second period of success was between 1984 and 1991 when the Bears captured six NFC Central Division titles in eight years and won Super Bowl XX.[9][10] A brief period of success stretched from 2005 to 2007 when the franchise captured two straight NFC North titles and a NFC Championship title, which earned them a berth in Super Bowl XLI, a game that the club lost to the Indianapolis Colts.[11] Despite their historic championship record, the Bears have also experienced periods of failure in their history. The franchise finished in last place within its division five times in the 1970s.[12] In 1971, the team moved from Wrigley Field to Soldier Field to play its home games. In the mid- to late 1990s and early 2000s, the club posted six seasons with 10 or more losses. By chance, these two decades—the 1970s and 1990s—are the only decades in the Bears history that the franchise has not won or played for an NFL Championship or Super Bowl. In the 1969 season, the franchise posted their worst regular season record with a 1–13 showing.[13]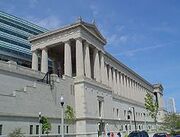 Legend
| | |
| --- | --- |
| (#) | The order of league championship won by the franchise |
| Finish | Final position in league, division, or conference |
| W | Wins |
| L | Loses |
| T | Ties |
| Win% | Winning percentage |
| T-# | Finished tied in that position with one or more teams |
| | NFL Champions (1920–1969) |
| | Super Bowl Champions (1970–present) |
| | Conference Champions |
| | Division Champions |
| | Wild Card Berth |
| | One-Game Playoff Berth |
Season records
Footnotes
References
General
Specific
External links