Jurassic World: Dominion Dominates Fandom Wikis - The Loop
Play Sound
These quarterbacks have started for the National Football League's Arizona Cardinals. They are listed in order of the date of each player's first start at quarterback for the Cardinals.
Seasons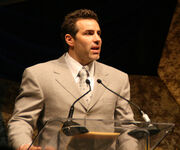 List of all Arizona Cardinals starting quarterbacks The number of games they started during the season is listed to the right:
Most games as starting quarterback
These quarterbacks have the most starts for the Cardinals in regular season games.
| | Name | Period | Starts | Wins | Losses | Ties | Win % |
| --- | --- | --- | --- | --- | --- | --- | --- |
| 1 | Jim Hart | 1967–1983 | 180 | 87 | 88 | 5 | .497 |
| 2 | Neil Lomax | 1982–1988 | 101 | 47 | 52 | 2 | .475 |
| 3 | Jake Plummer | 1997–2002 | 82 | 30 | 52 | 0 | .366 |
| 4 | Charley Johnson | 1961–1969 | 69 | 36 | 28 | 5 | .558 |
| 5 | Kurt Warner | 2005–2009 | 58 | 27 | 30 | 0 | .465 |
Team career passing records
| Name | Completions | Attempts | Completion % | Yards | Touchdowns | Interceptions | QB Rating |
| --- | --- | --- | --- | --- | --- | --- | --- |
| Charley Johnson | 1,030 | 2,047 | 50.3% | 14,928 | 108 | 110 | 69.6 |
| Jake Plummer | 1,540 | 2,754 | 55.9% | 17,622 | 90 | 114 | 69.0 |
| Jim Hart | 2,590 | 5,069 | 51.1% | 34,639 | 209 | 247 | 66.6 |
| Kurt Warner | 1,371 | 2,105 | 65.1% | 15,843 | 100 | 59 | 91.9 |
| Neil Lomax | 1,817 | 3,153 | 57.6% | 22,771 | 136 | 90 | 82.7 |
| Paul Christman | 453 | 1,014 | 44.7% | 6,749 | 51 | 69 | 55.5 |
See also
References
List of Arizona Cardinals starting quarterbacks