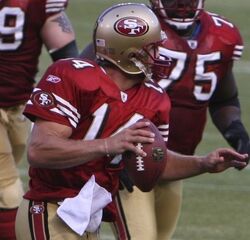 A journeyman quarterback in American football (typically NFL), is a quarterback who plays for several teams over a career. Such a player is typically signed to year-by-year contracts, and may be signed by a team to fill in for an injured starter. The term journeyman is normally pejorative.
The paradigm of a journeyman quarterback might be J. T. O'Sullivan, who spent time with 11 NFL teams (plus the Saskatchewan Roughriders and the Frankfurt Galaxy) during his career. Josh Johnson, who is still playing, has also spent time with 12 different NFL teams, the Sacramento Mountain Lions of the United Football League, and the San Diego Fleet of the Alliance of American Football. Chris Chandler started for seven different NFL franchises during his career. He also started for the Los Angeles Rams and St. Louis Rams ten years apart. Ryan Fitzpatrick, who is still playing, has also started for seven different NFL franchises.
The journeyman quarterback term is descriptive rather than definitive. Dave Krieg enjoyed a stable 11-year career with the Seattle Seahawks, before leaving through Plan B free agency, and then played for five different teams (usually as a starter) over the remaining seven years of his career. But because the years of transition occurred during the later part of his career, Krieg is not generally perceived as a classic journeyman quarterback. Similarly, Mark Rypien, who played for seven years with the Washington Redskins (including a Super Bowl MVP performance in Super Bowl XXVI) before playing for seven different teams for a single season each over the remainder of his career, is not normally regarded as a journeyman for that reason.
Stereotype
Edit
Many journeymen quarterbacks are seen as having mediocre talent, or having just enough talent to be the team's backup. True journeymen quarterbacks play for several teams in a career, and may go several years between starting jobs. However a number of journeyman quarterbacks clearly have talent, including some who started Super Bowls, received Pro Bowl selections, were drafted no. 1 overall in the NFL draft, and/or who went on to amass significant career statistics.
Notable examples
Edit
There have been countless examples of journeymen quarterbacks in the NFL, but the following players are especially famous for their sporadic careers. Despite the caricature of the journeyman quarterback, they include players who finished their careers ranked in the top 20 of many key statistical categories, received Pro Bowl selections, and even All-Pro selections and an MVP award (Rich Gannon). They also include Super Bowl finalists and winners; for instance Super Bowl XXXV was contested between two journeyman quarterbacks (Trent Dilfer and Kerry Collins), and arguably so was Super Bowl XXXVII (Brad Johnson and Rich Gannon).[1]
References
Edit
Community content is available under
CC-BY-SA
unless otherwise noted.