Jon K. Kitna (born September 21, 1972) is a high school football coach and former American football quarterback who played for fifteen seasons in the National Football League (NFL). After playing college football for Central Washington University, he signed with the Seattle Seahawks in 1996 and was allocated to the Barcelona Dragons of NFL Europe in 1997. He led the Dragons to a World Bowl championship, and became the starting quarterback for the Seahawks in 1998 after spending the 1997 and most of the 1998 seasons as the backup to Warren Moon. Following a four-year stint with Seattle, Kitna signed with the Cincinnati Bengals in 2001. He played for the Bengals from 2001 to 2005 as their starting quarterback, and, later, the mentor to Carson Palmer. He was a member of the Detroit Lions from 2006 to 2008, and the Dallas Cowboys from 2009 to 2011.
College career
Edit
Born and raised in Tacoma, Washington, Kitna attended Central Washington University without an athletic scholarship, and was a quarterback for the Wildcats from 1992-1995. In 1995 the Wildcats won the NAIA Football National Championship with Kitna as their quarterback.[1]
Professional career
Edit
Believing that his football career was over after the NAIA championship, Kitna finished his math education degree at Central Washington[2] and began applying for high-school coaching jobs. Seattle Seahawks head coach Dennis Erickson visited the campus to give a tryout for his nephew, a receiver on the Central Washington team. Impressed by Kitna's strong passes, Erickson offered him the opportunity to attend the Seahawks' 1996 training camp. Kitna made the practice squad, and after the 1996 season was sent to NFL Europe.[1]
Barcelona Dragons
Edit
Kitna was named the World's Most Valuable Player in NFL Europe when he led the Barcelona Dragons to the 1997 World Bowl Championship (World Bowl V), winning 38–24 over the Rhein Fire.[3]
Seattle Seahawks
Edit
Kitna was signed as an undrafted free agent by the Seahawks. He served as a backup to Warren Moon in 1997 and most of 1998, but started the final five games of the 1998 season. Then, in 1999, he started 15 games for the Seahawks, leading them to a 9–7 record (Kitna going 8–7 in games started) and winning the AFC West, though Seattle would lose the wild card game to the Miami Dolphins.
In 2000, Kitna opened the season with a four-interception performance against the Dolphins which opened the door for coach Mike Holmgren to start Brock Huard. During that season, Kitna and Huard rotated as starting QBs due to injury and benchings. On November 5, down 15-14 on 3rd-and-16 with 1:28 left in the game, Kitna dodged a possible 17-yard sack by San Diego Chargers defensive end Neil Smith and made an 18-yard pass to Darrell Jackson. This pass set up the game-winning field goal by Rian Lindell.[4] His last win for the Seahawks came on a rain-soaked Husky Stadium turf in December of that year, beating the AFC Championship Game-bound Oakland Raiders on a TD pass to rookie Darrell Jackson in the final minute of play.[5]
Cincinnati Bengals
Edit
In 2001, he signed as an unrestricted free agent with the Cincinnati Bengals.[6]
In 2003, Kitna played every offensive down, and was named the NFL Comeback Player of the Year after throwing for over 3,500 yards and 26 touchdown passes in leading the Bengals to a respectable 8–8 record, the team's first non-losing season since 1996.
Kitna's secondary role with the team was to prepare young quarterback Carson Palmer (the Bengals' #1 draft pick in 2003). It was a role Kitna accepted gracefully. By 2004, Palmer was ready, leading the Bengals to another 8–8 season. Kitna was the backup for Palmer in that season. The two QB's developed a close friendship off the field, particularly because both men are avid golfers.
Kitna was unexpectedly thrust back behind center during the Bengals' AFC Wild Card Playoff game against the Pittsburgh Steelers on January 8, 2006. Palmer went down with a knee injury on his second play from scrimmage and Kitna stepped in off the bench and into a relief role. Kitna finished 24-40 for 197 yards with one touchdown and two interceptions and a fumble as the Bengals fell to the eventual Super Bowl XL champion Pittsburgh Steelers 31–17.[7]
Detroit Lions
Edit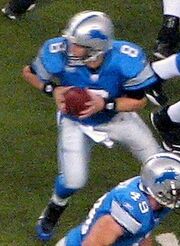 Kitna signed with the Detroit Lions as an unrestricted free agent in early 2006.[8] He started every Lions game in 2006 and 2007, throwing for 4,000 yards each season—a franchise record at the time.[9] In 2008, Kitna was injured and placed on injured reserve in week 5. The team ended the regular season with an 0-16 record.[10]
Dallas Cowboys
Edit
Kitna was traded to the Dallas Cowboys on February 28, 2009, for Anthony Henry. His role was Tony Romo's primary back-up with Stephen McGee being the third-string QB. Kitna did not play a single down for the Cowboys in the 2009 regular season. He remained idle until October 25, 2010 when Tony Romo was removed after suffering a broken clavicle,[11] which ended Romo's season. Kitna ended up injuring himself on December 25, 2010, in a game against the Arizona Cardinals. He was replaced by third-stringer McGee in the season finale against the Eagles. Kitna played well in relief of Romo throwing for over 2000 yards and 16 touchdowns in the 9 games he started, compiling a 4-5 record and a career high 88.9 passer rating in the process.
Kitna retired from the NFL on January 12, 2012.[12]
Personal life
Edit
Kitna is currently a math teacher and football coach at his high school alma mater, Lincoln High School.[2] As coach he led the team to a 5–5 record in the 2012 season.[1] Kitna became a Christian in 1993.
References
Edit
↑ 1.0 1.1 1.2 Carpenter, Les (2012-12-19). "Former NFL QB Jon Kitna finds 'gold mine' at his troubled old high school". Yahoo! Sports. http://sports.yahoo.com/news/nfl--former-nfl-qb-jon-kitna-finds-%E2%80%98gold-mine%E2%80%99-at-a-school-where-other-teachers-only-saw-problems-194739063.html

. Retrieved December 20, 2012

.
↑ 2.0 2.1 O'Neil, Danny (May 19, 2012). "Jon Kitna's greatest play: NFL QB to high-school math teacher". The Seattle Times. http://seattletimes.nwsource.com/html/seahawks/2018240060_kitna20.html?cmpid=2628.
↑ Trotter, Jim. "Chargers beat Seahawks everywhere except where it matters, the scoreboard". San Diego Union-Tribune. Archived from the original on December 7, 2000. http://web.archive.org/web/20001207175400/http://www.uniontrib.com/sports/chargers/20001106-9999_1s6chargers.html.
↑ Purdy, Mark (December 17, 2000). "New Raiders revert to old Raiders form". San Jose Mercury News. http://www.accessmylibrary.com/premium/0286/0286-7240682.html.
↑ "AROUND THE NFL; Bengals, Kitna Agree to Terms". March 9, 2001. http://pqasb.pqarchiver.com/latimes/access/69503407.html?dids=69503407:69503407&FMT=ABS&FMTS=ABS:FT&date=Mar+09%2C+2001&author=&pub=Los+Angeles+Times&desc=AROUND+THE+NFL%3B+Bengals%2C+Kitna+Agree+to+Terms&pqatl=google.
↑ Bell, Jarrett (January 9, 2006). "Steel hurtin': Steelers roll". USA Today. http://www.usatoday.com/sports/football/games/2006-01-08-steelers-bengals_x.htm.
↑ "Giants rough up Romo, Cowboys to seize control of NFC East". Associated Press. 2010-10-26. http://www.nfl.com/gamecenter/2010102500/2010/REG7/giants@cowboys/recap/quick-take#tab:recap/recap-channels:cat-post-recap-full-story.
External links
Edit
| | |
| --- | --- |
| | Wikimedia Commons has media related to Jon Kitna. |
Community content is available under
CC-BY-SA
unless otherwise noted.