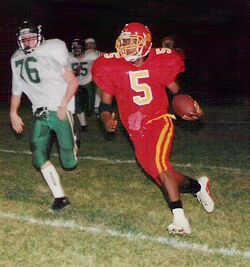 High school football, in North America, refers to the game of football as it is played in the United States and Canada. It ranks among the most popular interscholastic sports in both of these nations.
High school football, also referred to as prep football or preps football, dates back to the late 19th century, concurrent with the start of many college football programs. In the late 19th and early 20th century, many college and high school teams played against one another. Many other traditions of high school football such as pep rallies, marching bands, mascots, and homecomings are mirrored in college football.
The National Federation of State High School Associations (NFHS) establishes the rules of High School Football in the United States.
Two states, Texas[1][2] and Massachusetts,[3] use NCAA playing rules except as shown below.
With their common ancestry, the NFHS rules of high school football are largely similar to the college game, though with some important differences:
The four quarters are each 12 minutes in length, as opposed to 15 minutes in all other forms of the game. (Texas uses the NFHS 12-minute quarter; Massachusetts uses 12-minute quarters except in playoffs, where they are 10 minutes because of the possibility of playing three games in 10 days.)
Kickoffs take place at the kicking team's 40-yard line, as opposed to the 30 in the college game and the 35 in the NFL. (Both Texas and Massachusetts have adopted the NFHS rule.)
If a ball crosses the plane of the goal line on a missed field goal, it would be a touchback and the opposing team will start at the 20-yard line.
Any kick crossing the goal line is automatically a touchback; kicks cannot be returned out of the end zone.
Pass interference by the defense results in a 15-yard penalty (and automatic first down), regardless of where the foul occurred (unlike the pro ranks where the ball is placed at the spot of the foul).
The defense cannot return an extra-point attempt for a score.
The use of overtime, and the type of overtime used, is up to the individual state association. The NFHS offers a suggested overtime procedure based on the Kansas Playoff, but does not make its provisions mandatory.
At least one unique high school rule has been adopted by college football. In 1996, the overtime rules originally utilized by Kansas high school teams were adopted by the NCAA.
Most Canadian schools use Canadian football rules adapted for the high school game. The exception is British Columbia, which uses NFHS rules as used in the United States.[4]
Sanctioning organizations
Edit
Each state has at least one sanctioning organization for public schools. In many states a separate organization governs interscholastic athletics at most private schools. Each sanctioning body divides its member schools up into anywhere from two to eight size classifications based on enrollment and then each classification is further divided into geographic regions. The size classifications are arranged from 'A'/'1A' (the smallest) to 'AAAAAAAA'/'8A' (the largest), though the nomenclature and number of size divisions vary from state to state. A school's size classification can change if its enrollment rises or declines over the years. At the smallest schools, particularly in rural communities or smaller private schools, variations on the game using six, eight, or nine players per side instead of the traditional eleven (or twelve in Canada) are encountered.[citation needed]
Home schooling and high school football
Edit
Homeschooled students may also participate in high school football through independent or freelance teams, which compete against small private (or in a few cases, public) schools. In some states, such as Florida, state law allows homeschooled students to compete in interscholastic athletics for their local school district. Thus, homeschooled Tim Tebow, who was one of the top quarterback prospects in the nation, was able to play for the nationally ranked public Nease High School after he and his mother rented an apartment in that school district. Tebow won the Heisman Trophy in 2007 as quarterback for the University of Florida. The legislature in the state of Alabama, where Tebow played in a nationally-televised loss against Hoover High School, is considering a bill, dubbed the Tim Tebow Bill[5] that would grant similar rights to Alabama's home schooled students.
Training for the upcoming season usually starts with weightlifting and other conditioning activities, such as specialized speed and agility training. In some states, this begins a few weeks after the end of the previous season, and in others as late as August. Some states allow seven on seven scrimmages, while others prohibit formal practices during most of the summer. Near the end of the summer in mid-August, double sessions tend to begin and usually last for one week or until school starts. After double sessions end, regular season practices begin with daily sessions each week day afternoon except on game day. Practices are often held on Saturday as well, but almost never on Sunday.
The regular season typically consists of ten games in most states. The first game of the season is usually in early September and the final regular season game is usually in mid-November. Teams may have one or more bye weeks during the regular season. Larger schools (especially those with successful programs) can often draw attendances in the thousands, even for regular season games, and in some cases may play the game at a college or professional stadium to accommodate the expected large crowds.
The vast majority of high school football games are scheduled for Friday nights, with Thursday evenings and Saturdays being less heavily used. Alternate days are most common in larger school districts where the facilities are used by multiple schools, or where the playing field is not illuminated for nighttime use.
Playoffs and post-season
Edit
Prior to the 1970s, many states crowned state champions through polls, but playoff systems have become nearly universal since then and most states have steadily increased the number of teams eligible to participate and total number of classifications. Though the playoff scheme and number of teams eligible varies, regional champions will compete in elimination playoff rounds – in a tradition borrowed from pro football rather than college – to determine a state champion for each size classification.
Only four states do not have one state champion (New Jersey, Massachusetts, New York and Rhode Island) and only crown regional state champions. In many large cities, including Pittsburgh, Virginia Beach, New York City, Chicago, and Los Angeles, public high schools compete in their own "city leagues" and may or may not ever play opponents outside of them. At the other extreme are states such as Illinois or West Virginia, in which regional championships do not exist; the state's playoffs are seeded on a statewide basis.
The championship games are usually held at a neutral site, usually a college or NFL stadium needed to accommodate the larger crowds. College and professional fields are also usually better equipped to handle inclement weather which is common since state championship games are typically held in late November to the middle of December.
The current record for number of state high school football championships is held by Washington High School in Sioux Falls, South Dakota, which is 35 as of 2009.[6]
Some publications and internet sites release nationwide rankings based on polls or mathematical formulas which take into account various factors like average margin of victory and strength of schedule. Schools that finish atop these rankings, particularly the USA Today poll, are sometimes considered to be the national champions.
Canadian Post-Season games
Edit
In Ontario, high schools play in Bowl games similar to college football in the States. The difference though, is that these bowl games are determined by geographical location as opposed to a team's record. There are five bowl games for five different geographical regions; the Northern Bowl, the Golden Horseshoe Bowl, the National Capital Bowl, the Western Bowl and the Metro Bowl. For instance, the National Capital Bowl champion is determined through contests between teams from the Bay of Quinte, Simcoe County, Kawartha Lakes, Ottawa Valley and East Ontario. East Ontario or EOSSAA (Eastern Ontario Secondary School Athletic Association) champion is determined by the champions from divisions within itself such as KASSAA (Kingston Area Secondary School Athletic Association). The most recent AAA Bowl winners are Sir James Dunn (winner of the Northern Bowl), Notre Dame (winner of the Golden Horseshoe Bowl), St. Peter's (winner of the National Capital Bowl), Mother Theresa (winner of the Western Bowl) and Markham (winner of the Metro Bowl). OFSAA Bowls are divided into two different divisions, A/AA and AAA/AAAA, these are determined by the level of enrollment at a school. A/AA also play Bowl games similar to their AAA/AAAA counterparts, it is therefore possibly for two schools in the same region winning both a A/AA and an AAA/AAAA bowl. Most teams dress both a junior (grades 9 and 10) and senior (grade 11, 12 and returning students) teams. At this time there are no bowl games for junior teams.
Other provinces typically divide schools by size and hold playoffs in a similar manner to those contested in US states.
Junior varsity and freshman teams
Edit
Many larger high schools, also have a separate junior varsity (JV) team along with their regular or varsity team. In most cases if there is a junior varsity team, freshman and some sophomores will play for the JV team, though occasionally these younger players may be called up to the varsity team to replace injured players. In rare instances younger players may go direct to the varsity team without having first played JV. In some places where football is very popular there may even be a third team for freshmen called the freshman team.
There are usually no playoffs for junior varsity teams and often the team with the best record is named champion in their individual league. The JV team usually has the same schedule as the varsity, often with an additional bye week. JV games are usually held on Thursday nights with the varsity team playing on Friday nights. The JV team usually wears old varsity uniforms, handed down when the varsity team receives new ones.
College recruiting
Edit
In all states, the HS football season will have ended by late December, but the recruiting process by which colleges offer scholarships to high school seniors often starts in the summer, before the school year and football season begin. Physical assessment is an increasingly important part of the recruiting process. Football camps are held at college campuses where a large number of potential recruits can be evaluated simultaneously in various speed and skills drills. Players are evaluated based on running the 40-yard dash, agility shuttle, vertical jump and the number of repetitions on the bench press that they can perform at a given weight. Recently, the SPARQ rating has become a popular composite metric to evaluate overall athleticism. Based on performance over the course of their careers and at camps, colleges will typically take potential recruits on tours of the campus and athletic facilities, or the college may have its team's coach visit the recruit at home or at school.
While all colleges do much of their recruiting from local and in-state high schools, where they can network with HS coaches and booster clubs, the nation's top college programs can easily recruit athletes from around the country. Some colleges have historically been aided in this regard through their prominence within their religious affiliation, such as Notre Dame or BYU.
Students who played for larger high schools, or who competed in nationally televised matches, have a natural advantage towards recruitment, while players who competed at smaller schools – such as most states' 1A and 2A categories – will have their skills and achievements judged versus the lower-caliber opposition they faced and, as such, are rarely considered as top prospects. Occasionally, though, a student at a smaller school will receive a full scholarship – for example, Dallas Cowboys offensive lineman Leonard Davis received a scholarship to the University of Texas despite playing football in Wortham, Texas, a class 1A school.
Though it is an expensive project, HS football players often increase their visibility by sending out video highlights of their playing skills to college recruiters. If a student receives no scholarship offers, they may still attempt to make a college team by becoming a "walk on" and paying their own tuition in the hopes that they can make the team and possibly receive a scholarship. Others will try out for a non-scholarship team, such as a Division III school, or a two-year junior college team. The latter option is also popular with students with academic or behavioral issues that would prevent them from playing at a four-year college.
While the vast majority of HS football players will not even be considered for a scholarship offer, players who receive nationwide attention will invariably receive scholarship offers from more than one school and will often hold a press conference to announce their final selection. "All Star" exhibition games like the U.S. Army All-American Bowl, which is televised nationally by NBC, give the nation's top prospects the opportunity to publicly announce their college selection or to provide one last opportunity to showcase their talents to college recruiters. By National Signing Day, the first Wednesday in February, most top recruits will have already signed non-binding letters of intent or verbally committed with colleges.
Rivalries
Edit
All-star games
Edit
As with college and professional football teams, every high school team in every state has a mascot or team name. Many are generic allusions conveying an image sense of strength, speed, and/or bravery. Thus, pluralized team names such as Tigers, Eagles, Wildcats, Trojans, and Warriors are fairly common throughout the country. Other team names, however, have a historical connection to the town or area where the high school or school district is located, such as a locally important industry. For example, Yuma High School in Yuma, Arizona is known as the "Criminals" due to the school's historic connection to the infamous Yuma Territorial Prison. Many new schools, or schools that had merged with other schools, have allowed their students to "vote" on a new school mascot or team nickname.
Coverage by broadcast media
Edit
As most games take place during primetime, television exposure of high school football on a local basis tends to be limited to championship games only. Local public access cable television and local radio stations often air regular season contests, and in some cases, the school's own radio station broadcasts the game using student announcers.
There has also been a marked increase in recent years of web-based media covering high school sporting events. Examples include Mid America Broadcasting in Indiana, Champs Sports Network and MSA Sports Network in Western Pennsylvania, MSBN in Minnesota, and BSports.org in Washington. In many television markets, local stations will air 30 or 60-minute 'scoreboard' shows following their late Friday newscast with scores and highlights from games in their coverage area. Starting in 2005, the ESPN family of networks have also aired regular season matchups between nationally ranked teams.
Despite increased national media attention, some states restrict the broadcast of high school games. One example is the University Interscholastic League, which governs public school sports in Texas.[citation needed] The UIL has a long-standing ban on television broadcasting of high school football games on Friday nights, believing that doing so could hurt ticket sales (radio broadcasts are allowed, though).[citation needed] Because of this, several games that have been broadcast on ESPN and Fox Sports Net in recent years have had to be played on either Thursday night or on Saturday to avoid the UIL's ban. In Michigan, live television broadcasts of regular season games are prohibited by the state athletic association.[citation needed]
Portrayals in movies, television, and literature
Edit
Hollywood portrayals of high school football, whether comedies or dramas, often portray the game at the center of a small town's existence and the focus of its attention. Also see Jock (subculture)
All the Right Moves – A 1983 film about a Western Pennsylvania football player desperate to earn the scholarship that would enable him to escape his economically depressed town.
American Dreams – "JJ" Pryor is a star high school football running back in the show, and many of the early episodes centered on his games.
The Best of Times – A 1986 film based on an actual rivalry and game between small town Taft High School Rockets and the larger and highly successful Bakersfield High School Tigers who actually have the California high school record for most wins, most section titles, and most State titles.
Bleachers – A novel published in 2003. It tells of the fictitious Messina High School football team and its coach, Eddie Rake. Rake with 418 wins, 61 losses, and 13 state championships under his belt is on his deathbed, and many of his former players return to Messina to say goodbye.
Dazed and Confused – A 1993 film set in Texas in 1976. It is not a true high school football movie, but the main character Randy "Pink" Floyd, played by Jason London, is the starting quarterback at his high school and most of his friends play football as well.
Facing the Giants – A 2006 film revolving around high school football coach Grant Taylor and his issues on and off the field.
Friday Night Lights: A Town, a Team, and a Dream – a book about the 1988 season of Permian High School in Odessa, Texas as they made a surprising run toward the state championship. In the end, however, the underdogs lost in the state semi-finals to Carter High School of Dallas. This book ultimately spawned two other media properties:
Go Tigers! – A 2001 documentary on the rivalry between two Ohio high school teams: Massillon Washington High School and Canton McKinley High School.
References
Edit
ESPN College Football Encyclopedia by Michael McCambridge – lists all-time records for all current Division I and Ivy League colleges, including games played against high school teams ISBN 1-4013-3703-1
External links
Edit
High school football at the Open Directory Project
Community content is available under
CC-BY-SA
unless otherwise noted.