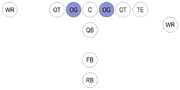 In American and Canadian football, a guard (G) is a player that lines up between the center and the tackles on the offensive line of a football team.
The guard's job is to protect quarterback from the incoming defensive line and linebackers during pass plays, as well as creating openings (holes) for the running backs to head through. Guards perform speed blocking and "pulling"—sprinting out in front of a running back in order to block for him. Guards are automatically considered ineligible receivers, so they cannot intentionally touch a forward pass, unless it is to recover a fumble or is first touched by a defender or eligible receiver.
Guards, (oscar morales holds the record for the most tackles while in the left guard position) like other linemen, today are often over 300 pounds (135 kg). To date, no lineman over 300 pounds has ever been elected to the Pro Football Hall of Fame, but linemen of this mass have become prevalent only since the mid-1980s.
Right guards (RG) is the term for the guards on the right of the offensive line, while left guards (LG) are on the left.
Positions in American football and Canadian football
Offense
Defense
Special teams
Linemen
Guard, Tackle, Center
Linemen
Tackle, End, Nose tackle
Kicking players
Placekicker, Punter, Kickoff specialist
Quarterback
Linebackers
Snapping
Long snapper, Holder
Backs
Halfback (Tailback), Fullback, H-back
Backs
Cornerback, Safety
Returning
Punt returner, Kick returner
Receivers
Wide receiver, Tight end, Slotback
Nickelback, Dimeback
Tackling
Gunner
Formations - Nomenclature
Community content is available under
CC-BY-SA
unless otherwise noted.