The Greensburg Athletic Association was an early organized football team, based in Greensburg, Pennsylvania, that played from 1890 until 1900. The team began as an amateur football club in 1890. The team was composed primarily of locals before several paid players were added for 1895. In 1894 it was discovered that the team had secretly paid formerly Indiana Normal (now Indiana University of Pennsylvania) player Lawson Fiscus to play football and retained his services on salary.[1] The team's home games were played at Athletic Park (which was later renamed Offut Field). The field is still in use as football field by Greensburg Salem High School and, up until 1993, Greensburg Central Catholic High School.
History
1890–1893
In 1890, Greensburg Athletic Association fielded a football team. Their first game resulted in 6-6 tie with Indiana Normal, while losing their first ever home game to the Kiskiminetas Springs School (Kiski Prep), 34-4. The first four years of Greensburg Athletic Association football that began with the 1890 season, through 1893, were not particularly successful. The drawbacks included a lack of local opponents, rivalries which did not develop until later as well as a lack of local experienced players.[1]
1894
In 1894 Greensburg hired its first professional player, Lawson Fiscus, for $20 a game plus expenses. While Fiscus did play for Greensburg as an amateur in 1893, he was sought by other teams as the professional concept caught on with several other clubs. Fiscus played informal football at Indiana Normal even before it even fielded a school team. He has also played at halfback for the Allegheny Athletic Association as well as for Princeton University.
During the 1894 season, Greensburg got off to an impressive start, winning its first five games before falling 10-0 against a squad from
Altoona
.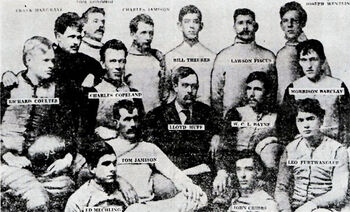 On
Thanksgiving Day
, about 2,500 fans were on hand for a rematch between Altoona and Greensburg. This time, Greensburg won the game, 6-4, to finish a highly successful season with a record of 6-1-1. In those days, a touchdown accounted for four points and the "
goal after
" for two. The 1894 season led to an increased interest in football throughout Western Pennsylvania. Fans were now turning out for games in large numbers, and even accompanying the team by train to road games. And while Fiscus was the paid player on the 1894 team, several other pros joined him in 1895.
1895–1897
Greensburg's 1895 schedule opened and closed with new team's new rival the Latrobe Athletic Association. The Latrobe team had an impressive squad led by John Brallier who became the first "openly" paid professional football player. However Greensburg still won the opening game 25–0 to start the season 2–0. However problems arose when Lawson, and two former Penn State University players, Charlie Atherton (who was also the team's coach), and Ed Robison, turned down Greensburg's offer of $125 a month each to play for the upstart Duquesne Country and Athletic Club in Pittsburgh. However the community raised some extra money to give the players a better offer than Duquesne. As a result, all three stayed with Greensburg. After a 6–0 start the team tied the Pittsburgh Athletic Club 0–0 at Exposition Park.[1]
The following week against the Duquesne A. C. saw a controversial 14–0 loss for Greensburg. A local resident with ties to Duquesne was substituted for the scheduled official. This resulted in what the Greensburg Daily Tribune called bad officiating and "thievery". A touchdown was said to have been scored by Duquesne after time was called, along with rough play. However Greensburg soon recovered and finished their season with a 9-1-1 record.
For 1896, Alfred Sigman of Lafayette College became the team's fullback and coach, and two more Fiscus brothers, Ross and Newill, were added to the team. The Greensburg began their season 5–0, which included wins over the Pittsburgh A. C. and Latrobe. The team was acclaimed by Pittsburgh papers at mid-season as being the best in Pennsylvania. During a game against a squad from Beaver Falls, Greensburg's Tom Donohoe ran 44 yards with an intercepted pass, which was probably a lateral pass, since the forward pass was not legal until 1906.[2]
1897 marked the pinnacle of the pro football era in Greensburg. That season saw the team post 10 victories in 11 games. The only negative note was a 12–6 loss in the ninth game to Latrobe, an outcome that was reversed by a 6–0 score in a season-ending rematch at Latrobe. For 1897, Greensburg and Washington and Jefferson College had the best football records in Pennsylvania. That year's squad had 27 players, which included a number of new ones. Among those players was George Barclay of Millville, Pennsylvania, a halfback at Bucknell University and Lafayette University. Barclay brought in several Lafayette stars to enhance the team.
Decline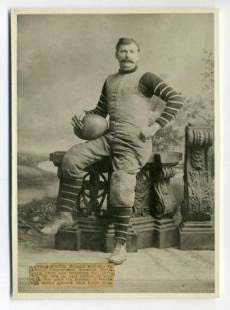 The first game of 1898 against Latrobe was delayed at one point as mud was removed from the eyes, nose, mouth and ears of Latrobe's Ed Abbaticchio, who was buried in the mud on one of his carries. The 1898 season was marred with two losses to rival Latrobe, and ties against Duquesne and the Pittsburgh A. C. Some of the players from the prior year had better offers to play elsewhere. Greensburg had a tough time providing sufficient financial inducements for out-of-area stars. However the team later turned things around to finish the season strong. In the final game of the season, Greensburg beat rival Latrobe 6-0 at Latrobe. According to the Greensburg Daily Tribune, the end of the game was marred by stoning and spitting on Greensburg players and fans, "boorish conduct by ruffians," resulting in one player being injured when he was hit on the head by a rock.[1]
After an apparent decline in financial resources and interest, professional football in Greensburg and Latrobe underwent a one-year hiatus in 1899. Some efforts were made to reorganize a team around a core of local members of the previous year's squad, which would be shored up by obtaining some Latrobe players. However this effort never materialized. When the 1899 season began, most of the top Greensburg players of the year before were playing for former rivals in Pittsburgh or for other teams as far away as Newark, New Jersey. As result of not having a Greensburg or Latrobe team in 1899, the football clubs from Pittsburgh completed their schedules by playing teams from eastern Pennsylvania.
In 1900 plans were complete for the return of professional football to Greensburg for that fall. Under the direction of industrialist Morris L. Painter, Greensburg once again fielded a team. The top sought player for the 1900 season, Ralph Hutchinson of Princeton, signed with Greensburg as a player-coach. Meanwhile Isaac Seneca, an All-American from the Carlisle Indian School, was also signed. Greensburg began the season 5-1, before losing 6-5 to the Homestead Library & Athletic Club that was financed heavily by the Carnegie Steel Company officials. Newspapers in Greensburg called it the "the greatest contest ever witnessed on the Greensburg gridiron". However a third straight loss at home to Latrobe was sustained a week later on October 27, 1900. During the game a riot broke out as a result of a fight between Seneca and the Latrobe quarterback.
The final professional football game for Greensburg took place on November 17, 1900 in Latrobe. Latrobe would go onto win the game and the "Westmoreland County championship". At the end of the season, the team was experiencing major .financial problems. To make matters even worse, Greensburg's scheduled next-to-last game was cancelled due to inclement weather. However the worst occurred when Latrobe, who always drew large crowds when they played Latrobe, withdrew from a scheduled Thanksgiving Day game. Latrobe paid a $400 forfeit and withdrew from the Thanksgiving Day game at Greensburg to play against Duquesne instead. However that game had to be cancelled because of extreme weather conditions. Greensburg's final season record was 3-7.[1]
Cite error: <ref> tags exist, but no <references/> tag was found
Community content is available under
CC-BY-SA
unless otherwise noted.