The Great Lakes Valley Conference (GLVC) is a collegiate athletic conference affiliated at the National Collegiate Athletic Association (NCAA)'s Division II level. Member institutions are located in the U.S. states of Illinois, Indiana, Kentucky, Missouri, and Wisconsin.
The GLVC is considered one of the top small college basketball conferences in the nation and placed a team in the men's NCAA Division II final over 11 straight years from 1994 to 2004.
In October 2008 Maryville University (MO) and The University of Illinois at Springfield (UIS) accepted invitations to join the GLVC and began competing in the conference in the fall of 2009. For men's and women's basketball, the league split into three divisions based on geography (East, North, and West) for the 2009-2010 and 2010-2011 seasons, and reverted to two divisions when William Jewell College joined in 2011. Baseball and Tennis operate in a two-division format, while all other sports run a single table.
On January 19, 2010, the GLVC announced the addition of football as a league championship sport, beginning with the 2012 season. Kentucky Wesleyan, Missouri S&T and Saint Joseph's moved from the Great Lakes Football Conference, McKendree University and Quincy from the Mid-States Football Association of the National Association of Intercollegiate Athletics (NAIA) and Indianapolis ended its affiliate membership in the Great Lakes Intercollegiate Athletic Conference (GLIAC) to join William Jewell and form the seven-team league. [1]
On October 6, 2010 it was announced that McKendree University accepted an invitation to the GLVC as the 17th member of the GLVC and begin participating in the conference in 2012.[2] The following day, the conference announced that it had approved Central State University and Urbana College for associate membership in football, increasing the number of teams which will compete in the initial season of football to nine. [3]
On October 18, it was announced that a new league, the Great Midwest Athletic Conference (G-MAC; not to be confused with the former Division I Great Midwest Conference), was forming for 2013. Charter members include Kentucky Wesleyan from the GLVC along with Central State and Urbana (GLVC members in football). Joining them are Ursuline, Notre Dame, and Cedarville, with the G-MAC hoping to expand to 10 members. The new conferences' sponsored sports were not immediately announced. Kentucky Wesleyan, with its eight national basketball titles, is the biggest loss for the GLVC, but, with only 680 students, the school had trouble competing in the other sports against much larger schools.
On December 8, 2011 Northern Kentucky University officially accepted an invitation from the Division I Atlantic Sun Conference, effective July 1, 2012.[4] It was announced on June 8, 2012 that the GLVC Council of Presidents had voted unanimously to accept Truman State University, located in Kirksville, Missouri into the conference. The "Bulldogs" will begin competition in the GLVC effective Fall, 2013. Truman State was a founding member of the Mid-America Intercollegiate Athletics Association, and becomes the seventh Missouri school to join the GLVC since 1995.[5]
On August 27, 2012, it was announced that Central State University will be leaving the GLVC to join the Southern Intercollegiate Athletic Conference (SIAC) as a football-only member, effective July 1, 2013.[6]
Membership
Edit
Current members
Edit
Institution
Location
Founded
Enrollment
Nickname
Colors
Joined
East Division
Bellarmine University
Louisville, Kentucky
1950
3,134
Knights

    

    

1978
University of Illinois at Springfield
Springfield, Illinois
1969
5,174
Prairie Stars

    

    

2009
University of Indianapolis
Indianapolis, Indiana
1902
4,300
Greyhounds

    

    

1978
Lewis University
Romeoville, Illinois
1932
5,200
Flyers

    

    

1980
McKendree University
Lebanon, Illinois
1828
3,500
Bearcats

    

    

2012
Saint Joseph's College
Rensselaer, Indiana
1889
1,033
Pumas

    

    

1978
University of Southern Indiana
Evansville, Indiana
1965
10,540
Screaming Eagles

    

    

1978
University of Wisconsin–Parkside
Kenosha, Wisconsin
1968
5,000
Rangers

    

    

1994
West Division
Drury University
Springfield, Missouri
1873
5,100
Panthers

    

    

2005
Maryville University
St. Louis, Missouri
1872
3,400
Saints

    

    

2009
Missouri University of Science and Technology
Rolla, Missouri
1870
7,000
Miners

    

    

2005
University of Missouri–St. Louis
St. Louis, Missouri
1963
15,548
Tritons

    

    

1995
Quincy University
Quincy, Illinois
1860
1,269
Hawks

    

    

1994
Rockhurst University
Kansas City, Missouri
1910
3,000
Hawks

    

    

2005
Truman State University
Kirksville, Missouri
1867
6,100
Bulldogs

    

    

2013
William Jewell College
Liberty, Missouri
1849
1,050
Cardinals

    

    

2011
Affiliate members
Edit
Former members
Edit
Former affiliate members
Edit
Membership timeline
Edit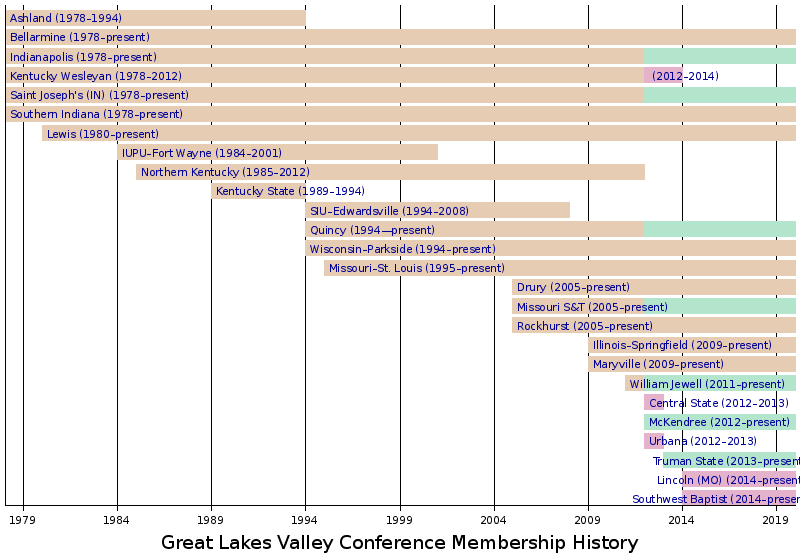 Full member (all sports)   Full member (non-football)   Associate member (football-only)   Associate member (sport) 
Men's sponsored sports by school
Edit
Women's sponsored sports by school
Edit
Other sponsored sports by school
Edit
School
Men
Women
Co-ed
Lacrosse
Volleyball ‡
Wrestling
Bowling ‡
Equestrian
Field
Hockey
Lacrosse
Fencing ‡
Bellarmine
SoCon ‡
IND
Indianapolis
IND
Lewis
MIVA
Maryville
IND
McKendree
MIVA
IND
IND
IND
IND
Quincy
MIVA
Rockhurst
IND
RMAC
Truman State
MIAA
IHSA
Wisconsin-Parkside
IND
National Champions
Edit
GLVC schools have won 13 NCAA Division II national championships:[7]
1987 men's basketball — Kentucky Wesleyan
1990 men's basketball — Kentucky Wesleyan
1995 men's basketball — Southern Indiana
1999 men's basketball — Kentucky Wesleyan
2000 women's basketball — Northern Kentucky
2001 men's basketball — Kentucky Wesleyan
2007 softball — SIU Edwardsville
2008 women's basketball — Northern Kentucky
2010 baseball — Southern Indiana
2010 men's soccer — Northern Kentucky
2011 men's basketball — Bellarmine
2013 men's basketball — Drury
2014 baseball — Southern Indiana
References
Edit
External links
Edit
Great Lakes Valley Conference

Members
Men's lacrosse affiliates
Community content is available under
CC-BY-SA
unless otherwise noted.