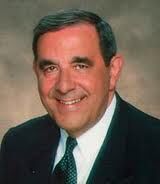 Gil Santos (born April 19, 1940) is the longtime radio play-by-play announcer for the New England Patriots of the National Football League, and morning sports reporter for WBZ radio in Boston. He retired from WBZ on January 30, 2009. Santos was inducted into the WBZ Radio Hall of Fame on July 9, 2009. He called games for the Patriots Radio Network, whose flagship is WBZ-FM (which is branded as "The Sports Hub")[1] to the end of the club's 2012 season.
He called Patriots games from 1966 until 1980 when Patriots broadcast rights shifted first to WEEI 590, then to WHDH 850; Santos returned in 1991 when broadcast rights returned to the AM version of WBZ. His 36 years of service made him the longest-serving announcer in the NFL, tied with Merrill Reese of the Philadelphia Eagles; he was also the final team play-by-play announcer from the American Football League era. From 1971-78 and 1990-2011, his partner in the booth was former Patriots kicker Gino Cappelletti, except for the opening eight games of the Patriots' 2001 season when Cappelletti was hospitalized with an illness and former Patriots player Peter Brock substituted for Cappelletti. Cappelletti retired from his position prior to the 2012 season and was replaced by Scott Zolak.[2]
In addition to the work at WBZ, Santos called games for the Boston Celtics, Boston Breakers, Providence Friars basketball, Penn State Nittany Lions football, and Boston College Eagles football. He was born in Acushnet, Massachusetts and grew up in neighboring Fairhaven. From 1959 to 1971, when he joined WBZ full-time, Santos worked at WBSM and WNBH in New Bedford, and WSAR and WALE in Fall River. On January 10, 2009, Santos retired from WBZ at the end of January. He stayed within the organization as Patriots play-by-play announcer when the team's network switched from WBCN to the new WBZ FM.
In April 2012 Santos suffered a bout with pneumonia and was briefly hospitalized, calling into question his future as Patriots play-by-play announcer.[3] He nonetheless announced he would return for one final season as Patriots broadcaster.[4]
Milestones
On September 26, 2010, the Patriots defeated the Buffalo Bills 38-30; it marked the 700th Patriots game, encompassing preseason, regular season, playoffs, and the Super Bowl, that Santos broadcast. His 750th broadcast took place on November 11 in the 2012 season, a dramatic 37-31 Patriots win, also against the Bills. He broadcast 15 of the club's 19 playoff runs and six Super Bowls. His final broadcast was New England's AFC Championship loss to the Ravens, his 759th broadcast.
On December 30 Santos was rejoined by Gino Cappelletti for the first quarter of New England's 28-0 shutout of the Dolphins. Prior to the game, during a ceremony honoring the contributions of Santos and Cappelletti, Patriots Chairman and CEO Robert Kraft announced that Santos would be inducted into the Patriots Hall of Fame in 2013.[5][6]
References
de:Gil Santos simple:Gil Santos