For the president of the Chicago Bears, see George Halas, Jr..
George Halas


Pete Rozelle (left) and George Halas (right) in the early 1980s
Date of birth:
February 2, 1895
Place of birth:
Chicago, Illinois, United States
Date of death:
October 31, 1983
(aged 88)
Place of death:
Chicago, Illinois

Career information

Position(s):
Owner/Head Coach/End
College:
Illinois
High school:
Crane High School

Organizations

 As owner:
1920
1921
1922– 1983
Decatur Staleys
Chicago Staleys
Chicago Bears
 As coach:
1920
1921
1922- 1929
1933– 1942
1946– 1955
1958– 1967
Decatur Staleys
Chicago Staleys
Chicago Bears
Chicago Bears
Chicago Bears
Chicago Bears
 As player:
1919
1920
1921
1922– 1928
Hammond All-Stars[1]
Decatur Staleys
Chicago Staleys
Chicago Bears

Career highlights and awards

National Football League Co-Founder
8 NFL Championships (1921, 1932, 1933, 1940, 1941, 1943, 1946, 1963)
2× AP NFL Coach of the Year (1963, 1965)
2× Sporting News Coach of the Year (1963, 1965)
2× UPI NFL Coach of the Year (1963, 1965)
Record for Chicago Bears career wins (324)
Chicago Bears #7 retired
318–148–31 (regular season record)
6–4 (playoff record)
324–152–31 (overall record)
Pro Football Hall of Fame Class of 1963

Career stats

Win–Loss Record  
  318–148–31
Winning %  
  .682
Games  
  497




Playing stats at NFL.com
Pro Football Hall of Fame, 1963
Military service
Allegiance:
United States
Service/branch:
United States Navy seal U.S. Navy
Years of service:
1918, 1942-1946
Rank:
Captain Captain
Unit:
Seventh Fleet
Battles/wars:
World War I, World War II
Awards:
Bronze Star
George Stanley Halas, Sr. (February 2, 1895 – October 31, 1983), nicknamed "Papa Bear" and "Mr. Everything", was a player, coach, owner and pioneer in professional American football. He was the iconic longtime leader of the NFL's Chicago Bears. He was also lesser known as an inventor, jurist, producer, philanthropist, philatelist, and professional baseball player.
Early life and sports career
Edit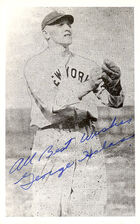 Halas was born in Chicago, Illinois, into a family of Czech-Bohemian immigrants.[2][3][4] His parents were Slavic migrants from Pilsen, Bohemia, part of what would later become Czechoslovakia.[5][6] George had a varied career in sports. In 1915, Halas worked temporarily for Western Electric, and was planning on being on the SS Eastland. He was running late, however, and missed the capsizing. After graduating from Crane High School in Chicago, he attended the University of Illinois, playing football for coach Bob Zuppke, as well as baseball and basketball, and earning a degree in civil engineering.[7] He also became a member of Tau Kappa Epsilon fraternity. He helped Illinois win the 1918 Big Ten football title.
Serving as an ensign in the Navy during World War I, he played for a team at the Great Lakes Naval Training Station,[7] and was named the MVP of the 1919 Rose Bowl. On a team which included Paddy Driscoll and Jimmy Conzelman, Halas scored a receiving touchdown and returned an intercepted pass 77 yards in a 17–0 win; the team was also rewarded with their military discharges.
Afterward, Halas played minor league and semipro baseball, eventually earning a promotion to the New York Yankees, where he played 12 games as an outfielder in 1919.[7] However, a hip injury effectively ended his baseball career. The popular myth was that Halas was succeeded as the Yankees' right fielder by Babe Ruth, but in reality, Sammy Vick was replaced by Ruth. Later that year, he played for the Hammond Pros and received about $75 per game.[8]
Professional football career
Edit
After one year with the Pros (also known as the All-Stars), Halas moved to Decatur, Illinois to take a position with the A. E. Staley Company, a starch manufacturer. He served as a company sales representative, an outfielder on the company-sponsored baseball team, and the player-coach of the company-sponsored football team, Halas selected his alma mater's colors—orange and navy blue—for the team's uniforms.[9] In 1920, Halas represented the Staleys at the meeting which formed the American Professional Football Association (which became the NFL in 1922) in Canton, Ohio.[1]
After suffering financial losses despite a 10–1–2 record, company founder and namesake Augustus E. Staley turned control of the team to Halas in 1921. Halas moved the team to Chicago and took on teammate Dutch Sternaman as a partner. The newly minted "Chicago Staleys" maneuvered their schedule to win the NFL championship that year. (See the 1921 Staley Swindle.) They took the name Bears in 1922 as a tribute to baseball's Chicago Cubs, which permitted the Bears to play their games at Wrigley Field. Orange and blue were chosen as the team colors as a tribute to the Illinois Illini, Halas' alma mater.
Halas not only coached the team, but also played end (wide receiver on offense, defensive end on defense) and handled ticket sales and the business of running the club. Named to the NFL's all-pro team in the 1920s, his playing highlight occurred in a 1923 game when he stripped Jim Thorpe of the ball, recovered the fumble, and returned it 98 yards—a league record which would stand until 1972. In 1925, Halas persuaded Illinois star player Red Grange to join the Bears; it was a significant step in establishing both the respectability and popularity of the league, which had previously been viewed as a refuge for less admirable players.
After ten seasons, Halas stepped back from the game in 1930, retiring as a player and leaving the sidelines as coach; but he remained the team's owner, becoming sole owner in 1932. The lure of the field was too much, however, as Halas returned in 1933 to coach the Bears for another ten seasons. During his absence from coaching, the team had also won the 1932 championship. His 1934 team was undefeated until a loss in the championship game to the New York Giants.
In the late 1930s, Halas—with University of Chicago coach Clark Shaughnessy—perfected the T-formation system to create a revolutionary and overwhelming style of play which drove the Bears to an astonishing 73–0 victory over the Washington Redskins in the 1940 NFL Championship Game. Every other team in the league immediately began trying to imitate the format. The Bears repeated as NFL champions in 1941, and the 1940s would be remembered as the era of the "Monsters of the Midway".
Halas and Shaughnessy had created a revolutionary concept with the T-formation offense. The complex spins, turns, fakes, and all around athletic versatility required to execute the scheme, limited the possible players available. Looking for a quarterback to run his new offense, Halas was particularly impressed with Sid Luckman, a passing star at Columbia University. Although Luckman was a single wing tailback, Halas felt he was the perfect quarterback for this offense. Luckman launched his Hall of Fame career, playing the position from 1939 to 1950. Halas was not satisfied with other players who succeeded Luckman under center. During this coaching stint, he had on the Bears roster two future Hall of Fame players, Bobby Layne in 1948 and George Blanda from 1949 to 1958. Other notable players included Heisman Trophy winner Johnny Lujack from 1948 to 1951 and Zeke Bratkowski from 1954 to 1960. Blanda played in the NFL until 1975; Bratkowski moved on to Vince Lombardi's Green Bay Packers from 1960 to 1971; and Bobby Layne quarterbacked the Detroit Lions to three NFL championship games between 1952–54, winning two.
Halas entered the Navy again after the advent of World War II in 1942, with the rank of lieutenant commander. He served overseas for 20 months under the command of Admiral Nimitz and his duties were supporting the welfare and recreational activities of the Seventh Fleet. He was awarded the Bronze Star during his recall and released from duty in 1946 with the rank of captain.[10] While in the Navy, the Bears won another title in 1943. Returning to the field in 1946, he coached the club for a third decade, again winning a title in his first year back as coach.[citation needed] That same year, Halas met with the Army Chief of Staff, General Dwight Eisenhower, the Navy Chief of Staff, Admiral Chester Nimitz, and the Air Force Chief of Staff, General Carl Spaatz, and offered to set up an annual charity football game, with the Bears as hosts, whose proceeds would go to the relief agencies of the armed forces. By mid 1957, proceeds from this game were $438,350.76[10] and proceeds from all games the Bears participated in between 1946 and 1957 were over two million dollars.[11]
After a brief break in 1956–57, he resumed the controls of the club for a final decade from 1958 to 1967, winning his last championship in 1963. He did not, however, enjoy the same success as he had before the war. He did win his 200th game in 1950 and his 300th game in 1965, becoming the first coach to reach both milestones. In 40 years as a coach, he endured only six losing seasons.
Head coaching record
Edit
Later life
Edit
After the 1967 season, Halas—then the oldest coach in league history—retired as coach. He continued as the team's principal owner, and took an active role in team operations until his death. He was honored in 1970 and 1980 as the only person involved in the league throughout its first fifty and sixty years of existence. His son George, Jr. served as president of the Bears from 1963 until his sudden death at age 54 in 1979. One of Halas's final significant ownership acts was to hire Mike Ditka as head coach in 1982 (Ditka was a former Halas player in the 1960s).
In the 1971 made-for-television film Brian's Song, about the friendship between Chicago Bears players Brian Piccolo and Gale Sayers, Halas was portrayed by Jack Warden, who won an Emmy Award for his performance.
Halas died of pancreatic cancer in Chicago on October 31, 1983, at age 88, and is entombed in St. Adalbert Catholic Cemetery in Niles, Illinois. His eldest daughter, Virginia Halas McCaskey, succeeded him as majority owner, and her son Michael McCaskey served as team president from 1983-1999 at which time the elder McCaskey was forced to fire her own son. In the 1985 season when the Bears won their first ever Super Bowl, they recorded a song called "Super Bowl Shuffle." In the song, backup quarterback Steve Fuller rhymes "Bring on Atlanta, Bring on Dallas / This is for Mike [then current coach Mike Ditka] and Papa Bear Halas."
Super Bowl XVIII was dedicated to Halas. The pregame ceremonies featured a moment of silence and the ceremonial coin toss by former Chicago Bear Bronko Nagurski.
Impact on football
Edit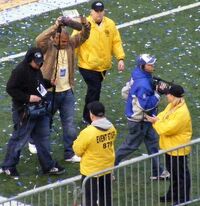 A pioneer both on and off the field, Halas made the Bears the first team to hold daily practice sessions, to analyze film of opponents to find weaknesses and means of attack, place assistant coaches in the press box during games, place tarp on the field, publish a club newspaper, and to broadcast games by radio.[14] He also offered to share the team's substantial television income with teams in smaller cities, firmly believing that what was good for the league would ultimately benefit his own team. A firm disciplinarian, Halas maintained complete control of his team and did not tolerate disobedience and insubordination by players. He also insisted on absolute integrity and honesty in management, believing that a handshake was sufficient to finalize a deal; few, if any, intermediaries were necessary.
Halas' career ledger reads as follows: 63 years as an owner, 40 as a coach, 324 wins, and 8 NFL titles as a coach or owner. The 324 victories stood as an NFL record for nearly three decades.[14] He was a charter member of the Pro Football Hall of Fame in 1963.
In both 1963 and 1965 he was selected by The Sporting News, the AP and the UPI as the NFL Coach of the Year. In 1997 he was featured on a U.S. postage stamp as one of the legendary coaches of football. He has been recognized by ESPN as one of the ten most influential people in sports in the 20th century, and as one of the greatest coaches. In 1993, Miami Dolphins coach Don Shula finally surpassed Halas' victory total. To this day, the jerseys of the Chicago Bears bear the initials "GSH" on their upper left sleeves in commemoration of Halas. In 1956, Halas was awarded the Navy Distinguished Public Service Award, which is the Navy's highest civilian award.[10]
There are two extant awards named for Halas: the George Halas Trophy (awarded by the NFL to the National Football Conference champion) and the George S. Halas Courage Award (Pro Football Writers Association). From 1966-1996, the George S. Halas Trophy was awarded to the NFL defensive player of the year by the Newspaper Enterprise Association.
The Chicago Bears retired number 7 in his honor, and the Pro Football Hall of Fame is located on George Halas Drive.
References
Edit
↑ 1.0 1.1

Marines Are Swamped By Great Stars :Minneapolis Team Swept Off Their Feet by Crack Hammond Eleven. (1919, October 27). Minneapolis Morning Tribune (1909–1922),10. Retrieved September 2, 2010, from ProQuest Historical Newspapers Minneapolis Tribune (1867–1922). (Document ID: 1513834502).

↑ Davis, Jeff, Papa Bear, (McGraw-Hill Co., 2005), 32.
↑ Encyclopedia of ethnicity and sports in the United States, Ed. George B. Kirsch,Othello Harris and Claire Elaine Nolte, (Greenwood Publishing, 2000), 164.
↑ Elliott J. Gorn, Sports in Chicago, (University of Illinois Press, 2008), 7.
↑ Twombly, Wells (1976). 200 Years of Sport in America. New York: McGraw-Hill. p. 186. ISBN 0-07-065640-1.
↑ Gloria Cooksey, George Halas: An entry from Gale's Notable Sports Figures 2004.
↑ 7.0 7.1 7.2 Names, Larry D (1987). "The Myth". In Scott, Greg. The History of the Green Bay Packers: The Lambeau Years. 1. Angel Press of WI. p. 31. ISBN 0-939995-00-X.
↑

U.S. House III, 1957, p. 2714..

↑ "Evolution of the Bears Colors". National Football League. 2012-09-13. http://www.nfl.com/videos/team-colors/0ap1000000061883/Evolution-of-the-Bears-Colors

. Retrieved 2012-12-21

.
↑

U.S. House III, 1957, p. 2720.

↑ The following source differs from Pro-Football-Reference.com and states that the record was 10-1-1 for 1921: Vass, George (1971). "The Bears Find a Den". George Halas and the Chicago Bears. Henry Regnery Company. p. 44. ISBN 70-163261.
↑ 14.0 14.1 "Bears coaching history". Chicago Bears. 2013-01-14. http://www.chicagobears.com/multimedia/videos/Bears-coaching-history/e4ed5a17-b7b5-4b0e-8ee5-6edd2db956b3

. Retrieved 2013-01-16

.
Further reading
Edit
Davis, Jeff (2006). Papa Bear: The Life and Legacy of George Halas. ISBN 0-07-147741-1.
</dl>
Hibner, John Charles (1993). "University of Oregon and University of Pennsylvania (1917)", in The Rose Bowl, 1902–1929: A Game-by-Game History of Football's Foremost Event, from its Advent through its Golden Era. Jefferson, NC: McFarland & Company, Inc. Publishers.
External links
Edit
NFL Alumni Order of the Leather Helmet
1978: Pete Rozelle, George Halas, Art Rooney |
1979: Paul Brown, Red Grange, Bronko Nagurski |
1980: Don Shula, Wellington Mara, Dominic Olejniczak, Pro Football Hall of Fame |
1981: Lamar Hunt, Tom Landry |
1982: William Bidwill, Alex Wojciechowicz, Bud Grant |
1983: F. William Harder, LeRoy Neiman |
1985: George P. Marshall, Weeb Ewbank |
1986: Howard Cosell, Vince Lombardi, Vic Maitland |
1987: Ray Scott, Steve Sabol, Ed Sabol, Bert Bell |
1988: Raymond Berry |
1989: Tex Schramm |
1990: Bill Dudley, Ollie Matson, Steve Van Buren |
1991: Hugh McElhenny 1992: Chuck Bednarik, Art Modell |
1993: Elroy Hirsch, Marion Motley |
1994: Sid Luckman, Sammy Baugh |
1995: Otto Graham, Chuck Noll |
1996: Johnny Unitas, Curt Gowdy |
1997: Pat Summerall, Ralph Wilson |
1998: Jim Brown, Al Davis |
1999: Bobby Mitchell, Paul Tagliabue |
2000: Len Dawson, Deacon Jones |
2001: Mike McCormack, Mel Renfro |
2002: Mel Blount, Jim Otto, Jim Tunney |
2003: Tom Flores, Willie Davis  |
2004: Dick Vermeil, Val Pinchbeck, Don Weiss |
2005: Larry Wilson, Joe Greene |
2007: Sonny Jurgensen, Jack Youngblood |
2008: Eric Dickerson, John Madden, Alex Spanos
Community content is available under
CC-BY-SA
unless otherwise noted.